Registered charity number 1035688
On JustGiving since Mar 2004
New Ways
Fundraise in memory of a loved one
Highlight your memories
Tell the story of the person you're remembering and explain why you're raising money in their memory, using words, photos and video.
Raise money securely
Wherever they are, whenever they want to donate, friends and family can give to your page easily, safely and securely. And they can choose to hide the amount they give or donate anonymously.
Make your page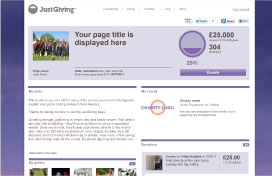 Your In Memory Collection
Remember together
An In Memory Collection page is automatically created when someone dedicates a fundraising page to the memory of a loved one. It brings together all the fundraising being done in their memory, making it easy to see friends and family who are also raising money.
See your impact
Your Collection lasts forever as a legacy of the person being remembered, showing the impact of all the fundraising taking place in their memory.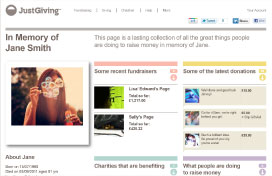 "It's nice for everybody to see how much has been raised, whether it's from my page or someone else's page."
Barry Landsman, who donated in memory of a friend on JustGiving.
Find a friend who's fundraising
You can also search for the name of the person you're remembering.
Donate in memory of a loved one