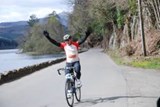 Jurys Inn Cycle 2013
cycling with the Jurys Inn Team for Depaul UK because Jurys want to help DePaul & local charities
Event: Jurys Inn Cycle 2013 on 21/06/2013
Team Members: Jurys Inn staff
Suzanne Bowman
£8,639.25 raised of £30,000.00 target
296 donations
My Target:
£30,000.00
£8,639.25 raised so far
Donate
How to make a donation
Donate online at - www.justgiving.com/JurysInnCycle2013
By mobile internet Scan this code on your smartphone to go straight to Suzanne Bowman's page.
By text message to donate £10 Text CYJI99 £10
to 70070
Story
Jurys Inn Group staff are taking on a 2013 mile cycle on the longest day, 21st June 2013. The miles will be covered by a team from each hotel cycling to the next Jurys Inn in the next city covering all 32 hotels.
All donations raised will be split between DePaul UK and local charities picked by each individual hotel. Gift aid will go to DePaul UK.
Local charities include :
Oakwood School & Assessment Centre, Ladies Fighting Breast Cancer, St Patricks Marymount Hospice, Croydon Bid, Cancer Research, Crumlin  Children's Hospital, Jack & Jill Foundation, Temple Street Hospital , Edinburgh Sick Kids Friends Foundation, Children's Hospice South West, Galway Hospice , Carers Association, Zoe's Place Baby Hospice, Christies Manchester , When you wish upon a star (Nottingham), Wish Em Well- Rosie's appeal, Friends of Brimble Hill School , Ladies Fighting Breast Cancer, Heathrow Special Needs Farm, Voluntary Action Islington, AYME, The Childrens Hospital Charity, Sheffield
How your fundraising helps Depaul...
£5 could pay for a travel card for a young person to attend an appointment.
£15 could pay a volunteer's expenses for one night's Nightstop emergency accommodation.
£50 Could for a week's cookery course led by a volunteer in one of our hostels.
£200 could pay for a basic start up kit for a young person about to be resettled in their own home.
£750 could refurbish and equip a room in one of our hostels.
£2000 could pay the gas bill or cleaning costs for one of our projects.
We would like to thank our corporate partners for their kind support in helping to make this day happen
Fexco                                    www.fexco.com
SOS Group                        http://www.sosgroup-ltd.co.uk
Sky                                         www.sky.com
Stena                                     www.stena.co.uk
Titanic & City Tours          www.titanicbustours.com
 Kyocera                              www.kyocera.co.uk
This is a great challenge and a great cause. Dig deep to help a charity on your doorstep.
Thanks again for your support! 
Miles's Story
Life at home was becoming unbearable for Miles; his stepfather did not accept him and was constantly emotionally abusive. Miles' mother Nina could see how distressed her son was getting but felt she could do nothing to help as she was also being abused by her partner. One day mother and son decided that they had to get some advice before things at home got violent, so Nina drove her son to speak with Depaul UK staff working at our Enfield Reconnect service, where young people and their families can get advice about housing options and how to resolve family difficulties.
Miles met with the Enfield Reconnect mediator and told her about his worries at home and how he wanted to move out, and they discussed if there were any ways that things could be made better. Nina was waiting in the car outside the centre, as she was too worried about speaking about the situation at home with anyone. However, the Depaul UK mediator encouraged her to have a brief talk with her about why she was so worried about her son's safety and Nina was also advised to get in touch with confidential domestic violence support services for herself.
The Enfield Reconnect mediator could see that the situation at home was too volatile right now for Miles to stay there long, and she helped him find some supported accommodation and settle into his new home before term started.  Nina requested a male keyworker for Martin as she felt he had lacked a male role model since his father had died, this was arranged with the accommodation provider. The Depaul UK mediator helped draft an agreement between Nina and Miles about how they could make their relationship work in the changing circumstances, how often they would meet up and what the ongoing support Nina would offer Miles.
Several weeks afterward Miles had moved out Nina came into the centre to thank Enfield Reconnect for all their support through such a difficult time; she was meeting up with Miles on a regular basis and within a very short space of time had seen a dramatic transformation in him. Miles said that he felt 'a massive grey cloud had been lifted' and he was feeling much more positive about his future.
Luke's Story
Sixteen year old Luke lives with his mum, sister and step father in Oldham, and their home life was getting increasingly tense and difficult. After Luke's father died when he was quite young, his stepfather had tried to bring him up as his own son. However, Luke had never accepted his stepfather as a replacement and his unresolved grief for his father and difficulties at school meant that Luke felt isolated. He began taking his rage out on his himself by self-harming, and soon arguments with his stepfather turned into fights. Luke's parents wanted him to be taken into Care, however, Social Services persuaded them to seek mediation services first.
Depaul UK's Oldham Reconnect project offers a mediation service for young people at risk of homelessness. It aims to prevent young people, aged 15-25, from reaching crisis point by providing a trained mediator to help families rebuild relationships, including offering parenting support.
The Depaul UK mediator was able to listen and understand the concerns of Luke's family as an important first step before helping everyone improve family relationships. The mediator met with Luke's family members on an individual basis, provided phone support to Luke and his mother and held joint mediation sessions. The aim was to prevent Luke from suddenly having to leave the family home in an unplanned way. 
Oldham Reconnect advised Luke's mother on strategies to help her cope, and his behaviour began to change as a result and he began to feel more secure at home. Luke used to feel that everything he did was wrong, and thought that the only way he could get the attention he needed was by making trouble. Now that his mother was calmer and even praised him, their relationship improved immensely and they began to understand each other. Luke stopped self-harming and his mother no longer wanted him to leave.
However, improving the situation between Luke and his stepfather was a lot harder, they had a lot of unresolved issues, and the tension was always there with his mother often feeling trapped in the middle. Everyone had learnt from the family mediation sessions that it was better to talk than fight, and though they are managing right now- they know how to deal with any future difficulties. Luke is no longer at risk of being thrown out suddenly by his parents, and he was able to stay at home till he was 17 before moving to his grandma's house. Thanks to the support of Oldham Reconnect he still has a positive relationship with his family.
Daniel's Story
Daniel left school at twelve when it all became too much for him, and was tutored at home. He had been diagnosed with Social Anxiety Disorder, a condition where people face incredibly high stress levels in social situations. By the time Daniel was sixteen he had got used to rarely leaving the house, and relied entirely on his mother and sister to look after him.
Daniel's whole world was turned upside down when his mother suddenly moved to America, to live with a man she had met online. His sister was struggling to look after him and work, and Daniel urgently needed support and to learn more about independent living.
With a lot of persuasion, Daniel began working with Jigsaw, a Depaul UK floating support project in the North East which helps young people learn about independent living. The project works with 28 young people, aged 16-25 on a one-to-one basis, who have high support needs, either in their tenancies or in preparation for their tenancy allocation.
Trusting anyone outside his family was incredibly difficult for Daniel, at first he did not speak at all to his Depaul UK keyworker, as he was afraid that they would give information to Social Services. Once he was persuaded that their sessions were confidential, he gradually began to build up trust and discuss his goals. He had never talked to anyone about this before and she helped him begin researching courses and writing a CV.
Every week Daniel began learning with his keyworker more about budgeting, health and safety in the home an how to maintain a healthy diet. All of this was new to him, but the next step for Daniel was trying to leave the house. As his confidence grew Daniel began leaving the house briefly to go on short walks with his keyworker. Daniel was still incredibly hurt by his mother's departure, and his keyworker helped him begin dealing with this.
Having a keyworker who really believes in him and can accompany him if needed has made all the difference, and Daniel is moving closer to independent living at pace that is right for him. 
Raising money for

Charity Registration No. 802384
We believe no young person should have to sleep rough. As well as offering accommodation, a vital part of our work is preventing young people becoming homeless in the first place. 80,000 young people experience homelessness each year. With your help we can give more of them a place to call home.
Raising money for
Charity Registration No. 802384
Donations
296

Well done Declan, the tour de France next.. Charlie T-mobile
Donation by charlie mcquillan on 27/07/13

Well done everyone Great Cause !! From all at Jurys Inn Islington
Donation by Louise O'Gorman on 20/07/13
£200.00
+ £50.00 Gift Aid

Well done All
Donation by Anonymous on 18/07/13

Well done to everyone - great achievement.
Donation by Dry Cleaning Consultants on 17/07/13

Donation by Steve Smith on 16/07/13

Well done everyone who took part. Wes at Jurys Swindon this is for your thumb!
Donation by Tom Lloyd on 16/07/13

Well done Rachel and all the other staff from Jurys Inn
Donation by John Strange on 11/07/13

Well done Grant and Jake!! Jake.... that leg must be getting a bit smelly now!! Poooohie..Get Well soon! Love from Gran & Grandad Kelsey & Kein xxxxx
Donation by L Laird on 05/07/13

Well done to all that took part!
Donation by ML Thomson on 04/07/13

Wow!!! Congratulations to all especially Suzannah Patrick from Team Birmingham 80 miles - what determination. So proud of you From Mom & Dad sending extra late donations from Pedmore School
Donation by D PARKES on 03/07/13

Well done Cyril Laffan!! All that hard work paid off
Donation by Iszara on 02/07/13

Well done to you all.
Donation by Martin Cassidy on 02/07/13

Well done Daniel and the Bradford team.
Donation by J Siddle on 02/07/13

hope this is the right place to sponsor Billy McCabe, sorry its late :-) well done for your achivement!! :-)
Donation by kim elder on 02/07/13

Well done Grant and Jake! We are very proud of your achievement, despite Jake's broken leg!!
Donation by Christine and John on 01/07/13

Well done Hitesh, especially having had your 'proper' bike nicked!
Donation by Anonymous on 29/06/13

A huge thank you and well done to all the teams and your amazing contribution to this challenge - roll on next year
Donation by Sam Shepherd, Group HR Manager on 28/06/13

Well done Ruth and the Edinburgh Team...great effort.
Donation by Izzy and Pat D on 27/06/13

Well done guys!!
Donation by Anonymous on 27/06/13

Well done Lou J (Derby). Lots of love x
Donation by Louisa Newbury & Aine McGeough on 26/06/13

Well done Claire Louise Westwater! So proud of you. Congratulations to you all.
Donation by K Ainsley on 26/06/13

Well done all, great effort!
Donation by Donal Stafford on 26/06/13

Incredible achievement -- well done -- sadly, Speed avoided the assassins hidden in the bushes outside the BurgerKing in Dundee, but I believe we can get our money back AND a free hit for next time.
Donation by S ROTHKOPF on 26/06/13

Well done all the Team. Greg
Donation by Anonymous on 26/06/13

Well done SOS Team!!!
Donation by Simon Gardner and Gerry Conway on 25/06/13
Donation summary
* Online donations£7,683.25

Offline donations

£911.00

Text donations

£45.00
Tear me off and take me home