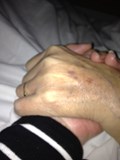 Mumma's lasting & proudest gift
inviting you to remember Mumma for Princess Alice Hospice because such a positive legacy would make her so SO proud.
Chessy & Karen, 2 very proud daughters.
£714.00 raised of £1,000.00 target
52 donations
My Target:
£1,000.00
£714.00 raised so far
Donate
How to make a donation
Donate online at - www.justgiving.com/Mumma
By mobile internet Scan this code on your smartphone to go straight to Chessy & Karen, 2 very proud daughters.'s page.
By text message to donate £10 Text CKCK70 £10
to 70070
Story
PLEASE READ SO YOU KNOW HOW VERY VITAL THE HOSPICE IS.
We do not want to shock or upset anyone, but we KNOW that sharing the very painful truth below may help you understand why we want to help our Mumma leave such a positive and so urgently needed legacy to the hospice (who were just amazing in the 5 months of awfulness post her diagnosis). This was the hospice she was meant to spend her last weeks in but couldn't because of the simple fact their resources are limited. It costs them £18,000 a DAY just to stay open; their NHS funding is tiny and all else comes SOLELY from donations such as ours and YOURS.  They can't currently afford anywhere near the beds needed, and, just as the price you pay for love is pain; so the price we all paid for her NOT being able to die at the hospice is another, horrific pain, especially given all that unfolded. 
On Saturday 16th February, the night before she died, we were both at her bedside in a 'Care Home with Nursing' , an environment so very opposite of what the hospice gives people in terms of family support but also - VITALLY – 24/7 superb medical palliative care. This is care she did not have, but she would have if had been able to be at Princess Alice Hospice.  On that Saturday evening, she desperately needed administration of a drug that is crucial once the patient starts choking (an awful but always certain element of end-of-life lung cancer).
She did not get that drug for over 6 (SIX) hours.  Horrific for her, and for us to have to see, as the one agency nurse on duty didn't know where the drug was and couldn't administer it in any event. Likewise, her syringe driver with crucial pain relief and other meds in could not be re-filled, as morphine is a controlled drug so requires 2 nurses to sign it out and 2 nurses to administer.
My sister stayed with Mumma, nursing her as best she could; and I had no option but to go into 'work' mode, literally ordering the nurse to find & ring the home's manager; for her to get there NOW; having to invoke the Mis-use of Drugs Act and media attention in order that she did so. As I did that downstairs, my sister was upstairs and literally having to help Mumma through the choking, including wiping blood from her mouth.  I'm genuinely sorry to even recall this, let alone anyone else be upset by reading it, but we both know it is THIS truth that will help you all understand just HOW vital the hospice is.
So we got her the care and drugs she so desperately needed, stayed with her until she was wholly peaceful and asleep, then we each kissed her goodnight.  It was the last time we saw her alive.
She died the next morning at 8.15, at peace and in NO discomfort – but what of the patients who maybe don't HAVE the family love, & enormous advocacy we had to invoke for her? NONE of that would however have been needed IF she had been able to be in the Princess Alice Hospice, and who were so very amazing where they could be.
So please, in our Mumma's memory and for those patients yet to tread this awful path, do please donate whatever you can – literally every donation no matter how small will help.   
Thank you, Karen & Chessy xxx
Updates
17
Again in tears as seen yet another anonymous donation. The kindness, grace, & support of strangers - as well as obviously that of those we know - just blows me away. So to ALL you amazing people who ARE strangers but care like this, can only thank you more than you'll ever know x
Dear all. I want to let you know that I have just had a very positive conversation with the owner of the Group of Nursing homes Mumma was in, & I do believe we can be confident that no-one ever will suffer in that way again in any of his homes. He was genuine & saddened by it x
Yay! PROUNDLY grateful and uber chuffed that hit the £700 mark - thank you all:) Mumma's funeral was a week ago today and SHE would be SOOOO proud of helping others yet to follow that horrific terminal cancer journey. Heartfelt thanks to all. Cxx
It is now Mother's Day & this pain is beyond imaginable. If you are reading this, please do donate even just the smallest amount to help others to NOT have to suffer as Mumma did. Although min. donation on site is £2 even £1 can be donated via text (details in an update below) xx
But Mumma, on a happier note and I know the one you would want me to try to cling to; you have already raised almost £600 to help others yet to tread the awful path you did. So my Mother's Day gift to you this year is to PROMISE I won't rest until we HAVE hit £1k for you. LYM x
Raising money for

Charity Registration No. 1010930
Princess Alice Hospice is a charity providing all patient care and support free of charge. We give outstanding end of life care to adult patients, and support to their families and friends across a large part of Surrey, south west London and Middlesex. As a leading UK Hospice, learning, teaching and research are also central to our work, and we deliver innovative care programmes to both local and national audiences. Fundraising and community support are crucially important to our continued work as a charity and in supplementing our modest NHS grant.
Raising money for
Charity Registration No. 1010930
Donations
52

Could not read your story and not donate. Your dear Mumma will be very proud.
Donation by Another MN Lady. on 14/03/13

Donation by Anon on 12/03/13

Donation by Anonymous on 11/03/13

Given with much love Chez xx
Donation by jane church on 11/03/13

For Marlene A special person you are missed by me and Janet very much. Rest in peace Marlene xxxxx
Donation by John Elliott on 11/03/13

Hope you reach your target very soon
Donation by A mumsnetter on 10/03/13

Donation by Anonymous on 10/03/13

Donation by Anonymous on 10/03/13

Thinking of you IHopeYouStepOnALego piece x
Donation by Emma Reed on 10/03/13
£2.00
+ £0.50 Gift Aid
via sms

Miss you Mum on Mother's Day & wishing you we're here celebrating it with us as we always did,Love you forever.
Donation by Your loving daughter xxx on 10/03/13

Mumma. It's Mother's Day & 3 weeks right now since you left us. I am glad you are free from the horrors endured, but miss you so very much xxxxx
Donation by To Mumma on Mother's Day. I love you xxx on 10/03/13

Donation by Susan Colton on 08/03/13

Sending much love and hugs
Donation by stars and unicorn on 08/03/13

Donation by Anonymous on 08/03/13

Another Fulhamite gone but not forgotten. Ur girls doing u & us proud. I can only afford £2 but know rest of us proud Fulhamites won't let u down
Donation by One Fulhamite to another. RIP Marlene on 07/03/13

For lovely Marlene. Your service was beautiful, you would be so proud of K&C, & of Nathan singing. It's 20 years now from our Fulham days:) R.I.P.
Donation by Laura, Steve, and Amy Gruby xxxx on 07/03/13

You Allestree Rd, us Rowallen Rd, our Fulham girls best friends 40 yrs now. And my Norman passing in Princess Alice's in July after 50yrs together.
Donation by RIP Marlene, Pat Pendry xxx on 07/03/13

Your Mum would have loved it her 'do' here:), & her lovely candle & picture, & her beautiful cake - all was just beautiful girls xxxx
Donation by Mena and Rosetta, Cafe Italia Banstead on 07/03/13

For a Fulham girl:) In memory of Marlene. RIP.
Donation by Debbie Upcraft xxxx on 07/03/13

in memory of your lovely Mumma xx
Donation by Site wellwisher on 07/03/13

Donation by Anonymous on 07/03/13

Have been following your posts about your Mumma. They have touched me as my son Wilf calls me Mumma. I hope you raise lots of money.
Donation by Charlotte Jenkins on 06/03/13
£3.00
+ £0.75 Gift Aid
via sms

followed the link from your message. I hope today went as well as can be expected. x
Donation by Site wellwisher on 06/03/13

Donation by Anonymous on 06/03/13

Saw your post. Take care of yourselves.
Donation by Anonymous on 06/03/13
Donation summary
* Online donations£688.00

Offline donations

£0.00

Text donations

£26.00
Tear me off and take me home