Story
CELEBRATE 15 YEARS
OF FREE THEATRE IN THE PARKS WITH US!
Commonwealth Classic Theatre Company is a community of professional theatre artists. The merging of artistic excellence with financial and geographic accessibility is at the heart of what we do. And we can't do it without you! Celebrate our 15th Year by making it possible with your tax deductible donation.
This July 2019, Commonwealth Classic Theatre Company, a not for profit 501(c)(3) professional theatre company, will present its Fifteenth Anniversary of the Free Theatre in Parks program. This years production of MEASURE FOR MEASURE by William Shakespeare, will reach over 2,000 audience members in 12 communities throughout the Greater Philadelphia area.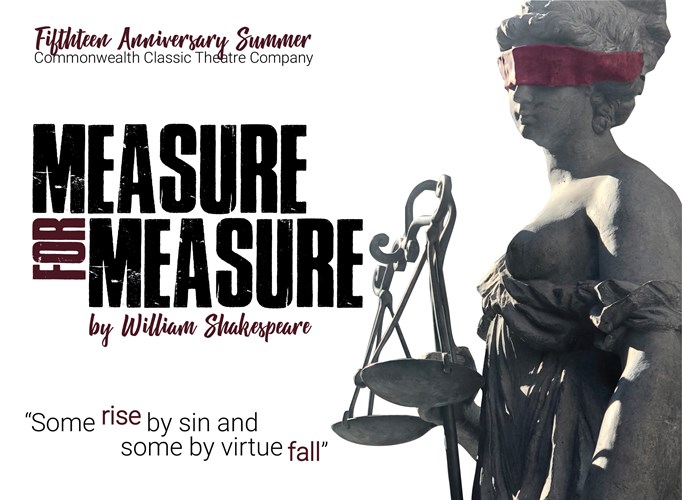 Set in a world, much like our own, in which the corrupt exist side-by-side with the virtuous, Measure for Measure, one of Shakespeares mature dark comedies, explores conflicts between the powerful and the powerless, justice and injustice, love and lust, and, as always in Shakespeare, the danger and hypocrisy posed by those who seem to be what they are not.
The city is adrift in moral decay. The Duke decides to go undercover as a holy man, leaving his hard line deputy, Angelo, in charge to harshly enforce the strict morality laws of the city. But when Angelo sentences young Claudio to death for getting his fiancé with child, Claudios sister Isabella, a  young novitiate, pleads for his life. Angelo wants to make an example of Claudio but wants Isabella, too. He agrees to spare Claudio only at great cost to Isabella. She has an impossible choice to make. Give up her innocence or give up her brother for execution.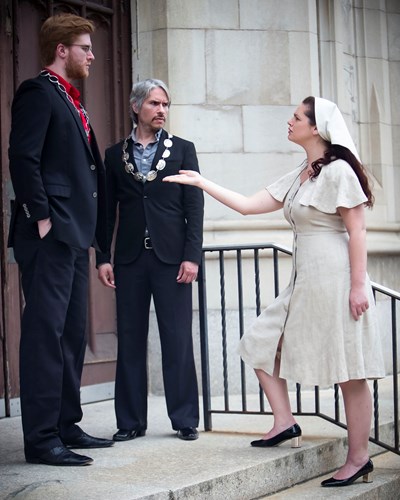 Can the state enforce morality? What are the human consequences of power in the wrong hands? How can the scales of justice and mercy be leveled fairly and humanely? These are some of the questions that lie at the passionate heart of William Shakespeare's timeless and timely work, Measure for Measure.
Please see website www.cctheatrec.org later this year for venue details, directions and updated weather announcements, or like Commonwealth Classic Theatre Company on Facebook for updates.
For more information about performances, or about Commonwealth Classic Theatre Company, please visit:    WWW.CCTheatreC.ORG