Story
PiP is an inspiring place to be in many, many ways. Our student's positivity and ambition to better their lives and keep learning is infectious - as is their love of the PiP T-shirt!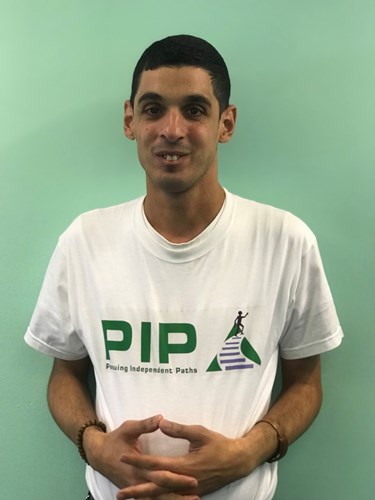 Meet George, he's loves nothing more than to wear his PiP T-shirt. It's more than just a Tshirt to him. It's family, it's safety, it's learning, it's pride. Being part of PiP means that George is learning skills to get a job. He's part of PiP's Fruitful juice enterprise where he learns how to run a fresh juice stall - learning the health benefits of fruits and veg, how to make a juice, how to serve customers, clean up and promote the business. PiP is helping George to be a skilled and independent young man.
To celebrate this we want everyone to join George in wearing their favourite T-shirt on Giving Tuesday, 27th November 2018, and donate to PiP's fantastic work supporting adults with learning disabilities and autism.
We've named it T-shirt Tuesday, and it's the most simple idea. Sign up online, wear your favourite T-shirt, rally others to do the same and most importantly, DONATE. Together we can raise £10,000 for our vital training and education projects at PiP. Training that will enable adults with learning disabilities to gain skills for greater independence and contribute to their community.
So come on everyone, join in and have fun on PiP's T-shirt Tuesday.