Page closed
This page is now closed. Take a look at other inspiring pages on JustGiving
£0
raised of £30,000 target by

0 supporters
Paul Rylance
We've raised £0 to help my friend Aigerim and her daughter
Closed on Tuesday, 15th January 2019
Crowdfunding is a new type of fundraising where you can raise funds for your own personal cause, even if you're not a registered charity.
The page owner is responsible for the distribution of funds raised.
Story
My friend Aigerim has been having a really rough time and I am looking to help provide for her and her daughter. She has recently been diagnosed with kidney failure and her doctors are currently not positive about her outlook. Unfortunately the treatment she was undergoing has to be regularly stopped as it is causing her liver to shut down as well.
She has been hurt a lot in the past by people she trusted and every time we have been able to get her back to a stable position again, something new would happen. Every day I have watched her slowly lose the little hope she had left in people and in the future. A quote from her today:
You should just stop talking to me. I don't have a future and I will just bring you pain
I have done my best to support her , but my help alone is not enough. She has always been a fighter, but slowly that will to fight has been draining from her. I hope her story below will encourage some kind hearted people to donate and give us a chance to finally clear away everything and get her back to a position where she can believe in life again.
Maybe together we can show her that there is still hope and good people in the world. Every pound raised will go directly to helping Aigerim and her beautiful daughter Elina to make sure that should the worst happen, Elina will be cared for.
I know it can be a concern for some that donating for someone in a foreign country could be some sort of scam. All I can do is assure you that it is not. I have known Aigerim for 2 years and have met her on my trips to Kyrgyzstan. All money will be used for its intended purpose. I have contact with her medical staff, and I can make direct payments to any medical institution for her treatment.
I have never asked anyone for money before and it feels like I set quite a high goal, but if we can raise the full total it will make it possible to meet every goal and secure a stable life for her and her daughter. Even meeting part of it and being able to contribute to her life in any small way would be amazing. Being able to get her good medical care to give her the best shot of staying with her daughter would be incredible.
Thank-you for reading.
Daughter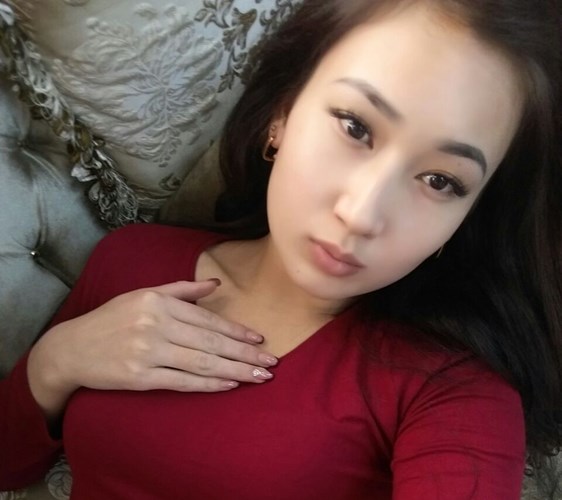 This is Aigerim, she is from Kyrgyzstan in Central Asia. A very beautiful country but with many problems. Four years ago she became pregnant and her husband left her. Like many men in her country he was only interested in having a pretty wife, not a child. This is a country where practices such as bride kidnapping are still common, and women are mainly seen as second class citizens.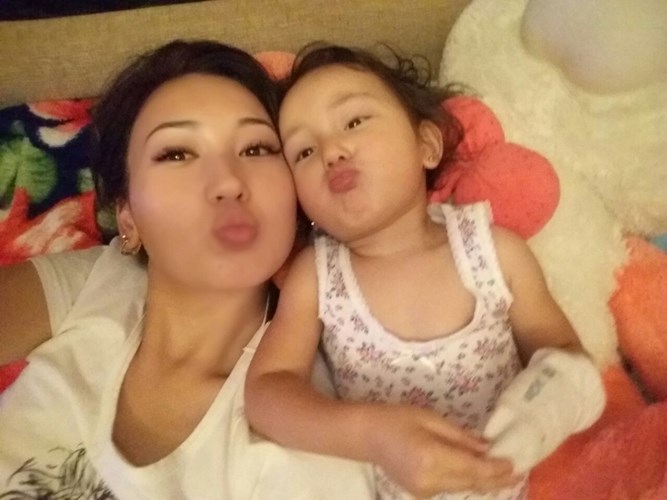 Here she is with her daughter, Elina.
In 4 years, the father has not provided a single penny of support, and during those 4 years she has done an amazing job of raising Elina on her own. Her mother moved to Moscow to try and find a job that pays a little more money, so she did not even have her mother with her to help during these years.
It has not been easy for her as a woman on her own. She didn't only face the normal challenges of being a single mother but also the stigma against single mothers and divorcees in her country. They are considered to be 'unclean'.
As a typical example, one man decided to smash her car last week for the simple fact that she is a single woman with a child. She was so disheartened by this.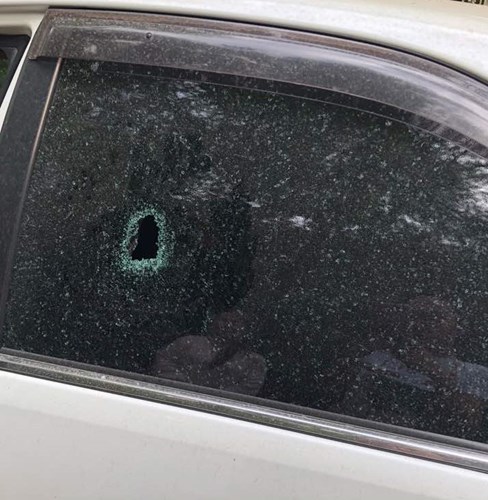 Aigerim has fought so hard to give her daughter a good life and I am so proud of her for that. She has used every penny she earned for her daughter and has done nothing for herself. Like any good parent, she gave up so much to try and make sure her daughter had all she needed.
Breast Cancer
Since her pregnancy, she has always suffered from some health issues, mainly severe anaemia for which she receives frequent treatment, but it is under control. 12 months ago though I received a message from her that just said:
I have no dreams left. I have no hope. My life is over.
Before that she had always been positive and talking about her dreams. I was obviously shocked and she didn't explain any more. It took 2 days for me to find out that she had been diagnosed with breast cancer. She was so convinced that either the cancer or the surgery was going to kill her.
We were able to find the money for her surgery and she made a good recovery. She is still on some medication but it seems like the tumour was successfully removed and all is well.
At the same time she also had to go through surgery for cervical erosion.
Kidney Failure
Shortly after her cancer surgery she started to have kidney problems. She was in a lot of pain and doctors at first diagnosed her with kidney stones.
She has been having daily IV drips and injections. The injections are always given in her rear, a source of mild amusement as we often joke about her inability to sit down after the injection or the 'pain in her ass'.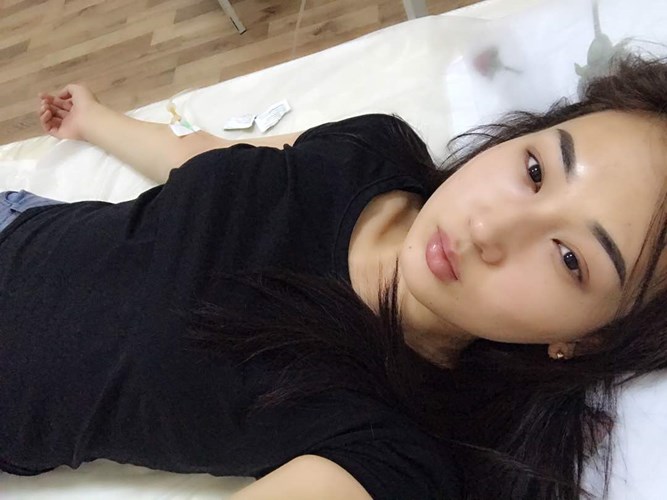 But as time has passed there has been no improvement with treatment and her kidneys have continued to shut down. In addition, the medication for her kidneys was causing liver problems. She has been put on a strict diet, and doctors are currently trying to balance the medication against the damage to her liver.
Talking to her just this last week she said to me:
I don't know how much time I have left. All I want is to provide for my daughter. Even my mother realises that my time is short. She told me to work hard now to make enough to leave for my daughter, and then enjoy the little life I have left.
Divorce
To add to all the other troubles, her husband has still refused to finalise her divorce. One of the side effects of this is that she is unable to travel outside the country with her daughter. She had some opportunities for working in other countries but had to turn them all down as she needs permission from her husband to travel and he refuses it.
This is also quite a common practice in the country unfortunately. A lot of men walk out on their marriages and live with new women but refuse to 'free' their wives. They feel they have a right to still continue to maintain a sick form of control over them.
He has also decided now, after 4 years of no involvement, to take advantage of her sickness to try and steal her daughter from her. Threatening to take her to court over it and show she is incapable of supporting the daughter that she has raised so amazingly on her own for the last 4 years.
Everyone knows it is just another display of his power over her, and not any real desire to look after a child. Should he win custody, Elina will be handed off to the family of one of his Aunt's.
Fighting On
Aigerim has been in constant pain from her kidneys and the medication for the last 9-10 months, but despite this, she continued working full time for as long as she could. At the beginning of summer she had even saved enough money to attend a course at one of the top beauty schools. She graduated with flying colours and it guarantees her a job at any salon in her country if she can overcome her medical conditions.
She also attended English classes every evening in summer in another attempt to continually improve herself and her chances of finding good work to support her child.
She is studying Economics and Mathematics at university, and luckily for the last year she was allowed to continue her studies from home. This year thought she is required to physically attend classes and she started 2 weeks ago. She is determined to graduate no matter what happens.
We have found a couple of small online jobs she can do from home to cover her daily costs and her mother has come to help for a few months to take a little stress off her, but that also means her mother makes no salary during this time.
On top of that one of her friends had a baby three months ago, and her boyfriend also walked out on her, and threw her out of the apartment they were living in. Aigerim has been visiting her almost daily to help her and teach her how to take care of her newborn.
Despite all her own pain, she has not stopped trying to improve herself and to help people around her. In all the time I have known her, she has done nothing for herself.
Her standard day now is: she wakes up early to take her daughter to school, then she goes to university for classes, then to the hospital for several hours for her IV and injection or more tests. After that she visits her friend to help her with her baby. Then she picks her daughter up and goes home to cook for everyone. Then she has several hours working online to make a small salary. And finally she can sleep. She never has time for herself.
I am so proud of the woman that she has become. I am so proud of how she has dealt with everything until now. But I can see that finally everything is just weighing her down too much and she is losing the last small bits of hope and finding it harder and harder to keep stepping forward.
I have done all I can to keep her strong and motivated, and I think she really deserves a little back from the world.
Goals
I am hoping to raise enough money to achieve at least some of these goals:
1) Medical Treatment for her kidneys.
There is no NHS in Kyrgyzstan. Everything has to be paid for and their is a vast chasm in the level of treatment and doctor's skill between government hospitals and private facilities. I want to make sure that we can secure the best medical treatment for Aigerim to give her the best chance at a long life so she can care for her daughter herself.
Ideally I would love to bring her to the UK, or even one of the neighbouring countries that has much higher quality of medical treatment, for a second
2) Money for university so she can finish her degree and have that pride in her accomplishment.
University is not particularly expensive, but a little extra money would allow her to ease up on part time work and concentrate on her studies and maybe even have some time for herself.
2) A small fund to pay for school and in future, university for her daughter.
Her biggest concern is not leaving money to provide for her daughter. If we could remove this concern she would have a lot of weight lifted from her shoulders.
3) Deal with the court case for her divorce.
She has no spare money to be able to pay for lawyers to help with her divorce so her life is constantly in limbo because of it. It would free her up so much if we could settle the divorce and she can be sure that Elina will remain with her and her family no matter what happens in the future.
4) Pay a deposit on a small apartment so she can stop losing money on rent every month
While she is able to make enough money to cover basic rent and life, she has no way to save enough to ever place a deposit on an apartment. She would be able to pay the mortgage on her own if she could get a deposit together.
Having a place of her own would also help massively with the divorce and would allow her mother to return permanently to Kyrgyzstan to help.
Final Words
I wouldn't make this page if I didn't believe that Aigerim was truly deserving of some help. I have seen with my own eyes how hard she has struggled to provide for her daughter in the last 4 years. I have seen all the sacrifices she has made. I have seen all the stigma and hate she has had to deal with. I have watched her crying because she feels that there is no hope left and no reason to keep moving forward.
I want to give something back to a woman that has given so much of herself.
Questions / Other
While I originally met Aigerim online through my tutoring of young adults in the region, I have also met her in person and can assure you that all the facts above are correct. I will directly pay for all large expenses (even if I need to travel to Kyrgyzstan to do so) and will happily provide receipts for all money spent for those that wish to see them.
I will provide regular updates on changes in Aigerim's life/condition. And information on everything your donations are used for.
If you have any questions please feel free to comment and Aigerim, or myself will be happy to answer all of them.
If anyone wishes to donate and needs help with Russian or Kyrgyz language translations for whatever reason, then also feel free to ask.
If you want to know more about Kyrgyzstan or are planning on travelling there, Aigerim would be more than happy to provide local knowledge.
Updates
0
Paul Rylance started crowdfunding
Leave a message of support
Page last updated on: 9/17/2018 21.58
Great people make things happen
Do you know anyone in need or maybe want to help a local community cause?
Create you own page and don't let that cause go unfunded!
About Crowdfunding
About the fundraiser
Paul Rylance
I am a software developer who tries to do his best to always give something back to the world. 5 years ago I was lucky enough to meet someone who worked for the Ministry of Youth in Kyrgyzstan, and since that time I have been tutoring and mentoring young adults in that country.