£53,381
raised of £58,000 target by

528 supporters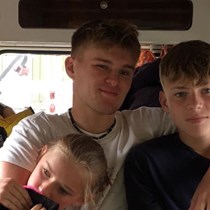 Fynn Watt
We're raising £58,000 to Further our daily support of Ukraine and Ukrainian refugees.
Don't have time to donate right now?
Story
UPDATE 18/10/2022:
The ambulance project was a brilliant success. All were delivered in great time by our amazing team and the vehicles have been working ever since to evacuate and treat war victims in Eastern Ukraine, as well as, hosting mobile clinics.
Simon let me know that with one vehicle in use, a typical week can include the evacuation of up to 60 people or field clinic potential which will treat 80-100 people per day.
Now, a first responder vehicle has been specifically requested Simon and the team in Dnipro. They are desperate for both a smaller vehicle and 4WD capability, due to the challenges of getting to patients faster in a war zone. Bridges have been destroyed, significant diversions occur everywhere, weight and height restrictions come into play, and of course casualties don't just get injured next to roadsides. This vehicle will get to places that the ambulances can't, so it will save lives. It's that simple…
On Monday 24th October, Dan Owen and Jim Turburfield should depart with the Ambulance 4x4 alongside Charlie Scothbrook and Hector Stapleton in the second vehicle and Milson Westbury in the third. These two vehicles being used for evacuations and aid deliveries over the coming months.
UPDATE 19/09/2022:
Our new project as of 2 weeks ago : Ambulances + Equipment asap!
So much has happened in the last few months including me spending 3 months in Ukraine organising and running evacuations and aid deliveries all across the country. Now, our latest endeavour has been purchasing, equipping and providing three ambulances to paramedics in the south and east of Ukraine. From the time of the request we've had about two weeks, but with the help of our team of drivers: Al Kitchen, Vaughan Jones (again!), Craig Milner, Sam Lowe and Harry Turburfield and the amazing work of the restoration boys at Greatworth Classics (Paul! Adam! Angus!) the vehicles will be leaving on 21.09.22 and make their way over to our friends in Ukraine to help save lives again.
Donations for this part of the project are being used for the ambulance and equipment purchasing, fuel (as always) to get them there and also to help us provide them with medical supplies whilst in the field for the next months.
UPDATE 24/05/2022:
Our Ukraine Aid efforts have come a long way and are getting bigger and bigger! With the amount of the support we've had from the local community and large donors like David Watt, Angus Watt, Alastair Caldwell and Alan Jackson we now have 1 van running regular trips to Kyiv and supporting the local communities and ex-russian occupied areas there, as well as, 1 van taking regular journeys down to south eastern Ukraine where help is vital. We also have another van heading out at the end of this month to be dedicated towards these same aid movements within Ukraine that are needed most.
Donations are so important as we are increasingly looking to purchase supplies within country and purchase fuel to make the journeys required. Purchasing at local shops helps support the remaining working population in Ukraine and allows us to be immidiately effective purchasing exactly what is necessary.
Notable donations have been passed on to the charity Chance For Life, which were a group I met in Khmelnytskyi whilst delivering aid to their hostel locations. These donations have mainly been used to sponsor aid missions for them to take supplies like food, water and medicines to Kharkiv.
My work for the Coaches2Ukraine group was also successful with 91 Ukrainians arriving on 2 coaches in the UK on 29.04.2022. The mother and son who were unable to get their visa in time and thus join the coach were were covered by personal transport we organised and have also arrived in the UK. These 2 coaches then returned to Poland with supplies organised by the group which I was able to place and have since gone to a number of different locations including Khmelnytskyi, Kharkiv and Ukrainian Refugee centres in Poland.
5 visas I handled from two different families now living London and Sussex have been processed and accepted with the youngest girl (11) in Sussex having already started UK school last week:) The family reassured me our country had been more than welcoming to them and they do feel safer than ever.
Our teams so far have included:
Fynn and Jono, Angus and Trevor, Fynn and Karol, Ryan and John not to be confused with John and Ryan, Jason and Vaughan, Stephen and Jason, Ryan and Brogan, and last but not least, Svyatoslav our favourite local Ukrainian.
UPDATE 18/04/2022: On 25th April another team from Deddington - Vaughan Jones and Jason Komodikis - will be flying out to Krakow to continue our mission to help Ukraine and its people. Vaughan and JK will pick up one of our two vans now stationed at the airport and spend a week carrying on the work we started over six weeks ago: delivering much-needed aid, ferrying people out of the danger zone until they find safe refuge and whatever is needed for that period!
As for me: I've had 4 visas accepted and am looking to bring these girls to a house found in camberley soon! I've just returned from Ukraine with missions to Kyiv and Khmelnytskyi all successful and updates to go on facebook soon!
UPDATE 30/03/2022: We have started phase 2 of our project after a very successful week in Poland and Ukraine. Now we are focusing on putting the British public, in the seats of our 2 vans to carry out supply missions in Eastern Europe. My own Dad, Angus Watt, and his life-long friend, Trevor Agnew, have been the first team to go out there and have dedicated a week to helping Ukraine and its people. If this sounds like something you'd like to do please get in touch: speaktofynn@gmail.com
STRETCH GOAL: The target to cover all related costs to my efforts has been met in just 11 hours! Thank you so much everyone. Now we aim higher so we can help more. I have updated the donation goal and will keep updating it if you keep supporting me and our mission. Please see the "Over & Above" section below for how we will continue to help. All updates to come on my Facebook: https://www.facebook.com/fynn.watt.5
Hello Everyone, my name is Fynn. I'm 20 and I live in Deddington, Oxfordshire.
On Friday (11th March) I'm leaving England in a transit van and driving to Vienna, Austria to meet up with a group of international civil servants who are running a 24/7 mission to deliver donations from Vienna to Przemyśl, Poland which is the city closest to the Ukranian border in which refugees have been fleeing to for the last few weeks since the invasion of Ukraine.
The team out there have been working non-stop finding out exactly what the refugee camps need, reporting back to the Vienna HQ, driving these up the next morning and then driving back to Vienna with Ukranian refugees. And then all over again the next day. Refugees they've been helping need good accommodation and help travelling further West until they find safe refuge. The mission is going well but Adam, running it, called me 2 days ago and said he needed help. I'm going to do the same.
I'll be going with my trusty friend Jono and we will take 4hour shifts driving the route Vienna to Przemyśl as many times as humanly possible in the days we are there. 
My trip out to Austria there is funded by myself and my close family, I want to pay for as much of that as I can.
Thus, Your Donations will be for:
1) Help with money for fuel to travel to Przemyśl with supplies and return to Vienna with Ukranian refugees.
2) Purchasing supplies the refugee camp have requested but have not been donated.
3) Accommodation for the Ukrainian refugees we bring back.
4) Spending money for the Ukranian refugees we bring back and their onward travel.
Over & Above:
Money rasied above what I need will partly go to the rest of my team and their continuation of the mission to supply and support the Przemyśl refugee camp and those fleeing Ukraine.
Further to this, I am inside of the communities now and interacting with people all over Europe. I will be using your money for only the most legitimate opportunities to purchase and send supplies into Ukraine to those who need it most. I will be doing this with groups such as the BAMK Ukraine appeal in Milton Keynes who I was working with last week. We managed to pallet and send away, on an articulated lorry from Milton Keyenes, 40 pallets of donations from the MK communities that will travel to the Ukr-Pol border and then into hard to reach groups such as Ukrainians stuck in subway stations without the ability to escape. The requirements are
I've been working with BAMK Ukraine mainly at home, they are amazing and to help them visit their Facebook page here: https://www.facebook.com/groups/671212580742480
I'm proud to have a family that are supporting my trip but the teams around me do need some financial support and I want to get it to them. They have rented vehicles, spaces, have medical requests, food requests etc. 
With your donation I'll do everything I can to help over there for the next weeks and with groups when I'm back. Please message me any time on facebook and ask about the last thing your donation was spent on or the group it went to and what they are buying. Total transparency.
If you are interested in joining me, the Austria team, have any questions, or need anything please reach out to me on Facebook: Fynn Watt, they really do need people - even if you can't speak Russian, Polish or Ukranian. They need hands in Przemyśl, they needs hands for the 8pm - midnight shift.
So many more details to come when i'm on the ground, i'll make time to update on my social media pages, all of which are Fynn Watt - mainly Facebook:)
Total miles are looking around 5000, hopefully I can do more. 23.03.2022 - this ended up being more like 6000 miles.
Thank you so much for your time and donations. I am recording all expenses so we and others from the UK can have more successful trips out there in the coming days. You really can do something to help. This is only the beginning of the support we can provide. 23.03.2022 - 6000miles meant around 1000EUR on fuel in 9days.
23.03.2022 - A big update is that we have parties that can now mirror what Jono and I did and continue the support efforts from our local community. Driving supplies from Vienna, Austria to the refugee camps on the border and then helping the refugees in those camps travel West as part of the return journey. If all goes well you should have an update this weekend on my Facebook page!:)
Slava Ukraini !! 🇬🇧💪🇺🇦
In today's world, where we live, there is no longer someone else's war. None of you can feel safe when there is a war in Ukraine, when there is a war in Europe. - Volodymyr Zelensky
Updates
12
1 month ago

The Ambulances in action : "Yesterday we gave treatment to approximately 200 people in the camo ambulance. We also evacuated 14 patients. When we have a clinic, we can treat 80-100 people a day. Last week we treated around 500 people." From the Dnipro team who are now working in in South and East Ukraine with Clarkson and May.

Share this update to help us raise more

2 months ago

The power of the Beklemeshev family. We took this family of 10 out of Ukraine 3 months ago so that these boys could create a future for themselves. Nazar (back right red t-shirt, 11 years old) only had one dream: To earn enough money to support his parents. Such strong young men. Indefinitely smiling.

Share this update to help us raise more

2 months ago

We're now through Belgium, Half of Netherlands tackled, and crossing Germany heading for Leipzig tonight. A short but memorable one in Belgium (all the team would agree). After asking for your support on this ambulance project 8 days ago we've received around £4000 on the JustGiving page which is just incredible to see. It's amazing from every one of you. Of course, thank you again to Oxford Products and the Duns Tew community for kickstarting this.

Share this update to help us raise more
Fynn Watt started crowdfunding
Leave a message of support
Page last updated on: 11/25/2022 18.54
Supporters
528
Neil Skinner

Nov 25, 2022

I'm support of Jim Turburfield and his Red Lion World Cup campaign

Rachel Noel Van

Nov 24, 2022

Love Wins

Stan

Nov 21, 2022

We'll done keep going

Anonymous

Nov 18, 2022

Amazing effort everyone, keep up the unbelievably good work

Madeleine and David Williamson

Nov 15, 2022

What an amazing achievement!

Anonymous

Nov 15, 2022

Keep up the great work best wishes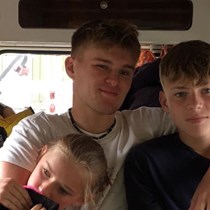 Become a supporter
Help Fynn Watt raise more
Crowdfunding is a new type of fundraising where you can raise funds for your own personal cause, even if you're not a registered nonprofit.
The page owner is responsible for the distribution of funds raised.