£17,362
raised of £20,000 target by

378 supporters
Ben Moorhouse and Gaynor Thompson
We're raising £20,000 to Create a New Maternity Bereavement Suite At Calderdale Royal Hospital
Crowdfunding is a new type of fundraising where you can raise funds for your own personal cause, even if you're not a registered nonprofit.
The page owner is responsible for the distribution of funds raised.
Story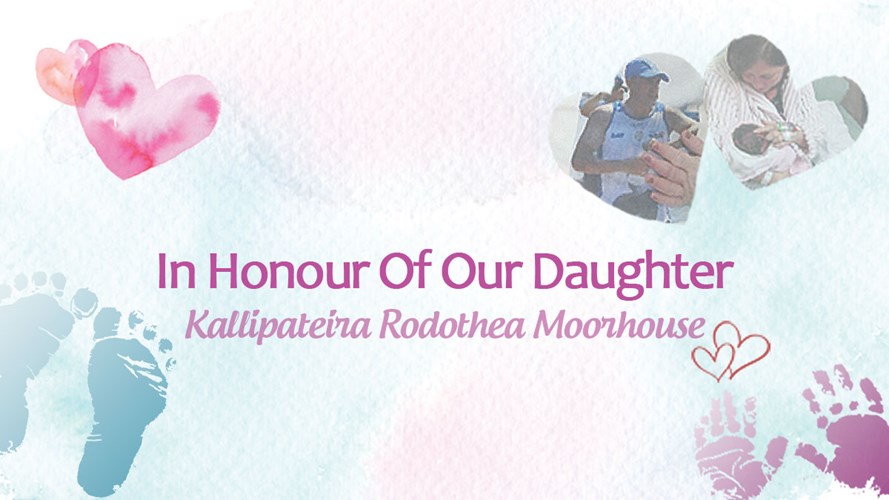 Our story and why we ask for your support, care and love.
Ben Moorhouse & Gaynor Thompson ,Kallipateira Rodothea Moorhouse
Stillbirth of our daughter at 38 weeks of Pregnancy
Back in February 2018 something happened that we thought would ever happen. It was not planned, and it was a huge shock and surprise. We had become pregnant and in only nine months' time we were going to become parents to a little girl or boy.
The weeks passed and we attended all appointments with the midwife and had the routine scans as planned. It was not until you see this little person growing inside on the scan display screen at the hospital that you develop a love that you have never experienced before.
We attended a very important appointment at the hospital - at this scan we would find out the sex of our child. As normal all checks were ok, and we were informed that we would be having a girl.
In August 2018 with Ben completing his 150 Mile Extreme Challenge Walk in Rhodes for another charity we sat down with our good friend from the Greek Government to decide on a very special name for our daughter. We decided on the name Kallipateira after talking for many hours with the Vice governor of the island Mr Yiannis Flevaris. We spoke of a special Greek name we were looking for that was not used by anyone else. Kallipateira was the first women to enter the ancient Greek Olympic games disguised as a male trainer so she could watch her son compete as no women were allowed in the stadium. When her son won his event, she jumped over the fence in excitement and as she did this her clothing got stuck and fell off revealing she was a woman. She was let off the death penalty due to her family success at the games. Mr Flevaris in the government office gave special authorization for us to use the name. The next time we would go to Rhodes would be as a family of three.
Upon our return from Rhodes we started to get ready for the big arrival in November with the due date as the 10th November. In the weeks that followed we spent over £5000 getting ready. The house ready from top to bottom, her bedroom ready, all items bought with hours of thought , and clothes washed , ironed and placed in her little draws. All done through love. Been a parent is the most special gift and the biggest responsibility that is given to you.
Gaynor finished work on her annual leave only a few weeks before the due date with her Maternity leave starting in early November. After a visit to the midwife to go through the birthplan and for measurements we were referred to the hospital on the same week for another extra "bonus "scan to check all measurements were ok.
We went to the hospital on the Thursday for nearly seven hours for different checks. We were then seen by a doctor who said "everything is ok - come back next week for another scan "
In the days that followed everything seemed normal, Kallipateira was kicking and moving with her same daily routine. We protected her with every bit of love we had.
On Wednesday 24th October the appointment was attended too for the referred scan from the previous week.
The sonographer in the room started to go over the the display screen moving her instrument around Gaynor's stomach to check babies' measurements. The Sonographer left the room to bring in some colleagues to also have a look at the display of Kallipatiera.
With less than two weeks to go until the due date the sonographer gave the devastating news. Kallipateira had no heartbeat. Our baby girl had died. Only hours before she was moving about inside as normal.
In a bereavement suite we spoke to one of the kindest, gentle and most heart-warming people we have met-our midwife.We discussed what would happen next. From feeling your baby moving only hours before you are then told that Gaynor needs to take a tablet to stop the full hormonal process for the pregnancy. This moment ripped our hearts apart even more. Are we having the worst nightmare ever and will we wake up at any second? Is this really happening? At this moment apart of us died. We had planned the rest of our life, hopes and dreams for Kallipateira. Within hours this is ow not happening.
Our midwife was absolutely brilliant in every way possible. We were advised that we would need to return home and come back two days later on the Friday morning to have a natural birth for Kallipateira. Knowing the same midwife would be with on the Friday made things feel easier to deal with. We could not have asked for a better person.
We walked back home from the hospital in tears, shaking and feeling destroyed.
In the next day and a half, we informed family and close friends of our devastating news.
Our suitcase was already packed for the day of the arrival - ready for an ok baby. We had to somehow then make changes to what was in the bag- the reality was some of the items were now not needed to be taken as our baby girl was now dead and not alive
On Friday 26th October, Gaynor's waters broke in the early hours and with our suitcase ready we made our way by taxi to the hospital.
We were in the same bereavement room as the Wednesday. The room had its own bathroom, TV, radio and drinks facilities. There was a display wall with the ocean on. But there were no windows with natural light.
We had not been to bed for 48 hours. We had not eaten for 48 hours.
With the support and care of the midwives and of course Ben, Gaynor went through a full natural 15-hour labour knowing what the end outcome would be. How she did this with no sleep or food in 48 hours we don't know .
At 5:05pm on 26th October our stunning daughter Kallipateira Rodothea Moorhouse was born sleeping. She weighed 7, 3 and had a head full of dark black hair- even the midwives and doctors were amazed by how much hair she had.
Gaynor went straight to theatre to have work done on some severe tears.
Upon returning Gaynor laid in the bed and I sat next to her waiting for our daughter to be brought through to us in her special basket which would keep her body cool .
Kallipateira was brought into the room and I could not get up fast enough to meet and see her. It was an even bigger love at first sight. Our hearts had been ripped apart but when we got to see her we were so proud. We had created such a beautiful young lady. Our baby. Our daughter. She was dressed in her Snowman & Snowdog Christmas suit and booties. Underneath she wore a very special vest - a vest with photo of myself at the start line of the Extreme Challenge. To keep her head safe, she wore a lovely knitted hat by Gaynor's friend Kath.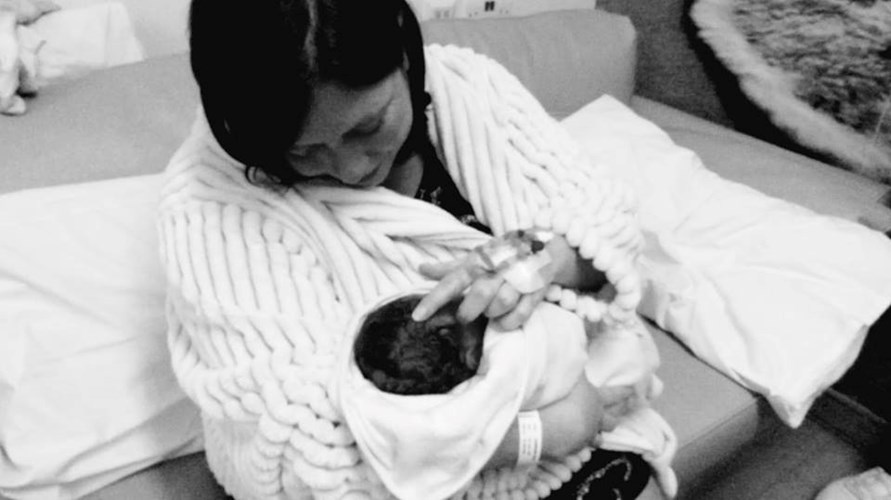 The hardest thing to deal with was we could hear babies been born and crying down the ward. Why should these people be ok and not us? What have we done so wrong to deserve this?
In the hours ahead, we held Kallipateira with every ounce of love we had for her and more. We slept with her during the night and we could not keep our eyes off her. In the morning we held her so close. I held her and listened to Greek music and sang to her, something I would have done every single day had everything been ok.
We had photographs taken with Kallipateira and spent more time with our midwife to discuss were feeling and more. The midwives who looked after us and Kallipateira are worth their weight in gold. As the hours passed, we were given a memory box with lots of little items in which we could remember Kallipateira with, a very nice touch from the charity who provided the memory box.
The time come when we had to kiss Kallipateira and say goodbye to our baby girl we would not see in "body again "We spoke to her telling her how much we love her, and how proud we will make her. I always say she is and always will be the love of my life. ( Ben )
Our midwife sat with us to cuss what will happen going forward, what support is available, and we went through the required paperwork. The most difficult subject to discuss was the funeral which we would need to decide on and arrange.
We decided that Gaynor was ok to be discharged to go home and at 6PM we left the Calderdale Hospital.
Upon walking down the labour ward corridor and leaving we were met coming through the doors by a family who all had "Congratulations "balloons for someone who obviously had an ok baby. How cruel for us. Another stab in the back.
We returned home with Gaynor having gone through a 15-hour labour, but we were empty handed. All we had to bring home was a "shoebox ". The house felt empty. Her little bedroom already standing there quiet. Her little white draws full of clothes bought with love.
We had to wait three weeks for the Funeral at the Snowdrop Chapel at Park Wood. We were given the gift of meeting Heather David who did the service for us. A lady with total understanding, love and care for us and Kallipateira. We now call Heather a friend. The Celebration was perfect in every way. I carried her pink casket on my knees from the chapel of rest to the Park Wood. I was so so proud as her father. We entered the celebration to the very same music we listened too with Kallipateira in the hospital and ended with The Snowman and Snowdog theme - Light the night. During the service we spoke about her very special name, love and how she has had such a positive impact on our lives and many more. We will be taking her ashes to Rhodes this August to put in the clear blue warm waters - the very same waters she loved to kick in under Gaynor's heart.
Making a positive from what has happened
Kallipateira would have been brought up with the same values that we live by. We have both spoke at lengths and agree that she would want something positive to come from what has happened. We must continue her special name and memory by helping others who are in a similar position too us. We must help her light shine through.
2019 - What should have been our first full year with our daughter is now going to be year of fundraising and making awareness of Stillbirth in the UK, especially from a dads point of view as hardly any dads talk about this subject
Please support us today and help make a massive difference
We have been with working with our bereavement midwife at Calderdale Royal hospital in Halifax. During our 2 day stay the room was specifically set up for people who have lost their baby and although the room is adequate more must be done for parents and their babies.
Our bereavement midwife has been looking to set up a new room away from the ward for a very long time and we have told her it's now our responsibility through Kallipateira to raise her and the ward the funds that are needed. It will cost £15,000 and more to create the new bereavement suite. The new room will be named in honour of our daughter.
Please do your bit and help us raise £15,000 and more
You can donate to our very special cause via the Donate button on this page.
How else can you support us to raise the funds needed ? Ideas include
Asking family and friends to donate - please provide them with our page details.
Share this page on your social media pages which includes Facebook , Twitter and Instagram.
Ask your employer to do a Dress Down Day or a cake bake day and donate all proceeds to the page.
Please like and follow us on Facebook . Twitter and Instagram
Facebook Page: www.facebook.com/stillbirthawarenessandfundraising
Twitter Page : www.twitter.com/stillbirth2019
Instagram: www.instagram.com/stillbirthawarenessandfund/
Official Events 2019
Yorkshire Three Peaks - June 8th 2019 - Please visit for details and sign up
www.kutaoutdoors.co.uk/stillbirth-awareness
Ben Moorhouse - Extreme UK Coast to Coast Walk in 48 hours - July 5th 2019
Follow our social media for updates and Ben's journey
We thank everyone for your support and love .
Best Wishes
Ben Moorhouse. Gaynor Thompson and Kallipateira Rodothea Moorhouse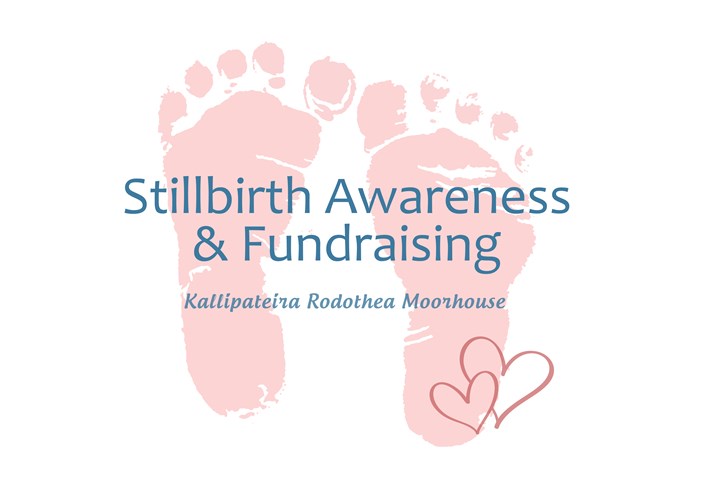 Updates
22
4 days ago

Ben Moorhouse and Gaynor Thompson

4 days ago

Singing sensation Alfie Boe is currently no 2 in the album charts with #BackTogether alongside Michael Ball OBE . Alfie has sent us a lovely message of support for our daughter and cause for the new maternity bereavement suite at Calderdale Royal Hospital in Halifax. Please make a donation towards our very personal cause at www.justgiving.com/crowdfunding/krm2019 To purchase Alfie and Michaels amazing new album #Backtogether please visit https://ballandboe.lnk.to/BackTogetherFP Best wishes Thank you Ben Moorhouse and Gaynor Thompson

Share this update to help us raise more

1 month ago

Ben Moorhouse and Gaynor Thompson

1 month ago

Booking deadline Friday - please help us fill more tables for Kallipateira! Email ASAP to book and for menu Kallipateira2018@hotmail.com

Share this update to help us raise more

2 months ago

Ben Moorhouse and Gaynor Thompson

2 months ago

Kallipateira 1st birthday celebration 🌠🎂 🗓 October 26th 2019 🕖 Time 7pm until late 📍 The Shay stadium banqueting suite 🎟 Ticket price £25 What's included 🥂 Drink on Arrival 🍽 Three Course Meal ( menu in comments ) or emailed 🎤 Live music with the incredible Lorna Adam's 🎧 DJ ** payment will be made by bank transfer to our charity business account . To book tickets please contact us by Email: Kallipateira2018@hotmail.com Telephone : 07432173156 Best wishes Ben Moorhouse and Gaynor Thompson

Share this update to help us raise more
Ben Moorhouse and Gaynor Thompson started crowdfunding
Leave a message of support
Page last updated on: 11/17/2019 15.59
Supporters
378
From the CSC dress down and cake sale

Oct 28, 2019

Claire

Oct 27, 2019

What an incredible thing you are doing to help future parents in Calderdale who go through such an horrific ordeal as you guys. You are honouring your daughters memory in such a positive way. xxx

linda taylor

Oct 25, 2019

Thinking of you. Sorry I can't get to the shay tomorrow night, due to work commitments.Love from Linda.x

Anonymous

Oct 23, 2019

Hope you reach your target this facility is long overdue. Thinking of you at this difficult time.

Margaret Outhwaite

Oct 15, 2019
Become a supporter
Help Ben Moorhouse and Gaynor Thompson raise more
About the fundraiser
Ben Moorhouse and Gaynor Thompson
Raising £15,000 and more to create a new Bereavement Suite at Calderdale Royal Hospital.