Preview of your final page
Yimby
Project owner

Gary Baddeley
We're raising £500 to go towards the approx £20,000 cost of operation because Ben needs this for a pain free and improved life
Amount Raised

£6,607

Target

£500

days left

0
---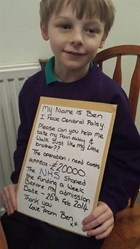 Stoke-on-Trent, United Kingdom
---
What's the problem we're trying to solve?
Ben is 9 years of age and has cerebral palsy. He was supposed to have an operation called selective dorsal rhyzotomy and was going in for the last stages of tests on the 20th February 2014 after already having two months of consultations and tests. THE NHS STOPPED FUNDING AND CANCELLED HIS OPERATION ON THE 10TH OF FEBRUARY 2014. this operation would have changed bens life and left him pain free an taken away all the tightness in his muscles
Why do we care about this project?
ben was diagnosed with cerebral palsy at 1 years of age. we were told he would never get out of a wheelchair. through intense physio and bens determination he now walks unaided. He has walked out with England and Stoke city F.C. He has also done a charity bike ride for peter Pan. Ben is 9 years old and has been through so much. this operation will take his pain away and give him a better life
How will the money be spent?
The money will go towards the approx cost of £20,000 for the operation. We are also doing local fundraising events with local companys to make sure that we raise the money for the operation
When will we see the difference?
first few weeks and in the following months after. we will keep you updated on bens face book page
---
About me
Gary Baddeley
Im a proud father of two. two links for story bout Ben http://www.stokesentinel.co.uk/search/search.html?searchType=&searchPhrase=ben+baddeley&where= http://www.stokesentinel.co.uk/Disabled-Silverdale-youngster-Ben-s-operation/story-20608756-detail/story.html
Leave a message of support