Preview of your final page
Yimby
Project owner

Thomas Bowness-Major
We're raising £500 to help provide a continuous hydrocortisone pump because we want to improve Hannah's quality of life.
Amount Raised

£820

Target

£500

days left

0
---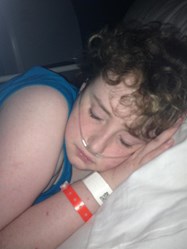 Cronton, Widnes, United Kingdom
---
What's the problem we're trying to solve?
Hannah has been treated aggressivey with steroids for most of her 13 years. It is due to this that Hannah has developed an unusually rare condition, especially in someone of her age, called Adrenal Insufficiency. This is a life threatening condition which means that when Hannah becomes unwell, her body does not know how to cope so it goes into shock. Her heart stops and she will die. Continuous treatment throughout the day aids Hannahs body to cope with everyday life but the NHS dont fund it
Why do we care about this project?
If you are a parent, brother or sister, you will understand that the need to help and protect those that you love is paramount. Although Hannah's condition is not specifically limited to adrenal insufficiency (she also suffers from extreme severe brittle asthma, eczema, allergies, anaphylaxis, hypermobility to name a few), there is a system which could treat her but it is too expensive for the NHS to support. We believe that everyone has the right to access what they need to survive.
How will the money be spent?
Money will be used to help Hannah go to London to meet a leading specialist. Hopefully, all of his knowledge will aid us to give Hannah the life that she deserves. She has so much to give and already has, selling her toys and using the money to buy items for the local childrens ward. She was even gifted £100 but donated that money to another child in her primary school who she felt was more in need. She is a beautiful and selfless young lady who helps others. Now its time for us to help her
When will we see the difference?
There is no immediate time scale that can fix Hannah's health problems but hopefully, as soon as we can meet with the specialist then the steps will be taken and wheels put in motion for Hannahs life to change for the better. You can expect regular updates from Hannah herself via her facebook page HELPING HANNAH which is also linked to twitter. She has also promised to run a blog and share her experiences with others who may have similar medical needs to others. Understanding is key to health
---
About me
Thomas Bowness-Major
As Hannah's Parents, we just want whats best not just for Hannah but for our entire family. Hannah's illness has affected us all. All we want is for Hannah to have a happy and healthy life that she can live to the fullest. Surely thats what every parent wants for their child.
Leave a message of support