Preview of your final page
Yimby
Project owner

Chrissie Leggett
We're raising £500 to buy Lacey Pearl essential health care equipment because she needs it to get her home from hospital
Amount Raised

£6,873

Target

£500

days left

0
---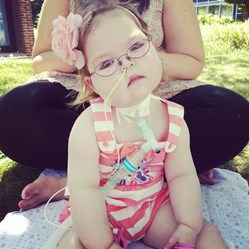 ---
What's the problem we're trying to solve?
Lacey Pearl has Mitochondrial Depletion and a tracheotomy and after 9 months in hospital needs to be home - but to go home she needs equipment to allow her to enjoy her life. She will need care 24/7 so Mummy & Daddy will need every little bit of help they can possibly get. Lacey will need portable equipment (incuding a suction machine and sats monitor) to allow her to move from room to room plus a new bed, chair, bath and it would be wonderful to get the garden re-done so she could go outside.
Why do we care about this project?
Lacey Pearl Leggett (born 22/11/11) strong & healthy. Just before her first birthday she had to go to hospital (and still is). She has fought through chest infections, collapsed lungs, incubation, 4 failed attempts to get her off her vent, then having a tracheotomy and now Mitochondria depletion disease, yet reminds a happy, fun loving (adores Peppa Pig) little girl who sadly can no longer ride her bike or train, play on her swing or swim; but specialised equipment could make all the difference.
How will the money be spent?
We need to raise money to buy:- Portable Suction Machine (aprox £400) Portable SATs Monitor (aprox £100) We would also like to raise enough if possible for the Theraposture Cot (aprox £4,000) NRS Sunflower Portable shallowbath (aprox £350) R28 Penguin Bath Chair (aprox £250) JCM Triton - Postural Chair Portable Swing (aprox £200) Sensory lights/toys And if a small miracle occurs and we raise enough it would be amazing if we could have the garden made disabled-child friendly.
When will we see the difference?
The plan is to try and get Lacey home within the next few weeks so the effects of the money raised will be seen within a very short time - we will keep everyone updated on facebook with each piece of equipment being shown in its full glory with Lacey's huge smile to go along with it - we're all so looking forward to seeing those special Lacey smiles.
---
About me
Chrissie Leggett
I am the very proud Nannie of Lacey Pearl Leggett - she is my inspiration and I love her more than words can convey. She is a very strong determined little girl, bright as button with a great sense of humour. I would just love her to be safely home with her Mummy and Daddy.
Leave a message of support