Preview of your final page
Yimby
Project owner

Harriet Wright
We're raising £500 to buy Harriet 2 limbs for cycling & social events. because it will enable Harriet to live life to the full.
Amount Raised

£1,520

Target

£500

days left

0
---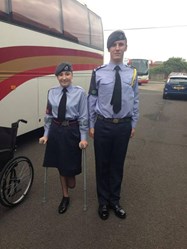 Stockport, United Kingdom
---
What's the problem we're trying to solve?
To enable Harriet to live a full active normal life, especially being a girl who loves sports and social events as a cadet in the air training core. Harriet has never been able to enjoy sports as she would wish and our fund raising will enable this to finally become a reality.
Why do we care about this project?
Harriet is our Daughter whom we have seen deteriorate during the past year with severe arthritis, causing extreme acute pain and discomfort. It would be great to see Harriet cycling and running, basically enjoying life to the full and most importantly seeing her a happy healthy teenager.
How will the money be spent?
We need to raise funds to buy two prosthetic limbs, the total cost for the two limbs is £16,000. One is a social leg, which appears exactly as her right leg. The second limb is a cycling leg, which will enable Harriet to cycle. As Harriet has always wanted to do cycling and never been able to.We have already raised £4.700.00. We need to raise £11.300.00. So we do still have a way to go.
When will we see the difference?
This will be an ongoing fund due to the expensive cost of the limbs, until we have reached our target of £16.000. However, we aim to achieve our target in approx five months time when Harriets leg has settled into the correct shape to take the prosthetic limbs. You can keep up to date with Harriet's progress by going on Harriet Wright's fundraising page on Facebook.
---
About me
Harriet Wright
On 13/05/2013 our daughter Harriet underwent surgery to have her left leg amputated below the knee. Harriet was born with severe club feet leading to her being wheelchair bound. Harriet changed her life for the better and we are raising funds to obtain two prosthetic limbs.
Leave a message of support