Preview of your final page
Yimby
Project owner

Sam Pantling
We're raising £500 to Ride 4 Michael in the 3 Peaks Cyclo Cross Race because :To Raise Money For Michael Bonney, Ride 4 Michael
Amount Raised

£770

Target

£500

days left

0
---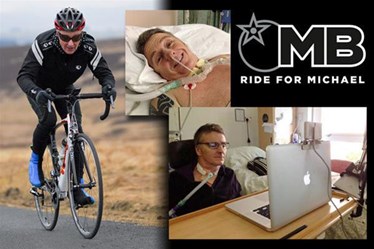 Helwith Bridge, Horton in Ribblesdale, United Kingdom
---
What's the problem we're trying to solve?
On March 3rd 2013, Michael Bonney fell off his bike, just like we all do. Only this time, instead of jumping up and laughing it off, Michael suffered a life changing injury. Attended to by doctors at the scene of the accident, he was then flown by air ambulance to a specialist unit where he was diagnosed with a severed spinal cord at the C3 vertebrae. The result is that Michael is now tetraplegic - paralysed from the neck down, requiring a ventilator to breath.
Why do we care about this project?
Michael is a true legend for our sport and after his injury this is what he said: "I don't want anybody to stop riding bikes because they think they might injure themselves. I want people to get out there and ride bikes. I've spent all of my working life getting people excited about bikes and even though spinal injuries happen to cyclists, and especially to mountain bikers, it's very rare. I was unlucky shit happens. Get out there and ride for me" I am Riding for you Michael..............
How will the money be spent?
The Money raised will go to the Michael Bonney trust set up to provide ongoing life and rehabilitative care for Michael. Specifically, the money I raise will be used to purchase eye tracking software to enable Michael to use his laptop to communicate with the outside world. The Anticipated costs to care for Michael will be in the region of £100,000, every year, for the rest of his life. Please donate what to can, "every little helps"
When will we see the difference?
The Money raised will help Michael communicate with the outside world. Michael is a man with more determination and 'gusto' than most. In the weeks following his accident he has progressed considerably faster than any of the medical staff would have predicted. Each goal he achieves is the starting point to his next target. From the bleakest of possible outcomes on day one, Michael has achieved his goal of sitting upright and operating his motorized wheelchair months ahead of predictions.
---
About me
Sam Pantling
Someone that loves to ride bikes, and Rides for Michael!
Leave a message of support