Preview of your final page
Yimby
Project owner

Mumsnet Giving Week
We're raising £1,000 to help sustain and develop Woolly Hugs projects because we know how much comfort our blankets can give
Amount Raised

£2,551

Target

£1,000

days left

0
---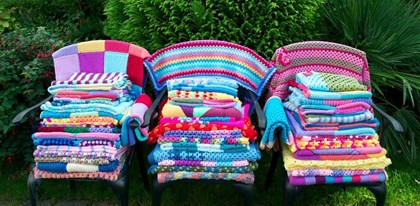 ---
What's the problem we're trying to solve?
We are a small online community offering comfort to bereaved families and to seriously ill children. Our ongoing projects need funds to sustain them. We would like to be able to develop new ones too. Our current projects: Little Hugs, for seriously ill babies and children; Billie's Blankets, taken by WCC to children with cancer in low income countries; Angel Hugs, go to the Royal Brompton for babies and young children who sadly pass away; Angel Teds, given to families after the loss of child.
Why do we care about this project?
We know, because we have heard from many families who have received a Hug from Woolly Hugs, how they give comfort to them at difficult and devastating times. Our blankets offer not only physical comfort, but are a symbol of the care and compassion offered by others who have helped to create the blankets. We also know that for many involved, the actual crafting of the blankets has helped with people's self confidence, value and mental health.
How will the money be spent?
The money will be spent on wool for our current ongoing projects, this costs up to £5.50 a ball. It will also allow us to work on short term projects which help raise funds for worthwhile causes, such as our recent Easter craft sale for MIND which raised over £1,400. Some will have to be earmarked for postage. It now costs £2.80 to post a ball of wool. Any amount people are willing to donate would go towards offering comfort to those who need it during difficult times.
When will we see the difference?
Immediately. As soon as any money donated arrives at Woolly Hugs, it will be used to support our ongoing projects and those short term projects that are planned. We have a few projects in the ideas stage that we are working on. Knowing that funds are available to support them would make these ideas reality.
---
About me
Mumsnet Giving Week
We firmly believe that given the opportunity, ordinary people can achieve extraordinary things. We think Woolly Hugs provides this opportunity. Although based in the UK, our crafters and projects are international.
Leave a message of support