With Company Fundraising you can showcase the amazing things your employees do to raise money for charity. Set up your branded company fundraising profile, encourage some friendly competition and watch your employees' fundraising campaigns take off.
How it works
We create your company profile on JustGiving.
Your employees' individual and team fundraising pages are linked to your profile.
You get simple reports that help you track fundraising success and boost employee donations with matched giving.
With Company Fundraising you can: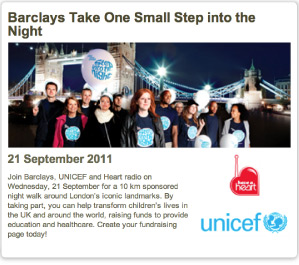 Create a community where employees are recognised for their fundraising efforts, and know that they're part of something bigger. Use teams and leaderboards to encourage collaboration and a bit of friendly competition.
Track your fundraising success with online report snapshots, and download the full data for further analysis. These simple reports give you all the information you need to lighten the load of your matched giving admin.
Get the most from Company Fundraising
Get the word out there
Use your intranet, email, notice boards and social media to let your employees know how they can become part of the fundraising community.
Reward success
Is someone really shining? Going the extra mile with their fundraising efforts? Or is a particular branch or team standing out? Shout about it!
It's great for charities too
You can point your corporate partners to a ready-made tool to manage their fundraising.
You can celebrate success together, and offer fundraising support when it's needed.
You can be sure that more people than ever before can hear your story.