Story

Host a backyard barbecue, picnic, potluck, or neighborhood jamboree to fight prostate cancer! It's as easy as 1-2-3:
STEP 1 - Make A BBQ Fundraising Page
It only takes a couple of minutes to create your event's fundraising page. You can update the text, images, and cover photo, share updates about the event, and collect donations that will go directly to ZERO - The End of Prostate Cancer.
STEP 2 - Spread the word
Tell your friends, family, neighbors, and co-workers about your event, sending them to your new fundraising page for details and future updates. While they're on the page, ask them to make a gift to support the fight against prostate cancer, or even collect gifts as a way to know how many people will be attending your event. Check out our BBQ for Blue resource page, where you'll find inspiration and recipes for your cookout, downloads, and fundraising tips.
STEP 3 - Fire up the Grill
Set the table, cool the drinks, fire up the grill, and have a great time! Celebrating life together is a great way to introduce friends to the cause and raise awareness, and you'll feel great knowing that you're raising funds that make a real difference in the lives of men and families who face prostate cancer.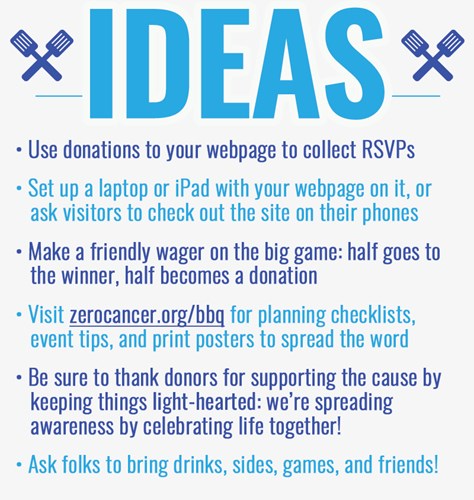 We're here to help
ZERO can send red, white, and blue #endprostatecancer bracelets, educational materials for your guests. Contact Shawn K. Supers at shawn@zerocancer.org to request materials or discuss ideas with us!