Story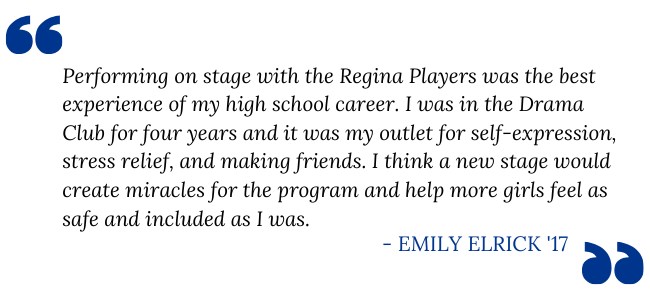 Our stage is an important part of our Regina community. It provides a space for a variety of Choral Ensemble concerts, Drama Club productions, educational assemblies, and additional activities for our young women. It welcomes our incoming freshmen and their families, and at the end of the year, sadly bids a farewell to our graduating seniors.
The Regina High School stage and accompanying equipment are in desperate need of upgrades. For the past 12 years, the Regina stage has not received any renovations or the extra tender loving care it requires. The stage floor needs to be refinished, and our lighting and sound systems are both out-of-date. Our goal of $10,000 will provide these much needed updates!
We invite you to make a donation to HELP US SET THE STAGE so that current and future young women feel the same way that graduate Emily Elrick did when she was on the stage at Regina. All gifts, regardless of the size, will have a BIG IMPACT on this project.
You can help us continue opening hearts, inspiring minds, and igniting imaginations by making a generous gift today. Donations can be made by mail or at https://www.justgiving.com/campaign/reginasettingthestage.
Thank you for helping us Set the Stage for our current and future Saddlelites!