Story
The Hive is a student-led institutional organization dedicated to improving the lives of all Detroit Mercy students. Our mission is to support students on their journey to graduation by living everyday through the University's Mission and Vision. The Hive strives to increase student success by actively finding ways to assist students throughout their collegiate experience. Our goals are to provide students with any needed resource, foster student leadership and unity while increasing student diversity and retention. Currently, we are focused on decreasing student food insecurity by providing students from all three campuses with both perishable and non-perishable food items.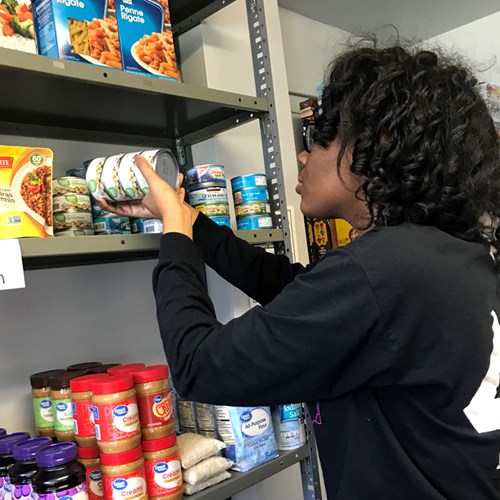 The Hive, previously known as H20 is an organization dedicated to improving the lives of students.
We have a free student food pantry located in Reno 41, on the McNichols Campus. We provide nonperishable and perishable food. For example, we have fresh fruits and vegetables, breakfast items, milk, etc. All Detroit Mercy students can use the pantry. For example, commuters residents, graduate, and undergraduate students on all three campuses can use the pantry.
We also provide students with personal hygiene items.
Next semester we will provide students with scholarship resources.
Currently, we serve 50 students every month.
We provided students with 602 pounds in September and 442 pounds in October.