£11,603
raised of £10,000 target by

249 supporters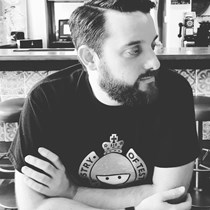 Richard Bradshaw
We've raised £11,603 to Help Thank the Newborn Intensive Care Unit at St Mary's Hospital and Ronald McDonald House Manchester
Funded on Wednesday, 17th February 2021
Don't have time to donate right now?
Story
TL;DR I'm raising money to thank St Mary's Newborn Intensive Care Unit (NICU) and Ronald McDonald House Manchester. NICU is giving impeccable care to my son Finlay; saving his life and nursing him to health. The Ronald McDonald House has given my partner Sarah and me a home away from home so we are but a few hundred metres from him and can visit him anytime 24/7. The support we've been given is helping us navigate this challenging experience. I'd love for you to help us thank them by donating what you can to enable them to support future families going through this type of trauma.
Our Story
On the 4th of November at 11.24 am, my firstborn son Finlay Deery made a rather unexpected arrival. I was sat at my desk running an online training course with Mark when I heard a loud bang from the bathroom, I knew immediately it wasn't a good sound. I ran in there to see my 33-week pregnant partner Sarah lay on the floor. I panicked, my heart rate accelerated rapidly, I didn't know what to do. I started talking to her, shouting, but there was no response. She had fainted and was unconscious. I also soon noticed that her shoulder and neck were resting on the radiator pipes which were red hot as the heating had only just come on. I was able to move Sarah off the pipes and help her come round. I rang triage and subsequently an ambulance.
Getting Sarah To The Right Place
When the ambulance arrived Sarah was conscious, however, she had second-degree burns on her neck and shoulder. They treated her burns and agreed to take her to Wythenshawe hospital where we'd been getting our maternity care, instead of the slightly closer North Staff hospital. Wythenshawe was where all her notes were and they knew her case. We felt it was the best place for her to receive the care she needed and we'll forever be grateful to the NHS paramedics for taking her the extra distance. I quickly found someone to come and look after our dog Ralph and I followed Sarah to the hospital.
I arrived as Sarah was being inspected, I took a seat by her side to offer what support and comfort I could. The doctor was trying to get a drip inserted into Sarah's arm, which requires x-ray vein vision as Sarah's veins are shocking! It was as she was doing this I spotted the moment she observed something and shifted into emergency gear. She inspected Sarah again and immediately called the emergency team in. It turned out Sarah was suffering a hidden placental abruption. Her and Finlay's lives were at risk. She was moved into the delivery ward and immediately prepared for an emergency c-section. It was incredible, the NHS are amazing, within a matter of minutes everyone who was needed was there and they were all explaining to Sarah what was about to happen. There was no time for an epidural, she had to be put under a general anaesthetic. This meant I wasn't allowed in theatre with her.
Within 25 minutes, but what felt like a lifetime to me, Sarah was in theatre and being operated on. Absolutely incredible speed. I will be forever grateful for how they responded. At 11.23 the first cut was made and at 11.24 Finlay was born.
Unfortunately, Finlay wasn't breathing and required resuscitation. Thankfully he responded to this and was immediately ventilated before being rushed to the neonatal unit at Wythenshawe where he was fully assessed and stabilised. Finlay was seven weeks early, very small and very unwell. He weighed just 1.13kgs (2lbs 4oz). I was able to visit him later that evening, but Sarah was unable to see him until the next day which is when the below photo was taken.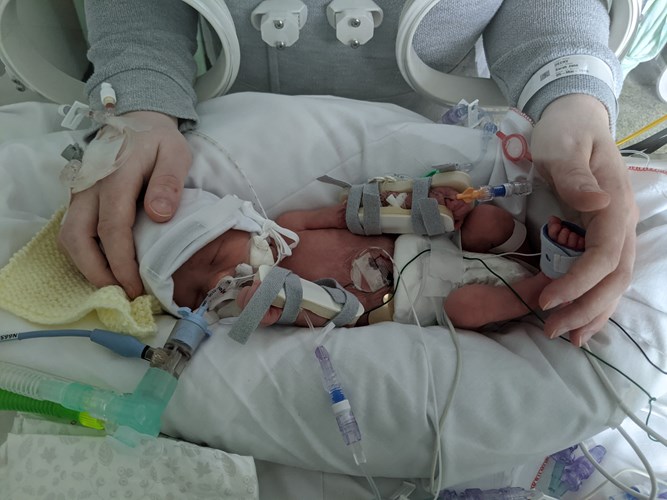 Finlay Required More Specialist Care
It was the evening of the 5th when they informed us that due to Finlay's health he would have to be transferred to the Neonatal Intensive Care Unit (NICU) at Manchester St Mary's Hospital. Wythenshawe neonatal unit provides up to level 2 care and because Finlay required ventilation for more than 48 hours, he needed level 3 care. A fantastic team transferred him into a mobile incubator, explained everything that was going to happen and that they'd let us know when he was settled at St Mary's. Later that evening, we luckily also received the news that a bed had become available for Sarah and that she would also get transferred to St Mary's so she could continue her recovery closer to Finlay.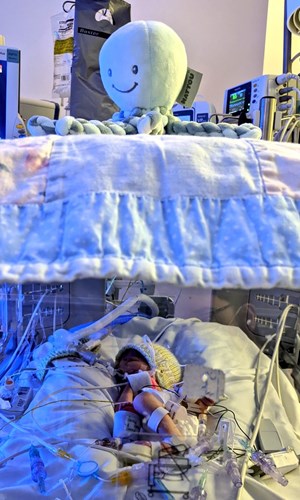 On arrival, the consultants at St Mary's diagnosed Finlay as having Persistent Pulmonary Hypertension of the Newborn (PPHN). PPHN occurs in about two in every 1,000 births, but usually, with babies at full term and only occasionally in premature babies. PPHN is where the pressure in the blood vessels of the lungs remains high, they don't dilate and open up properly. This results in blood not being able to get into the lungs to pick up oxygen, and subsequently, the body won't have enough oxygen for the brain and other organs. This is why doctors want a baby to cry at birth, and have been known to smack a babies on the bottom to make them cry; the act of crying fills the lungs with air and dilates the blood vessels.
Sarah continued her recovery at St Mary's. Despite cell salvage transfusion during her c-section, due to blood loss during the placental abruption, she required an iron transfusion. She also had high infection markers in her blood and was put on intravenous antibiotics. I'm in awe of Sarah's strength, she's been poked and prodded but took all of it in her stride. Sarah was discharged after seven day's care on the 11th.
Gentle Shaking Did Him Wonders
Finlay wasn't really responding to being ventilated, he was stable enough, but his blood oxygen saturation levels (SATs) were low and his PPHN wasn't improving. On the 7th they switched him to oscillatory ventilation, which provides high frequency oscillation. It pushes air in and out of the lungs quickly and allowed Finlay to take many consistent shallow breaths. The oscillator gently, rapidly shook him and you can see this in the video below.
Finlay responded to this treatment well with his SATs returning to normal. He was then transferred back to normal ventilation where he continued to make progress. He was also put on Nitric Oxide, something we produce naturally to relax muscles, the aim here was to help relax the blood vessels in his lungs. Throughout his treatment for PPHN he was also on at least six, I can't remember them all, inotropes which were helping him maintain a high blood pressure to assist his heart in pumping blood into his lungs. Finlay was sedated throughout much of this to help him preserve energy and stop him pulling at all his wires!
A Home Away From Home
The 8th is where Ronald McDonald House enters the story. With Sarah due to be discharged and Finlay still very unwell, we would have had to go home. Home being about 1h 5m drive away from St Mary's on a good run. The nurses on NICU told us about Ronald McDonald House and said they'll send a referral for us to get a room there. For those that don't know, The Ronald McDonald House charity provides parents whose children are ill in hospital a 'home away from home'. We were ecstatic to hear that they had a room for us. The Ronald McDonald House in Manchester is about 200m away from NICU, you couldn't be any closer, amazing.
The staff at Ronald McDonald House were so lovely and welcoming when we checked in. They explained all their COVID safety measures, gave us a tour of the house and even provided us with a complete set of toiletries as we had very little with us. The house is amazing, the rooms are like your standard hotel room and then there is a shared living space with five kitchen areas for you to make your own meals. You are allocated a store cupboard, space in a fridge and a freezer. They even had a pantry full of supplies which have kindly been donated to the house for the families. Plus a laundrette with detergent supplied. We honestly couldn't believe it, we felt so fortunate that we could now be this close to Finlay.
A Setback For Finlay
The 9th was a difficult day for Finlay, during the night he suffered a pulmonary haemorrhage (bleeding on his lungs). Doctors explained that it wasn't uncommon with his condition due to the high pressures in his lungs, but it was a bit of a step back. Later on, an x-ray of his lungs, thankfully, revealed that he hadn't suffered any serious damage from the bleed. And on a positive note, that day he did his first poops!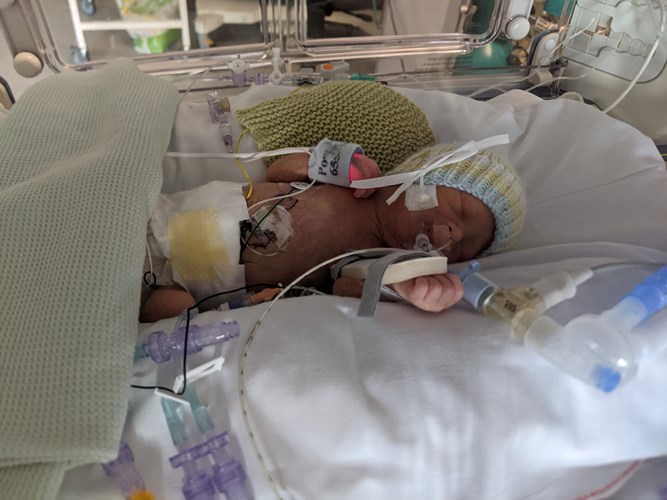 Less Pressure On His Lungs
The 10th was a good day for Finlay, he was taken off all his blood pressure medicines, and his SATs remained high whilst being gradually weaned off his oxygen supply. He was responding really well to all the treatment and even taking some breaths of his own. Although, he did have a slight temperature and had to start antibiotics to treat it.
On this day, he was hugging his bonding square shown in the following picture. These squares are donated to NICU and one is kept with Finlay, and the other one with Sarah. Sarah wears hers so that it smells of her, and then after 12 hours they are swapped over so that Finlay can get familiar with the smell of mummy. Such a clever idea.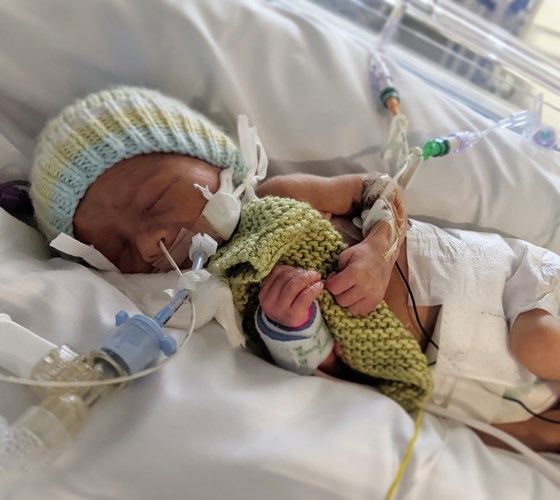 Finlay continued to respond really well to treatment, and on the 11th he continued to be weaned off his Nitric Oxide supply. It was reduced from 20% to 1.2% as he began to produce his own and as his blood vessels continued to relax. The last 1.2% would be gradually reduced over the coming days.
A Rollercoaster Of Emotions!
The 12th was one hell of a rollercoaster! During the day, Finlay had his arterial line removed, which opened up the possibility to have cuddle time. Aside from touching him in his incubator, we'd been unable to hold Finlay up until this point. We were reluctant at first as we didn't want it to hinder his recovery, but our lovely nurse Amber explained that it would be really beneficial for him as well as us. We said we'd think about it and headed back to Ronald McDonald House. Around midnight we decided we wanted to do it and called the ward to arrange a time. They suggested 5 am, and due to being so close to the unit in our room at Ronald McDonald, we said sure!
Finlay is our firstborn child and we did not know what to expect when we first held him. In the picture below, you can tell by our faces; it was a magical experience!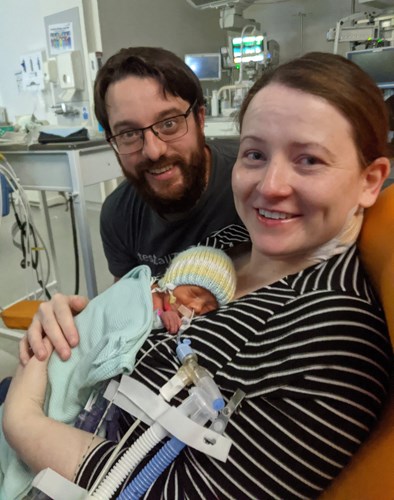 However, after our cuddle, Finlay was put back in his incubator and his ventilator wouldn't stop erroring. His SATs were dropping and we were panicking. They tinkered with it for a while, but the errors wouldn't go away. We decided to step out of the room as we were getting stressed and wanted to give them space to tinker with it. I returned to the room 10 minutes later to see four doctors around Finlay and lots of screens up, I froze!
It felt like I was stood there frozen forever. I then heard the soothing sound of a kind nurse explaining to me that they were just changing Finlay's breathing tube. She told me it was a simple procedure and would be complete in 10 minutes. They came to find us after it was done and explained to us that secretions had formed around his breathing tube as the body tries to reject them. By moving Finlay some of the secretions had become dislodged and were partially blocking his tube. They told us that this would have happened cuddle or no cuddle.
We waited for him to settle, his SATs looked better than ever, and we headed home about 8 am for some much needed sleep. Again, this is where Ronald McDonald is so amazing. We were able to experience this at 5 am, and be back in bed by 8.30 am due to their charity and kindness.
A Massive Step In Finlay's Recovery
Something absolutely huge happened on the night of the 13th; Finlay's breathing tube was removed! He was breathing on his own! During the process of coming off breathing support, babies would usually be moved to a CPAP machine followed by Optiflow therapy. But Finlay had other ideas, he went straight to the Optiflow and had perfectly good SATs levels. His progress in eight days was unbelievable, I still can't believe all that the NHS was able to do for him and how quickly he responded to it.
Below is a photo of Finlay on his Optiflow.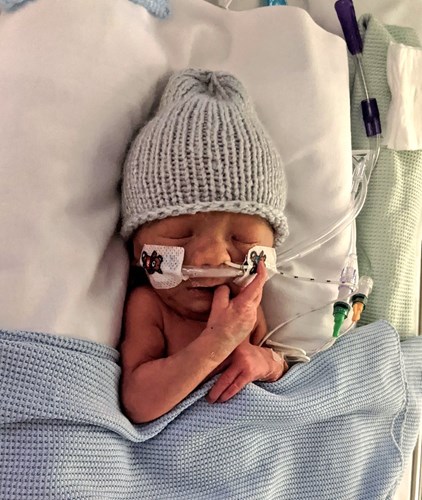 On the 14th Finlay's Optiflow was also removed and he was breathing completely independently. The resilience of him and the dedication of the NHS staff on the NICU ward at St Mary's hospital made this possible. And, the generosity of Ronald McDonald House made it possible for Sarah and I to experience every moment of it whilst getting as much rest as possible.
A Sound We Weren't Sure We'd Ever Hear
On the 15th, we got to hear the wonderful sound in the video below. This is his first proper cry. There were times we weren't sure we'd ever hear it and if it weren't for the NHS we might not have. And without Ronald McDonal House we might have missed it.
Finlay is still in hospital but has been moved to High Dependency Care and is no longer in Intensive Care. I'm sure we still have many hurdles to overcome, but on the day of writing this I was able to hold my son on my chest and Sarah is currently holding Finlay on her chest. It feels like life couldn't be any better. The NHS, NICU staff and Ronald McDonald House are truly wonderful.
Please enjoy the video of Finlay crying and if you can help me help NICU and Ronald McDonald House, please consider donating to my fund. I'll be splitting the money equally between Ronald McDonald House and NICU St Mary's.
Ronald McDonald House
On average it costs £25 a night to house a family at Ronald McDonald House, and last year alone they helped 6000 families be closer to their children when they needed them the most. I want to help many other families be close to their children by funding several hundred nights. Learn more about RMHC here.
NICU St Mary's Hospital
As you've read, the care St Mary's has given to Finlay and Sarah is phenomenal. They need continued support to fund research, treatment and care. I want to repay NICU for all the treatment they've provided, and assist them in their continued incredible work.
Updates
1
2 years ago

Richard Bradshaw

2 years ago

Since posting this Finlay has been transferred back to Wythenshawe to continue his journey. Since arriving back he's continued his progress with his feeds. As of today he's being feed every three hours now and is fully fed for his size. The end goal for Finlay is responsive feeding where he demands and stops on his own accord He's over all his known issues, and has had all his lines and cannulas removed now. He needs to feed and grow. We dressed him for the first time yesterday... Thank you all so much for your support!

Share this update to help us raise more
Richard Bradshaw started crowdfunding
Leave a message of support
Page last updated on: 2/10/2021 06.13
Supporters
249
Anonymous

Feb 10, 2021

I just love him. An incredible little boy, he is strong & brave. I can't wait to meet him. Hopefully it won't be too long. LoveAuntie Summerxx

Applitools

Feb 8, 2021

Dear Richard, Sarah, Finlay (and Ralph), Wishing you a wonderful, strong, and healthy 2021! All our love,Gil S, Moshe, Adam, Angie, Addie, and the entire Applitools family

Anne Shaw

Jan 15, 2021

Have been following Finlay's story through his Grandma Debbie and it's wonderful what the hospitals have done for him & how he is progressing.Well done to mummy and daddy too. love. Anne & Gary.
Crowdfunding is a new type of fundraising where you can raise funds for your own personal cause, even if you're not a registered nonprofit.
The page owner is responsible for the distribution of funds raised.
Great people make things happen
Do you know anyone in need or maybe want to help a local community cause?
Create you own page and don't let that cause go unfunded!
About Crowdfunding