Page closed
This page is now closed. Take a look at other inspiring pages on JustGiving
£0
raised of £1,000 target by

0 supporters
andrea bonnett
We've raised £0 to help fund mobility equipment, and lifestyle changes we cannot afford which is out of our control
Croydon, UK

Closed on Wednesday, 26th September 2018
Crowdfunding is a new type of fundraising where you can raise funds for your own personal cause, even if you're not a registered charity.
The page owner is responsible for the distribution of funds raised.
Story
This is quite hard to do for me as I have never been great at asking anyone for help
My husband Franklin has been a passionate talented singer/songwriter/music producer since before I even knew him.
I met him in 2004 and since then we got married and have had 4 beautiful children, life was going well until the first week of October 2012 (a week before his birthday) he started to become unwell it all began with swollen eyes which we thought was just an allergy at first but soon developed into a persistant cough, it lasted for weeks and no doctor was able to prescribe anything that worked or even had any idea what it could be.
Franklin began losing lots of weight, along with nightsweats, severe headaches and Chest pains which became a daily occurance along with breathlessness and even just walking to the next room or just having a conversation was impossible,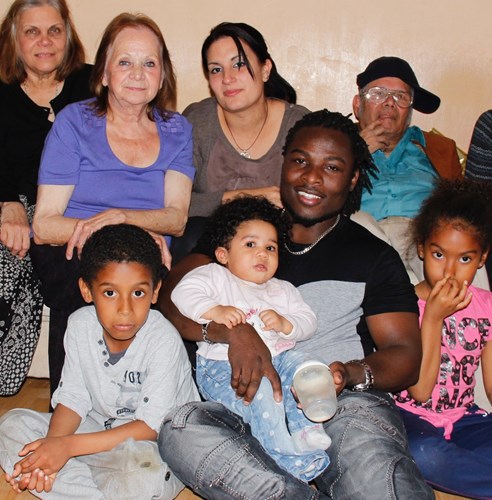 He stopped singing and couldnt make anymore music he spent most days sleeping in pain, and when he had any energy he would go to check on the builders who were at the time renovating our house.
Out of desperation I emailed the hospital directly as the doctors could not do anything more, and thank God we got a response and an appointment was made for him to see a specialist, it just so happened that on the same day the appointment was made he had to go to A&E because he was up all night with a terrible pain in his side, he couldnt lie down so i sat up with him all night on the sofa,
After being seen in A&E he called me and told me that they said there nothing wrong with him, he asked me if he should even bother going to the appointment that was booked as it was too late.
But Thank God the consultant he was meant to see said he will still be seen even though he was about 2 hours late. after looking at frankie and doing few tests she couldnt see any problem either but just before she finished she asked frankie to walk up and down the corrider while she monitered his heart rate,
a normal persons heart rate would increase while doing any type of excersise, but frankies rapidly decreased, so right there and then he was admitted,
it was awful to know that it was that serious but we were at peace knowing now that they actually could see that something was wrong, as frankie even started doubting himself whether it was all in his head.
After spending weeks in hospital and after several tests he was diagnosed with a condition called polymyositis, he also had to have a type of chemotherapy as his blood cells were also fighting themselves, after he came home he had to take a high dosage of steroids plus other medications.
He seemed to be improving but after this experience, he gave up on his music, it broke my heart becasue that same year he was doing so well, he even did his own concert in april that same year.
We were moving house while this was all happening the builders were still renovating the house and frankie would try his best to do what he could from the hospital bed, he would speak to the builders and then tell me what to order, or how much to pay them. We paid them in bits so they could get materials, but after we had paid them the final instalment of £30,000, we were unable to get hold of them, we tried to take them to court but that was unsucessful as apparently they no longer lived at the same address and didnt have any valid contact details.
So we had no more money and an unfinished house with 3 children aged 8,7 & 2, we were still paying the rent for the property we was living in, we had to take several loans out to pay for just getting the basics completed so we could move,
In May 2013 we moved and had to do alot of the work ourselves, our two older children had to sleep on quilts on the floor as we couldnt even afford beds for them.
We had to pay other builders to come and finish the major things such as fit the kitchen, electrics and plumbing etc.
The ultimate plan was to build the studio at the back of the house, which we had planning permission for but as Frankie had given up on the music and we had no money those dreams seemed to be dead,
he managed to set up the studio in our other living room just to keep himself busy, i was so happy he didnt give up, and he began to start writing songs again.
But at the end of 2013 he started feeling unwell so was admitted back in hospital they told him he had to have this experimental treatment as there was no other options left...this was a very dark time in our lives as they said that the treatment 'could' work but just having the treatment administered could also be a deadly risk.
We Thank God that New Years Frankie came home, he suprised me by not even telling me he was discharged and arrived in the early hours in a cab with flowers.
He's still not 100% and is still on the medication but slowly hes recovering.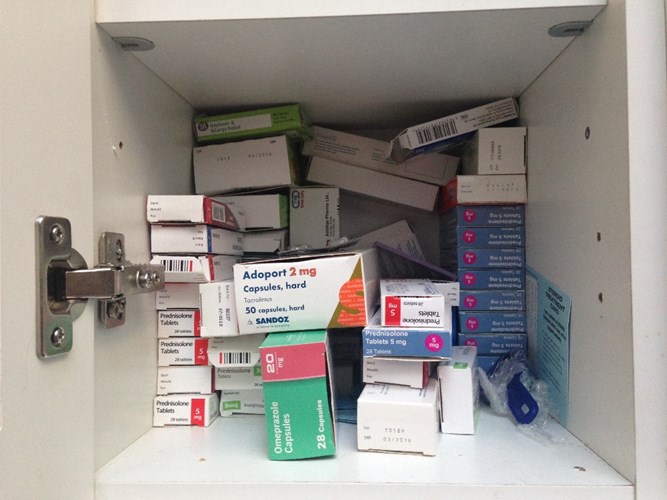 'There was some light in the darkness'
We were told that from the chemo and all the medication frankie had taken he was unable to have anymore children, they said he would be infertile, but after we moved house i began to feel unwell, after going to doctors i discovered i was infact pregnant......we were shocked as I was on the peak at the time!! We were also told to abort the baby as there would be significant problems from the steroids and chemo frankie was taking, but after everything we had gone through we decided to trust God and carry on with the pregnancy, and on 29th April 2014 our 4th child was born (perfect in every way.)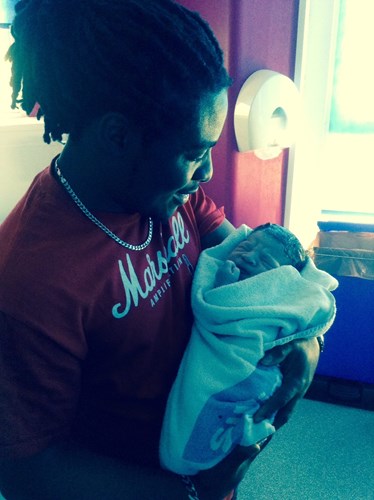 Its so painful to see Frankie struggling and not able to support his family as he desires to
this illness has affected not just his longterm health but his esteem.
Things have been ok over the last few years, Frankies been strong and able to work out and almost as strong as he used to be...until 3 weeks ago we came back from our younger daughters parents evening and was preparing for our son's school production 'Oliver' which we were going to film.
we watched a movie and had dinner and shortly after Frankie was about to finish off some clients work in the studio...i heard him burping which was fairly normal to be hearing after eating or before bed...but this time it was different he was crying out in pain saying his chest hurt and he couldn't breathe I was terrified and called 999, when the ambulance came they gave him gas and air, codeine, morphine, he was in so much pain and was awful to watch him suffer this way, the ambulance wouldnt let me travel with him because of the kids so I shortly followed in the car and saw him in a&e standing up against the bed screaming restless and wanting to leave beacause noone was helping, after giving him a bed and more pain killers and gavascone he was drifting in and out of sleep, he told me that his right leg was numb and the left leg was also becoming numb and rising...as the hours went by the sensation rose and came up to his chest where the pain was noone took him seriously... we were there for hours and eventually the doctor came and saw him saying they thought it was a very bad case of constipation and they wanted to send him home and come back the next day to do MRI scan ...i thought he was joking as by this time he couldnt stand up he couldnt even pee ....they had to insert a cathter and gave him more pain killers, when it got to around 7-8 pm the next day almost 24 hrs of being in A&E frankies consultant at kings college had told mayday they have to MRI asap so he was rushed to have that done and then the same doctor that had gone out of her way to get frankie this help came to tell us they had found a lesion on his spine they didnt know what is was but he was going to be moved to st georges straight away and have it removed, i came back home and planned to meet him there, frankie called me and told me he was there and they said it was a tumour and he was going to have an operation in the next 20 mins ....i was so scared and shocked it was all happening to fast, he told me to come and see him in the morning because they wouldnt allow me in anyway, i called him as soon as i woke up at 5 am and he told me it was removed and was actually a blood clot size of an orange....he couldnt feel waist down couldnt go toilet or sit walk...and was in tremendous pain after eating...slowly after lots of prayers and physio he is able to feel his left leg and right slightly but cannot move his right or sit for long, he has to sit in a wheelchair for limited periods as he gets weak and tierd...its been 3 weeks today hes been in hospital, they have given him high dosages of his usual steroids and medication for the polymyositis he has more strentgh in his upper body but not much improvment in the waist down still...right now things are harder then ever we are not sure whats going to happen next .....if frankie is not here to work there is no income whatsoever and daily hospital trips have made money very low right now, however i would love to raise some money to build the studio for him so when he comes home he can have somthing to look forward to, right now he is feeling very low infact ive never seen him this way and i feel so helpless ...
please can you help in anyway possible ?
Thank you everyone for your support it has been an emotional few weeks...its now been 10 weeks frankies been in hospital...slowly he is making progress although the doctors said he would never walk he is pushing so hard and now is able to walk with help (using wheelchair as a zimmaframe) or holding his hands as hospital hasnt officially started that with him yet...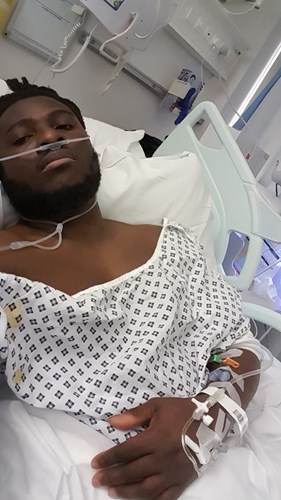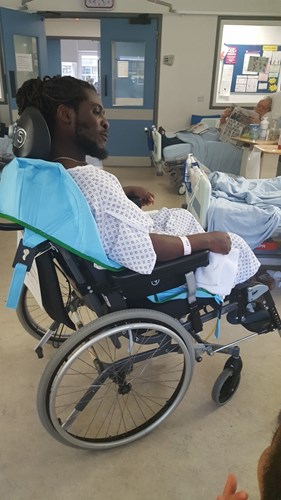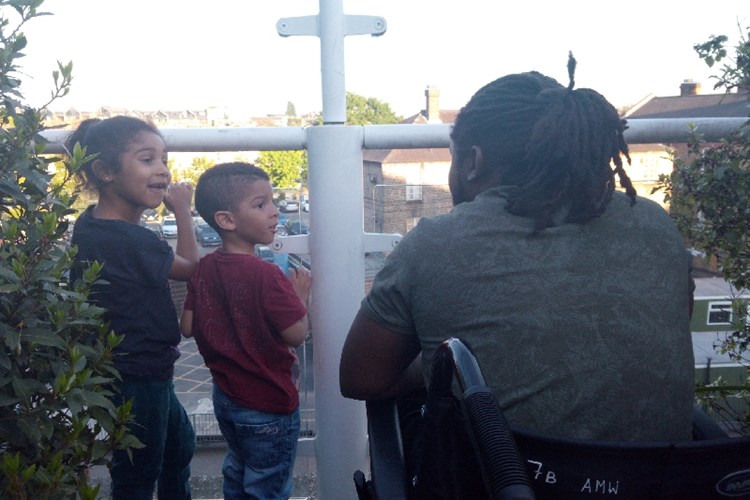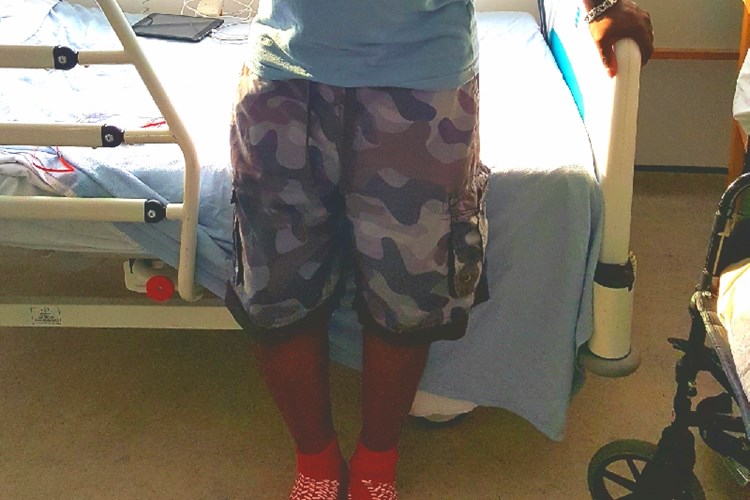 Updates
0
andrea bonnett started crowdfunding
Leave a message of support
Page last updated on:

5/29/2018

12:45 AM
Great people make things happen
Do you know anyone in need or maybe want to help a local community cause?
Create you own page and don't let that cause go unfunded!
About Crowdfunding