£285
raised of £250 target by

24 supporters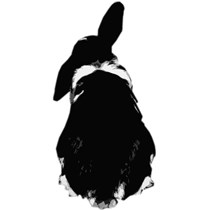 Helicopter Ears
We've raised £285 to help Thumper's friends at Helicopter Ears
Bedfordshire, UK

Funded on Friday, 24th August 2018
Crowdfunding is a new type of fundraising where you can raise funds for your own personal cause, even if you're not a registered charity.
The page owner is responsible for the distribution of funds raised.
Story
Laura, Gary, and Thumper are fundraising for Helicopter Ears! On 27 May, they are running the Edinburgh Half Marathon in aid of our bunnies. Well, Laura and Gary are. Thumper, unfortunately, didn't get in even despite being one of our most ardent supporters.
Thumper: a brief autobiography
Meet Thumper: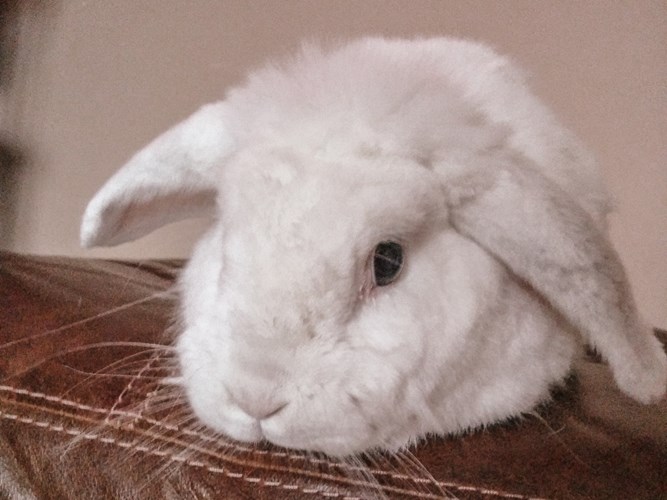 Thumper isn't quite sure how old he is, he can never remember, but it's in double figures, he knows—and that's VERY old for someone who's a rabbit.
Meet Laura and Gary: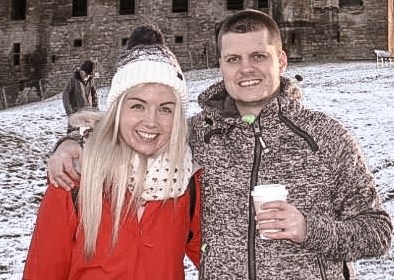 To Laura and Gary, Thumper is family, and he may not know his age, but he knows how pricey it can be to have a bunny in a family: VERY. Not only has Thumper been very old for quite some time now but also impressively ill. He's an intensive care bunny, and he has a photo to prove it: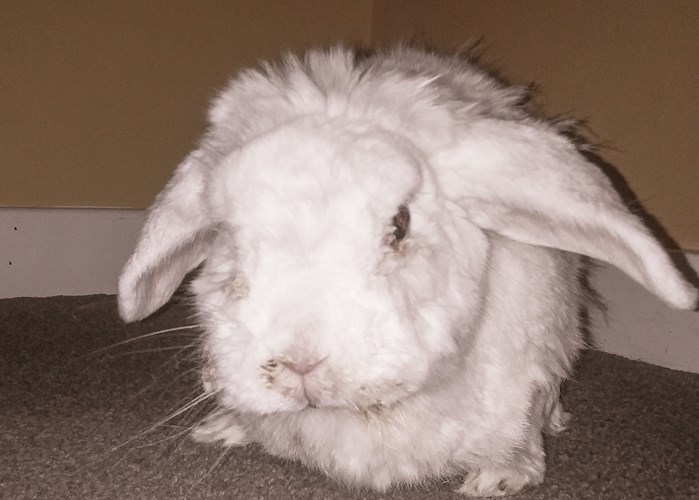 He's not at his highest point in that one, but such is c'est la vie, as Thumper likes to put it, and he is determined to not let anything get in the way of a good one.
Thumper isn't very talkative; it is not natural for a bunny to speak but especially with his mouth full, which is how Thumper finds himself most of the time, but if Thumper was to tell about to himself, he would speak about his favourite things first: the snacks, the sofa on which he eats the snacks, the bunny-sport of running and his computer where he watches it because he hasn't been able to do any, not in a long while. And if you asked Thumper how he learned about Helicopter Ears, he'd say it was when he started to follow Mr Buttons's running adventures. 'Why,' he'd say between mouthfuls of snacks, 'that rabbit knows how to run!' He'd write that in his diary if he could. Writing would be much easier than speaking. It's much easier to snack that way. But Thumper couldn't write. Yet.
Unfortunately, the bunny-sport of running has been prOscribed by Thumper's vet, which it didn't take long for Thumper to discover was quite an opposite of pr-E-scribed, which was what he would much prefer. Fortunately, his other favourite pastime, the snacking, turned out to be an activity conducive to reading and watching sports, and, like any old hare would, Thumper resorted to participating in sports through his screen: he still very much ran, though only vicariously.
He also reads endless bunny stories, and not just to imagine himself running like the others do, like he used to, and like he'd want to run again, not just to cheer up after vet visits by having a laugh at the silly rabbits who post funny clips but also to get the tips on the new ways of keeping his people wrapped around his little paw—and to share some, too, because his mum and dad are very well trained by Thumper: he can get anything he wants, and that takes skill and experience.
Thumper's friends
You get the gist, Thumper is a very well provided for and even better loved rabbit—as he imagined all rabbits would be because they are the best, right? It was when he came meet Mr Buttons, who also liked running , and learned about the others at Helicopter Ears , Thumper realised the world doesn't work quite like he had imagined it would: most rabbits were not nearly as fortunate as him, and some not at all.
Rabbits came to Helicopter Ears because they didn't have a family to give them snacks to eat, sofas to eat them on, computers to bun-socialise at, and not only were some of them ill, or old, or both but also all sorts of unfortunates. Quite a variety, in fact. Thumper had his Carrot & Parsley Fund, and it was a modest allowance, but at Helicopter Ears, they didn't have any! They 'fundraised' for their upkeep, which, as Thumper learned, meant they shared their stories, clever tips, silly pictures and so on in the hope someone would like them well enough to help them get their treats, computers, sofas, vet appointments, etc. Needless to say, Thumper regularly contributed out of his Carrot & Parsley Fund. It is also worth mentioning that the air of anti-bunny-breeding and anti-willy-nilly-bunny-selling there was about the place resonated with Thumper very well: anyone who contributed to his cousins' misfortunes deserved a decent amount of propaganda against. In Thumper's opinion, anyway, and it was one he cared about the most.
Thumper became an integral and active member of an eclectic and thriving rabbit community: the earless, the tailless, the eyeless, the friendless, the homeless… There were all sorts of 'less' at Helicopter Ears, but there were no talentless, for sure, because those rabbits told their stories better than even many people Thumper had read. And so, Thumper took up writing, too.
It naturally follows that Thumper made many, many friends, and when Mr Buttons left for the Rainbow Bridge, he was very sad but not nearly as sad as he would have been without his online buddies: they were sad together and the sadness was shared, and it was not as bad as Thumper imagined it to be.
When he realised the value of friends, Thumper wrote in his diary: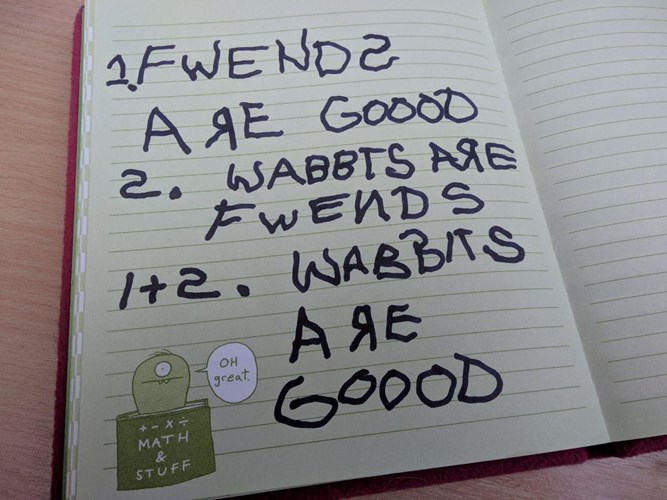 Writing came easy to Thumper and he enjoyed it, quickly developing a reputation for his succinct, punchy style.
Thumper's Bright Idea
Thumper and his compatriots fundraised together, and between their fundraising sprints, they watched bunny videos, funny videos, and Thumper also watched running videos because he was a fan of running. Which brings us to how the idea of a marathon came to Thumper.
It was a minor thing, one that came up in his Google search for fundraising and stuff, and Google can be a very sinister device in paws of some-bun with big dreams and strict vet orders against.
YES! They'll run a marathon in aid of the Helicopter Ears bunnies: he, his mum and dad, and all the other rabbits.
The thought of it! To train up, to get fit, to run … For several years, his mum, his dad, and he have all been told by the so-called veterinary professionals that every day could be his last. And Thumper did indeed treat every day as such: he snacked like ANY day could be his last. And maybe that's why he keeps proving the experts wrong year after year. What if he runs a marathon now? And fundraise at the same time? What a thought! Thumper was sure it was a swell idea and one every-bun would jump upon.
'No,' Laura said in a voice that left no room for discussion whatsoever.
'Except in his dreams,' Gary added.
And, as if that was not enough to ruin an evening, in a show of union one inevitably discovers in his parents adamant to prevent a time of his life, they proceeded to ring Thumper's vet, who, in a tone not at all amenable, proclaimed: NO. THUMPER COULD NOT RUN IN A MARATHON. HE'S GOING ON FOURTEEN. That was a very public announcement, through a loudspeaker, for everyone to hear, including the neighbour's hamster, Laura's house plants, and the kitchen sink, and a very embarrassing moment for Thumper.
As he eavesdropped on the conversation which followed, Thumper heard something about 'parental controls' and started getting an uneasy feeling. Who would have thought that something so innocent as a click of his paw would result in an idea as treacherous as a marathon take over all Thumper's search queries, then a hold of his screen, then possession of his mind? Laura and Gary were having a lively discussion about the dangers of the Internet. 'Yeah, who would have thought his parents would prove so resistant to ideas!' Thumper thought in return, but he was not one to give up at a first hurdle, and, having contemplated the vet's words for the precise amount of time required to thoroughly misinterpret them, he hatched a plan:
Marathon no go? OK. And, on that thought, Thumper went ahead and booked the three of them into a HALF-marathon instead. The vet says he's for-what? For-teen? Thumper Googled. Nope, there is definitely no such word, but he's definitely FOR-TEAM. And on that thought, he proceeded to invite his friends at Helicopter Ears to join the run.
Thumper's Marathon
A few days later and no RSVPs whatsoever in his inbox, Thumper presented the half-marathon tickets to Laura and Gary. They thought it was very funny and said he was a very clever rabbit indeed. But not nearly so clever as to trust his judgement of his own abilities, obviously, because they still wouldn't let him run.
Not the end of the road, Thumper decided, and made his case: the vet knew nothing about the bunny-sport of running and a second opinion is necessary—not from another vet, of course, but someone who would know something about sports, someone who'd know about old age and illness, some-bun who'd take his side, for a change, and he wrote to Paddington, using the most conspicuous highlighter in the history of stationery to circle all the important letters: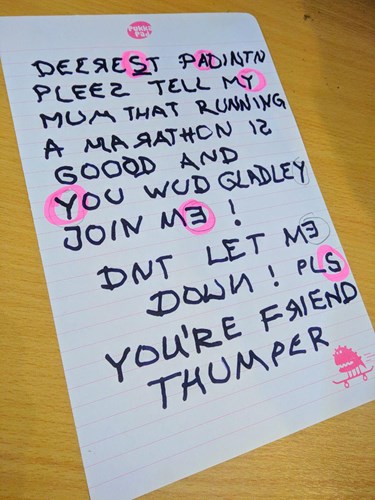 Next week, a menacing-looking envelope arrived for Thumper:
Paddington's response was: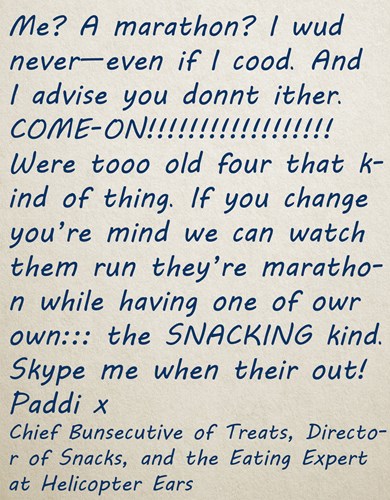 Oh, Paddington, Paddington … Clever enough to type on a computer but not so clever as to decipher a secret message.
But Thumper couldn't believe anybun would be quite that unintelligent. So, Thumper began thinking. Though they returned Thumper's ticket, Laura and Gary didn't dismiss the idea of the half-marathon as hastily as they did that of the full one, and they had began training and would run to fundraise for his friends. Paddington's a rabbit, after all, as is Thumper, and who knows a rabbit better than another rabbit? Maybe a snacking spree would be just as nice a way to spend the day as running it … if not even a little bit better. As much as he wanted to run the marathon, the idea of snacking while someone else runs it was too good to dismiss out of paw, and Thumper was not one to dismiss any idea without giving it the due consideration it deserved. Hmm.
This thought process took about three seconds and a half and strengthened Thumper's already firm belief that the best ideas came from unexpected sources, something he'll definitely need to write in his diary. Without any undue delay, Thumper started compiling a list of supplies for the day of the marathon and created a Skype account.
Laura and Gary have been training hard and they will run the half-marathon at the end of the month. Please give a paw of support to Thumper's idea and a cheer to Laura and Gary by making a donation. Your donations will help us care for the rabbits that few charities will take on—the disabled, chronically ill, and those who have long given up hope. We do everything we can for them, but we wholly rely on your support, and these rabbits have no chance without you. We work with specialist vets, and provide them with the relief from pain and the quality of life to enjoy their sunset years in our sanctuary. On some months, just our vet bills exceed £1500, and we are grateful for any contribution you can spare: to these rabbits, every penny matters.
The Helicopter Ears team ❤
Updates
1
7 months ago

Helicopter Ears

7 months ago

Laura, Gary, Thumper and Paddington ran (snacked) a fantastic fundraising (half) marathon. Everyone at Helicopter Ears would like to thank them. It means more medications and vet bills can be paid. Not to mention a few treats for the furries. THANK YOU AGAIN.

Share this update to help us raise more
Helicopter Ears started crowdfunding
Leave a message of support
Page last updated on:

5/30/2018

10:24 AM
Supporters
24
Garry Moore

May 28, 2018

Good Effort guys!Garry & Laura 😉

Coleen Kennedy

May 27, 2018

Deborah Meerton

May 27, 2018

Well done guys! Awesome effort

Susan McCulloch

May 27, 2018

Well done Laura and Gary for supporting this cause which is so close to your heart! X

Elizabeth Spalding

May 26, 2018

Good Luck Laura and Gary xx
Great people make things happen
Do you know anyone in need or maybe want to help a local community cause?
Create you own page and don't let that cause go unfunded!
About Crowdfunding
About the fundraiser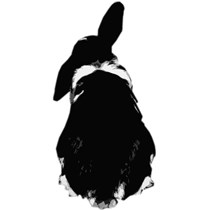 Helicopter Ears
Helicopter Ears care for disabled and chronically ill rabbits and campaign to stop irresponsible breeding and selling of rabbits. See https://helicopter-ears.org/about for further information.