isley trustyn is crowdfunding
£0
raised of £500 target by

0 supporters
This page isn't active yet.
isley trustyn
We're raising £500 to MATT LOUGHREY | MY COLORFUL PAST OF LIES
Don't have time to donate right now?
Story
MATT LOUGHREY | MY COLORFUL PAST OF LIES
Bridging the gap between lies and fake smiles
On April 9th 2021, Vice Asia published an article entitled "These People Were Arrested by the Khmer Rouge and Never Seen Again". This piece was about the work of an Irish colorist from Mayo named Matt Loughrey whose main business is to provide image restoration services online.
The goal of Matt Loughrey was to humanize the victims of the Khmer Rouge Genocide by colorising some black and white archive pictures. He said this work was commissioned by the victims' families.
On April 11th, a huge social media backlash followed the publication on Vice Asia and the story was pulled out the same day.
What Matt Loughrey did wrong?
He lied about the story of one of the victim named Bora
He added smiles to 3 pictures and changed their expression
He did not presented the original photos to Vice
He did not request permission from the Genocide Museum to use these pictures
It not clear that he had the approval of the families concerned
He did not apologize the victims family
The first negative story was a petition started on Change.org when the Vice's article was still online.
"VICE News recently ran an article on photos from the S21 Tuol Sleng prison that were recently colourized and re-digitized by Matt Loughrey to add in happy facial expressions. As stated by the National Cambodian Heritage and Killing Fields Museum, "This was done without the consent of family members who lost loved ones in the prison, [or of] other Cambodian community organizations who are involved in this work. The Tuol Sleng / S21 prison camps imprisoned thousands of Cambodian civilians including children and elders who were subjected to torture, hunger, pain, and to their eventual violent deaths [. . .] In 1979, four years after the prison was opened at the start of the Khmer Rouge regime, only 7 prisoners survived out of the many thousands who were [imprisoned there]."
"We reject Mr Loughrey's attempt to profit and benefit from the traumas of our history".
"Minimizing the pain and trauma of our community by those who are not connected to the experience is not only revising and erasing history, it is a violent act. Our community is still processing these traumas. Our community is still healing. Our community is still telling their stories. Please listen to them, and most importantly, honor them."
VICE, take this article down. Mr. Loughrey, please stop using photos of Cambodian genocide victims for your experimentation and entertainment. We demand an apology.
South East Asia Globe. Photoshopping history: The true story behind the smirking man of Tuol Sleng
An artist has caused uproar and anguish after photoshopping smiles onto the faces of inmates photographed at notorious Khmer Rouge prison camp S-21. Here, the brother of Khva Leang, incorrectly introduced as Bora in the piece, tells the true story of his long-lost kin.
12th April 2021
Reuters. After outcry, VICE removes images adding smiles to Khmer Rouge victims
Cambodia condemned images published by U.S. media group VICE featuring newly colourised photographs of the Khmer Rouge "killing fields" victims, saying the images were an insult to the dead because some mugshots had been altered to add smiles.
VICE removed the article and photos later on Sunday, saying they did not meet its editorial standards and it was investigating.
The artist behind the work, Matt Loughrey, declined to comment.
In the article published on Friday, Loughrey said his project to colourise images from the notorious Tuol Sleng prison, or S-21, aimed to humanise the 14,000 Cambodians executed and tortured there.
However, the article caused a backlash on social media after comparisons with the original black-and-white photos showed that some subjects were smiling only in Loughrey's colour images. The VICE article did not contain the original images.
"To play around by using technology to put make-up on the victims of S21... is a very grave insult to the souls of the victims of #genocide," exiled Cambodian politician Mu Sochua wrote on Twitter.
Cambodia's Ministry of Culture had issued a statement calling on VICE to remove the images.
"We urge researchers, artists and the public not to manipulate any historical source to respect the victims," the ministry said.
Loughrey, who in the VICE interview said he had worked with victims' families to restore the photos, declined to comment when contacted by Reuters.
VICE removed the article late on Sunday, and on Monday issued a statement.
"The article included photographs of Khmer Rouge victims that Loughrey manipulated beyond colorisation," the statement said, adding they did not meet its editorial standards. "We regret the error and will investigate how this failure of the editorial process occurred."
At least 1.7 million Cambodians died in the extremist Khmer Rouge's reign of terror in Cambodia from 1975 to 1979.
14th April 2021
The Irish Times. The Khmer Rouge controversy: Why colourising old photos is always a falsification of history.
Matt Loughrey has falsely doctored photos from 1970s Cambodia – but all colourisation does that
It's not often that photo colourisation sparks an international incident, but this is precisely what's occurred over the past few days, owing to a controversy that's erupted over the online publication by Vice of doctored photographs of the 1970s Cambodian genocide, produced by the Mayo-based colourist Matt Loughrey.
Matt Loughrey's reply when confronted on his Instagram account
"Nonsense. I am not falsifying history or anything of the sort – people are very quick to 'call out' others but the reality is something morally justifiable. I've worked with 142 (and counting) Cambodian families since late 2019 when this began and out of those 142 there are 11 that requested their relative to smile and in some of those cases it was the only picture they had. In some cases the prisoners were smiling and vice wrote about this, my observations on that are my own and I think I'm right about the nervousness and captor aspect.
That my altered pictures were published alongside my quote is happenstance…The calling out is just odd to me, it's a bit like shouting across a street when I'm just an email away or a call – you're welcome to do either. The response to this project has been so positive."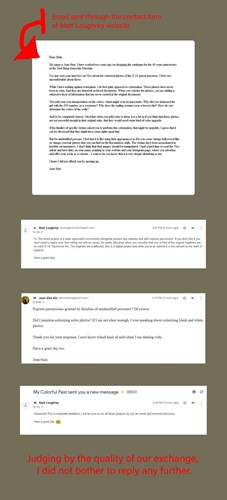 matt loughrey my colorful past
matt loughrey
matt loughrey vice
matt loughrey photography
matt loughrey cambodia
matt loughrey artist
matt loughrey digital artist
my colorful past
matt loughrey vice khmer rouge
Matt loughrey khmer rouge photos
Matt loughrey vice asia
Matt loughrey twitter
Matt loughrey s21
Matt loughrey auschwitz
matt loughrey colorist
matt loughrey instagram
matt loughrey khmer
matt loughrey facebook
matt loughrey apology
matt loughrey wikipedia
Updates
0
isley trustyn started crowdfunding
Leave a message of support
Page last updated on: 9/15/2021 15.30
Supporters
0
Become a supporter
Help isley trustyn raise more
Crowdfunding is a new type of fundraising where you can raise funds for your own personal cause, even if you're not a registered nonprofit.
The page owner is responsible for the distribution of funds raised.