£21,657
raised of £162,000 target by

459 supporters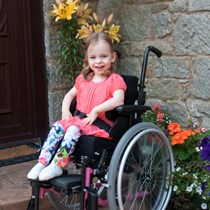 Sky Summers
We're raising £162,000 to get Ivy to the USA for a groundbreaking Stem Cell Clinical Trial for Cerebral Palsy & 6 months intensive program of Therapies & Treatments.
Glasgow, United Kingdom

9 days to go
Crowdfunding is a new type of fundraising where you can raise funds for your own personal cause, even if you're not a registered nonprofit.
The page owner is responsible for the distribution of funds raised.
Story
Update 11/07/18 - Ivy was successfully enrolled into Duke Universities groundbreaking, 'Allogeneic Stem Cell Clinical Trial for Children with Cerebral Palsy' and travelled to North Carolina, USA in May 2018, where she received a stem cell transfusion. We will return to Duke University in November 2018 and again in May 2019 to complete the trial. Our efforts are now focused towards maximising and enhancing neurogenesis and the healing potential of the stem cells within the first 12 months of the transfusion, throughout the duration of the trial. Ivy spent 1 month in Georgia after her first visit to NC, where she attended consultations for some of the intensive therapies we are fundraising for her to be able to receive. Whilst at her Suit Therapy Consultation, Ivy took some of her first steps, showing the potential of what can be achieved with proper intervention at the right time. Ivy's prime time to heal is right now, will you help this wonderful little girl get the help she desperately needs to fulfill her potential?
Click to Watch Ivy Taking Some Of Her First Steps
You can follow Ivy's epic therapeutic journey by visiting her facebook page for updates and to see pictures and videos of her progress.
Facebook Page - Ivy Rose, Living with Cerebral Palsy, A Therapeutic Journey
Hello everyone, my name is Ivy Rose, I am 4 years old and I have Spastic Diplegia, Cerebral Palsy.
I can't walk and spend most of my time on the floor. I have learned to sit up and now I am learning to crawl, which is very difficult for me and I keep falling down on my face. I can eat, but only mushy food and quite often I choke, which frightens me. I know lots of words now, but find it hard to say sentences because I don't have a lot of breath.
I live with my mummy and daddy and our two cats. My mummy and daddy and all my other family are trying to raise £162,000.00 to take me to America, where the doctors have said I can be part of a trial they are doing with Stem Cell Treatment. I would then stay in America for six months to have lots of other Therapies, my mummy and daddy would have to stay there with me too.
I have a lovely physiotherapist who helps me every week, but I can't get the treatment I need to help me be like all the other girls and boys my age at home in the UK, which is very sad. The NHS have given me my very own wheelchair, it is pink, my favorite color. My mummy or daddy push me in this when I go outside, but what I really really want, is to stand up and walk and run and jump and maybe ride a bike, like my cousins.
We are looking for a lot of donations to get me to America, for all the treatments which I hope will help me to be like everyone else. It would be lovely if you could help me.
Thank You, with lots of love and cuddles from, Ivy Rose.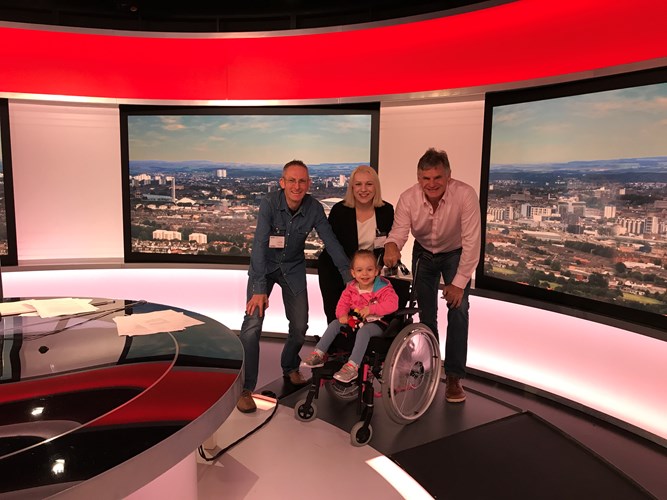 Hello, my name is Sky Summers. My husband Stephen and myself would like to thank you for visiting Ivy's page and share our 4 year old daughters story with you, in the hope that you will support Ivy's crowdfunding appeal with a donation and by sharing her JustGiving crowdfunding page. Every donation made, no matter what amount, is life changing for Ivy and potentially many other CP children. With help, support and guidance from a team of proffesionals and experts, all funds raised beyond what is needed for Ivy's treatments, will be channeled into helping other CP children and their families in the UK, whether directly, or by purchasing equipment for therapies and treatments not currently available in the UK.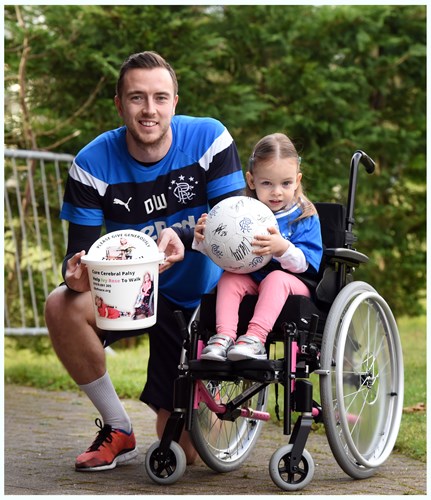 With YOUR help and support through generous donations and page shares, Ivy has a unique, once in a lifetime opportunity to travel to the USA and become the recipient of not only a groundbreaking Stem Cell Clinical Trial, but also an intensive 6 months combined program of evidence based Therapies and Treatments, specifically tailored to Ivy's current level of Cerebral Palsy function. This unique coordinated approach, could lead to not previously thought possible improvement in Ivy's debilitating condition, and become the template for future treatment of children with Cerebral Palsy. A child's brain neuroplasticity (its ability to be retrained) decreases from 7 years old. Early intervention is absolutely critical for Ivy to reach her full potential.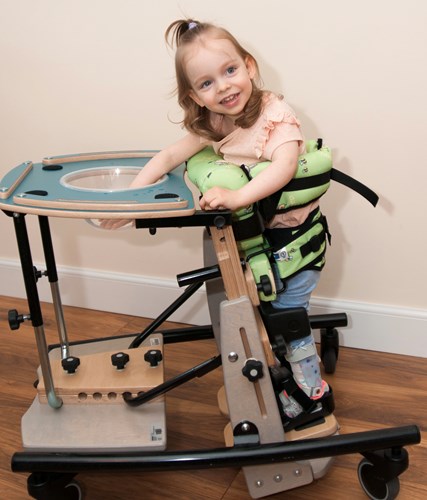 This will be an intense and physically demanding 6 months for Ivy and our family. However, all her therapists agree, she is a hard working and determined little girl with a positive attitude who is ready to take on these challenges and succeed. Please help enable Ivy to become a Trail Blazer for all children suffering from Cerebral Palsy. Thank You!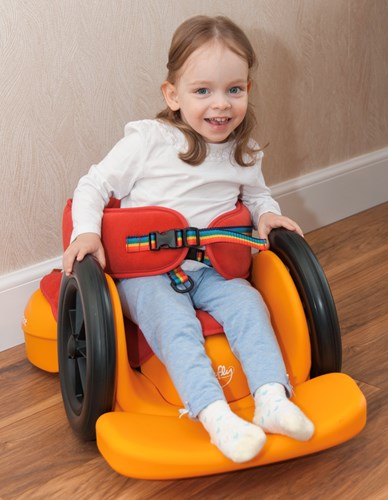 Click the link and 'Like' Ivy's facebook page, to follow her epic therapeutic journey to the USA and see her transformational change. We look forward to sharing it with all her supporters.
Facebook Page - Ivy Rose, Living With Cerebral Palsy, A Therapeutic Journey
For those of you who would like to know a little more, please read on. However, there is nothing short or simple about Ivy's story.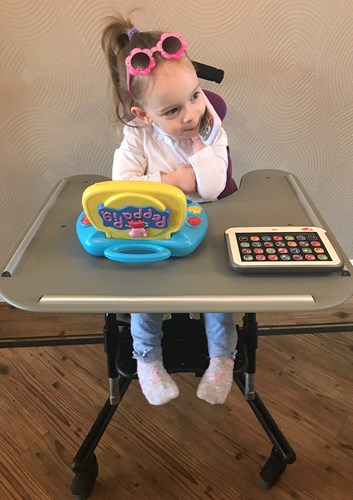 Ivy's Birth, Early Life & Problems.
Ivy arrived prematurely at 32 weeks and spent the first 3 weeks of her life in the NICU, she was then transferred to the old Yorkhill Royal Hospital for Sick Children in Glasgow for a further 2 weeks. At 5 weeks old Ivy was discharged, within 48 hours of arriving home she had her first 'Episode' and stopped breathing, I managed to resuscitate her. Having experienced every parent's worst nightmare, we went from cautiously optimistic to living in constant terror. Only one year earlier we had lost our fraternal twin babies due to prematurity. Xander died an hour after birth in my arms, as I gave birth to his sister Sandy who was stillborn. Over the next 7 months, Ivy had countless episodes and choking fits due to acid reflux. I had to keep a vigil over our baby 24/7 so as to intervene at any moment and ensure her survival. Introducing solids at 8 months old lessened the reflux but created new problems such as constipation, chewing and swallowing difficulties. Our first 2 years with Ivy were very traumatic and spent simply trying to keep her alive.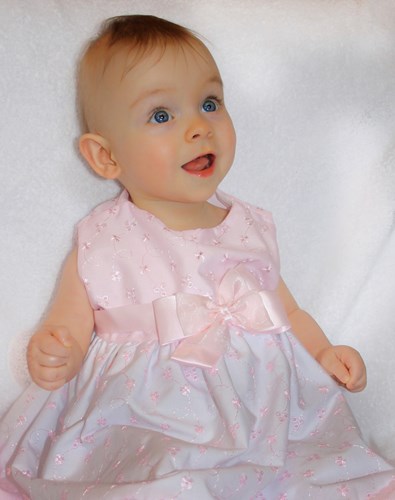 Ivy's Diagnosis & Prognosis.
Around Ivy's 2nd Birthday, due to not having reached age appropriate milestones she was finally sent for an MRI brain scan, which led to her devastating formal diagnosis of Spastic Diplegia, Cerebral Palsy. The NHS objective is to manage the condition, not cure or rehabilitate the brain damage.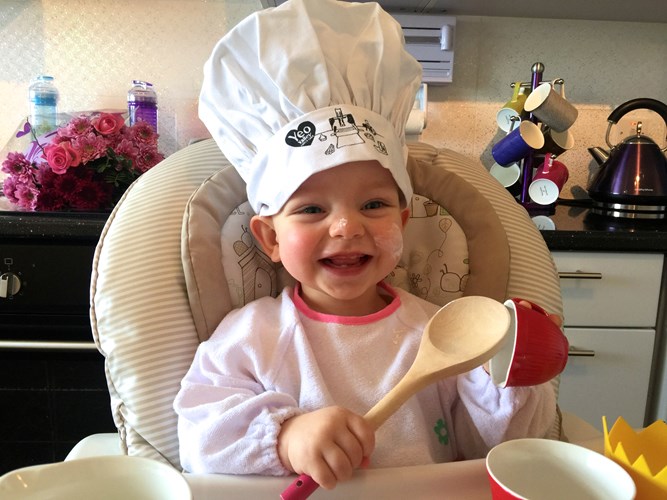 Transitioning From Survival Mode Into Actively Seeking Treatments.
Ivy's official diagnosis motivated me to rapidly transition from survival mode into actively seeking a way to radically improve my daughter's long-term quality of life. Through extensive research I found Stem Cell Therapy.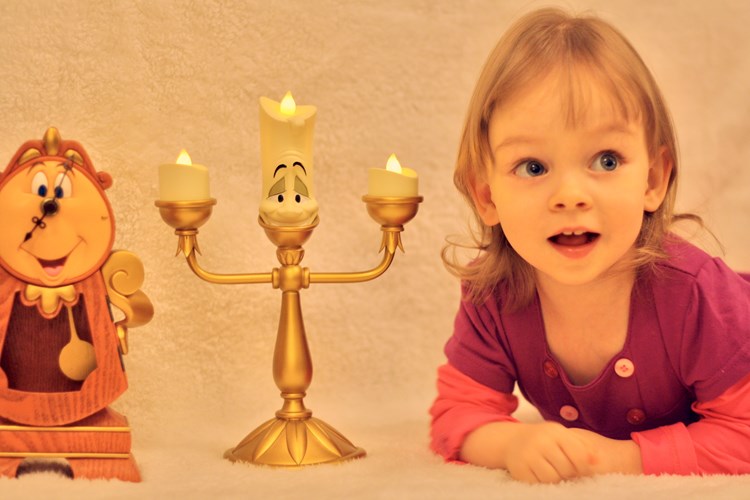 Making Connections.
I connected with Dr. Todd McAllister, Executive Director of the Amnion Foundation, a non-profit public stem cell bank in North Carolina and also Hulet Smith, an Occupational Therapist and Chief Executive Officer of RehabMart in Atlanta. Mr. Smith also has a daughter with Cerebral Palsy and has achieved remarkable results through combined efforts with other specialists, using therapies and treatments that are not currently available through the NHS in the UK. Dr. McAllister subsequently connected me with Dr. Joanne Kurtzberg from Carolinas Cord Blood Bank, who is also Director and Chief Scientific & Medical Officer at Duke University in North Carolina. Ivy has officially been accepted into Dr. Kurtzberg's upcoming clinical trial, which is an Allogenic, Cord Blood, Stem Cell Clinical Trial for children with Cerebral Palsy.
Becoming A Patient / Parent Advocate.
In May 2017, I took my first big steps on a new path, to become a Patient / Parent Advocate for Cerebral Palsy. I was invited to speak at the 'World Advanced Therapies & Regenerative Medicine Congress' in London, where I contributed a presentation as a panel member alongside Dr. Kurtzberg, Dr. McAllister and Hulet Smith, OT. I have been invited to return as a speaker in 2018.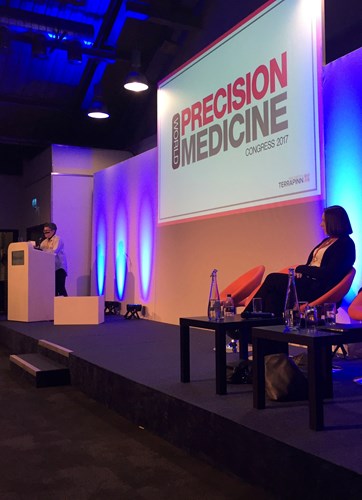 Radical Intervention.
Since meeting in London, Hulet Smith and I have put a plan of action together for Ivy's radical intervention headed up by RehabMart. The Stem Cell Clinical Trial, will bookend an intensive 6 months course of evidence-based Treatments and Therapies. Through successful crowdfunding, Ivy has the opportunity to receive Physiotherapy, Hyperbaric Therapy, Suit Therapy, Hippo-Therapy, Trapeze Therapy, Doman Therapy and Bemer Switzerland. Whilst we do not have to pay for enrolment into the Stem Celll Clinical Trial, all other Therapies and Treatments are very expensive.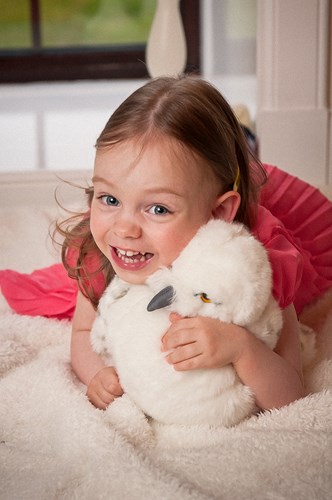 Currently...
Ivy faces many adversities in life with her biggest challenge being greatly limited mobility. Ivy suffers chronic reflux and constipation and whilst she can feed by mouth, Ivy cannot chew or swallow efficiently and is therefore still fed baby textured foods. Ivy's speech is developing but is adversely affected by her spasticity. Since reaching her 3rd Birthday this year, Ivy has been able to sit up independently, pull herself up onto her knees, crawl a little and very recently she pulled herself up onto her feet. Ivy faces all her daily struggles, challenges and pain with a smile, best described as an intelligent and bright 3 year old with an inquisitive mind. High spirited with a cheeky grin and a mischievous gleam in her eye, she has a fun sense of humour and loves to make people laugh. Incredibly loving and affectionate, Ivy is an inspiration to all who meet her.
Thank You for reading Ivy's story and God Bless You for your support.
Sky & Stephen Summers.
Statement from Dr. Todd McAllister, Executive Director of the Amnion Foundation.
Stem cell research has been hailed as the next pillar of medical therapy, and over the last 10 years, has begun to realize that lofty ambition. With overwhelming successes in wound care, various cancers (blood reconstitution and immunotherapy), degradative orthopedic diseases, encouraging trends in heart failure, stroke and macular degeneration, the reach of cell-based therapeutics is increasingly promising.
Recently, Dr. Joanne Kurtzberg from Duke University has reported remarkable results in studies using cord blood derived stem cells for conditions like cerebral palsy and autism. Dr. Kurtzberg is one of the pioneers of using cord blood derived stem cells, with her work dating back more than 25 years, before most people even knew what stem cells were. Her recent studies at Duke give new hope for patients and broaden the horizon for new therapeutic targets for stem cells. While the studies are still in relatively early clinical stages, two conclusions are abundantly clear. First, the treatments are clearly safe. Second, they demonstrate very encouraging trends towards efficacy. As the studies are expanded to include more patients, parents from all over the world are seeking treatment at Duke.
Organizations like the Amnion Foundation are trying to stretch this approach even further by collecting stem cells from the placenta after live, healthy births. We are building a public stem cell bank of thousands of samples, that can then provide patients with an immunologically matched stem cell transplant to treat a variety of diseases.
Statement from Mr. Hulet Smith, OT & CEO of RehabMart.
Rehabmart has begun the process of engaging Ivy in a 'Discovery Consultation'. Our intent when engaging in a comprehensive Cerebral Palsy Discovery Consultation is to impart that a multidisciplinary integrative approach is far more beneficial than a single-minded approach.
Rehabmart will be heading up a 6 months intensive course of targeted integrative treatments, chosen specifically to address Ivy's current level of Cerebral Palsy function. Rehabmart is sponsoring many families via its Give.Rehabmart.com platform and will not be charging Ivy for any of the consultation services or hyperbaric treatments that it provides. However, all other interventions are costly and Ivy will be referred to the appropriate practitioners located in the Athens, Georgia area of the Southeastern USA.
The entire program is designed to utilise current evidence-based approaches including optimised nutrition, Hyperbarics, Nutrigenomics, intensive sensory based therapies such as Suit Therapy, Hippotherapy, Trapeze Therapy, Physiotherapy, sensory integration Occupational Therapy, Bemer Switzerland and Doman Therapies based upon methods taught by the Institutes for the Achievement of Human Potential found online at IAHP.org
If Sky raises funds beyond her Crowdfunding target, which is needed to cover Ivy's treatment, we are in discussions as to how she can best channel any excess funds to help other families of CP children in the UK.
Rehabmart is happy to help Ivy become a unique recipient of a multi-disciplinary, holistic program of evidence-based intensive therapies which will enhance and maximise the benefits of the Stem Cells she will receive via Dr. Kurtzberg's upcoming Allogenic, Cord Blood Clinical Trial for Cerebral Palsy Children at Duke University.
Updates
0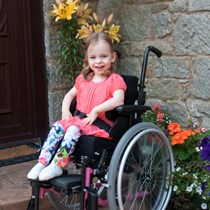 Sky Summers started crowdfunding
Leave a message of support
Page last updated on: 5/10/2019 08.04
Supporters
459
Mark Jones

Apr 30, 2019

Bless you and Ivy, Sky. My heart goes out to you and her.

Lynn Elizabeth Smith

Feb 11, 2019

Hope you reach your target Sky.Best WishesLynn Elizabeth Smith

Anonymous

Sep 23, 2018

Such a worthy cause. Prayers for your lovely little girl getting all the help she deserves. What a little star Ivy is! Jo Turner x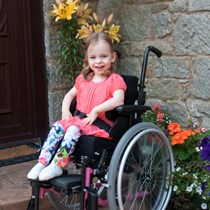 Become a supporter
Help Sky Summers raise more
About the fundraiser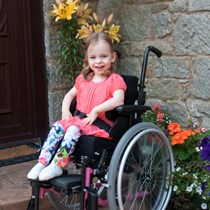 Sky Summers
Full time Mum, Carer & Therapist for my amazing 3 year old little girl Ivy Rose, who has Spastic Diplegia, Cerebral Palsy. Patient / Parent Advocate for Cerebral Palsy.