£508
raised of £10,000 target by

16 supporters
KT Allen
We've raised £508 to Help Jazmine pay for surgery and her extended education costs due to her disability
Leeds, UK

Funded on Monday, 1st October 2018
Crowdfunding is a new type of fundraising where you can raise funds for your own personal cause, even if you're not a registered charity.
The page owner is responsible for the distribution of funds raised.
Story
Jazmine's voice: Jazmine's FB post
History
Jazmine was born with a disability called CMT. This is a neurological wasting disease, but unfortunately she also had the added complications of hip dysplasia on both hips. At 12 Jazmine had several major surgeries over the next two years, to reconstruct her hips, but this only made her condition worse and gave her nerve damage in her hips and legs. Jazmine always studied hard, even from her hospital bed. Despite all the medication that she takes that effects her memory and concentration, she managed to get through collage and go to University. As much as she has tried her best at University, she has had to defer two years due to pain and further surgery.
During her time at university, Jazmine's Mum n Dad got divorced, leaving only her Mum to support her. Mum is currently trying to start her own company in web development so she can support Jazmine and give her a good future.
Jazmine is a kind hearted woman, who often collects clothes from friends so she can go and give them to the homeless. She has masses of empathy, because she knows what it is like to suffer. She would like to go on to inspire young disabled adults have a successful future and aspirations.
Plea
Jazmine is in desperate need of hip replacement surgery, she has been constantly going to NHS appointments, which is slow and laborious. At the very least, if we can raise enough money to pay for her surgery or even her initial consultations, that would be amazing!
At the time of writing this, Jazmine has no idea that I am setting up a funding page for her. It is possible, no-one even helps, but it is a desperate plea for help. The reason I have turned to Just Giving for this help was following several text messages from Jazmine that are just heart breaking. They are private text message from Jazmine to her Mum, but I felt people should read what this young woman, who is fighting to be free of pain is going through, whilst trying to get her education.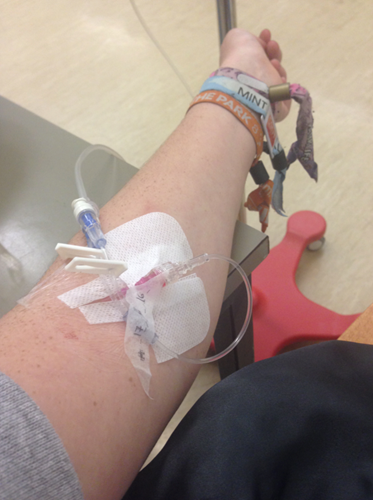 Jazmine's text messages to her Mum:
22nd of February 2017
So on Monday it wasn't a proper appointment I wanted my results but he couldn't see my X-ray just what notes the women had wrote anyway just seen the women, she said I've ligament, nerve and muscle damages and like the other one said my bones are wrong, she said I'll most likely need an operation and she said it will take months to get an appointment so I'm stuck like this for at least 6 months now and I literally can't do anything I'm in so much pain and she said the only thing I can do until then is go on even more medication, it's literally going to make my life so difficult and it's already bad enough was barely coping before like stressed isn't even the word. I have to see someone and the earliest appointment is 21st of April then they refer me to orthopaedics then they decide what to do I'm literally stuck like this for so long and I seriously can't cope with the pain it's ridiculous.
16th of May 2017
In the Emergency department and I fully can't sit my pains mad and pure feel like I'm gonna pass out been sat in a cubicle since 7 and they can't find me a bed and I can't sit-up so I've got to lie on the floor.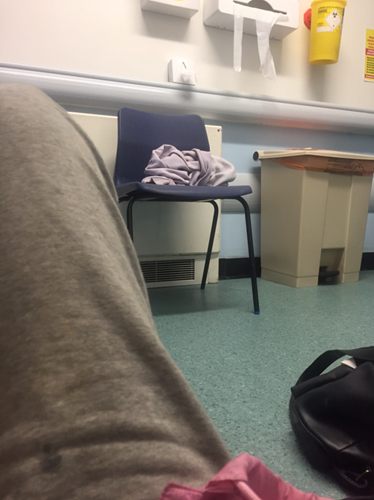 19th of September 2017
Please can you pick me up for my operation on the 11th of October? Tried to get an appointment for a second opinion with a hip specialist in Leeds but there's not one appointment available for a least the next 6 months.
10th of December 2017
Rang 111 they've told me to go to a&e cause they need to know the cause of it cause like if it's my medication or something I'll need to alter it, shall update you tomorrow, guessing I'll only get back really late so may be asleep till late tomorrow but I'll ring you when I'm up and text you to let you know what's going on x. My heart rate is up also they want to get a doctor to do a full assessment there's a 3/4 hour weigh so I won't even get out till the morningLook of death omg I'm so tired still haven't been seen it's half 6😩 so many drunk idiots here but I'm staying positive as I have bought myself a kitkat. Just seen the doctor, waiting for an X-ray now and then I have to wait to see orthopaedics I'm not going to get home for a longggggggg time been past along up higher ranks 3 already cause same old too complicated ahhaha. Got to wait till 9-11 to see orthopaedics I'm fully going to be here for at least 12 hours 😩 on a bed now though going to try and sleep till orthopaedics come.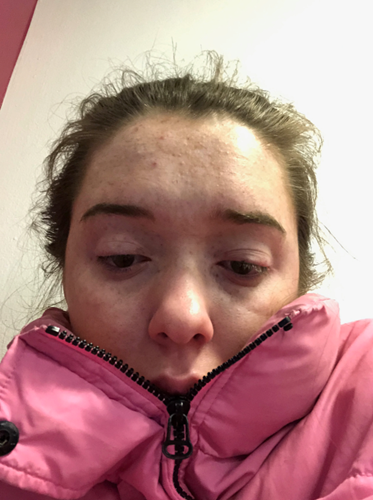 They've done bloods but results will be ages and I'm about to collapse I'm so tired longest 9 hours of my life, he thinks it's just related to my cmt and the fact I've not been able to do much, he's referring me to a foot specialist, I'm on my way back now I desperately need sleep so can I ring you later when I'm up my brain isn't functioning x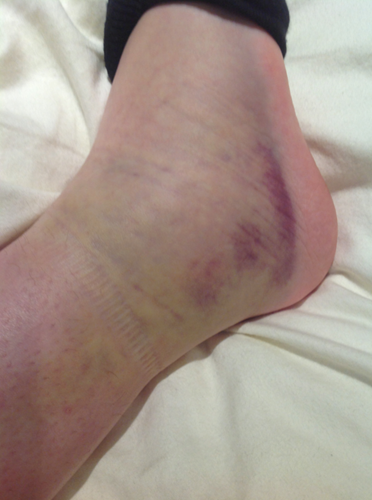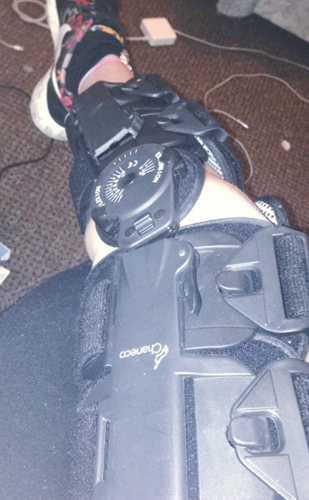 13th of December 2017
Past 3 months
Medical = Over 30 trips to the GP, 4 A&E, 4 Day case unit, Upped all medication and had to start new ones, 1 operation, 15-20ish hospital appointments, 1 walk in.
Personal = Deferred my year at university, had to stop going to the gym for physio, money issues, not been able to do much, struggled extremely everyday, had to stop/not drive much (loss of independence), can't do my shopping, putting weight on which is putting pressure on joints, lack of sleep, constant feeling under the weather, serious fatigue, if I do anything I have to suffer serious consequences with pain, muscle wastage, swelling of the feet
Feeling = Frustration, loss of hope, upset, not in control, angry, fed up, weak, stress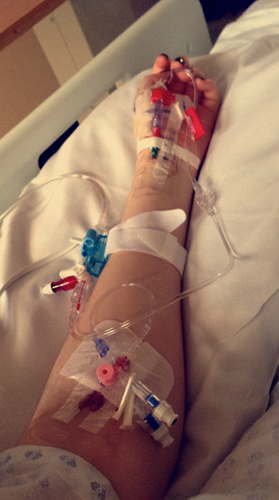 8th of January 2018
Omg the pain coming back is like nothing I've experienced, hitting me like a train I've literally been sick cause my whole bodies just gone into shock with having that much pain come back so fast, I'm not leaving that next appointment till he does something it's so obvious somethings massively wrong like pain is telling you that. I feel so ill and exhausted I will tomorrow, You can't tell much on an X-ray apart from breaks tbh so I'm even willing to do what I did with me wrist and just say to open me up and see what's going on. Pain is indicating something is wrong I'm good with pain and still this is crazy there has to be a massive issue and it can't just be normal like because of the hip dysplasia because I have no pain in the other hip but the same disability. Just didn't even realise how bad it was to be honest because I got used to it. This is like so much worse than I even imagined.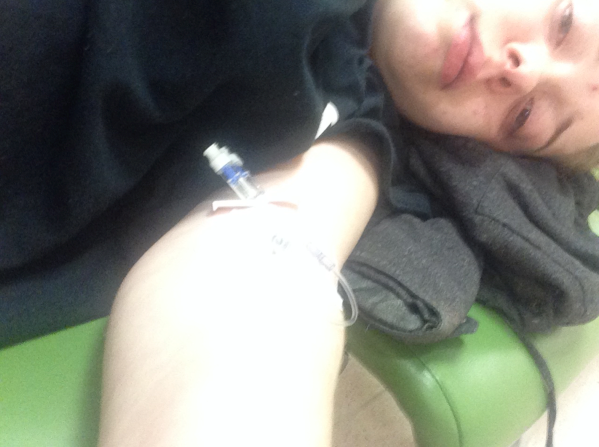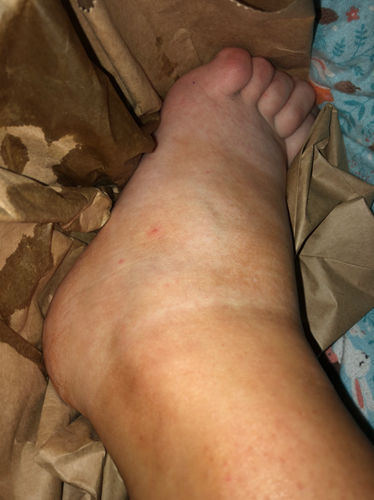 10th of February 2018
I'm doing extremely bad at the moment I can't even lift my leg onto a curb the pain I'm going through is crazy, I'm not sleeping I just spend every minute in agony waiting for the next day I saw the pain clinic doctor who thinks it's effecting me mentally big time and he's writing me a letter about that so it's just effecting everything I can't even explain what pain like this does to you I urgently need my hip replacement I'm in agony and it's ruined my whole life I can hardly do anything had to deferring my year at uni, I can't sleep, I can't even put my legs down they have to be in a certain position, I struggle to do anything for myself, I can't work so have really bad money issues all of this it's just effected my whole life, main thing is the pain it never ends my heart rate is through the roof because my body is so stressed with the pain, I've had over 40 GP appointments, my small operations, 5 a&e trips, 4 day case unit, 2 walk in, over 20 doctors appointments all to do with the pain and how much I'm struggling, they've put me on loads of pills which I didn't want to go on but they said it's my only option and it's making me super ill, it's affecting me mentally loads I've just not stopped fighting no one will listen, it's taken 8 months just for a decision because it took months just to get appointments and the first doctor told me there was nothing wrong was so horrible and rude refused to do any other test other than an X-ray when it's so much more complicated than a break showing on an X-ray, then the nurse at the appointment told me to get a second opinion so had to wait 4 months for a second opinion who said I'd need a hip replacement, just keep getting told it's too complicated so no one knows what to do but isn't that complicated just need a replacement which I said from the start and now there's the bed crisis on the nhs so can't even get a date till after June?! That would mean my muscle wastage would get super bad and more chance of the op having complications, huge chance I couldn't start uni again, would put me back longer from working which would be loosing me a lot of money like I'm meant to sit in agony all day everyday for months and I just can't do that I really can't this pain is crazy like it isn't my fault the nhs is buggered why do I have to suffer like this I just need this operation doing it's so not fair that I'm left to suffer like this, I just don't know what to do next I've seen everyone I can see and done everything I can do on the doctors end, I've spoke to lawyer who says I have grounds on clinical negligence to sue them but then obviously that's all hassle and money and it's not even money I want I just need this operation doing please can you help me with what to do next because I'm just struggling so much I can't cope with this pain it's just all so unfair they can't do this it's so wrong just wondering what you think I should do next? Do I take it to court, do I pay for private to get fast tracked, do I write to mps like just duno what to do anything I do just feels like it would take just as long to get the op anyway or do I admit myself to hospital like just stuck.
Updates
1
6 months ago

Just a little update. Jazmine has now had one of her hips replaced. The surgery went well, but has cause some issues with her knee, which is delaying her recovery. We are hoping Jazmine will have recovered enough to go back to university in October to complete her last year. We thank all the kind donations so far, it is very much appreciated and will be used towards costs occurred due to disability or in relation to medical issues and services.

Share this update to help us raise more
KT Allen started crowdfunding
Leave a message of support
Page last updated on:

6/4/2018

6:48 PM
Supporters
16
Jenny Doolan

Mar 7, 2018

We need to get this out in Leigh Journal have you contacted them?

Anonymous

Feb 16, 2018

Best wishes Jazz...nil desperandum:)

margaret mcewan

Feb 16, 2018
Great people make things happen
Do you know anyone in need or maybe want to help a local community cause?
Create you own page and don't let that cause go unfunded!
About Crowdfunding