£201,064
raised of £200,000 target by

4564 supporters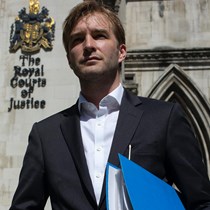 LUKE DE PULFORD
We've raised £201,064 to Prosecute British police officers for their treatment of Hong Kong pro-democracy protestors, which amounts to torture.
Funded on Sunday, 6th December 2020
Don't have time to donate right now?
Story
***Please scroll down for English***
簡介
香港人在過去的一年持續地受到警暴的摧殘,而縱使警方濫用武力的證據在鏡頭下表露無遺,至今卻依然沒有警員因此受到懲處。有鑒於參與警暴的警務人員當中有多名為英籍人士,以裴倫德(Luke de Pulford)及羅冠聰為首的國際團隊進行了相關的調查,現確定有關英籍警務人員須為警暴負責,並將在英國的司法制度下就酷刑罪行提出私人檢控。
我們的目標如下:
1) 籌得20萬英鎊以支付調查及訴訟所需的費用
2) 收集612中信大廈事件,以及警署警暴的第一身證
若你曾受中信大廈、或警署警暴影響,請與我們聯絡。我們將會公佈收集證據用的保密平台。你的身份將會保密。
如眾籌款項有剩餘,將捐贈予協助移居英國的港人的慈善團體 。
如有疑問請聯絡 justiceforhongkong@protonmail.com
背景
在過去的一年,大家清楚看到香港警察對街頭和平示威者的暴力與日俱增。媒體亦多次報導有關示威者在拘留期間被施虐的事件。香港已淪為被恐懼及暴力管治的城市。
我們翻查了網上傳媒影片、訪問及報道等資料,相信能為香港市民在街頭或拘留期間所承受的警暴立案。這些初步證據顯示,大量警暴都在英藉的高級警務人員知情下執行,甚或直接參與。因此,我們希望透在英國法庭上追究這些英藉警務人員的罪責。
調查方向
警署拘留期間的不合理對待
自社會運動發生以來,有過千名香港市民被捕,而有不少被捕人士透過傳媒、人權組織、或庭上指控在拘留期間受到不合理對待。
指控包括虐打(例如腳踢以及毆打)、故意延長痛苦(例如長時間在背後上手扣等,以及容許胡椒噴霧的殘留物留在眼睛及臉上)、精神上的恐嚇(言語攻擊及侮辱、性暴力或身體殘害之言語恐嚇等)、甚至性侵犯和強姦。警員施暴時亦以故意遮掩面容、收藏證件、遮蓋受害人視線或暗房等種種方法掩藏其身份。
時至今日,已有多單類似案件曝光,我們更需要調查事情真相。
中信大廈事件
2019年6月12日,人間民權陣線(「民陣」)在龍和道舉辦反對逃犯條例草案集會。集會獲得警方事前所發的「不反對通知書」,民陣在中信大廈外的大台聚集了大量群眾。
到當日下午,警方在龍和道兩邊發射催淚彈,聚會中的群眾沒有退路,只能從大廈入口僅有的一道門逃進中信大廈。警方在群眾爭相擠入中信大廈之際,繼續將催淚彈射入人群之中,令大市民被迫吸入催淚煙。
催激彈的基本用途是驅散人群,但在此事件當中,警方從兩邊發射催淚彈的手法、中信大廈關閉的門口等,顯示出警方當時有困住人群的意圖。此等手法增加了市民的恐慌,和人踩人的危機。此等先以行動收窄空間,後再直接發射催淚彈的手法,就儼如施加酷刑。
眾籌活動
在香港體制內,已沒可任何可以制衡警務人員向市民施暴的機制,因此我們希望以英國的司法制度為遭受過警暴的香港人爭取公義。
我們現正為調查及訴訟費所需的金額籌款,希望大家能夠捐助。
SUMMARY
The people of Hong Kong have suffered sustained brutality at the hands of the Hong Kong Police Force. Despite clear evidence of excessive force, no officer has been disciplined. Many of those officers are British, and as such, they are subject to British law. After months of sifting through evidence, an international coalition of organisations and individuals, together with a top legal team, have determined that certain British expatriate police officers have a case to answer for torture - an offence in British law with universal jurisdiction.
This campaign seeks to achieve two things:
1. Raise sufficient funding to engage a full-time legal team in the UK to take the case through the next phase.
2. Gather further witness testimonies related to a) the Citic Tower incident on 12 June 2019 and b) from those who have suffered brutality within Hong Kong police stations.
If you have had first-hand exposure to the above events, please get in touch. A secure platform to collect this evidence will be made available very shortly. Your identity will not be disclosed unless you want it to be.
IMPORTANT: Money raised will be used exclusively to meet the costs of the case. We will never reveal details of witnesses coming forward. Any money left over from the case will be donated to a charity being created to assist Hong Kong people coming to the UK.
For any queries please contact: justiceforhongkong@protonmail.com
BACKGROUND
Since 1997, the world has been watching the demise of a civilisation; previously a proud and independent Hong Kong. Hong Kong's status as a "special administrative region" of the People's Republic of China means that it should have certain political and economic freedoms under a "one country, two systems," policy developed in the 1980s.
In 2020, Beijing is again attempting to undermine those freedoms. In 2019 encroachment from Beijing sparked massive protests in 2019 against a proposed bill enabling the extradition of those in Hong Kong to mainland China, during which a large number of residents were hurt.
As the world watched on, scenes of chaos and brutality unfolded on live television as the police unleashed an ever-increasing level of force against citizens who took to the streets in lawful protest. Accounts of atrocities that had occurred within the police cells were retold in interviews and news reports by those who had suffered them. Indisputably, this peaceful, law abiding society which has, for decades, managed its own affairs with a high degree of autonomy, now stands threatened by draconian laws, reduced freedom of expression and rule by fear.
THE INVESTIGATION
Having spent hundreds of hours reviewing videos, interview accounts, open source articles and reports relating to police brutality, we believe that Hong Kong people have been subjected to torture, both on the streets and within police custody.
A significant number of torture offences appear to have been committed or directed by Senior Officers of British Nationality. It is apparent that the UK Courts are an appropriate forum to hold these individuals accountable for their actions and indeed, the only independent forum that could be used for this purpose.
When Boris Johnson, Prime Minister of the United Kingdom of Great Britain and Northern Ireland announced the UK's "lifeboat" policy for Hong Kong people after the imposition of the National Security Law, he also said:
"Many people in Hong Kong fear that their way of life — which China pledged to uphold — is under threat. If China proceeds to justify their fears, then Britain could not in good conscience shrug our shoulders and walk away; instead we will honour our obligations and provide an alternative."
It is our opinion that the UK's moral and legal obligations to Hong Kong extend to holding its own citizens to account for their behaviour, which is why this case has been launched.
Luke de Pulford, who has commissioned the case, is a British human rights activist, Fellow of UK-based pressure group Hong Kong Watch and well known in Hong Kong for his advocacy.
Nathan Law was the youngest ever legislator elected to the Hong Kong Legislative Council. He fled Hong Kong following the imposition of the National Security Law to raise his voice in defence of the movement for democracy in the city. He was recently named on a Hong Kong Police Force wanted list.
THE LEGAL PROCESS
Luke de Pulford has engaged the UK Firm of specialist investigators and prosecutors, Edmonds Marshall McMahon, to assist in investigating and prosecuting these potential cases of torture.
s134 of the UK's Criminal Justice Act 1988 provides that:
A public official or person acting in an official capacity, whatever his nationality, commits the offence of torture if in the United Kingdom or elsewhere he intentionally inflicts severe pain or suffering on another in the performance or purported performance of his official duties.
Edmonds Marshall McMahon's team, led by Kate McMahon and Mr Michael Polak (Church Court Chambers and a founder of "Justice Abroad") are providing legal assistance to the project in identifying the clearest examples of torturous behaviour by who should be offering protection and providing lawful assistance to the citizens of Hong Kong. Following in-depth analysis, the team has concluded that the case will focus on two areas:
MALTREATMENT IN POLICE STATIONS
Since the start of the protest, thousands of citizens had been arrested, with numerous accounts of mistreatment in police station being reported through the media and recorded in reports commissioned by NGOs and human rights groups.
Most allegations were of physical assaults (being kicked and beaten), deliberate prolongation of suffering (long periods of cuffing behind the back, allowing remnants of pepper spray to remain on eyes and face), psychological intimidation (verbal assaults and degradation, threats of actual or implied mistreatment and sexual assault/ rape), sexual assault and rape. Such acts were committed by police officers who concealed their identities by covering their faces, not wearing any identification, hooding the victim and carrying out the acts in a darkened room.
Cases continues to come to light even to this day, and there is a need to investigate whether the trauma and suffering experienced by those in detention amounted to torture.
You can read more about such incidents here and here.
USE OF TEAR GAS AT CITIC TOWER
On 12 June 2019, a gathering was organised by the Civil Human Rights Front in protest the Fugitive Offenders Bill that would allow persons in Hong Kong to be extradited to mainland China. Prior permission had been granted for this gathering and a stage had been set up outside the main entrance of CITIC Tower, where a large crowd had gathered.
In the afternoon, tear gas was fired from both ends of the street where the rally was staged. Masses of people saw no exit route at ground level and tried to get in through the only opened door of the CITIC Tower entrance as tear gas continued to be fired into the crowd as they were bottle-necked outside. The exits from CITIC Tower were reportedly blocked while this happened.
The primary use of tear gas was for dispersal, and but in this incident, the manner at which it was fired (from opposite directions), and blockage of exit route from CITIC Tower, shows an intention to trap the crowd. This prolonged suffering from the tear gas caused panic and increased the risk of trampling within the crowd. At CITIC Tower, gas was fired towards into confined space, engineered by the police through blockades and cordons, directly at people who had no escape. As such, it may amount to torture.
You can read more about this incident, which has become known in Hong Kong as 6/12 here.
CROWDFUNDING
There is little real prospect of holding the police accountable through Hong Kong's criminal justice system. Complaints filed to the police have not been adequately dealt. Not a single police officer has been the subject of any criminal proceedings.
We are seeking justice on behalf of those who had suffered from police brutality through the UK courts system. To do this we need your help.
If you wish to help us bring a Private Prosecution against British police officers in Hong Kong, please give what you can.
Updates
0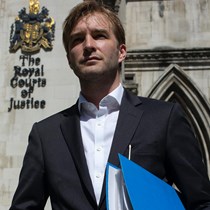 LUKE DE PULFORD started crowdfunding
Leave a message of support
Page last updated on: 11/26/2020 02.06
Supporters
4564
Anonymous

Oct 27, 2020

Thank you for everything ! We are eager to have justice!

N LAU

Oct 19, 2020

Thank you for helping hk democracy protesters

Tommy

Oct 1, 2020

Demand for justice

HK Guy

Sep 7, 2020

They hide behind the law - let the law seek them out

Anon Donor

Sep 6, 2020

Thank you, please keep up the good work.
Crowdfunding is a new type of fundraising where you can raise funds for your own personal cause, even if you're not a registered nonprofit.
The page owner is responsible for the distribution of funds raised.
Great people make things happen
Do you know anyone in need or maybe want to help a local community cause?
Create you own page and don't let that cause go unfunded!
About Crowdfunding
About the fundraiser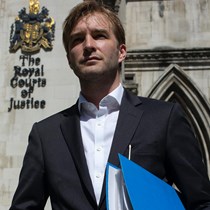 LUKE DE PULFORD
Co-Founder and Director, Arise Foundation. Co-Founder, Coalition for Genocide Response. Fellow, Hong Kong Watch. Coordinator, The Inter-Parliamentary Alliance on China. Adviser, World Uyghur Congress (UK). Commissioner, Conservative Party Human Rights Commission