£365
raised of £300 target by

33 supporters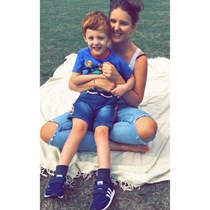 Lauren Lukey
We've raised £365 to Put towards an emergency move asap.
Funded on Monday, 1st July 2019
Don't have time to donate right now?
Story
It's hard to even write this all down and to describe the nightmare me and my family are going through right now.
I have 2 boys, a 7month old Baby Lake and a 5yr old son Lucas. My 5 yr old son is severely disabled, He is Autistic and has Learning Disabilities, he can't talk, can't communicate. He has several medical issues linked to his Autism and needs full time care, I'm not only his mum but his carer. For instance he can't even do something as simple as putting his socks on. He gets help with EVERYTHING he does from me and his Dad, Scott. He is mentally 0-11months. He barely sleeps and eats. Life is difficult but he is so so lovely and sweet.
So we live next door to a house that is shared accommodation. This has been pretty bad with general stuff such as parties and loud music etc but on Friday the 23rd november things escalated in the most chilling way!
At around 7pm I was in the bath where I started to hear a strange noise coming from next door, it was the words "mental maker" being repeated over and over constantly, by a really strange voice. Obviously this seemed so weird to us and after it being on for 5hrs straight, we called our council noise control, two men came out quickly and listened to it and said "nope I couldn't be doing with that either" so they knocked on the front door and no answer, their uniform looks like police and I think the man next door had a look but didn't answer thinking it was police.... but the noise went off.
The same two words however were played repeatedly over the weekend but went off at night time so I'd not made more complaints at that time.
Monday morning around 6-7am I was in the kitchen preparing Lucas' lunch for school (he goes to a school for severe autism and learning disabilities) and a new loop was playing, a continuous cough (you'll hear this cough on one of the more disturbing videos) this went on for well over an hour! All still very strange.
Tuesday night the "mental maker" had been going for hours again, got to 10.30pm and I was so mad and suck of hearing it over and over every few seconds that I got up and banged on next doors front door, a lady answered one of the other tenants and I said to her "what is that noise" "it's too loud" etc I didn't get a response in English but it went off.
Ok so Wednesday this is where things become beyond weird and just disturbing. A new loop is being repeatedly played throughout the day over and over " **coughing** I am racist, I am worthless, I am useless, I am not human and that's why god punished me, I am the mental maker now" by this point it's super clear in our kitchen where the blokes room is next to and it seems much clearer than the other recordings he'd played and we were totally freaked out. At 10.30pm I got on the phone to 101 spent an hr on hold all the while Lucas our son very very upset, so ended up calling 999, I honestly could only think he was brainwashing himself or trying to brainwash us as some future terror threat or something, I got abit of a telling off from 999 and he wouldn't log it, so as it stopped around that time I waited to the next morning for 101 again,
Thursday, I rang at 8am ish and got through straight away but ended up spending an hour on the phone and explaining to 3 different people, the last lady seemed concerned and in the end said police would be in touch at some point. After about 20mins the same lady called back and said she'd been speaking to her inspector and they'd agreed to mark it as an incident and that way an officer would be out the same day, she also mentioned it could be modern slavery to the woman who lives there and asked if she looked distressed when I'd knocked the other night. (I didn't think it was this at all) at around 2pm an officer called and then came around, I played him the video and off he went around to talk to the guy next door, The policeman came out of the guys house smiling and came back into us, the guy lied out of his teeth and said he only ever plays his music. The policeman then said there's nothing bad in his room and virtually his exact words were "well it must be aimed at you" (like that's ok) and that it was now just classed as a noise complaint and he'd speak to council, I was so disappointed by this point. Those recordings are chilling and not normal behaviour. But in terms of noise all we had heard that day was like the white noise fuzzy sound (it was still on at 3am Friday morning) but at tea time a recording was played it sounded different but I was trying to sort my kids out then and when I tried to record it was back to the fuzzy noise. However it was bearable.
Friday 30th nothing all day!!! Got to 11.50pm me and Scott had just got in bed, Lucas just gone to sleep and we hear his bike stop he slams open the front door, starts banging all through his hallway and from our bedroom at the front and him getting to his room at the back I can hear him screaming over and over "mental maker motherfucker" he sounded hammered which is a common occurrence. Also from our bedroom I could swear I'd heard him say "your son is mental" but I'm thinking no that can't be right. We get into our kitchen and he must be stood at his wall screaming the most awful words, saying we "make mental" we should suicide in his words. He then starts saying what you imagine nobody could say, "your son is mental KILL HIM, useless for every life, do you understand KILL HIM, better for him, better for you, better for me" by this point I'm sobbing uncontrollably he'd said this so so many times, he doesn't even know my sons name, yet he has this hate to a disabled 5yr old boy. Listen to the wording he's using "he's useless, he's worthless" THE EXACT SAME AS THAT RECORDING!! Mental maker THE EXACT SAME AS THAT RECORDING! He has put together that recording himself, he has put thought and time making this, hes not english so how he says those words in a sentence is how hes put them together in the recording (like we make mental - because in his eyes our son is mental) why would anyone go to such lengths, to then what i believe try and torture us..... the only thing is until that friday none of those recordings made any sence, we were confused by them. Its only been since hearing him actually say those particular words we now know that all those hours hed played those recordings since 23/11/18 was all about Lucas, likes hes fixated on him. He's randomly started this just over a week ago and I swear on my kids lives nothing has happened for this to happen, we've made noise complaints before about general stuff but we're actually pally with him, he has never complained about us or needed to. I hadnt seen him that week but if I had we'd of said hello. I didn't think he was the man that was doing it and knowing he'd of said hello when really he's been the one playing those recordings, it's sick!
My son is obviously someone he feels that much hate for to do this. Why would anyone say "kill him" about a 5yr old little boy, he's the purest sweetest soul. This man next door isn't English but we've always been polite and friendly.
As soon as we had heard him screaming about killiing our son we called the council and 999, council came first and heard some of his mutterings. But we think the guy new people was here because he went quiet. Anyway after an hr or so around 1.30am the police came. They said there was nothing they could really do because he's in his own home and can apparently say what he likes. They heard all the videos and I told them obviously very upset that this is not right or normal and he hates my son. They said basically it'd have to get worse before they can do more! THIS IS NOT ACCEPTABLE, I'm scared for my son, for our family! What if he gets totally hammered and decides to set our house on fire!!! I daren't even let my cats out in case he poisons them! The police knocked on the front door but nobody answered, they'd already said if he doesn't answer at all then that's about it! Its not anywhere good enough!! To think when my son has been playing at the front window that guy has more than likely been laughing at him and speaking his hate about him! It's wrong! It's a hate crime but he's getting away with it! I'm contacting the media, local mp etc and doing all I can but we are already going through so much with Lucas' needs and now living this nightmare scared what he's going to do next.
Everyday my son gets off his school bus with our help and now we're going to have to pass him knowing he wishes our son harm. My son none the wiser, bless him. it's disgusting. We're now wanting to move ASAP but let's face it this isn't something that can be done next week or tomorrow so for now we're stuck, with no help from anyone!! What's it going to take before the police intervene!?! Him hurting Lucas?!??
** police came again on saturday the 1st of december at around 6pm, he knocked on their door for quite a while and another tenant finally let him in, the policeman said he spoke to him and sternly told him if he continues it can lead to him being arrested, the man saud to him "is this about my music again". The policeman came back around and said at this point he couldnt do anymore and i have to log any incidents (which i am doing until we move and get away from him) **
It doesnt matter if he never said a bad word to us again, the things he said are absolutley vile. To think hes got away with that and using words like KILL HIM!! And its all premeditated. I worry for my son and my family! In a way my son's Autism and Leaning Dissability protect him because atleast he doesnt understand that hate that has been dissgustingly directed to him.
We are trying to make arrangements to move as soon as possible, ideally the council will help but if not we will have to look for private rent. Obviously this isnt something weve planned for and at this time of year even more of a struggle, whether we rent or get help from council (which would be more ideal) its putting us in a difficult position emotionally and financially and one we shouldnt be in.
Christmas should be a time to enjoy with family and things are so difficult as they are but now with this its added stress and worry we do not deserve.
We are 100% moving because of these threats its just a case of what route we take best for our family. If you can help please do.
Even if its just sharing my post, its all appreciated. my post and videos with recordings and his threats are here : Hate crime
Thankyou for reading
xxx
Updates
0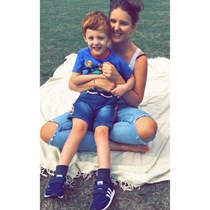 Lauren Lukey started crowdfunding
Leave a message of support
Page last updated on: 3/21/2019 15.41
Supporters
33
sj Badman

Mar 21, 2019

Wish I could give more! None of you deserve this! ❤

Annalisa

Dec 21, 2018

So sorry it's not a lot. But I really hope you get moved asap. Xxx

Anonymous

Dec 7, 2018

Sorry I can't donate more. I hope you are all able to move asap and have no more disgusting behaviour from your vile neighbour! All the best xx

Mei Lai

Dec 5, 2018

My heart felt so sad reading this storyand by chance two of my friends know you...which felt like it was even more closer to homeThis should NEVER happen to anyoneGood luck with raising the money

corrina bradshaw

Dec 5, 2018

i am so sorry you are going through this. i had really bad times with a neighbour using my family tragedy. i hope you raise lots more and have a new start. much love to you all.

Lucie

Dec 4, 2018

Keep going love! Don't let someone like that get to you or your wonderful son! You need to pitty him not be frightened of him! Wishing you all the love and luck in the world xxxx
Crowdfunding is a new type of fundraising where you can raise funds for your own personal cause, even if you're not a registered nonprofit.
The page owner is responsible for the distribution of funds raised.
Great people make things happen
Do you know anyone in need or maybe want to help a local community cause?
Create you own page and don't let that cause go unfunded!
About Crowdfunding
About the fundraiser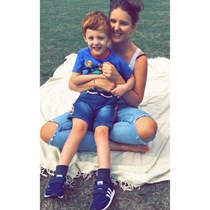 Lauren Lukey
I don't want to ask for too much as I'm not too sure on the exact specifics of how much we will need as it depends on the options we have available. Options are private rent move or hopefully council. Either way there is costs involved with either option. Anything is help for us.