£370
raised of £10,000 target by

17 supporters
Luke Oldland
We've raised £370 to Help give our beautiful boy medical attention that he desperately needs
Funded on Tuesday, 2nd October 2018
Crowdfunding is a new type of fundraising where you can raise funds for your own personal cause, even if you're not a registered charity.
The page owner is responsible for the distribution of funds raised.
Story
Hi everyone
I am trying to raise £10000 for medical care that our beautiful boy Milo urgently needs. For those of you who know Milo please be aware you may find this very hard to read however please remember we are doing our absolute best to keep him rested and comfortable he is in safe hands and surrounded by love, unfortunately time is not on our side which is why i am writing to you all now in this desperate time of need. Please take a moment to read Milos story and please help us save our boy, Let me introduce you to Milo and explain what's happened.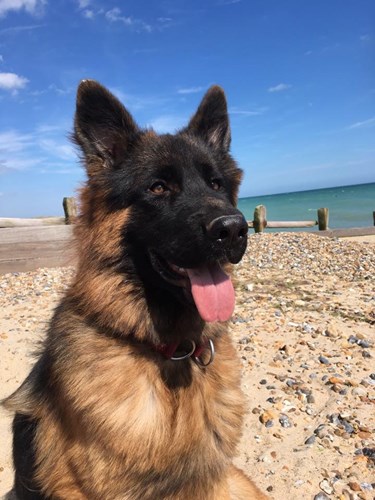 Meet Milo, he is our beautiful German Shepherd who will be turning two on 22/06/18 he has been with us for the past 18 months and is our absolute world! this boy has nothing but love to give, such a friendly and gentle boy who is always there to drop his huge paw on your lap to pick you up when your feeling down. For all of you that do know Milo will know as soon as you show him love you have found yourself a friend for life,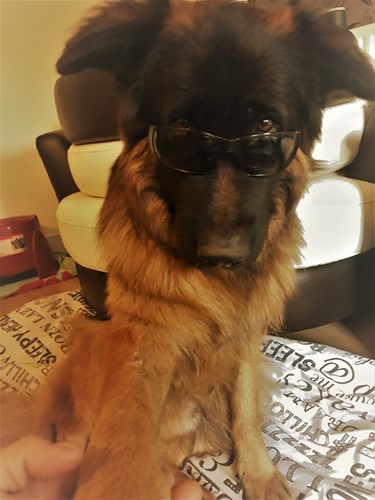 We went to pick Milo up when he was just 6 months old both myself and my partner was very excited but also very nervous as we have never had a pet before and with Milo being our first, we was not too sure how he would be with us and if we would be good enough for him, we filled the house with countless dog toys, treats and a big fluffy bed in preparation for his new home and he loved it, he was just your typical pup who wanted to play with anything he could get his eyes on. so far all was going well and nothing seemed to phase him, we was over the moon with how well he took to his new surroundings and just like that our family of two had its new addition.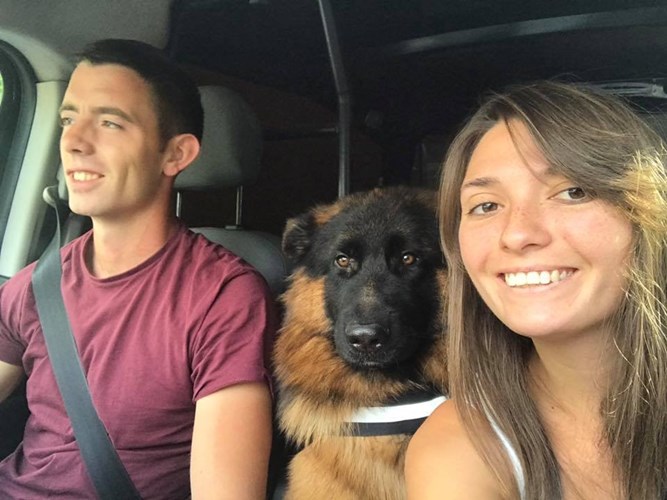 The next day we made our very first trip to the vets for a full check up, he had already been vaccinated and micro-chipped, we just wanted to double check this handsome boy was healthy and to meet our new vet whilst hounding them for as much information as possible on the best way to look after him. We were told we had a healthy pup and informed on all the do's and dont's and sent on our way. Prior to picking Milo up i had researched the breed and was very aware of problems that the German shepherds can be associated with such as very sensitive stomachs, hip dysplasia and unfortunately they can become extremely anxious very quickly if made to feel so with all this in mind we thought it would be best to take puppy steps with Milo and let him find his paws in his own time however with the vet giving the all clear and Milo becoming more and more attached as time went by we were beginning to feel more confident that he trusts us and from this moment we knew we could trust him although a lot still to learn for Milo and for us.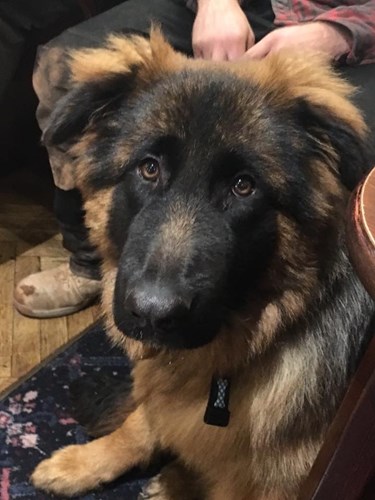 We put in a strict routine of 3 walks a day for Milo as we knew he would need regular exercise, fed twice a day since he's been with us on food fit for a king, his meals are generally better than what i have, i have occasionally thought of swapping but i can't bring myself to do it, look at his face, i personally wouldn't want to be the one who messed with his food he wouldn't talk to me for days. We have done regular training with Milo, a bit slow at first but with patience and a few slices of chicken we found that he is extremely intelligent, very keen to learn new things and whenever he got a chance he wanted to impress people with his new moves, he was almost doing every trick at the same time, Having found that food would be the motivator with the odd game of tug of war Milo became very easy to train.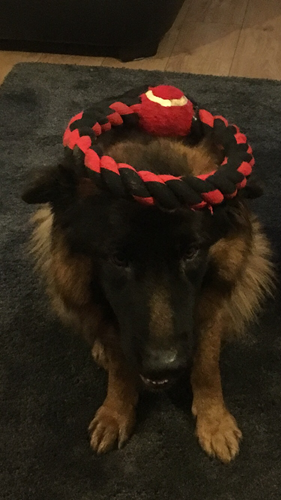 A few months passed with regular visitors who were fighting their way through the door to meet Milo which he took in his stride very well, he was becoming very well known in all the local parks by other dogs and their human friends, some people started to ask us for advice and best ways to train your dog, obviously it was a nice compliment but we could only tell people that we were very Lucky with Milo and in all honesty he was teaching us far more then we were teaching him. In the 3 months that had gone by Milo was cruising through life and was loving every second of it, his family was growing by the day becoming more and more popular, he even made a girlfriend.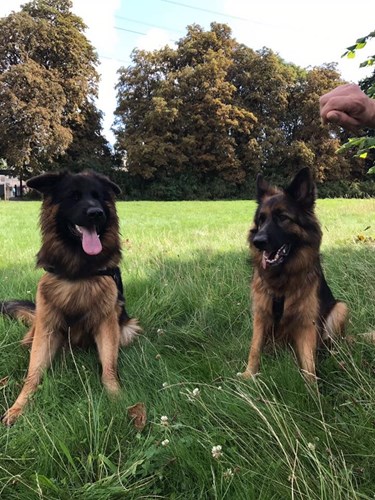 A year had passed and what a year it was, if i could take this boy anywhere with me he was coming, i had no choice in the matter, he would follow me anywhere i went and couldn't escape him if i tried. if we were going to the beach Milo was coming, out for dinner the restaurant had to be dog friendly, to the shops, for a drive/walk even to take the bins out Milo would give me that look as if to say you wouldn't leave me here alone would you dad? everywhere we would go He insisted we made room for him, the only problem being the fight over the front seat of the car which of course i would win (for now).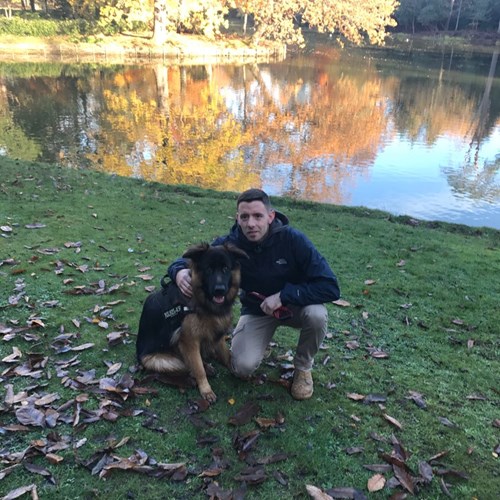 We were in December 2017 and what a month we had ahead of us not only my favourite time of the year but this year was our first Christmas with Milo, we were all very excited although Milo was very curious as to why there was a big tree inside the house with lights flashing all over the place, all very new to him but you could see he was just as excited as i was. Our routine was still as strong as ever with his 3 regular walks and the odd belly scratch. Myself and my partner both work full time Monday - Friday, she is a full time Nanny and i am a bricklayer, we had a regular dog walker set up to pick Milo up midday and walk him for an hour which Milo was absolutely loving, the people we used were either family members close friends or a professional dog walking company, all of whom became very close to Milo and would trust with our lives, all of them giving Milo the attention he needed and spoiling him with treats thinking i would never of found out (Milo told me) we was very happy with this routine just by seeing how happy and content Milo was, with Christmas just around the corner, we all of a sudden became very busy leading up to the holidays but with an extra pair of paws everything was going perfectly our little family as happy as you could ever wish to be.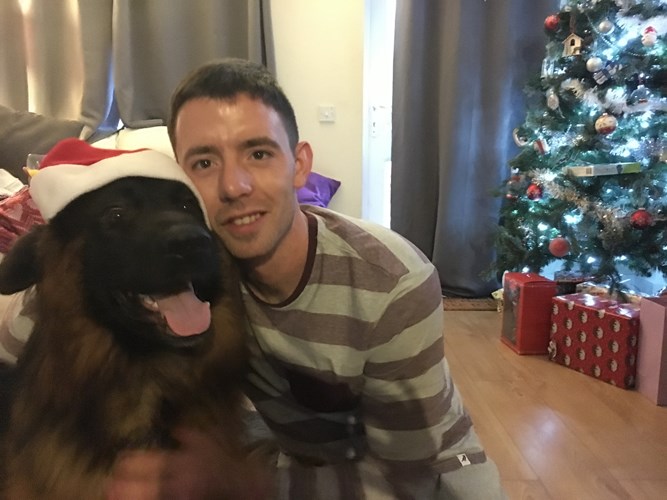 December 19th 2017 our world came crashing down.
I finished work at 16:00 heading home for the greeting you can only get from your dog, after the usual 10 minutes of cuddles and a million i love you too Milo i grabbed his lead and we headed out for our evening walk.
we went to one of our favourite parks which Milo loves, once we are well into the park i always walk Milo off lead to give him that sense of freedom and i never have any doubt in my mind as his recall is instant and he never really goes further than 20M from us. Milo is doing his usual sniffing around trying to play with all his dog friends just being his soppy self, we walk around the back end of the park no other dogs or people around and Milo is roughly 10M in front of me, he lays down so i stop, "are you tired boy, come on up you get" he doesn't get up "Milo come on boy time to go" dose't move, i start walking away slowly calling him as sometimes if he's tired stubbornness kicks in and he will make you wait a while before he decides he wants to go, as i'm walking away i'm calling him and calling him and hes not responding at all, i knew something was up, i walk back to him and i'm talking to him, "what's up boy" im looking at him and from what i can see everything was fine just Milo being stubborn and a bit tired it wasn't like him to be this unresponsive to my call but i assumed he was tired so i sat with him for a bit whilst we rested.
We were lying down for about 5 minutes at which point a friend of ours walked by, Milos chin rested firmly on the ground which was strange as this particular friend's Labrador was one of Milos best friends, you couldn't usually stop them from playing if you tried, the lady had also found this strange and with me tried to encourage Milo to stand, i wasn't thinking anything of it just that he must of been exhausted.
Eventually Milo decided to get up and carry on his walk like nothing had happened we walked back towards the exit, we were moving for about two minutes when i started to notice what had happened, Milos back legs began to sway and shake as he was walking, i told him to stop and he did, as he stopped he stretched his two back legs behind him which made me think they may have just been lame from when he was laying on them, we carried on walking, he veered off to the grass sniffing around and back to his usual self.
we're walking back across the main part of the park and all of a sudden Milo screamed like thunder, i ran over to him and he was yelping and yelping, screaming the park down, I've never heard anything like this and have never heard Milo yelp, as i got to Milo i noticed he was laying in a very awkward position leg was rolled out paws circled over and could visibly see that something was up with his hips. I was on my own luckily our vet was only about 500M away but in this moment i was panicking like you wouldn't believe my baby boy was in agony and i had no idea what to do, i tried to move his Leg and he screamed at me, there was only one thing i could do. I picked Milo up as gently and as slowly as i could, put him over my shoulders and we made our first major visit to the vet. the word helpless wouldn't even begin to describe how i was feeling,. my boy was suffering and we needed help urgently!
With help from another friend of ours we managed to get Milo to the vet and straight away we was seen and guided into a room so Milo could be helped, we was seen by an Irish veterinarian who seemed like she had dealt with this before, we was with her for a good hour whilst she was helping our boy, at the end of what seemed a lifetime she explained to me that his hips were still in tact although very loose and the pain Milo was having was most likely a nerve being pinched by the bone along with a neurological problem she believes he has where the brain is not telling his back left paw to flick up as he walks, which is why he is walking on his knuckle apposed to the base of his paw all of this combined can lead to numerous problems with the spine.
We were given anti inflammatory, pain killers and strict instructions on what to do next, i burst into tears, i couldn't stop thinking Milo was on top of the world this morning, 12 hours later my boy was suffering severely and i was scared for him we done our absolute best to take care of him and we failed.
I asked the vet if they wouldn't mind watching Milo whilst i ran to get my van which they were happy to. when i got back with the van we put Milo in his bed and we drove home, i didn't even know how i was going to tell my partner what happened, this was going to break her.
Christmas went by and with plenty of rest, a course of antibiotics, Milo got to the point of recovery where it wasn't as painful for him anymore or at-least not showing any signs of pain just slight discomfort (i personally think it was the food that was floating about that cheered him up) nonetheless it was great to see the smile back on his face.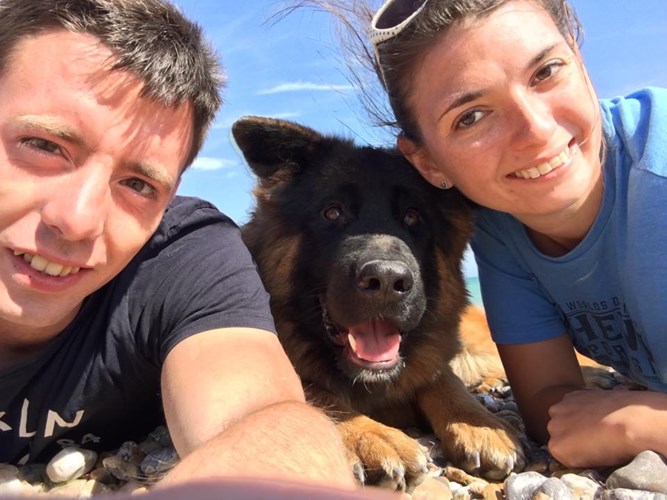 After Christmas we went back to the vets for a consultation really to find out where we stand with Milo and to discuss all the best options for further treatment he may need and to get an idea of overall costs, we made a promise to this boy when our little family of three started that we will do everything we can to look after him and we don't intend to break it now!
Firstly we were told that Milo would need to have an X-ray and an MRI scan before any form of operation or treatment would commence which is understandable so i asked how much would it be to get them don? they said do we have Milo insured which luckily we did, they said great and helped us to fill out a pre-authorisation form to claim for Milos treatment.
It took over two weeks for Petplan to get back to us after continuous phone calls and emails all for them to tell us as Milos condition is common within the breed they wouldn't cover him. I was furious with them and argued forever with them, what was the point in paying £360 in premiums if as soon as we make a claim you find the cruellest most pathetic excuse not to help Milo and they had the cheek to add alot more areas where they won't cover him for now, as what has happened to Milo will come under his pre-medical history and any future claims relating to any joints, the hip, spine the paws will be a straight no. I said to them if you won't cover my dog from nose to tail why are you still taking my money? no answer I cancelled my policy with Petplan and we all went straight down to the vets.
As we got to the vets we was seen pretty quickly by the same Vet who saw us on the night of Milos accident, after a quick examination and a belly rub for Milo we explained that we would not be covered by Petplan for any treatment, we asked for a list of all costs to get Milo the treatment he needs, as we listened to her rattle off the prices of the treatments we actually thought she was joking, when we realised she was serious, that feeling of helplessness started creeping back in my heart was and still is aching for this boy i just don't have the money these company's want.
We took Milo out for a slow walk in the same park of the accident, to have a talk between us and work out what we could do, we knew we had to do something, and with a ball park figure of £10000 we needed to get moving fast, we had a little amount of money ourselves we could put towards it and we asked around if we could borrow money off of family members sadly nobody had that sort of money spare, we applied for loans and was not having any luck, we have been working full time trying to make sure someone is home to watch Milo if were out just in case anything happens to him whilst we are working. we began putting in a lot of hours at work, nights and weekends if we could but with bills stacking up we were not getting anywhere close to the mark that Milo needs and with the constant worry of how Milo was we found it very hard being at work away from him although he was and is always with someone i would trust with my life.
We have tried everything you could think of over the past 5 months to find this money for Milos treatment and was all for nothing, we have paid for three consultations trying to find a way to make the overall treatments cheaper and had no luck, we have struggled to make this work for our beautiful boy and failing him more and more every day.
He continues to show us love and that one in a million smile even through his suffering he always puts everyone else first which makes this so much harder, i do feel he is loosing his character as time goes by which is so horrible to watch, i'm shocked he has kept his spirits so high for this long but we will do everything we can to keep him happy, that is our promise to him, we will fight through this with him, no matter what it takes.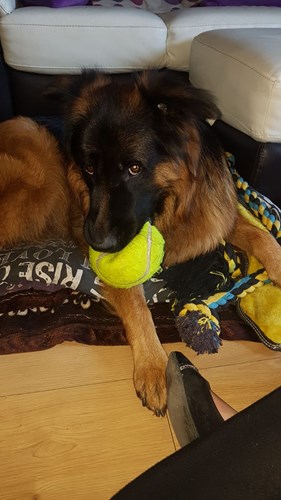 He is on a constant pain relief medicine which we plan to continue until we can find help we still do the 3 walks a day however they are light walks and a lot more boring for this 23 month old pup that just wants to chase that freedom. We are are regularly heading back to the vets for check ups, they're monitoring his condition and will continue to do so until we can find the money to proceed with treatments. I would do anything to see him run free again sadly that is not the case his back and hips look weaker and weaker every day most days he has to be helped to get up and supported whilst walked, it is very stressful for him and so heartbreaking and frustrating for us to watch and not being able to do anything to help him. Milo is so young and it is the cruellest of fates that such a loving well behaved and gentle dog has to suffer like this, please please please help us get our cheeky lovable boy back on his feet.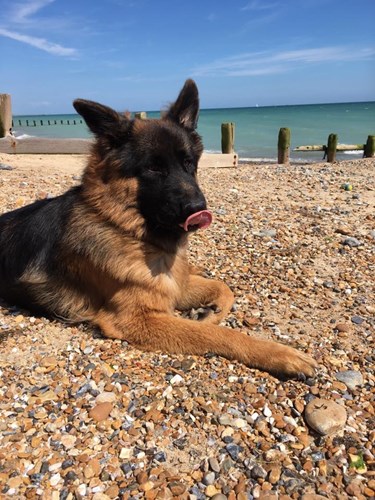 Milo has no clue as to why he visits the vets so much, he just thinks its a place where nice people want to rub his tummy and give him attention, we don't tell him the real reason for going to the vets as i'm sure he would deter and our future trips would become a lot more challenging i would appreciate it if you could all keep our secret with us, especially anybody fluent in German Milo does sadly have a lot more trips to the vets as they have now told us he needs help as soon as possible or damage could become permanent, we have been referred to Fitzpatrick hospital (Supervet) who will be dealing with Milo from hear on out.
I was running out of ideas on what to do for Milo until a friend of ours told us about this just giving website and how it can work miracles I've typed this up as fast as i can praying for a miracle as this really is the last option we have for Milo i really cannot think of anything else to do, any advice would be greatly received as like i said before we are still fairly new to having a dog, i know i have gone wrong somewhere with Milo i just don;t know where, i have given him my all and continue to fail.
We would do anything to have our little family of three back to the way it was it is unbearable seeing Milo this way, we are trying our best for him but without the medical treatment he urgently needs i feel things are only going to get worse for Milo.
If you would like to donate for Milo please, please, please do so all help will be hugely appreciated and please share Milos story as far and wide as possible this pup is as Loyal and loving as they come and deserves a fair shot at life, please help us!
We will keep everyone regularly updated on how Milo is doing, I know with help Milo will be back to his old self in no time at all,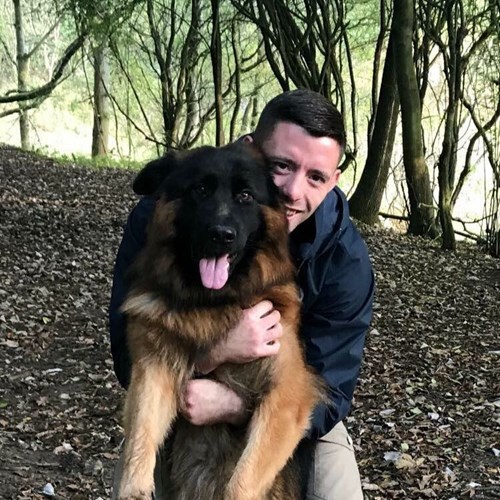 As you can see he is my world it is beating me up more seeing him the way he is i really wouldn't wish this on anyone. please help me save our boy.
Thank you so much for taking time to read Milos story (Milo says Woof Woof) which woofly translated means Love you.
Updates
0
Luke Oldland started crowdfunding
Leave a message of support
Page last updated on:

7/29/2018

6:34 AM
Supporters
17
Anonymous

Jul 29, 2018

Good luck x

Caroline Spencer

Jul 16, 2018

Sending love , prayers and healing to Milo xx

SUSAN SAMMONS

Jul 15, 2018

Wishing Milo all the best and hoping he gets his surgery.

Abbey (Megan & Freddie)

Jul 15, 2018

Good luck gorgeous! I hope you get what you need with Mr Fitzpatrick

Sreekumar Kunnumpurath

Jul 4, 2018

Get well soon Milo

Amber P

Jun 21, 2018

Good luck Milo ❤️

Holly Scribbins

Jun 21, 2018

Good luck to Milo ❤️
Great people make things happen
Do you know anyone in need or maybe want to help a local community cause?
Create you own page and don't let that cause go unfunded!
About Crowdfunding