£0
raised of £70,000 target by

0 supporters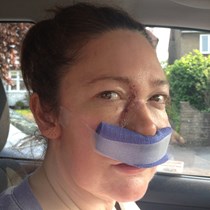 Michele Horton
We're raising £70,000 to Help fund the rebuild of my face
Crowdfunding is a new type of fundraising where you can raise funds for your own personal cause, even if you're not a registered charity.
The page owner is responsible for the distribution of funds raised.
Story
In 2010 I went to see my doctor about a constant blocked nose, she prescribed me some antihistamine but that didn't work, she said it was most probably and allergy or hay fever (which I had never suffered with before) I was 42 at the time. It didn't clear up and I remember that summer going through loads of pills to stop the dreaded sniffing. When it was still there in the winter I went back to my doctors and was referred to a "specialist" at hospital.
I went back for my results I saw a different Doctor. I was told there were no polyps in my nasal passage, I just had a sinus swelling and was given more steroids to spray up my nose.
Then in January 2011 my mother who was being treated for asthma went for some scans as her breathing was getting worse and she kept fainting. We went back for the results, on her birthday February 2nd, only to be told she had lung cancer all along. We were so close having grown up with just mum, we were like best friends I told her everything and I mean everything - things that you would only tell a girlfriend I told my mum. I was crying but mum was calm but both in shock, having been told she would never be cured they said they could shrink it but not get rid of it, she was only 62 at the time.
Mum went through the chemo and had some radiotherapy too which shrank the cancer to almost nothing and we were so so happy, but it came back with a vengeance I left work temporarily and took unpaid leave to look after her at her home, leaving my husband to fend for himself, which he did without question. At first we had fun watching TV together, and doing things for her. But as she got worse and had more drugs the tougher it got. Stupid but I never thought about that at the time, I just thought I want mum to be able to be looked after by someone who loves her and is not paid to do it. I was there 24 hours a day. She would wake up in the middle of the night in confusion shouting my name and I would say "It's ok mum I'm here". It got steadily worse and harder as she got sicker. I don't need to say what I did for my mum, but she was now the baby and I was the mum - in every respect. All that time my nose was still blocked and mum kept saying to me please go and get a second opinion and I thought yes, I will when I go home - I left it. I knew that when I got the time to get it checked would be when mum had died. We both knew she was terminal but neither of us knew how quick she would go. May 27th, 2011 at 7pm was the dreaded day, I couldn't leave mums house even though for weeks I wanted a break from it all when the time came to leave I couldn't go, I slept down stairs where she had died not wanting ever to leave, 2 weeks later I went home. I was supposed to go back to work but I didn't I started my spiral of depression, this carried on for about 4 or 5 months until I woke up one morning and thought my nose is still bad I am going to get a second opinion. My doctor sent me to another consultant who was in the NHS.
I was seen and another scan taken. I was told that it was probably polyps but the scan was inconclusive. I was given steroids given another routine appointment. I later had a nose bleed and when I mentioned this the next visit the consultant said he would send me for a biopsy and to remove any polyps but reassured me it was not cancer. I went for the biopsy and woke to be told they had taken a biopsy but they couldn't do any more until the results had come back. I was so annoyed at the time because I thought it was just a funding issue, why else wouldn't they remove the dreaded polyps!
I went back for the results a week later, March 2012. I walked in the room to meet a new consultant and in the room were 2 nurses, smiling at me reassuringly My consultant looked perturbed and smiled a stiff smile and said "I am sorry Michele this is not good news you have a tumour in your nose and we have to move quickly on this................................................." waffle, waffle, waffle, waffle, waffle - I remember thinking cancer no way how could they have got this so wrong, first my mum and now me it just can't be. I remember screaming and then losing my breath and saying to my husband "you promised me it wouldn't be cancer you all did and now I am going to die in agony breathless and choking like my mum did in front of my eyes"
My consultant assured me she would do everything she could and she would not even consider doing the operation if she thought there was no hope she would only operate if she thought there was a chance of survival. I was put at ease by this, a little.
I then had further scans, MRI's and 3 weeks later I went for my operation and my consultant was shocked to find in surgery that my tumour had grown rapidly and it took 8 hours to remove it. It took maybe 5/6 years for it to be big enough for them to find but the scans showed that in the 3 weeks leading up to my operation the tumour had grown, in their words, "exponentially".
They had planned to remove the tumour and rebuild my nose with a piece of my rib at the same time. In Theatre was the frozen tissue testing team so my consultant could dissect and at the same time have a team on standby to test the dissections there and then until she got the all clear that the tumor and any particles were removed there and then. A plastic surgeon was also in Theatre to rebuild my nose there and then but because it took 8 hours to remove every scrap of tumour they ran out of time and had to leave me as I was - no cartilage and no nasal bone just skin where my nose used to be.
They packed my nose with wadding and I could only breathe through my mouth. This caused its own problems when I fell asleep my mouth would close and I would wake myself up so my husband thought of all different things to keep my mouth open so I got a bit of sleep, in the end we got a babies teet and cut the top off and this was wedged in my mouth. I got sleep but also this made my gums sore to the point it gave me blisters but the pain was worth being able to sleep a couple of hours. No one had the answer to my problems as this was the first time any of the nurses had dealt with my symptoms before so we literally fended for ourselves trying to resolve the dilemma of how I eat and drink without suffocating. When it came to eating, well that was even more traumatic try pinching your nose shut and then eating or drinking it is not easy top that up with a huge wadding up your nose.
I was released to go home with no information on how to clean my nose but was given gauze and saline to take home. I was advised to contact my McMillan nurse in relation to cleaning, who upon speaking to didn't know either, "just do what you are doing but be very careful not to disturb the stitches or get infection and don't let the area get wet". I remember leaving hospital in a blind panic with absolutely no help whatsoever and thinking well saline is a liquid solution!!!!! After about a week or so I got the hang of it a little more each day and it got a little easier to do and to look at my face.
About 3 or 4 weeks later the wadding was taken out of my nose under anaesthetic (thank god) I was at last able to breathe through my nose at the same time an impression was taken of my nasal cavity and the next stage of making an insert to go in my nose was started. Again this was all new to all the 3 consultants in the room who all scratched their heads as to how to do it.
The Chemo and Radiotherapy then followed.
After all I had gone through at the end of the chemo and radio treatment 6 weeks later; I had chemo every Tuesday and Radiotherapy every day I ended up in hospital. The radiotherapy machine I was being treated on was constantly being shut down for repair and on that last day I remember going home fine only to have a burning sensation so bad it was like having a blow torch on up there, we believe I was overdosed with radiotherapy; they said I had an infection and admitted to hospital where I stayed for 3 weeks. I lost half my body weight in there and everyday I was given antibiotics; that made me sicker and sicker. At one point my whole body broke out in a red hot rash; I passed out and came round hours later to be told "wow Michele that was close". I am allergic to penicillin and they had made a "special" dose with a low amount but they never monitored me, just left me. I am just so lucky to be alive.
I became neutropenic in that time too. It was a living hell and I couldn't see me getting out and I actually thought OK I am going to die in here and I cried and cried all alone in my room until I fell asleep.
The next day the consultant came in and said right, we are taking you off everything and see how you cope and if we can get rid of the temperature. I was so angry they were giving up on me but I cried and released the anger.
The next day I demanded to go home, they released me the following day.
At home my temperature rose and fell but I just drank water and juice drinks Martin made me, all of the fresh organic juice drinks were banned in hospital. I then realised I had not had a period for a while and when I went to the doctors they tested me only to find that I was in the menopause. This was the reason for my higher temperature not an infection. I think they were giving antibiotics in hospital unnecessarily for 3 weeks; the nose fire went within a day or two.
I completely changed my diet after leaving hospital, no meat, no dairy and no sugar. I rarely have alcohol anymore. I do go out and when I do, I drink, life is for living and having fun but I just do it in moderation.
The next stage was to rebuild my nose. I had an operation to rebuild my nose 4 years ago, this was two stage process with a year and half gap in between. This was done by taking a piece of my rib to rebuild my nose, however a year and half after the second operation this is now collapsing into my cheek and I need another final operation. My NHS consultant who started the work has now left the NHS and has a private practice.
He is the architect of my nose which I would now say is like the Sistine Chapel, complicated and not a simple nose job that anyone can do or indeed take over.
Every day I feel pain from where the nose is collapsing into my cheek and it's like the feeling of tearing and it is quite visible to see where it is collapsing. I am desperate to fix this but cannot do anything without the help of crowdfunding I don't think I have ever felt so helpless as I find myself now.
It is a complicated procedure that will entail another piece of my rib being used to lift the nose up by attaching it to my upper jaw.
I am much healthier now and ready to move on to the next and final part of the rebuild but I desperately need financial help to do this which is where you lovely people, are, I hope, going to help me.
I hope the photos aren't too graphic for you to see but this is my face and I have to look at it every day.
Updates
0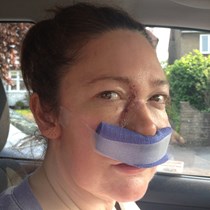 Michele Horton started crowdfunding
Leave a message of support
Page last updated on:

10/17/2017

1:01 PM
About the fundraiser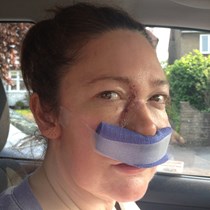 Michele Horton
I am recovering from Face Cancer and need your help to fix my face and stop the pain.