£3,061
raised of £20,000 target by

99 supporters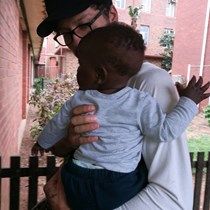 Mike Stevens
We've raised £3,061 to help fund the purchase of land to build homes for abused & abandoned babies & children in Durban, South Africa *Please read our story*
Durban, KwaZulu-Natal, South Africa

Funded on Sunday, 30th September 2018
Crowdfunding is a new type of fundraising where you can raise funds for your own personal cause, even if you're not a registered charity.
The page owner is responsible for the distribution of funds raised.
Story
I recently visited South Africa to volunteer at my friend's charity. Leanne & Kim have a home for abused & abandoned babies & children called HOLAH (search on Facebook) & run a charity called Likhon iThemba.
Charity Registration Number: 116-963 NPO
Our plan is to secure a deposit on a plot of land which we can use to build more homes for abused & abandoned babies & children. Currently Leanne & Kim's house is caring for 11 babies & children, but if we build more homes we can take in & look after greater numbers of those in need, until they are adopted into their 'forever homes'.
We have already found the ideal land & property to enable us to reach this goal, now we need your help to transform it into a reality. Our plan is to buy land which already has houses on it & then to expand this property into a complex. Please support this small charity to do something huge that will change the lives of hundreds of babies every year. Through the power of social media you will be able to follow the stories of the babies you are supporting & see where your money is being invested.
Please read the story of my recent visit to South Africa below, where we rescued 3 beautiful little people off the streets. The horrors they saw are unimaginable, but they will never suffer again. Please support us to help more babies & children like this......
My story from Durban, South Africa.
It all started with a phone call from the police station. A young girl had been found on the street at night on her own. She was 6 years old, dirty, cold and alone.
She had spent the night at the police station as there was nowhere for her to go. All of the baby houses and orphanages were full. Leanne and Kim's baby house was also full, but we couldn't leave her scared and alone, so we went to pick her up to come home with us.
She was very dirty and smelly and sadness filled her eyes. The kind of sadness that no one should ever experience, especially a 6 year old girl. We took our friend Sindi with us as she speaks Zulu and therefore could help us communicate with her.
Hearing her story of hunger, loneliness and living on the streets, flooded me with so many emotions, to begin with it was mainly anger. How could someone let this happen to a little girl? No one should ever suffer like this, not any man or woman, and especially not a child. But I also felt happy, happy that she was now with us and safe. But I found it hard to process these emotions, so when I got a few minutes on my own I sat in the car and sobbed, probably the hardest I have ever cried. Her life and her reality were too hard for me to understand.
She was very quiet and shy to begin with, but we took her to a clothes shop and told her she could buy any clothes she wanted. She was so happy and excited picking out lots of brightly coloured girly outfits and dresses. On the way home she kept getting the clothes out of the bags, holding them up to look at them and laughing, then hugging them closely with a massive smile. Luckily I was driving, otherwise I would have started crying again.
When we got home she had a bath, actually she loved it so much she had 3 baths and 2 showers; she was laughing, playing and singing, it was like she had never had a bath before. Then she tried on all of her clothes, played with toys, had a hot meal and slept in a warm bed. She settled in so well and seemed so happy. But sadly it wasn't all shopping and singing; she had to go to the hospital for lots of tests as she wasn't very well, she was very brave, and at 6 years old braver than she should have to of been.
I remember, while we were in the hospital I put an apple core in a peddle bin, when she saw me put my foot on the peddle and the lid popped up, she came running over to investigate. She had never seen anything like it before, she was equally amazed when she first saw the bath and shower at the house. It was crazy how a 6 year old girl was so amazed by things I see and use every day. But it made me happy as I knew she had so many more experiences to look forward to, and suffering abuse on the streets would be something she'd never have to undergo again.
While talking to the police, our little 6 year old told them that she had a baby brother also living on the streets. We told the police that we needed to find him and that we would take him in. The police agreed to help us find him and we went out in the car with 2 officers. We drove down roads and back alleys filled with homeless people, frantically looking out of the windows for the baby. One of the officers turned to us and said "be careful, they shoot police like cockroaches down here" but as much as that scared me and Leanne, all we could think of was finding the baby and getting him to safety.
When we eventually found him, he was breastfeeding from his mum, surrounded by men doing drugs, urinating and passed out on the floor. It looked like something straight out of a horror film. The smell was unbearable, it was a mixture of crap and drugs that hit you in the back of your throat. We took the mum and baby back to the police station. He was 6 months old, wearing rags with no nappy, he was stinking and dirty, his eyes were yellow and puffy and his skin looked like it was covered in bloody and infected burns.
With permission from the police and mum we took the baby and went straight to the hospital. He was suffering from drug withdrawals, pneumonia, scabies and skin infections. He spent several days in hospital, and at times I feared the worst for him. Watching a 6 month old baby suffering from drug withdrawals was one of the most horrible things I have ever seen. His poorly yellow eyes filled with tears, while he screamed, fidgeted and fought uncontrollably; it was horrific. But he got through it and we took him home to reunite him with his sister. She was so happy to see him, it was amazing. Watching them both sitting on the sofa, freshly bathed, in new clothes, with full tummies, surrounded by love, was the most amazing sight. It's the kind of happiness that I don't think I can put into words. With all the baby houses still being full, they had to stay with us, but they seemed happy and were safe.
While visiting Leanne and Kim's baby house with our little 6 year old, she was able to speak Zulu with the staff, although in only a few days her English was coming along really well. While talking to the staff, she told them of another brother. She said he was 3 years old and lived on the street in another area. We couldn't believe it! How could one family all be suffering like this? But we knew what we had to do! We had to find the third sibling and complete the triangle. We spent several days talking to the police and trying to find him, but we weren't having any luck.
One day we had been out at the park with the kids and on the way back our little 6 year old started getting excited and talking really fast. We phoned our friend to help us translate. She was saying that she recognised the area and thought her other brother was around there somewhere. It was dark and wet and thunder and lightning filled the sky. She directed us up and down dimly lit streets and was getting more and more excited. We ended up at the top of a dark alley which hit a dead end, there was homeless men and women hiding from the storm, most of whom were passed out on the floor. We could see a mattress on the floor that was covered in plastic sheets, and in the middle was the head of a small child.
We spoke to 2 of the woman and they brought the boy over to us. It was the brother! We couldn't believe she had found him. Again these living conditions were something straight out of a horror film. Sadly the more I saw of them the less they shocked me. But that never made it easy seeing babies and children living in such a way. They are innocent and vulnerable and should be at home, safe, with their families, with food and toys and a warm bed; not on the streets in the cold surrounded by drugs, danger and abuse, finding shelter under plastic sheets.
We went to get them food and drink and came back to talk to them, but sadly we had to drive away and leave him there. It was such a hard thing to do, leaving him there seeing things that no one should see, especially not a child. But it wouldn't have been safe or legal for us to take him without back up and permission from the police. But at least we knew where he was and we could make a plan.
After a few days of planning and talking to the police and social workers, we had permission to pick him up. We didn't know how easy it would be, but we knew we had to get him to safety and reunite him with his baby brother and sister. It was another cold and wet day and when we got there we couldn't see him, but then under the plastic sheets we saw a man and woman and then his little head pop up, trying to shelter from the rain. We managed to get him to the car safely without any trouble and headed home. He was very dirty and smelt like he had never had a bath. But he was very handsome and chatty. He was covered from head to toe with scabies, infection and open sores.
Reuniting him with his baby brother and big sister was incredible. He had a soak in the bath 3 times, chatted and played with his sister and sat and had dinner. Seeing all 3 of them together, safe, fed and loved made us feel amazing; I was smiling so much it hurt my face. I can't explain how it felt, there are no words that would do it justice. Their lives had changed forever before our eyes, they would never have to live on the streets again, or suffer from hunger or abuse and hopefully the horrors of their past would fade away into a distant memory.
But sadly this pain and suffering continues for so many others. There are still so many babies and children living on the streets in South Africa, filled with fear, starving to death and suffering from abuse and neglect. Even when they are found there aren't many places for them to go; baby houses and orphanages are over capacity. So where will they go? Sadly nowhere, if we don't do something to help they will have to stay on the streets living in ways that are unimaginable for most people. I wouldn't believe it if I hadn't seen it for myself.
So it got us planning another home for abused & abandoned babies & children, but why stop there? One more isn't enough. So we are looking to buy farm land to build multiple baby houses on. We have found land with some properties on it & more than enough room to expand & build more houses. Your donations can help us to acquire this land & start building homes for these innocent & vulnerable babies & children. With your help & donations we can take so many more babies to safety and support them to be adopted into loving families, giving them the life that every child deserves. Please help us so that we can help them.
Big charities bring in millions of pounds a year and make a big difference, but people forget about the small charities that work hands on.
By supporting small charities, such as Likhon iThemba, you can make a massive difference quickly, and through social media you can follow the stories and see how your donations are making a difference first hand. Please support us with donations so that we can secure the resources which will allow us to build a better future for these babies and children. The Pound, Euro and Dollar are strong and go a long way in South Africa.
Updates
5
9 months ago

Viewing property with our estate agent Wayne this morning. With your support & donations we can take it, care for & love even more beautiful little babies. We are a non profit organisation & need all the support we can get. Follow our story & watch our charity grow

Share this update to help us raise more

9 months ago

So I've been in South Africa a week today. We have been busy with the babies & working at the charity shop. We have also viewed some property/land to expand the baby house so we can take in, protect & love even more beautiful little ones. This is what your generous donations will help us achieve. Please continue to share our story & Just Giving Page & be part of something truly amazing. Picture from a meeting yesterday with Sarah from GAGA -Groth & Goodwill for Africa who is helping us with our charity Likhon iThemba.

Share this update to help us raise more

1 year ago

Share this update to help us raise more
Mike Stevens started crowdfunding
Leave a message of support
Page last updated on:

5/15/2018

9:36 AM
Supporters
99
Harrison Field

May 15, 2018

sharlene ford

May 8, 2018

All the best with the fundraising ❤

Claire Mackie

May 3, 2018

You guys are truly inspirational. Much love to you Lanny xxxx

Lauren McDermott

Apr 24, 2018

so so so amazing good luck <3

Meredith Gray

Apr 23, 2018

So much love to everyone in the charity! Incredible work!

Melanie Rose

Apr 13, 2018

Towards all the amazing work you are doing - and for your bravery for the bungee jump today !! xx
Great people make things happen
Do you know anyone in need or maybe want to help a local community cause?
Create you own page and don't let that cause go unfunded!
About Crowdfunding
About the fundraiser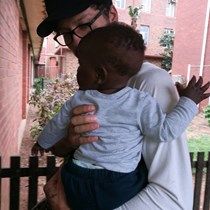 Mike Stevens
Durban, KwaZulu-Natal, South Africa
I went to Durban, South Africa to visit and help my friends Leanne & Kim with their house for orphaned & abandoned babies. Now I am back in England I want to help them expand & open more baby houses to help these babies be cared for before adoption in to their forever homes <3