£147
raised of £2,100 target by

6 supporters
Heather
We're raising £2,100 to buy an electric wheelchair for a chronically ill, disabled and housebound lady who lives on just £300 a month and never goes outside
Don't have time to donate right now?
Story
I am here to crowdfund an electric wheelchair, delivered and set up. I have all the information and pricing below in categories below, as well as photos of cost Feel free to ask me any questions on Twitter if you have any! Please share if you can as that really helps!
I am chronically ill with chronic pain, chronic fatigue and numerous other health issues that leave me disabled and housebound. I have no freedom or independence. I feel like a prisoner of this building as I can't go outside so I am stuck in here like a prisoner as I have no money to buy things I need as I live on a tiny amount of just over £300 a month total income! That is all I get!
I need an electric wheelchair (also called a power chair) as I only ever leave house for medical appointments that I can't do over the phone, and I would love to get out once in a while instead of being stuck inside these 4 walls 24 hours a day 7 days a week, as it is very lonely and depressing. It needs to be electric as I can't push myself and it needs to be able to fold so it can get inside the house and so it can go in cars etc.
An electric wheelchair will give me freedom, independence and a life! I don't have that stuck inside these 4 walls 24/7! You will really change my life if you help me get this. A wheelchair would be massively life changing!
An electric wheelchair is the only way I can go out and therefore have any independence and freedom at all. I never see outside these walls anymore and it is lonely, depressing and has a massive impact on mental health. With your help I can get a wheelchair and also some independence that I am massively lacking in! This is the only way I can have a life and do things outside of these 4 walls that I never see outside of. I never get fresh air, ever!
Once I have hit the goal, no matter how long it takes, I will do a blog post on my blog so you can see the wheelchair and hear how I have used it!
There is no way for me to get one without crowdfunding. Utterly impossible. And here is why. All the detailed info is below as well as links, photos and detailed information with links to an about me page and a faq for the questions I get asked most on social media. It is only long as I want to cover everything, but there is a short version below.
Short Version:
I can't get one on the NHS as you can't get one for outdoor use only here, I get only PIP as I can't get ESA or UC as I don't qualify so I live on just over £300 a month income. There are no grants in this area for one free nor can I use motobility as for one, PIP is all I get so I Wouldn't use my only income on one! And secondly because I don't get the higher rate mobility anyway., but I wouldn't use it even if I did as it is all I get. That is my only income so I wouldn't eat or have painkillers if I used it if I was getting high rate!
Detailed Version:
I can't get one on the NHS as you have to be able to use it inside as well which is completely impossible. I have attached proof of this in the photos from their correspondence at the bottom of this page, but you can also see this online by searching as many other areas have this same policy too. If you didn't know, the NHS is a postcode lottery as to what services you can get in each area. Just because you can get one thing in one area, doesn't mean you can in the next. You can search yourself if you need proof, or check my photo at the bottom of the page.
I have checked all grant checkers and any charities about getting a wheelchair and they said other than the NHS who won't allow wheelchairs for outside use only, there are no ways for me to get a free electric wheelchair. I have spent 3 years looking for one! I've also checked freecycle and sites like that and there are no electric wheelchairs free or discounted.
I have no way to afford this myself. There are no grants to help me and I have no relatives alive. The only way is with help from kind strangers. I hope you can help. Anything helps as it all adds up! You can donate worldwide too!
I never leave the house other than for medical appointments I can't do over the phone and it is so lonely and depressing in here. I wish I could go out to a park as I love nature, but I can't do that without your help.
My Health:
I don't leave the house as I can't walk for or stand long, and haven't been outside for about 2 years, other than about 5 times to hospital appointments that I couldn't do over the phone. My health conditions are permanent and will only get worse over time. I can't type or talk long due to extreme pain and fatigue so I can't even have conversations with people.
I am in severe pain every second my life and extreme fatigued constantly. Even getting out of bed is very hard to do even after 11 hours of sleep as my fatigue is so severe and my pain is so severe that I am on the strongest painkillers available and they don't do much at all anymore, so I can barely move an inch!
There is nothing that can be done for my chronic illnesses. They are permanent. I was using cannabis for a few months which I had successfully crowdfunded for a few months which was massively helpful, but as it always would, the money lasted a few months and then I ran out. That is the only painkiller to help me a lot, although it still leaves me housebound, just in a lot less pain. I can't get that now so I am on Fentanyl and Morphine which barely do a thing.
I miss being able to go out. I love nature so much and the only thing I see is these 4 walls and the tip of a tree branch outside the window. That is it and it is very upsetting to be stuck inside like a prisoner constantly. I don't get fresh air at all anymore!
My Income:
I can't work and I live on just over £300 a month total income. I struggle as it is on that little and couldn't afford anything let alone an electric wheelchair. It is not enough to live on as it is, and it is most definitely not enough to buy an electric wheelchair, ever! I also have to pay for prescriptions every month and I have all the bills everyone else has as I don't get anything free or discounted being disabled and chronically ill. My small income of just over £300 a month is all I can get and is all I have gotten for many years!
All I get is a little over £300 a month income. It comes from PIP only as that is all I can get. I also don't get high rate mobiltiy even though I should really, but even if I did, I still couldn't use it for motobility as it is ALL I GET. If i got high rate mobility (which I don't) and used it for a electric wheelchair, I would have no money for food, prescriptions, bills etc! PIP is my whole income and it isn't enough as it is to live on (which I blog about).
For anyone wondering about prescriptions as I had a few people assume you get free prescriptions if you are disabled No you don't! You have to qualify! Please read this is you don't believe me: https://www.nhs.uk/nhs-services/prescriptions-and-pharmacies/who-can-get-free-prescriptions/
I have spoken to citizens advice, DWP, my MP, even parliament 3 times now and no one can help me as you must fulfil all the requirements of any benefit. Being chronically ill, disabled and housebound isn't enough. You have to fulfil other requirements too, all shown on the government website.
I can't get ESA as I worked for as long as I could before being housebound, which meant that all that part time work worked against me as now I can't get ESA as I didn't pay enough national insurance working part time. Working actually penalised me as now I can't get the main disability benefit (ESA) due to working part time for a few years instead of claiming benefits!
And I can't get UC as I can't afford rent anywhere on my small income so if I didn't live here I would be homeless on the streets, BUT that means that the other persons income who lives here, is taken into account which leaves me unable to claim UC.
So all I can get is PIP which is just over £300 a month total income which is why I struggle to get by every day as it is, and why I am asking for your help to get an electric wheelchair as I couldnt afford one in a literal million years.
More information on me:
I have a blog with a page that has a lot of information about me, my health and detailed information about me if you wanted to read more. It is very detailed and goes back over 3 years and a Twitter account about the same length of time. My about me page https://www.chronicheather.eu.org/about-me/
There is also a FAQ page on the same site too if you have any questions as they are most likely already answered on there! https://www.chronicheather.eu.org/faq-about-me/
Electric Wheelchairs
I can't use a wheelchair as I can't push myself due to my health so I need a power chair. It also need to fold at the touch of a button or by remote and needs to be set up on delivery by an engineer as they come self setup, but I can't do that myself so usually there is a fee for them to set it up. That is included in the cost I am asking for.
There are many small foldable ones but they aren't as cheap as the huge ones, but it needs to be able to fold easily as otherwise it wouldn't fit in the house, and needs one touch fold or a remote.
Cost detailed:
The wheelchairs I have seen that are "cheap" and automatically fold, are all around £2k and over (before any delivery or set up costs!) The i-go ones that have a remote or one button for easy fold down are all around the same price. I would need it setting up when delivered which has an extra cost.
They are all around £2k for one touch/remote controlled folding lightweight electric wheelchairs. I would need it delivered of course, and also assembled as they initially come with user setup. This adds a little fee.
It is called Pride iGo Automatic Folding Electric Wheelchair with remote control - £1,999.95 with VAT relief - With set up £2,139.95
Pride IGo Lite Carbon Fiber Folding Powerchair £1,950.00 with VAT relief - With set up £2,045.00
This electric wheelchair is brilliant and fits the bill perfectly! There is the cost of the engineer setting it up on top as I obviously couldn't set it up. The costs are clearly detailed below.
Proof of cost delivered:
As I mentioned, they are all just over £2k with delivery and set-up at home. This one is on offer so when the offer ends, the price will change that I am looking for. I will keep looking and update the price as it changes.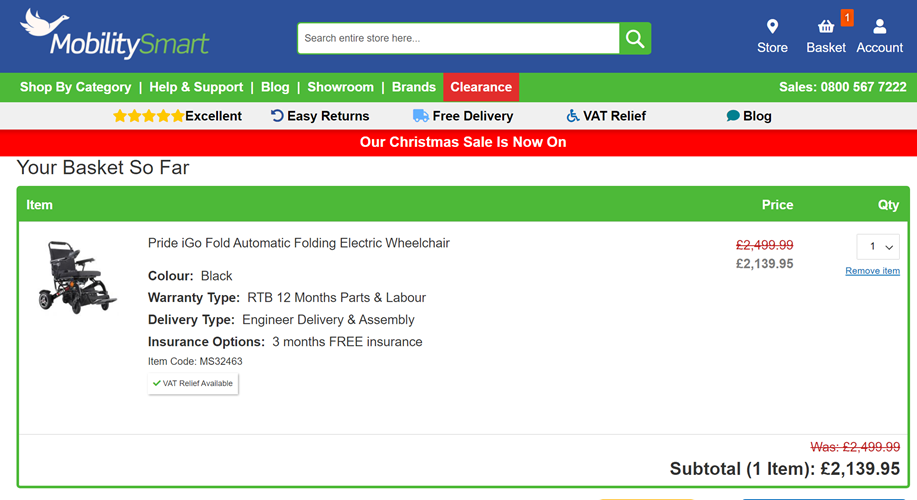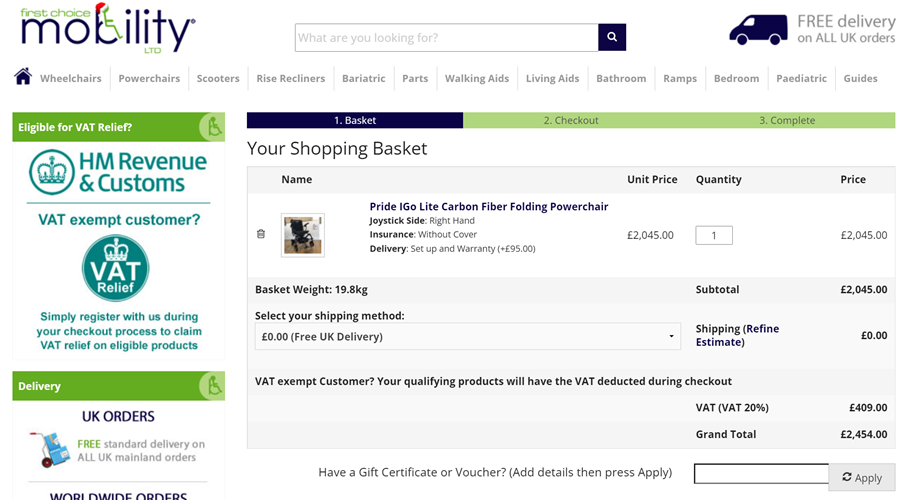 Any help is appreciated. Even a few pounds all adds up. You can donate from anywhere in the world! You don't have to be in the UK.
I have no way to afford this myself. There are no grants to help me. The only way is with help from kind strangers.
I have other ways to donate too such as Vibepay or Cashapp but for that info you need to check my blog or Twitter as not sure I can post links to those on here.
I would really appreciate your help. Any amount helps as it all adds up.
If you need to read more about me, you can check my about me page on my blog or my Twitter page which has lots more information going back over 3 years.
If you can't help, please share as sharing is free, takes seconds and can help as someone might see the post who is able to help!
This really would be such a lifeline for me and help me get out of this house for a change! I am missing out of my life whilst stuck in this house 24 hours a day. I really wish that could change and it could with your help.
If you can help then thank you so very much!
Photo from NHS wheelchair services saying that I CANNOT get an electric wheelchair for use only outside and also a photo from a NHS website stating the same.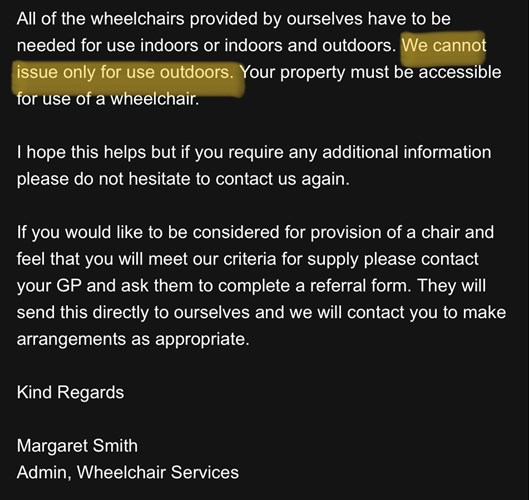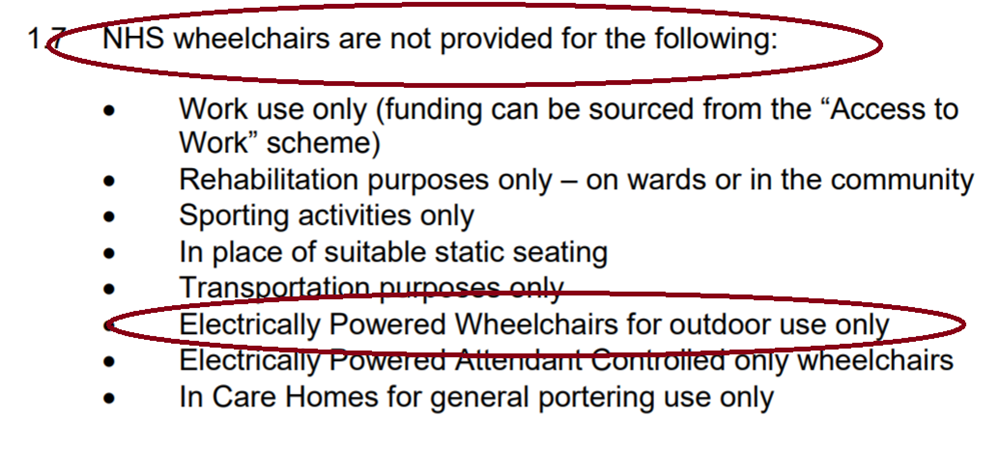 You can search on the internet too for "NHS wheelchair outside use only" and you will get many hits from different NHS regions all over the country that will not give them for outside use only. It is impossible for me to use it inside as the house is much too small for it to even get inside without being folded up!
I really hope you can help make my life much more enjoyable and give me the freedom and independence I am missing.
If I manage to hit the goal, I will take a photo of the wheelchair and post it online, maybe even make a blog post about it, but the photos will be posted on social media and my blog. Just in case you are hesitant to donate. It might take a while to hit the goal, but I can guarantee you that the money is going to the wheelchair.
I will try to crowdfund this for as long as it takes, as I'll never be able to afford this without your help. So if it takes weeks, months or years, I'll keep trying as I desperately need one! I hope you can help.
Please share if you can!
Any Questions?:
Typing is very painful and energy draining so I try to cover as much as I can in this to save typing questions. PLEASE can you make sure I haven't already answered the question here before you ask any questions as so far the questions have all been covered on this page and I had to re-type them to answer questions which causes so much pain and fatigue! I even have to go back to bed from doing it as it is that hard for me! I have covered everything on this page just in case someone asks so I don't have to type it up.
There is lots of answers to questions on my FAQ too https://www.chronicheather.eu.org/faq-about-me/ or my about me page https://www.chronicheather.eu.org/about-me/
Updates
3
13 days ago

Thanks everyone so far! One thing I added to the post was the fact I'll write a blog post once I get a wheelchair, about my trips out and my new found freedom! If anyone wants to know there money is being used for what I say it will, this might help you make a decision. I really hope you can help me get some freedom! All money will be used on the wheelchair whether it takes weeks, months or years! I need a wheelchair and this money will only be used for that!

Share this update to help us raise more

20 days ago

If you have any questions, please check the post first as I think I covered pretty much everything, and then check my site (links in the post) as I have a faq and an about me page which covers almost everything I can think of. If not, you can ask on social media as I am @chronicheather everywhere. Thank you so much if you can help or if you can share this page! 👏

Share this update to help us raise more

23 days ago

Share this update to help us raise more
Heather started crowdfunding
Leave a message of support
Page last updated on: 1/14/2022 01.58
Supporters
6
Sarah Cooper

Dec 31, 2021

Hope you get your chair. I'm in the exact same situation in Australia. It's so hard. You deserve freedom. Good luck!

Cat

Dec 28, 2021

I had to crowdfund my power chair for the same reasons as you. I hope you reach your total soon. They really are life changing. Good luck 🙂

Anonymous

Dec 25, 2021

Take care and I hope this helps.
Become a supporter
Help Heather raise more
Crowdfunding is a new type of fundraising where you can raise funds for your own personal cause, even if you're not a registered nonprofit.
The page owner is responsible for the distribution of funds raised.
About the fundraiser
Heather
Chronically ill, disabled and housebound lady from England who can't work and is stuck inside due to no electric wheelchair to be able to get out and no money to be able to buy one.