£600
raised of £6,000 target by

15 supporters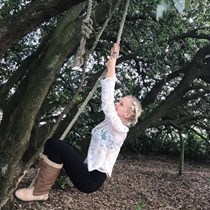 Gemma Fisk
We're raising £6,000 to Save Sparky's Eyesight.
Crowdfunding is a new type of fundraising where you can raise funds for your own personal cause, even if you're not a registered charity.
The page owner is responsible for the distribution of funds raised.
Story
Sparky the Border Collie was born January 25th 2018, third of six puppies at Sutterton Veterinary Hospital, Lincolnshire UK. The sac that contained him was filled with bright green mucus that stained his white fur for the first 3 weeks of his life. Apart from that there was nothing untoward about his birth so what happened 4 days afterward was totally unexpected.
His mother, Meggie, nursed him for 4 days. He was no smaller than his siblings, all were a good size and there was no apparent reason why his mother chose to push him out from among her puppies on January 29th. Their owner, Wendy discovered him against the side of the whelping box cold and stiff and she thought he was dead till she heard him sigh. Immediately she performed mouth to mouth resuscitation and pummeled his heart area, and rubbed his body vigorously all the while praying to God and to angels for Sparky's survival. She named him Sparky due to the tiny spark of life he had left to live. The puppy was frozen, and Wendy knew that the first thing to do was to get him warm, so she placed him in a box next to the wood-stove with a microwave pet bed beneath him, nice and warm and soft cloth over the top of him until 4 hours later he was toastie warm and hungry. Wendy made him up some warm puppy milk and fed him with a dropper every 2 hours for the next 2 weeks until he advanced onto a baby's bottle. At 4 days he started by taking 10 mls every 2 hours advancing to 190 mls several weeks later before being weaned onto solid food.. However the one thing Wendy noticed as odd was that he appeared to cough and retch after every meal although no milk was ever vomited. And Wendy suspected something wrong with his throat. Yet vets could find no cleft pallet, or anything else to warrant the retching. It was a mystery that as the weeks went by he simply grew out of. To this date no one knows why it happened, but Wendy realised that this would have caused his initial inability to suckle from his mum.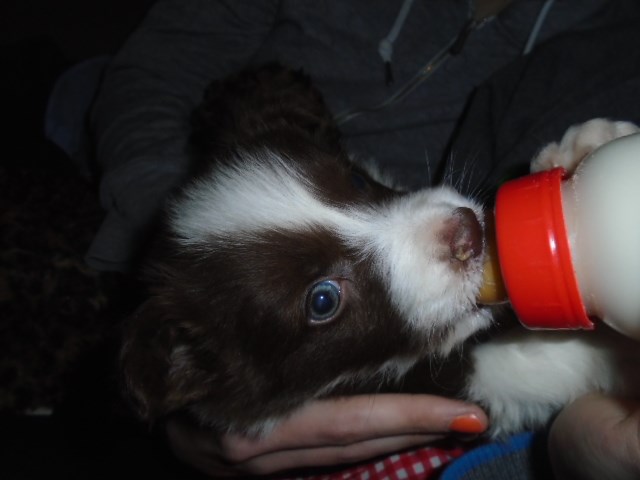 The weeks went by and Wendy thought it odd that Sparky did not appear to grow. His siblings were growing well, and although Sparky had all his vaccines when they did he was less than half their size. Wendy decided to keep him, and had weaned him on Royal Canin mousse but found that he would not pick at it by mouth, she had to spoon it in to the roof of his mouth when he would suck it down and swallow it, but if she placed it on his tongue he would literally open his mouth and let it fall out.
By the time he was 19 weeks old he still weighed beneath 2 kilos and his siblings were ten or twelve kilos by this time and although Wendy had seen several vets about him none had been concerned, just said he was a small hand reared puppy.
Then he stopped drinking water. Now he loves his water and has always drunk literally tons so Wendy knew that something was amiss, especially as it was a very hot day and Sparky was panting. So she took him back to the vet and said something has to be wrong with this puppy, its not just that he is hand reared and he never was a runt, and various blood and urine tests showed vets an unusually large liver and an inflamed pancreas and painkillers by drip were provided, and Sparky spent several days at Sutterton Vet Hospital before being transferred to the Animal Health Trust in Newmarket where he spent a whole week.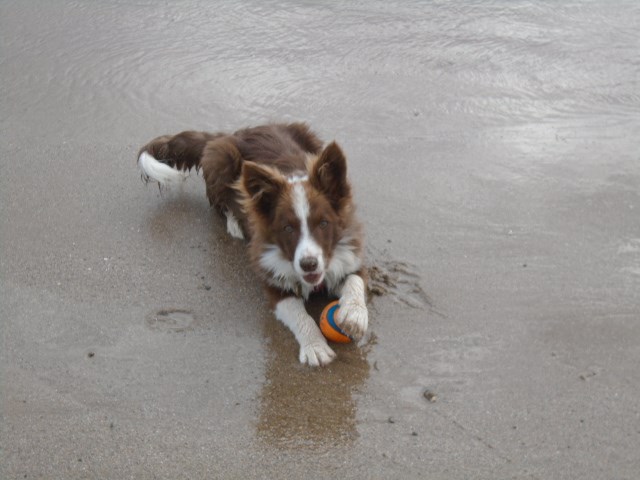 It was discovered that Sparky is a rare puppy, one that some vets had never experienced and his details are going to go into the veterinary medical journal because Sparky was born with Type 1 Diabetes and he will be on insulin for life.
Naturally, the cost of the veterinary treatment over the last few weeks and the ongoing cost to keep Sparky alive are colossal. Vets tell Wendy that the prognosis is not good, and the upkeep of Sparky will be something she must weigh up very carefully. Is it worth spending so much money on Sparky? However, since he has had insulin he has begun to grow and weighed almost 3 kilos by 22 weeks old. Since having his insulin Sparky grew more in 3 weeks than he did in 3 months.
Wendy believes Sparky needs the chance to live, and they have a special bond between them. Despite his small size Sparky will stand up to bigger dogs and chase them away from Wendy as if protecting her. Unless it is another Border Collie and then he allows them to come close to her, even strange Border Collies that he does not know, he knows enough that they are his breed and will not harm her.
Sparky knows a few tricks, 'give me 5', and 'spin', where he goes around in a circle, and 'tails' where he grabs another Border Collie's tail and holding tight as they run, he surfs the meadow grass until he lets go. Such a delight to see.
Sparky's favourite squeaky toy is the one he has had since 4 days old a rainbow coloured teddy, that he sleeps with and plays with and enjoys people using as a tug o war toy with him. He has it with him at every stop over at the vets and makes the staff smile when he cuddles up to his teddy to sleep.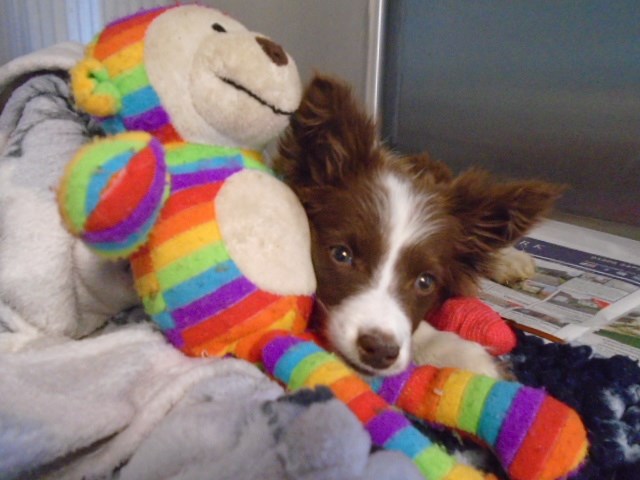 He eats from a dish now, but only kibble, he enjoys the crunch, he will not entertain wet food and no longer does he retch after eating, and he drinks well, and plays and every single person that meets him for the first time falls in love with him. He looks like a little fox, and many people call him a Micro Collie due to his small size. At 22 weeks of age he stood 8 1/2 inches high.
Wendy says that Sparky is needed in this life, he makes people smile, he is affectionate and clever and loyal and quick to learn as Border collies are.
Wendy did not know about this fundraiser, she had no idea that her son and girlfriend (me, Gemma) were creating it for her, we just hoped that people out there may be generous enough to donate a few pounds that would help go toward the cost of Sparky's treatment.
Recently, September 30th 2018, Sparky had to go for an eye test at the Animal Health Trust in Newmarket and it was discovered that Sparky has cataracts and will need surgery to save his sight. If he does not have this operation he may get glucoma and it will result in the loss of sight and most probably the loss of his eye balls with the sockets sewn up. To date Wendy has maxed her credit card and spent over £10,000 on vet fees for Sparky with his various health tests, and insulin injections that he has twice a day, and on October 10th he has been found to have an enlarged heart and a slight heart murmur to top everything else but it is the Diabetes that must be controlled, which is most important to his eyesight and long term survival.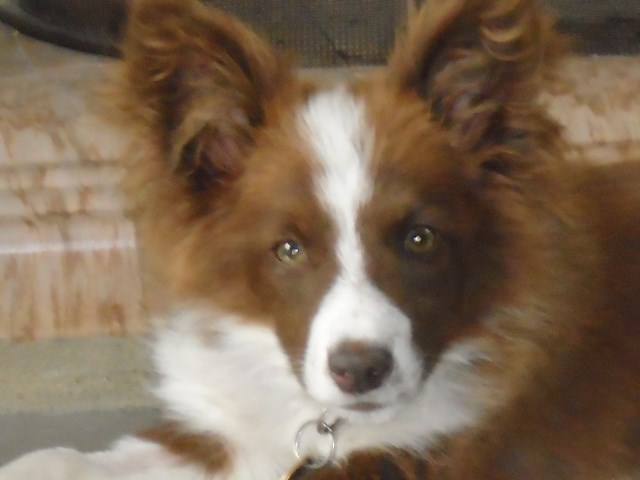 Wendy earns only £440 a month, and has now run out of money with which she can continue to help save Sparky's life. If she can just get him to 18 months old he should be okay, but to do this she needs to find £6000 to pay for his eye surgery, and I thought of Crowdfunding to help her do this.
Sparky is so beautiful, so intelligent and loving and he deserves to survive and to see those that he loves. He is a fighter but without the specialised Veterinary care he will not survive this ordeal.
Please help. Your contributions no matter how small are vital to helping Wendy continue to save Sparky. Having come this far with him, so many people would be heartbroken to lose him now. He really is a little angel in a fur coat and at 8 months old he has already touched so many lives with his. We simply have to help him survive and keep his eyesight.
Like me, Wendy is a hobby writer and intends to write about Sparky in a book entitled, 'In the Lives of Border Collies,'' and it would be wonderful if, thanks to generous people like you, Sparky's story has a happy ending.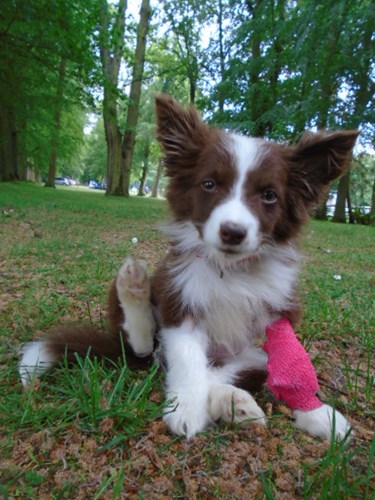 Thank you.
Sincerely,
Gemma Fisk, Fisk Literary Services, UK.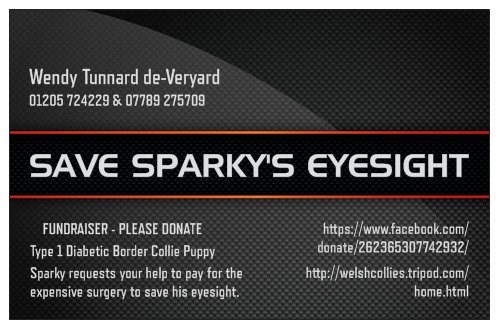 Updates
1
9 months ago

Sparky is still holding on, it's looking like he may have diabetes but we're not sure of the cause just yet.

Share this update to help us raise more
Gemma Fisk started crowdfunding
Leave a message of support
Page last updated on: 10/10/2018 13.51
Supporters
15
Anonymous

Oct 10, 2018

Glad to help save Sparky's eyesight.

Sue Croughan

Oct 7, 2018

Lots of prayers for little Sparky

Anonymous

Sep 28, 2018

Very best for Sparky.

Anonymous

Sep 18, 2018

Good luck Sparky

Rochelle Edwards

Sep 18, 2018

Gemma

Sep 16, 2018

I met Sparky earlier today and he is just the cutest little boy! I wish him all the luck and hope that he can soon be booked in for his much needed op!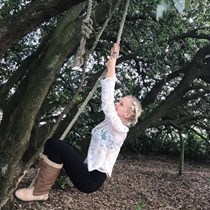 Become a supporter
Help Gemma Fisk raise more