£5,100
raised of £6,000 target by

59 supporters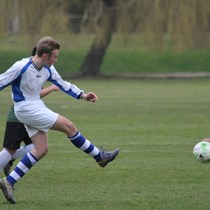 Sebastian Grace
We've raised £5,100 to support Cricket Builds Hope which uses cricket as a tool to enact positive social change in Rwanda and promote gender equality .
Malvern, UK

Funded on Friday, 30th November 2018
Crowdfunding is a new type of fundraising where you can raise funds for your own personal cause, even if you're not a registered charity.
The page owner is responsible for the distribution of funds raised.
Story
My Dream
'Hit it for Six…' my Plans to Volunteer with and Raise £6000 for the charity Cricket Builds Hope in Rwanda
Introduction
My name is Sebastian Grace, I am 17 years old and an A Level student at Malvern College. Cricket is a huge passion of mine. Last year I read an article about the meteoric rise of cricket in Rwanda, and the charity that is aiding it, then known as the Rwandan Cricket Stadium Foundation, but has since transitioned into the Cricket Builds Hope, based out of Kigali, Rwanda. The article captured my interest, and I immediately ingratiated myself in the project. I read all there is to read - articles in the Independent, The Telegraph, and The Times - and watched YouTube clips, learning about the charity's initial success, its stumbling blocks along the journey up to now in its transition from a stadium building foundation to a wide-reaching social project. I decided that I wanted to be part of this amazing endeavour; I wanted to be involved in an organisation that had captured my admiration and imagination. So, a few months later, my plans to go out to Rwanda and help in any possible way I can, small or large, are well in motion. I have the dates set for my first volunteering stint this summer, and could not possibly be more excited to meet, coach, learn from and support the charity and the communities they work to help; cricket fans such as these …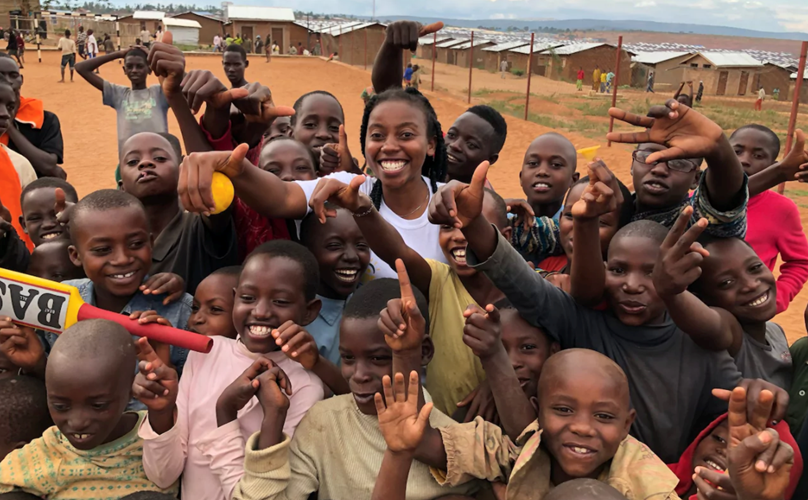 I plan to fundraise before going out to Rwanda through my 'Just Giving' campaign, entitled 'Hit it for six... raising £6000 for Cricket Builds Hope in Rwanda'. I am also organising to collect and ship a container of good quality, second hand cricket kit, bats, pads and the like, to increase resources and therefore the number of people who can benefit from enjoying such a great game. Of course, it goes without saying that I hope to take some runs for my school XI throughout the season out with me when I embark …
The Charity's Story
The Rwandan Cricket Stadium Foundation (RCSF) was founded in 2011. Alby Shale continued his father's charitable work in Rwanda, following the atrocities and genocide of 1994. Alby's father, Christopher Shale, died suddenly in 2011, aged 56. He had deep links with Rwanda through Umubano, a social action project in Rwanda. He helped build a community centre in Kininya, a village for genocide survivors near Kigali. Five years later his son, Alby, was project director of the RCSF, living in Kigali and overseeing a project that raised £1,000,000 to complete the work on the Gahanga National cricket stadium. David Cameron is a patron for the charity, as well as Jonathan Agnew, the legendary presence on the Radio 5's Test Match Special commentary feature, and both played in the inaugural cricket match in 2017, where teams from around the world took part in a festival alongside the Rwandan national side. While the opening of the stadium, with a match that featured Michael Vaughan, Sam Billings and Herschelle Gibbs as well as legendary Kenyan all-rounder Steve Tikolo, means the original aim of the RCSF is now complete. However, this was just the beginning, with the charity now progressing into Cricket Builds Hope, a new enterprise whose mission is to change the lives and long-term prospects of vulnerable young people in Rwanda through cricket.
"Our ultimate ambition is reconciliation through sport," Shale says. "We know that is not something achievable in a day or a year but Kininya village was the foundation of the project and it is about doing that on a much larger scale. Cricket is an amazing medium that brings people together. It teaches you to work as a team. You can't do anything in cricket without working together. The bowler works in unison with wicket-keeper, the batsmen have to discuss taking a run, fielders have to back each other up. That teaches you to collaborate. It might sound simple to us but it is a big thing here. The underbelly here is you have people whose parents were probably killed by other players' parents and there are people in Kininya who were perpetrators living next to victims. In England we struggle to handle characters like Kevin Pietersen. Imagine if one of your team-mates parents killed your mother."
Due to considerable press coverage and interest here in the UK, many assume the organisation is a large, multi-national concern with patrons and funding. However, this is not the case and the charity is in desperate need of the funds to enable them to keep their project running for the foreseeable future. Cricket Builds Hope needs to raise £100,000 annually in order to spread the benefits of cricket across Rwanda.
Cathia, a woman introduced to cricket by Eric Dusingizimana, the captain of the Rwanda team, after she saw him holding a coaching demonstration, stumbled across cricket, saying it was the 'best accident that ever happened in my life,' and has now built her own story to change her life. The goal of Cricket Builds Hope, who will now look to emulate story's such as Cathia to inspire the next generation to follow in her footsteps. Cathia is now a Guinness World Record holder for batting in the nets longer than any other female player, which led to her being offered a job with one of Rwanda's leading financial companies. She said, upon completing the feat, that "seeing that a girl in our society can stand up in a community of men and feel my ideas matter is a big thing. Cricket has given us that environment."
The brand new, sustainable facilities of the Gahanga cricket ground as a resource centre for delivering social programmes, with a particular focus on female empowerment. It has not been easy to reach this stage. It took five years to raise £1 million to build the cricket ground in Kigali and lay the foundations for projects such as the one in Mahama. The one-year-old stadium, which holds the only first grass wicket in Rwanda, also holds Free HIV testing and educational workshops. The arched pavilion design represents the fall of a bouncing ball and spectator seating is carved out of the earth to mimic the terraced farms on the steep Kigali Hills that provide a spectacular backdrop. But now that the ground is in full use, Cricket Builds Hope can move forward.
An animated depiction of the Gahanga cricket ground spectator seating and pavilion.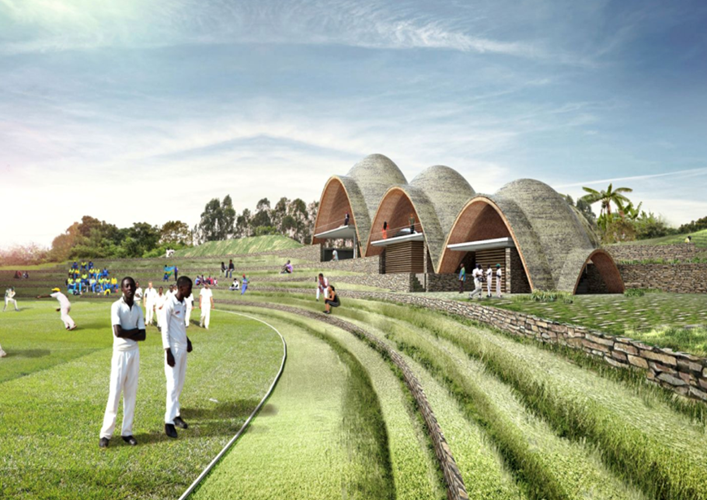 Alby Shale has delivered the cricket stadium first envisaged by his late father, and has moved on, handing over to Geordie Morrison, whose job it will be to ensure there is funding to maintain the ground and build the social programmes. The Lord's Taverners have already donated 1,000 items of kit to help with the task. Shale will be a trustee of this newly transitioned Cricket Builds Hope and believes the ground is just the beginning. "One hundred per cent this can grow outside Rwanda. We need proof of our programmes being successful over a year to 18 months first, but I think that there is no limit to the power of this game if it is used in a very sensible and strategic way." Cricket was barely played in Rwanda before the 1994 genocide. Now there are 7,000 players nationwide, and the sport is playing a lead role in the healing process. On the site of some of the worst atrocities, the killing fields in 'a nation of one thousand hills,' Rwandans are uniting through a love of the game. Charles Haba, the president of the Rwandan Cricket Association, one of the handful of people who brought cricket back to their country after returning from refugee camps in Uganda, started it up with seven friends; now there are 7,000 players nationwide, 11 senior teams for men, five for women and eight university sides. Haba believes the sport is helping to balm wounds in a country where victims and perpetrators live side by side, and even play in the same teams. "These guys playing here are all from different backgrounds. Some have been orphaned by the genocide, some lived in child-headed households, other suffer trauma," he says. "Those are the things we live with in our day-to-day lives in Rwanda." And this is why the charity is so powerful, so effective, and so necessary to support.
The charity's official message is as follows …
'Cricket Builds Hope is using cricket as a tool for positive social change in Rwanda, in particular promoting reconciliation and tackling gender inequality. Cricket Builds Hope is a charity that uses cricket as a tool for positive social change in Rwanda. CBH harnesses the power of sport to promote reconciliation and tackle deep-seated social issues like gender inequality through specially tailored sessions run by CBH's cricket coaching team. Cricket Builds Hope is the successor organisation to the Rwanda Cricket Stadium Foundation (RCSF), which was founded in 2011 to build the country's first proper cricket ground. The not-for-profit ground – the Gahanga Cricket Stadium (GCS) – which was completed and opened in October 2017, consists of an ICC international standard wicket with pavilion and bar, as well as community facilities such as a medical centre which allows the Rwanda Biomedical Centre to deliver free HIV testing. CBH plays a role in the ongoing maintenance, operation and sustainability of the GCS, with our project director acting as chair of a joint UK/Rwandan NGO that oversees the running of the ground. The GCS continues to act as a base for CBH activities in Kigali. The long-term aim for Cricket Builds Hope is to leverage the power of cricket to bring about positive benefits for individuals and communities in Rwanda and, potentially later on, other developing countries too.'
How I will be helping Cricket Builds Hope
The Project Director, Geordie Morrison, has asked me to be accountable for the following activities, as well as the overall assistance of him in the development of new social programmes to benefit more Rwandans in a wider sphere than cricket ...
•Assisting with the coaching of the Rwandan U19 National Side, as well as other youth outreach projects into schools.
•Helping with the Yorkshire Tea sponsored tea estate coaching programme .
•Supporting the Project Director with administration related to Cricket Build Hope's Comic Relief funded social programme focusing on women's empowerment.
•Assisting with match day logistics for the hosting of the Regional ICC T20 World Cup qualifiers from 5th July - 15th July 2018, featuring Uganda, Kenya, Tanzania and Rwanda and the organisation of this prestigious tournament.
•Providing social media content, for example curating a regular social media Instagram and Snapchat 'story' of my time as a Cricket Builds Hope volunteer.
•Providing support for further event organization and adding valuable research into new potential sponsors and donors.
Useful Links for Further Interest
http://www.rcsf.org.uk/
http://s.telegraph.co.uk/graphics/projects/Fields-Of-Dreams/index.html
https://www.youtube.com/watch?v=fxaBG0p2LVA
https://www.youtube.com/watch?v=Bw0eAM6JZak
http://www.independent.co.uk/sport/cricket/rwanda-cricket-kigali-stadium-foundation-a8033391.html
http://www.telegraph.co.uk/cricket/2017/10/28/hit-ball-smile-cricket-helping-build-brighter-future-rwanda/
https://www.justgiving.com/crowdfunding/sebastiangracec-b-hrwanda
My Fundraising Plans and Collecting Donations to support Cricket Builds Hope are as follows. I want to raise £6000 from my Just Giving Campaign.  These funds will make an enormous difference to Cricket Builds Hope projects in Rwanda, using cricket as a force for good.  I am also collecting and shipping out to Rwanda cricket equipment and kit.
I am delighted to be travelling to Cricket Builds Hope in Rwanda as a brand ambassador for Millichamp & Hall. Based in Taunton, Millichamp & Hall have been producing award winning, high performance cricket bats since 1987. Every cricket bat is produced from the finest English willow with pride and attention to detail using traditional tools, techniques and skills that have been passed down through generations. Millichamp & Hall are kindly donating bats and other cricket equipment to the charity and I am excited to be arranging for these items to be shipped out to Rwanda and to witness them, as well as all other donations, being enjoyed by those who need it most.
Regular updates and photos of this and things of the like will be updated regularly on the social media account I will be curating prior to and for my trip. Information about this will be sent at a later date.
A small thank you…
The first tentative stages of cricket mania are sweeping the country, thanks in part to the President's presence at the opening of the new ground but also largely as a result of the exploits of charismatic national team captain Eric Dusingizimana, who last year became a Guinness World Record holder for the longest cricket net in history, batting for an unbelievable 51 hours straight, becoming a celebrity in the process and catapulting cricket into the nation's consciousness. 'That was the moment that cricket was really born in this country,' says Alby Shale, and it is this ambition, determination and desire to make a difference that so inspired me to want to be a part of the project. I would like to express my gratitude for your support, as well as finding the time in your busy schedule to read this document. I would like to encourage you to find any donation possible, however small, to help me to achieve my aim and my dream in supporting the Cricket Builds Hope Foundation. Please feel free to email me at any time at grace_sebastian@malcol.org for more information, photos etc. as I would love to share my enthusiasm and passion for the charity!
Thank you again for supporting my dream.
Sebastian
Further Background, Photographs and Press Coverage
Alby Shale, during a marathon net session to raise funds for the charity a few years ago.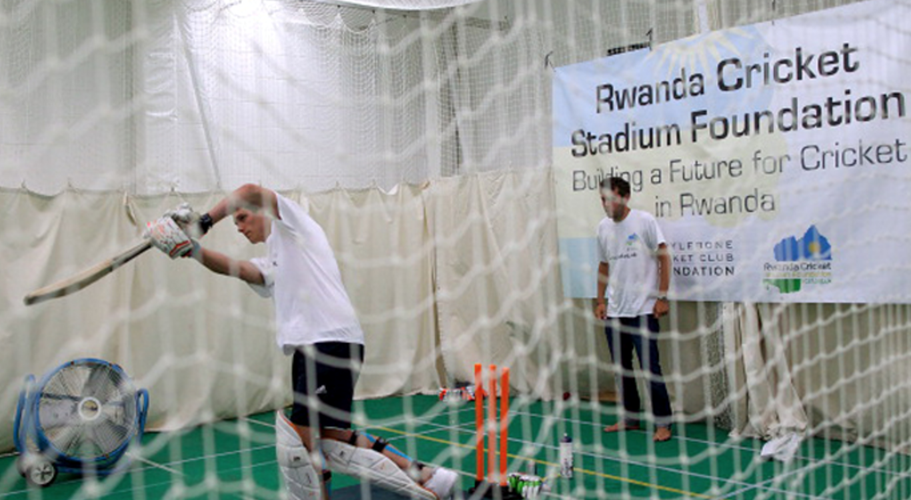 Both Michael Vaughan, former Ashes winning Test captain and commentary pundit and Sam Billings, current England limited overs player and Kent CCC Captain for the 2018 season, have been out to Rwanda to participate the project, and I aim to beseech their support to achieve my fundraising goal.
Michael Vaughan batting at the stadium in a charity game in support of the foundation.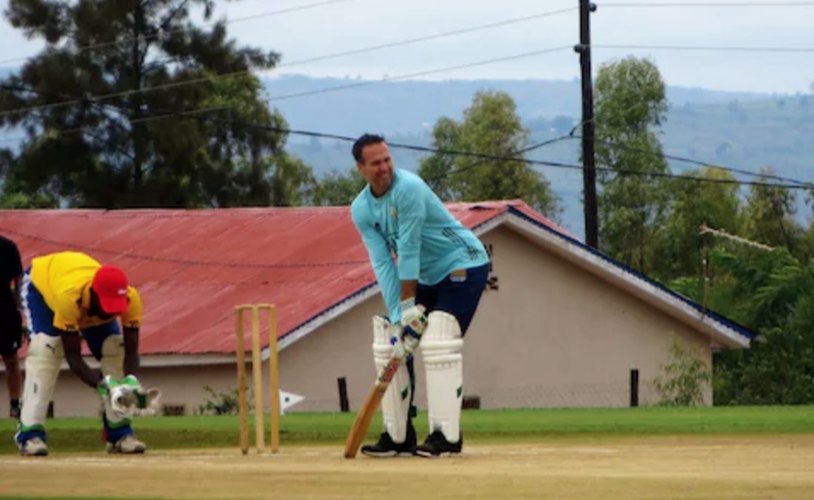 A short story ...
(From an article in the Cricket section of Sport section of the Daily Telegraph Online, written by Nick Hoult on the 28th October 2017)
At the Mahama Refugee Camp in southeastern Rwanda, one of cricket's universal truths is being played out by a group of very enthusiastic Burundian children: it is a batsman's game.
Somehow Mary Maina, the captain of the Rwandan women's team, is bringing order to a one-hour cricket class given to a group of around 200 children who have never clapped eyes on the game before. She has pegged out four small cones and placed a plastic ball on top of each one. One group are queuing up to give them a whack. About 50 metres away the others are lining up in a row behind a set of different cones, which she tells them is "the boundary", and they are "fielders". When she shouts "one, two, three, go" the batsman swings and all hell breaks loose as about 120 kids scrabble around in the dust trying to grab the balls, while the batsman runs around two sets of stumps like a baseball player going around base.
This is how you deliver cricket in a United Nations refugee camp home to 55,000 people of whom 51 per cent are children. The camp sits on the banks of the Akagera River on the border with Tanzania and in two years its population has grown from 8,000 as families flee the political instability of Burundi to find refuge in Rwanda. It is here Mary is coaching cricket, for, as a Rwandan international, she knows the significance of introducing it to refugees. After all, it was Rwandan refugees returning home after the genocide 23 years ago who brought cricket with them after seeing it in similar camps in British-influenced Uganda and Kenya.
"It is about humanity and the right thing to do. If I was in their shoes what would I want?", Mary says. "I would want exactly what we are doing, showing them there is hope because we know what happened to us. There was hope then, and now look at us." The refugee camp trip is a glimpse of the future when the charity hopes to stretch beyond Kigali, using cricket as a vehicle for social change. In Mahama they know the value of sport, even one as alien to Burundians as cricket. Mostly the children play football, but one day they would love to have a cricket field, so the work Mary does could become a regular fixture of camp life.
"The purpose of sports is security, and when they play they forget trauma, self-pity and all other kinds of problems that refugees have," says Joseph Kamuzinzi, the camp's protection assistant in charge of youth and sports. Mary's infectious enthusiasm connects with the children and turns what could be chaos into a fun, controlled session. There is no real attempt to coach cricket. Just hit the ball and smile. "It is step by step," she says. "The fun bit first – it helps you mobilise the kids so they want to come next time. Then you add skills one by one, and then hopefully a cricketer is born. With these children it is about how to get through to them. They need to feel you are a friend. That is the logic I used today. Let's enjoy this together and get crazy together. But, everyone always wants to bat and hit the ball as far as they can."
The power of sport is infusing young people with hope of a better life. A 13-year-old boy called Charles, who has lived in the camp for two years, agrees. He had never seen cricket before.
"It is easy, you just hit the ball."
Please donate, so Charles can hit more balls :) Thank you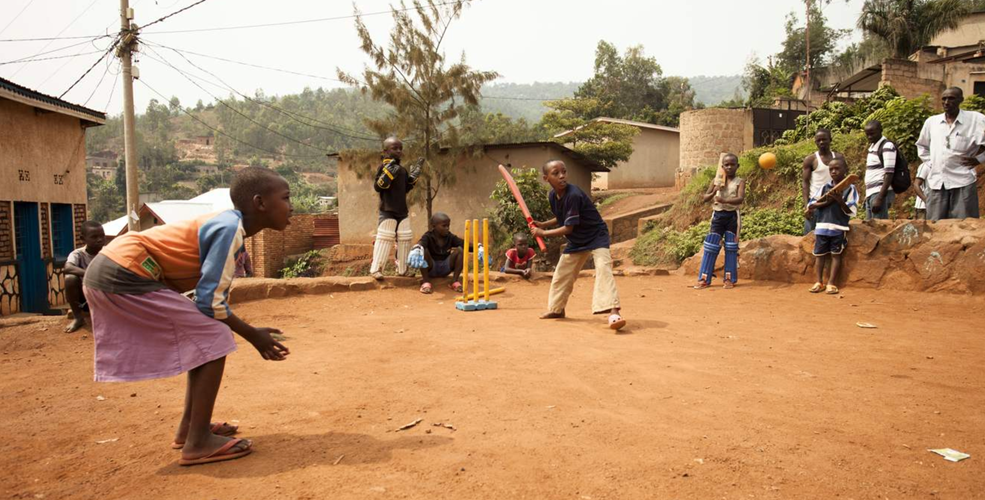 Updates
6
2 months ago

Sebastian Grace

2 months ago

Hi all Apologies for the tardiness of this note - I have been very busy at school with Uni applications. What a fantastic adventure it was over the summer. Truly a life changing three weeks. Thank you all so so much for your donations, I appreciate every pound, as do those from Cricket Builds Hope and the young cricketers who see the direct benefit. The smiles on their faces will stay with me forever. I am closing the account now, transferring the money to the charity. Please continue to spread the word about this great cause! Thanks again

Share this update to help us raise more

7 months ago

Sebastian Grace

7 months ago

A huge thank you for all those who continue to support me as draw nearer to the time I set out on my adventure to Rwanda! Where this incredible generosity I have been privileged enough to experience is coming to the fore at the moment is in my collection of used, good quality cricket gear to send to Rwanda. Two people I would like to mention in particular ... Charlotte Macdonald and her family, who have kindly bought me 10 junior helmets, brand new. Those at Drury Sports Shop Driffield, who have donated 20 boxes and 6 pairs of box pants.

Share this update to help us raise more

9 months ago

Sebastian Grace

9 months ago

A lovely message of support I would like to share from a family friend of my Dad's, Sir Geoffrey Boycott OBE, one of the great players, voices and characters of the game of cricket, a man with over 8000 test runs and the former president of Yorkshire County Cricket Club, where I first played representatively at the age of 11. "Seb, I hope this helps. Very best wishes in your funding efforts for such a good cause, using cricket to help others. Well done. Warmest wishes, Geoffrey"

Share this update to help us raise more
Sebastian Grace started crowdfunding
Leave a message of support
Page last updated on:

10/17/2018

11:29 AM
Supporters
59
Campion family

Jul 31, 2018

Hope it is not too late to donate to such a great cause and initiative Seb, and that it went well, am sure it will have done! Very best wishes

Justin Major

Jun 28, 2018

Enjoy your time out there Seb! It's a great thing you are doing. House 2 is proud of your initiative and efforts. Best of luck from family Major and House 2!

James Russell

Jun 27, 2018

Good on you, Seb. Looks like a great cause. Concurrent activity whilst in Rwanda: your History revision! All the very best, Jamie Russell

Anonymous

Jun 22, 2018

What an amazing effort and fantastic achievement. We all hope your trip will be a wonderful, life affirming experience. Good luck, work hard, make friends, have fun. We are all so proud of you x

Gil Grace

Apr 22, 2018

Well done Sebby, very proud. Your an excellent big brother and a huge inspiration for me and hopefully a lot more people. Congratulations, Gil xxx

Sally Townsend

Apr 17, 2018

Well done Seb, such a worthwhile project. The Townsend Family
Great people make things happen
Do you know anyone in need or maybe want to help a local community cause?
Create you own page and don't let that cause go unfunded!
About Crowdfunding
About the fundraiser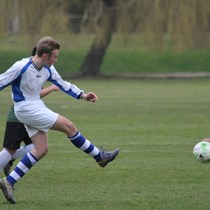 Sebastian Grace
My name is Sebastian Grace, a 17 year old student from Malvern College, working to raise money for Cricket Builds Hope, which uses cricket as a tool to enact positive social change in Rwanda and promote gender equality. Using Just Giving, I hope to raise £6000.