£8,745
raised of £9,000 target by

221 supporters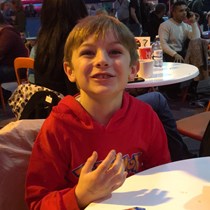 Shelley whitehouse
We've raised £8,745 to Get an Autism Life Dog and the equipment needed for my son.He has autism, ADHD, ODD,sensory processing disorder, severe anxiety, And more...
St Albans, United Kingdom

Funded on Friday, 28th December 2018
Don't have time to donate right now?
Story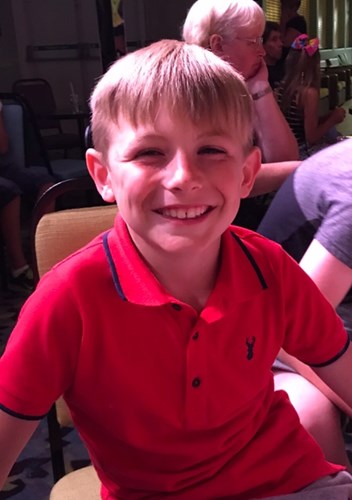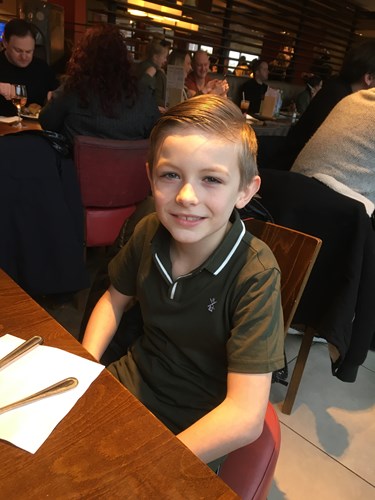 So my 8 year old son was diagnosed with ADHD at the age of 5. And had been medicated from the age of 6. He has recently now been diagnosed with autism also and a sensory processing disorder Along with ODD. He also has learning difficulties and severe anxiety issues. he is struggling so much at school! He has such a lot to contend with. We have decided our only way forward as a family with riley is with a special friend for him, to calm him, distract him and to also keep him safe as he hurts himself on purpose and is very impulsive which isn't good when out and about.
We have choosen to get him a service dog and we have choosen the people we are going to get it from. They are called autism life dogs. They will specifically train Rileys dog to his individual problems and needs. However the cost is £20,000 with ourselves having to supply £8,500. We have 3 other children, aged 6,4,and 17m and the youngest also has complex needs and is under Great Ormand street for surgery In FEBRUARY! 😱 He has spent a lot of time in hospital meaning I've had to stay with him and dad has had to give up work to help out and look after the other 3 when we are admitted, which is quite regularly. So...I have been adding every spare penny to our funding and making and selling home made items , bottles with fairy lights, painted jars and candle holders and stocking fillers to try and boost funds, so we really are trying but we need the help now.
Riley is making life seem so unbearable. And He is physically dangerous towards his siblings during a meltdown and verbally aggressive and rude towards us his parents. The noise level in my house can be ridiculous at times and during a meltdown He throws things, shouts, kicks and bangs walls and will take things he's done out on his siblings Or himself. When he is having one of these 'episodes' Life is miserable and this dog is the only light at the end of our tunnel right now.
He loves my sisters dog, she loves to fetch so the autism life team can make that part of the training as he would do that for hours. It's excercise for him and the dog. Our whole week with my sisters dog was like a holiday, riley enjoyed the responsibility of giving food and water and enjoyed the comfort of having her around. He slept better too with her beside him which all had such a positive impact on our day time. Thats when we decided. We need this service dog!!!!! We have thought it through so much but I can't see us reaching our target amount for a couple of years without help and we need the help now. Before he's bigger and even stronger than he is now And his conditions become more unmanageable. Or he endangers himself further. He climbs on roofs in the garden, on sheds etc and no matter how many times we've told him not to his impulsiveness due to his conditions mean he will still do it, the dog will alert us to things like this. It could save his life quite literally.
Please help us to try and raise as much money as possible towards getting all of us an Autism life dog that will change our lives so much. the dog will mainly be to work with riley and help him with his anxieties and aggression issues. It will help him to stay calm in social situations that confuse him and will genrally calm our lives down. i dont want Riley to be any more heavily medicated than he already is and i feel this kind of therapy would be so much better for him. It will keep him safe and give him excercise, safety help, reassurance and therapy all in one! Something we cant do!
We have 4 children 2 of which are disabled. Both of us are carers although only one claims carers allowance so therefore we are in financial hardship also. Trying to raise funds for an 'autism life dog' is prooving very difficult. None of the grants we hve applied for have been successful even though they claim to help disabled children with 'specialist equipment' or 'sensory therapy' both of which i feel this service/therapy dog will be. we have tried autism grants, disability grants, general childrens grants and even family grants. Nothing :( the thing is that this dog will boost our whole families morale and help all of us with every day 'normal' life that so many take for granted. Riley effects the whole family in our day to day life as does our youngest son. He is Tube fed and He has multiple allergies to food so doesn't eat orally very well and he has an unsafe swallow. Meaning oral intake is very limited causing more complications. Because of these issues he is delayed in physical development. The dog will be a comfort to him. He spends periods of time in hospital replacing the tube when he pulls it out and when he becomes unwell with things like rotavirus and sickness bugs i spend over a week in the hospital with him. Which of course causes a great deal of emotional strain on all 4 children and Us. The autism life dog will be highly trained and be a full working service dog for riley when out of the house as well as being a therapy dog for the entire family at home. The dog will provide calming therapy for all children especially riley who feels the highest levels of anxiety when myself and baby brother are away from home. It will also enable us to notice triggers and patterns of 'meltdowns' and panic attacks before they arise and provide comfort to riley when they do. It will also teach riley to start self regulation and learning to control himself. Something which i cant teach him. As well as boosting his self esteem which is extremely low. It will be the one thing 100% constant in the whole family's life. The youngest child has surgery coming up and may need other surgeries as he becomes older. He may also get complications such as sepsis due to getting a gastrostomy peg. This again is going to mean a lot more time in hospital. This therapy/service dog will help to comfort the children because they miss me and baby brother. or it will help to distract them at appointments or before an incident occurs as well as keeping riley safe by alerting Me when he is doing something he shouldn't. Also it will help to fix broken relationships between the eldest and his siblings. For a long while riley has been very hostile towards them. When we spent some time with one of these dogs at our meeting with the autism life dog team, the handler taught riley some tricks to do with her and he loved it as did the 2 girls aged 6 and 4. It was the first time in a years that riley openly invited his 6year old sister to join in, and with a huge smile on his face, he showed her what she had to do, which gave him a severe, much needed confidence boost. And of course it meant the world to my daughter. Having such a lot of disability, hardship and stress to deal with i have also developed a mental health condition in the form of postnal depression so the therapeutic treatment from the dog would help Myself as will the support from the dog with daily tasks and challenges we meet.
If you can spare even just £1 then please donate it to Riley, we will be so grateful and we can get this much needed service dog and become the happy family we deserve to be.
thank you for reading our story
My sisters Words....
Given the fact that I'm the writer (read: 'gobby') one in the family, it's fallen to me to tell you #rileyroostory. This is the context for our current fundraising drive to give Riley an Autism Life dog and I hope will explain what we are trying to acheive......... This page is the official base for the fundraising campaign but my sister has already set up a fundraising page https://www.justgiving.com/crowdfunding/shelley-whitehouse-4
If you can spare a pound or two please think about donating to a cause that's close to home. My sister and her family are struggling daily to cope with Riley and this is a proactive way they can do something to change all of their lives for the better. I am so proud of what they have acheived even in the last few days - photos to follow! - they have reached 17% of their target on justgiving so far and local businesses have been donating to the pot in the last two days on top of this.
My handsome, sensitive, clever nephew Riley was born on 29th August 2009 by emergency caesarean section. My sister battled severe pre-eclampsia during her pregnancy and when Riley was delivered he weighed a miniscule 4lb 9oz; he was taken straight off to NICU and had a rough first few months at the end of which he was discharged home well, but tiny. The first grandchild in the family (and my first nephew) he was immediately doted on. He was a happy, smiling, hungry baby and although his Dad was sadly not up to the job, my sister - with a lot of help from our mum - did a sterling job of starting out on her parenting journey.
For the first year or so, Riley didn't seem to be any different to any other child. Apart from recurrent chest and respiratory problems (including pneumonia) that were explained away as being linked to his condition at birth, he seemed 'normal'. He was always fiercely independant, and very advanced for his age in terms of speech; he hit all of his developmental milestones in a more than timely manner.
Things began to change most markedly when he went to nursery and then on to primary school; without a diagnosis, it seemed he was often labelled the 'naughty' child. At times it was difficult to see past his emotional instabilty and outbursts of frustration to the gentle, sensitive soul underneath; even his mummy and stepdad found it increasingly difficult to understand his needs and the reasons for his inability to connect 'appropriately' with his peers and behave in socially 'normal' ways. Art therapy helped him initially - but the allocation of hours soon ran out.
As with any child who is 'disabled' or has additional needs, life with Riley is at best challenging and at worst heart wrenching, but the good days teach us all a little something about being better human beings in general. Notwithstanding, for his family those first five years without any suggestion of a diagnosis became a tailspin of trying to 'deal with' Riley. A constant battle to understand 'what we did wrong'. No baby is handed over at birth with an instruction manual (wouldn't life be so much easier if they were!) and like so many of us parents, Riley's mum and stepdad don't have specialist qualifications. They didn't know what was happening or why life was so tough for Riley. He was ecstatic as each sibling in turn came home from the hospital, gentle and sweet to his 'babies' - but when they got older and started arguing back, not sharing, snatching, all the normal sibling rivalry became too much for Riley and he struggles to cope with them - he just doesn't understand the way their brains work, much as we don't understand completely how an 'autistic' brain works.
Confused, scared and with rapidly diminshing self esteem, Riley began to fall behind his peers in school, and struggled to maintain 'normal' friendships - not for Riley the standard play dates little boys pester their parents for constantly at the school gates. He yearns for his own space and cannot bear for anyone to be in his room, even his parents are on strict invite only terms to this day. He continues to develop obsessive/compulsive traits - he can tell if someone has been in his room, even if they haven't touched a thing - and depends on his parents to give him some sort of stablity amongst the chaos of life as the oldest of four children.
Riley's family moved to Redbourn two years ago and soon obtained a place at a more local and therefore convenient school. Luckily for Riley, staff quickly recognised the additional support and assesment needed. Things happened quickly from here on out. Specialists were called in, Paedeatrician referrals made, medications prescribed, physiotheraphy and sensory therapy routines and regimes drawn up. Again, as anyone who knows anything about bringing up a child with 'additional needs' their differences from their peers become more marked the older they get.
At first, even I have to admit I was sceptical about Riley's diagnosis - surely it wasn't anything beyond a bit of behavioural dysfunction that supernanny couldn't fix? Lately, however, it has become progressively more impossible to deny the fact that Riley has indeed been diagnosed correctly with Autism as wellas ADHD, global learning delay, sensory impairment and severe anxiety. Unfortunately he is also an Arsenal fan, but there's not a lot we can do about that.......In all seriousness, it is impossible to desctibe the challenges Riley, his parents and siblings face every single day - how his anxiety cripples him, how badly he feels about himself, how the medications they have trialled (and discontinued because they dull his spark or worse, give him severely debilitating panic attacks or cause bed wetting) affect the entire family. Riley thrives on one to one adult attention but simply cannot be left alone with other children - children are wonderfully tolerant when they want to be. They are resilient and resourceful and adaptable, however, they also aren't psychologists and can't fully understand Riley. Situations quickly escalate and without adult supervision can even become dangerous.
Whilst Riley's two younger sisters are well, his younger brother, who recently turned one, has a host of as (yet undiagnosed) gastric disabilties. He is tube fed constantly via a catheter that is passed through his nose, bypassing the stomach into his intestines and is likely to need surgery to improve his quality of life fairly soon. Both Mum and Dad have had to give up work to care for their boys and suffice to say, there are going to be a hell of a lot more challenges to face in the not so distant future.
I once read that 'the future is a strange and distant land'; I cannot imagine it would ever be more so than for a family hit with a diagnosis like this. We know that there will be help out there for Riley - the family have requested and are attempting to navigate the obstacles of getting support from health and social care. The local community have begun to rally, offering tips, advice, support, resources and most recently, sponsorship and help with fundraising (big shout out to the Redbourn local businesses!). While social services will offer some support, as will acquiring SENCO support at school and NHS therapy, services are stretched to breaking point and children like Riley don't just 'cope' better, they truly thrive with the benefit of additional support. The kind that the NHS and social services are just physically unable to provide for every child like Riley (though there is no doubt they want to) and which literally changes lives.....
Sensory OT/Riley's team of specialists have recommended lots of equipment which would help Riley with his sensory issues - the struggles with physical touch and sensation that cripple him on a daily basis and seem to get worse every day. The family have chipped in to purchase the affordable items but many of the recommended resources are far beyond the financial capability of the immediate family, who exist on carer's allowance. Since creating a justgiving page and approaching local businesses for support, as well as making us all exceptionally proud of her, my sister Shelley has managed to obtain offers for some of the necessary equipment.
What Riley's family are really hoping for, above all else, is to raise the £8,500 needed to fund an Autism Life Dog - a specially trained dog to help Riley with his social and sensory needs, to help him bridge the gap and live a 'normal' life as much as possible. Above all, like every single other person on the planet, Riley needs a friend. His own friend. Where would we be without those special friends who keep us going through the toughest parts of life, who lift us up and help us through and stand by us when we need a helping hand? Some of us are lucky enough to still have friendships we formed in childhood - myself included. I do not know where I would be without those childhood friends. Riley, however, does not have the ability to make friends like most children. An Autism life dog becomes a best friend for children like Riley; they show autistic kids how to navigate the world and make it less frightening, becoming a friend who won't fall out with Riley or question him because of his additional needs; who won't ask the impossible 'normal' social etiquette from Riley. There is a reason dog is man's best friend - a dog doesn't ask you to be anything other than who you are - he will accept you for you. An autism life dog will help Riley to accept who he is, and share his best and worst moments in life. He (or she) will bolster his faltering self esteem and stand by him through thick and thin. It's no secret that having animals around is good for us; science has shown again and again that there are a multitude of health related benefits in having pets. For Riley, it isn't just the associated reduced risk of hypertension or cardiac disease that would change his life; his autism life dog would make his life meaningful and positive again and keep it that way. Above all, the autism life dog would keep our boy smiling, and that's something we don't see enough of these days.
Thank you for reading. I know it's a long one and we are bombarded by altruistic posts on social media these days but #rileyroostory is one that is very close to my heart as well as my home - and charity starts at home, as they say. Don't forget to donate if you can at
if you can't spare a donation at this point please share this page - every share will help him get closer to his new best bud!
and look out for our craft and upcycling sales - watch this space!
N x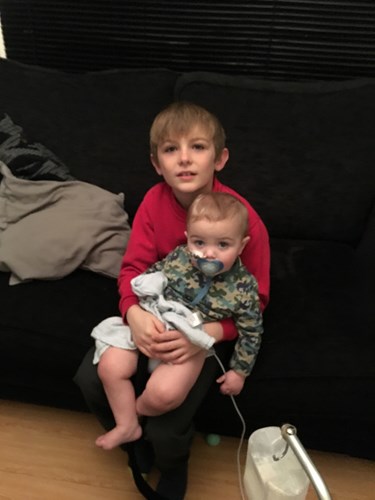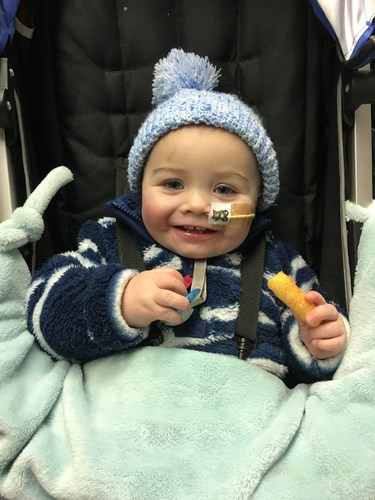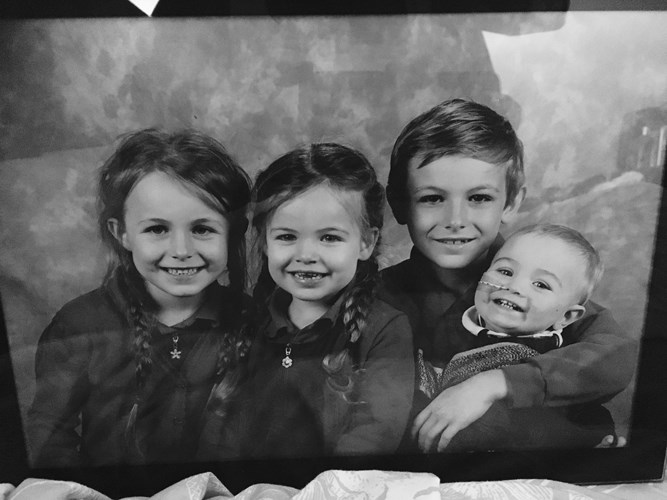 Updates
22
4 years ago

Shelley whitehouse

4 years ago

We have reached 100% and have decided to keep going in order to raise enough towards the equipment needed for the dog also :) thank you everyone for your continued support

Share this update to help us raise more

4 years ago

Shelley whitehouse

4 years ago

Share this update to help us raise more

4 years ago

Shelley whitehouse

4 years ago

Thank you to harpenden lions club St Albans lions club and John Taylor for all your recent donations. We are nearly there! Thank you so much 👏🏻😊

Share this update to help us raise more
Shelley whitehouse started crowdfunding
Leave a message of support
Page last updated on: 12/5/2018 13.15
Supporters
221
Joan R

Sep 25, 2018

Wishing Riley the best of luck with his new companion.

Craig Debenham

Sep 25, 2018

Your story was very moving, As a father of a seriously Autistic/ADHD Child myself, I understand the challenges. I wish you the best of luck in your crowdfunding. You are not alone. Craig

theresa heffernan

Sep 25, 2018

Kim Mitchell

Sep 7, 2018

Hope you reach your target soon, wishing your son all the best from one special needs parent to another xx

Jo Evans

Sep 4, 2018

Keep at it you are nearly there!x
Crowdfunding is a new type of fundraising where you can raise funds for your own personal cause, even if you're not a registered nonprofit.
The page owner is responsible for the distribution of funds raised.
Great people make things happen
Do you know anyone in need or maybe want to help a local community cause?
Create you own page and don't let that cause go unfunded!
About Crowdfunding
About the fundraiser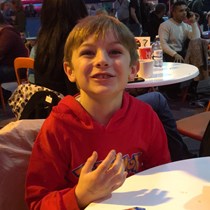 Shelley whitehouse
St Albans, United Kingdom
Riley knows he's different, he battles everyday to not get so angry or anxious and he wishes socially to understand more,then he wouldn't get so anxious and have so many 'meltdowns' His wish "that his problems would disappear and he could have a "normal brain and have friends"