£41,496
raised of £50,000 target by

1250 supporters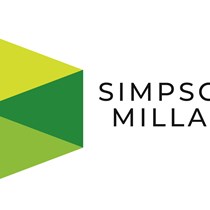 Simpson Millar
We've raised £41,496 to buy tablets for CV-19 patients who can't see their loved ones. We hit our £25k target- so we've doubled it! Plus we raised £30k offline!
Funded on Wednesday, 12th August 2020
Don't have time to donate right now?
Story
Thank you to everyone that has supported us so far...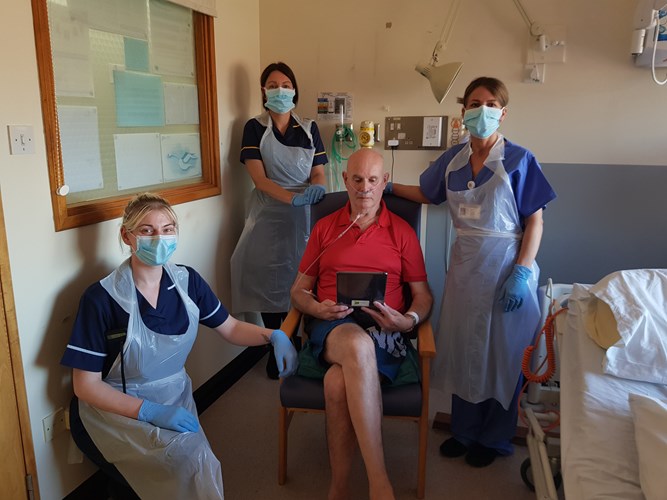 Leona Harris & colleagues at Fairfield General, Bury, helping a patient facetime with an Ipad donated by #staytogether: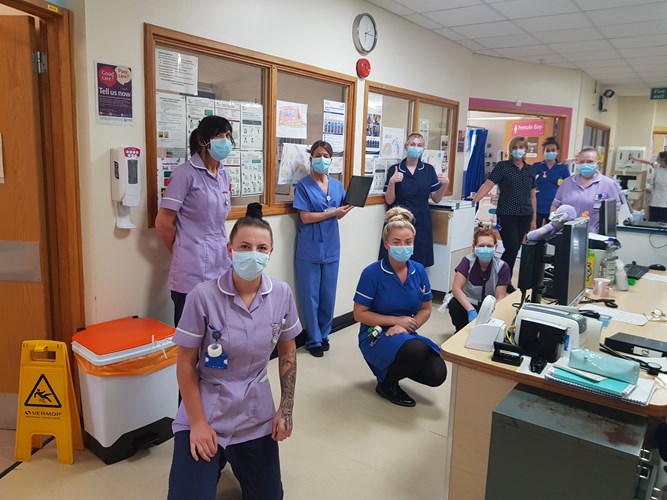 The Team on one of the Covid wards at Fairfield General, Bury
Ward 7, Fairfield General with their iPad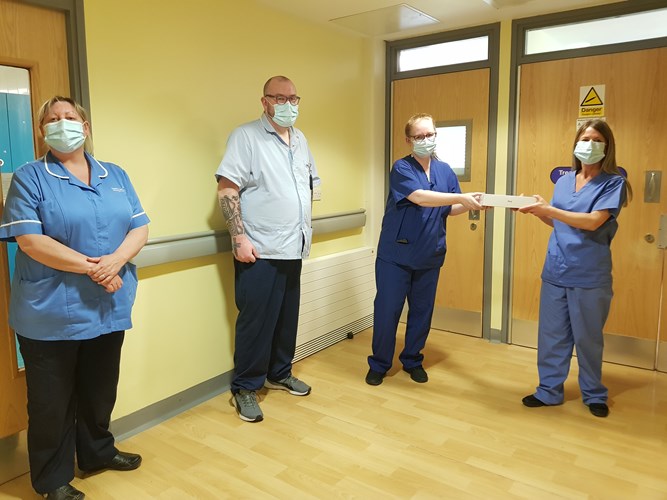 Ramsbottom Ward, Fairburn General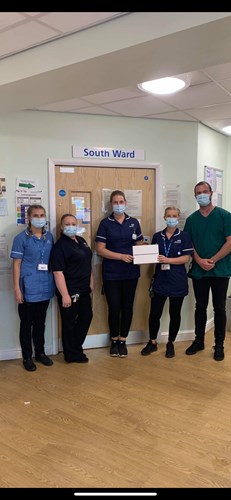 South Ward, Fairfield
Jess Farman a nurse on the Covid Ward at Leeds General Infirmary told us:
This patient had been COVID positive and was in hospital from the beginning of April. She was on Intensive care and came to our ward in May. Without the ipad you donated she wouldn't have been able to see her family until her discharge at the beginning of June.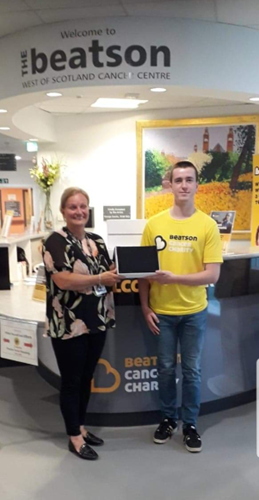 The Beatson Cancer Centre, Scotland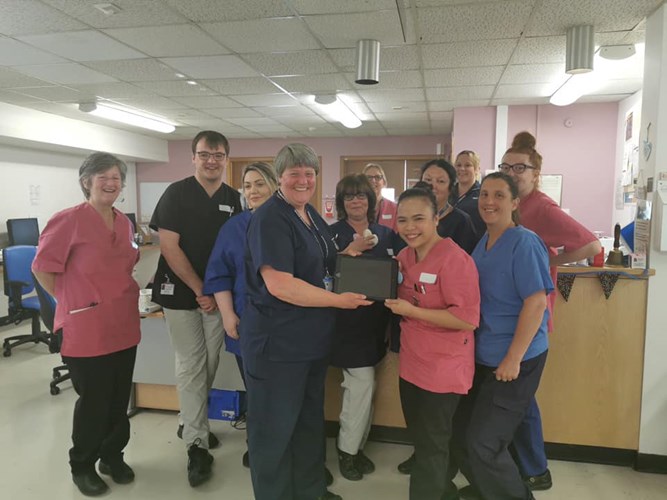 Furness General Hospital, Cumbria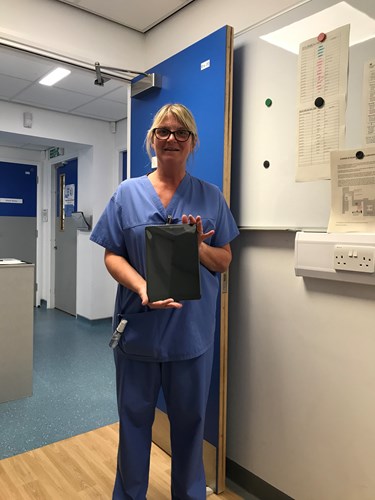 Nurse at the Royal Albert Edward in Wigan with a donated iPad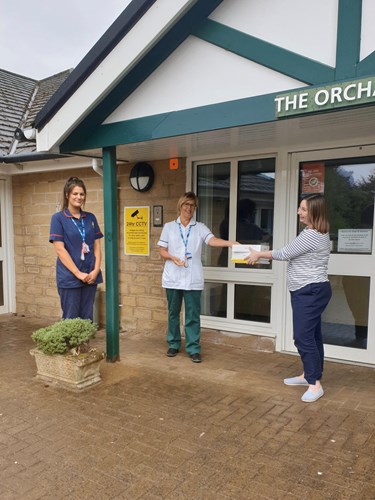 Staff at The Orchard, Lancaster receiving donated tablets.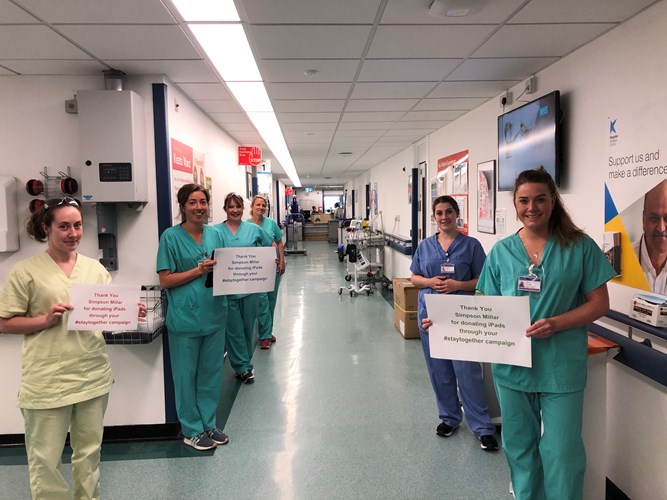 Kingston Hospital, London
Message of Thanks received from Bradford Royal infirmary after we donated money so that they could purchase their own tablets;
I can confirm that we received £600 into our bank account on the 29 April 2020, Thank you. The charity has been able to use your extremely kind donation towards the purchase of 20 tablets.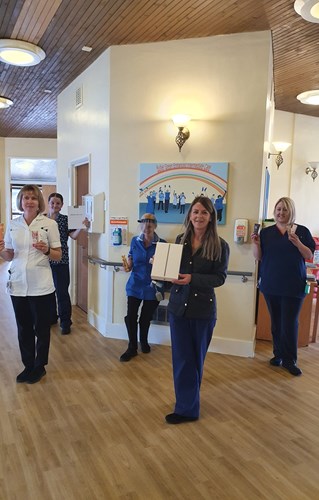 Butler Green, Manchester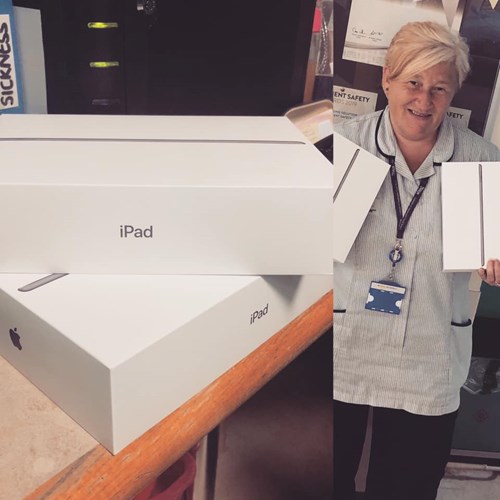 Calderdale Royal Hospital, Halifax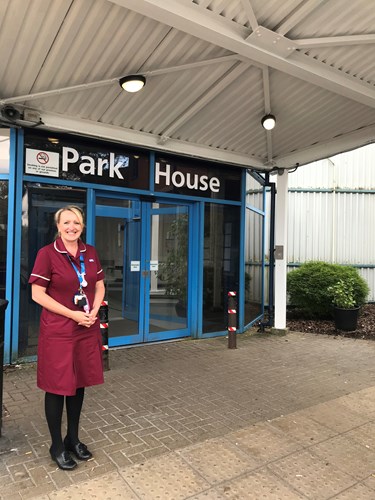 Hazel Preston, Operational Manager at Park House, said
:Thank you so much to Simpson Miller & Colleagues for the two iPads that were donated to our acute inpatient wards at Park House. As none of our service users are able to have visitors or to meet with family or friends on leave, this is a really challenging time for people who are already separated from people they love. These iPads will help them to stay in touch and feel more connected to those they care about, which is incredibly important for the mental health and well-being of our patients. Thank you!"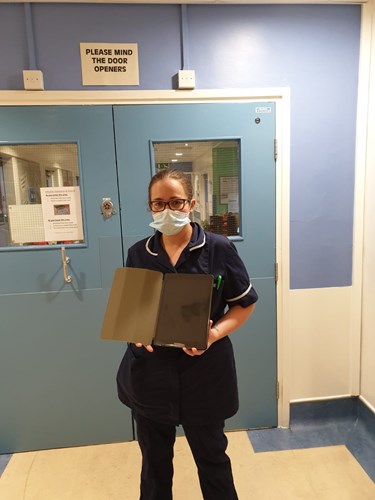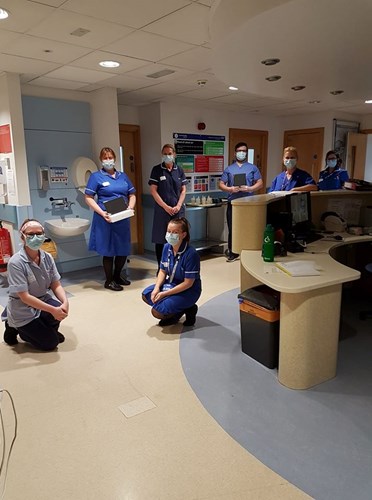 Huddersfield, West Yorkshire who said;
An enormous THANKYOU from ward 21 for the I-Pad which have been donated through the #Staytogether campaign.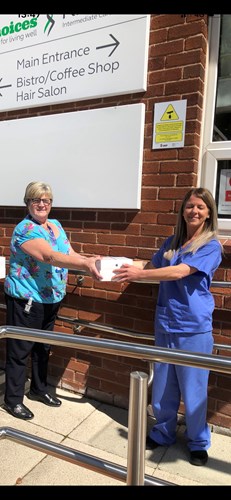 Killelea, Bury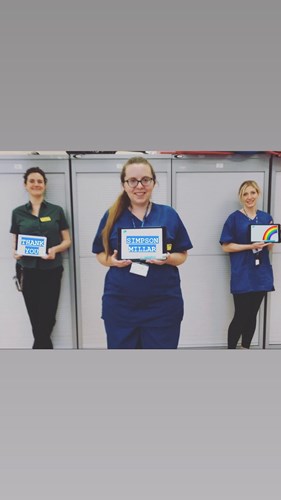 Prospect Park, Reading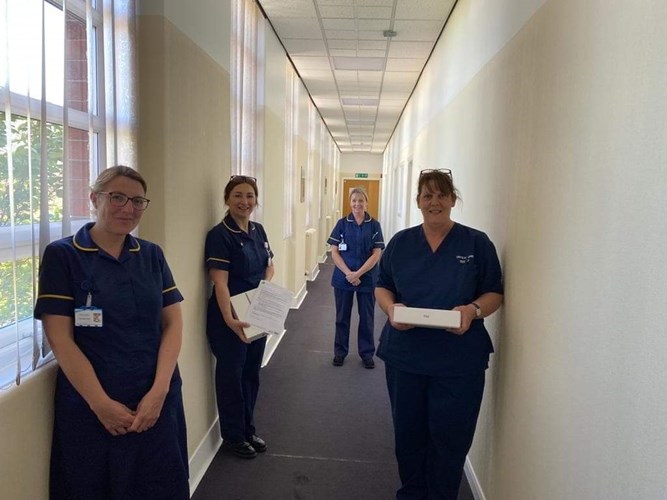 Royal Oldham Hospital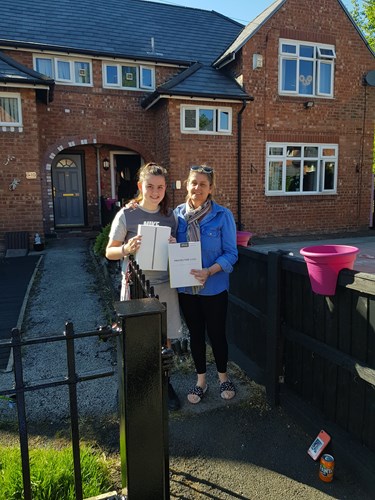 Brendan was able to see his family for the first time in 5 weeks using a tablet that we donated to the hospital. Brendan is currently in recuperating in a care home and we've donated another tablet to him and his family so that they can keep in touch until he's able to come home.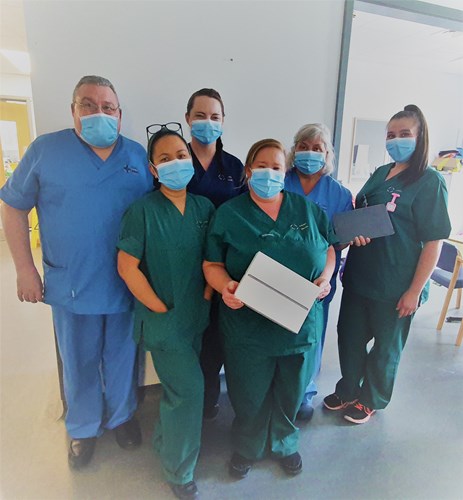 Thank you so very much! It will be a massive help for our patients to remain in contact with their families and is so much nicer when families are able to facetime patients given the current situation.
Ysbyty Ystrad Fawr, Wales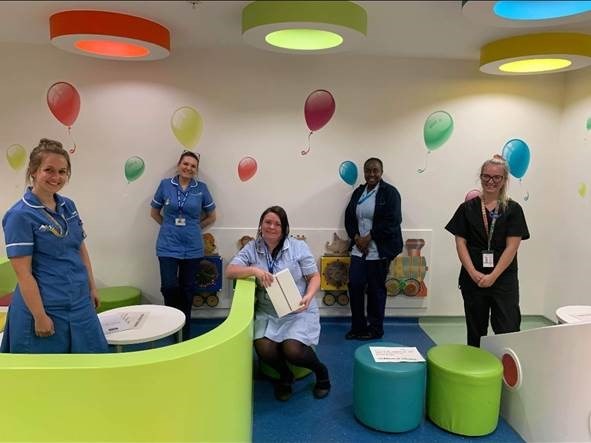 Manchester Childrens Hospital, Neo Natal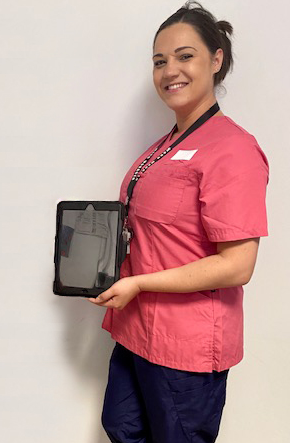 Morecambe Bay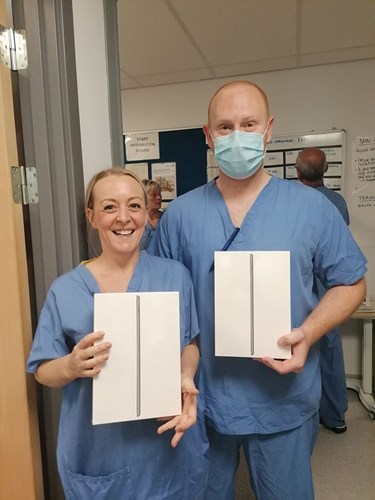 Mid Yorkshire Hospitals Trust who said;
Thank you so much to everyone at Simpson Millar for their kind donation of Ipads for ICU at The Mid Yorkshire Hospitals NHS Trust. It means so much to our patients and their families to see and talk to each other, even when in isolation, and the staff themselves find it very uplifting to see the joy and hope it brings.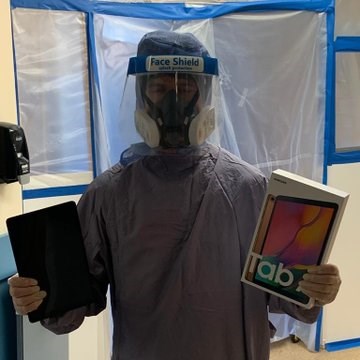 York Teaching Hospital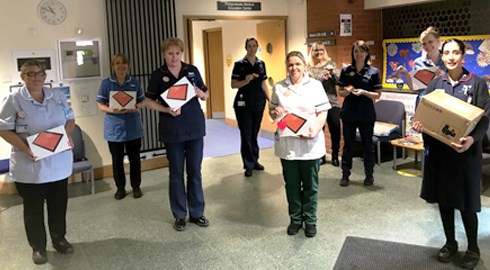 Stockport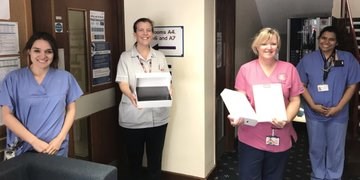 The Royal Surrey County Hospital said:
Thank you to everyone at @Simpson_millar for your support. We've just received two new tablets for our Covid-19 wards, so that patients can stay connected with loved ones at home, while in isolation.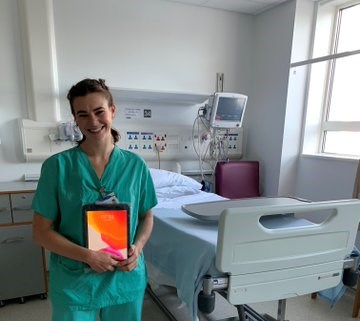 St Bartholomews Trust, London received 3 tablets. Read what a nurse had to say about the 'infectious joy' that the tablets brought to patients here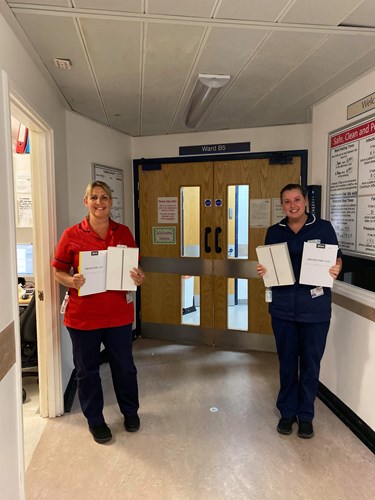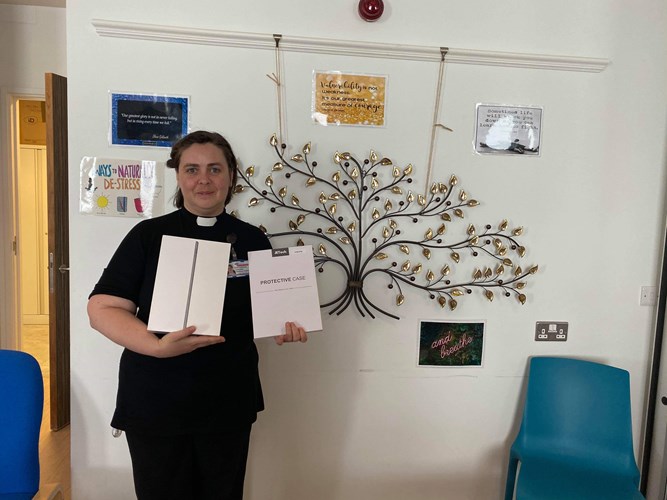 Salford Royal Hospital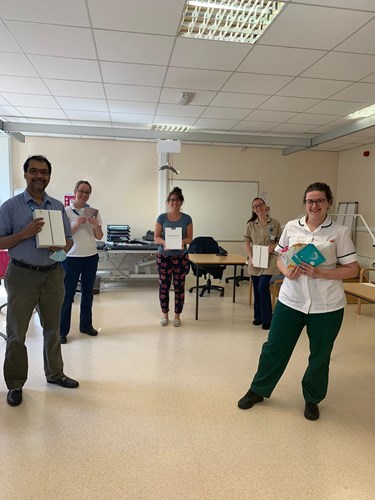 Dr Basu from Trafford General Hospital tweeted his thanks for their tablets:
#Staytogether Thanks a million to Leona Harris & Simpson Millar for donating two iPads for TGH - keeping patients & families together during Covid19 (also help in aphasia or dysphagia)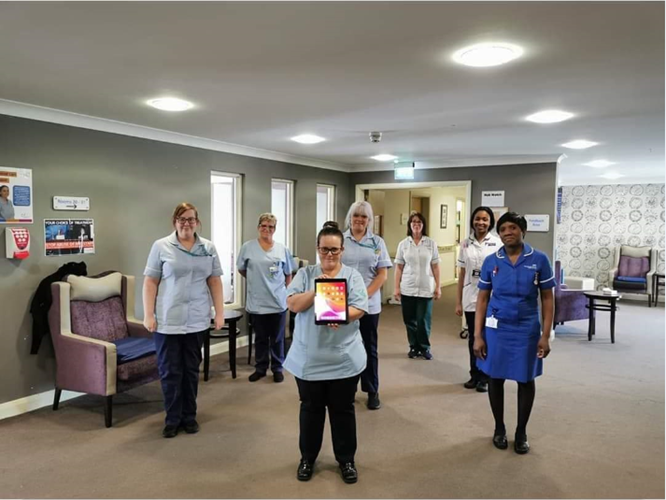 Tameside & Glossop Integrated Care NHS Trust with their tablet, said:
Thank you to Leona Harris & Simpson Millar for donating this iPad to the Stamford Unit, you have made it possible for us to call relatives for patients with ease!! We have very happy patients thank you so much xxx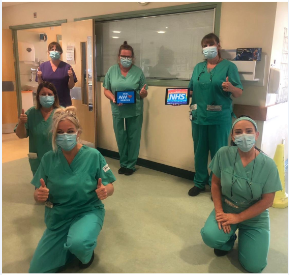 Scarborough Hospital with their tablets;
They are now up and running for patients to use! Contact with family is so important when no visiting is allowed in this Covid time! We thank you for your fundraising, it is so appreciated by us all!!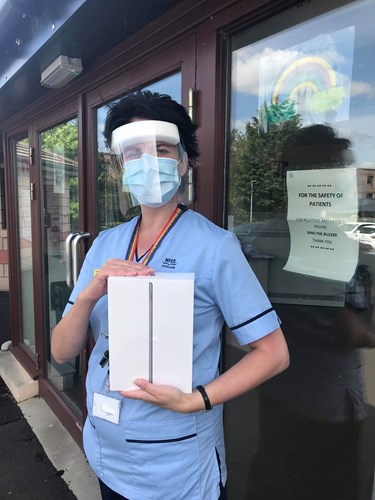 Melburn Lodge, Melrose, Scotland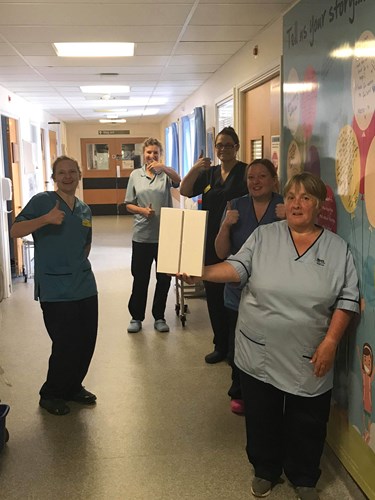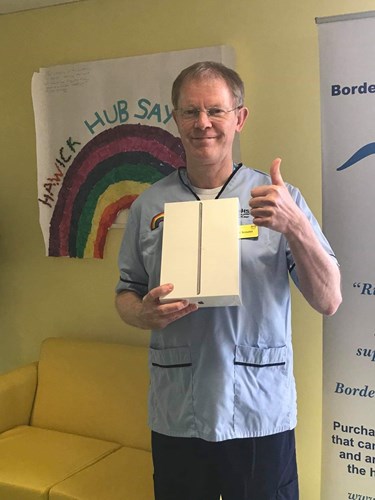 Melrose Hospital, Scotland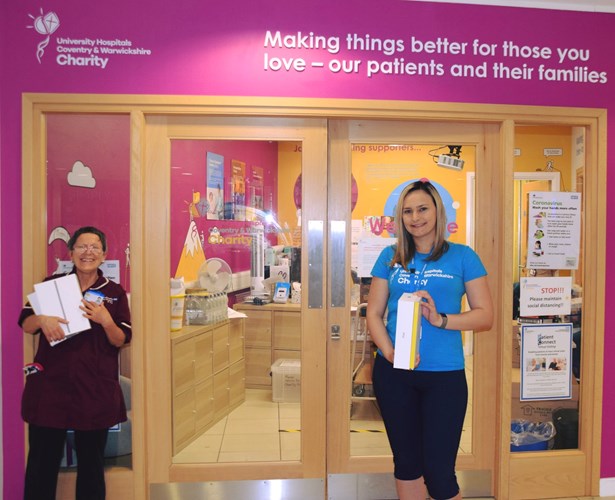 Thank you to you and your colleagues for your kind donation of iPads for our critical care patients. As you know, Covid-19 has meant that the hospital has introduced vital visiting restrictions, to protect patient's loved ones and contain the virus. Thanks to your donation patients and their loved ones will be able to use the iPads to video call; ensuring patients receive friendly and supportive contact in ICU. Also, staff battling Covid-19 appreciate being able to give their patients the chance to interact with loved ones, an essential part of their recovery process.
University Hospitals Coventry & Warwickshire Charity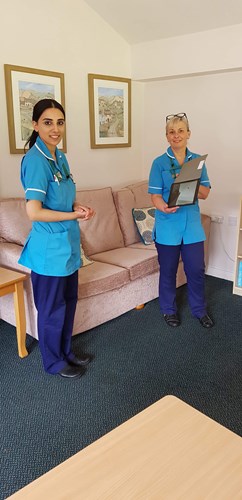 Spring Hill Hospice, Rochdale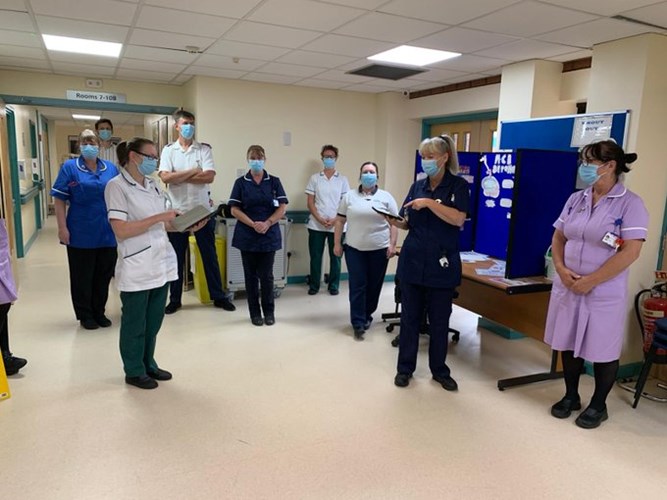 Staff at The Floyd Unit sharing how to use the new iPads very kindly donated by @Simpson_millar @janemary72 for our patients to stay connected to their loved ones part of the #staytogether campaign THANK YOU from us and our patients we are very grateful Blue heart@BuryRochCO_NHS
Floyd Unit, Rochdale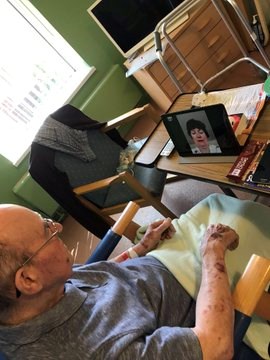 A Patient at Tudor Court, Rochdale using the tablet donated by #Staytogether for the first time.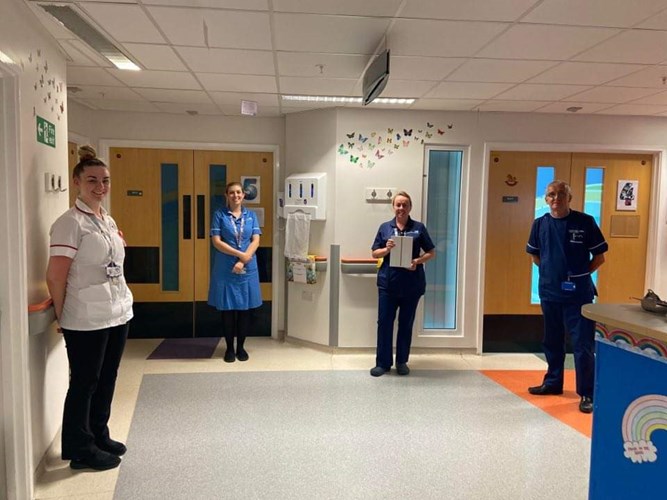 Royal Manchester Children's Hospital
Warrington Halton Hospital Charity thanked us for the tablets we donated;
Thank you ever so much for your kind and generous donation of 2 iPads, with cases, our patients will truly appreciate your thoughtfulness as they now have the opportunity to make contact with their loved ones whilst within our care.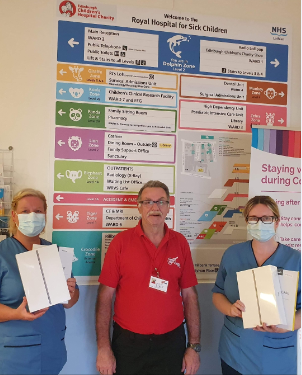 Royal Hospital for Sick Children, Scotland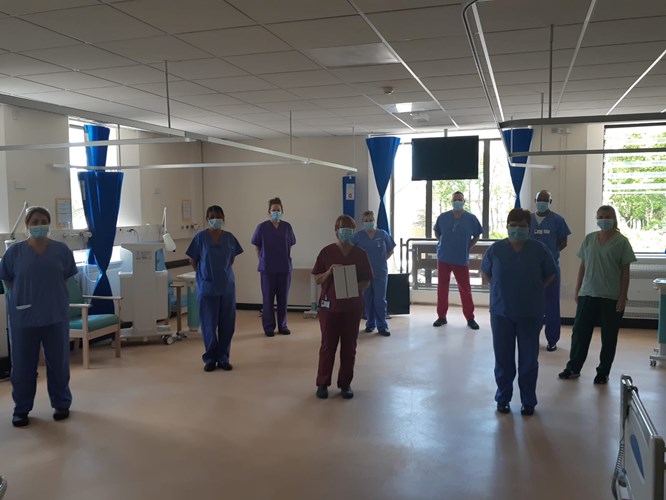 Princess of Wales Hospital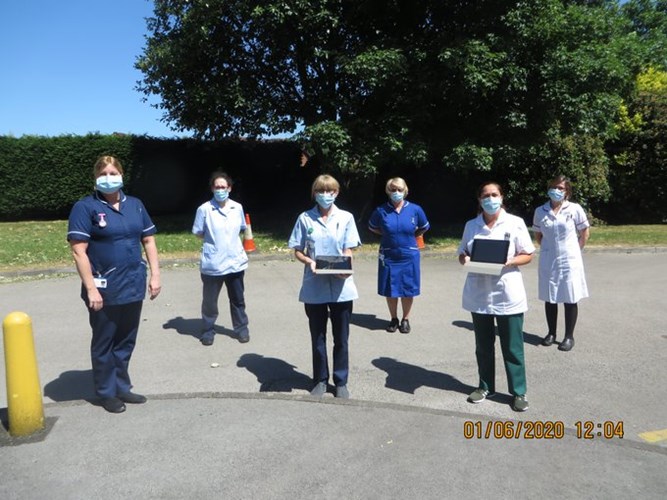 Bealey Community Hospital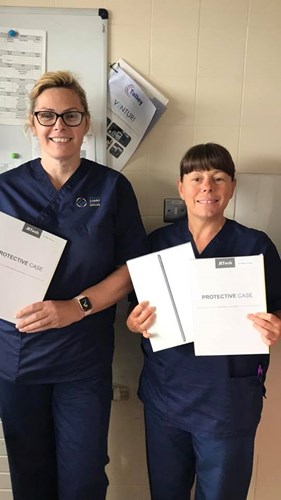 University Hospital of Wales
Thank you to everyone at Simpson Millar for donating these tablets and protective covers to help our patients keep in contact with loved ones during the covid 19 pandemic and the current lockdown. We greatly appreciate the support your team has shown in the current climate.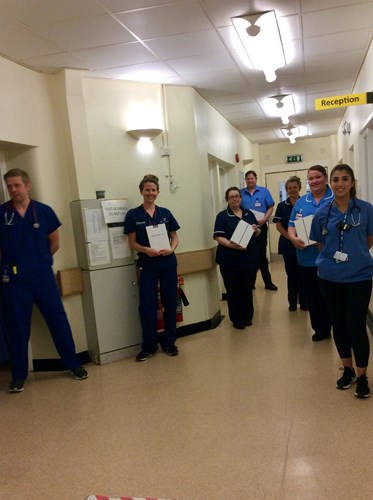 Bolton Hospital who said;
I would also like to pass on my thanks to you. The use of ipads to video call has made such a difference to our patients , families and staff during this Unprecedented time in The NHS
We have donated £2,000 to The Liverpool University Hospitals Foundation Trust to buy tablets for The Royal Liverpool, Broadgreen and Ainstree Hospitals. Mark McKenna, Head of Patient and Family Experience for the Trust said;
"I'd like to thank Simpson Millar for their generous donation and our Family Liaison Service for their work to make patients and their families feel connected. The current restrictions on visiting - which have been put in place to protect patients, their families and our staff - means that it's important that we find new ways for people to communicate. This financial donation will be used to purchase tablets which allows patients and families to keep in touch with their loved ones. It's one of the many new ways of working that this unprecedented situation is bringing about."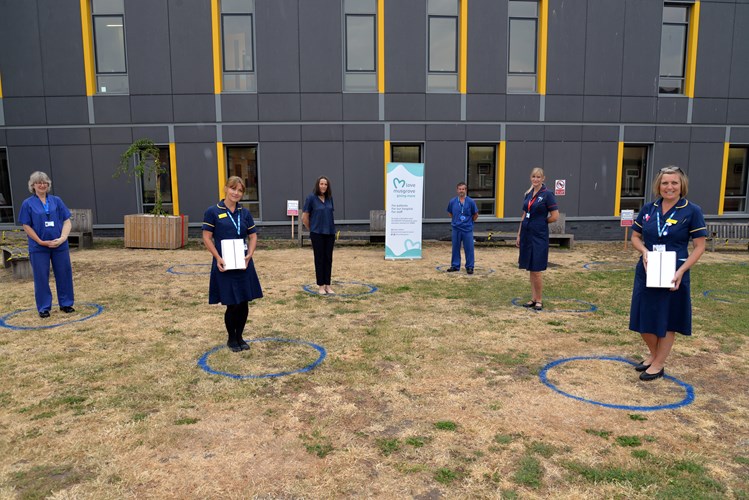 Musgrove Park, Somerset said;
The donated ipads will make an enormous difference and is such a brilliant initiative. In these strange and worrying times, the use of technology is more important than ever and it is so wonderful that Simpson Millar can help so many people.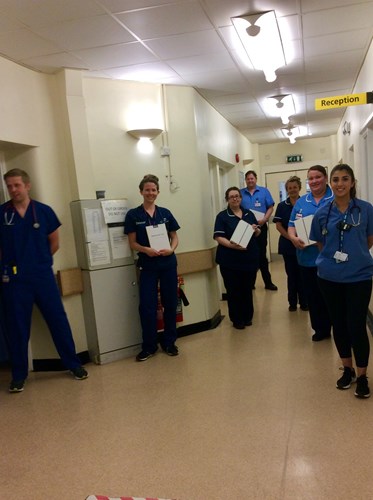 Bolton Hospital
Sarah Cherry, Community and Events Fundraiser of the Yeovil Hospital Charity said;
We are so grateful for the ipads and know they will make a difference to our patients and I am so grateful for this support during a challenging time.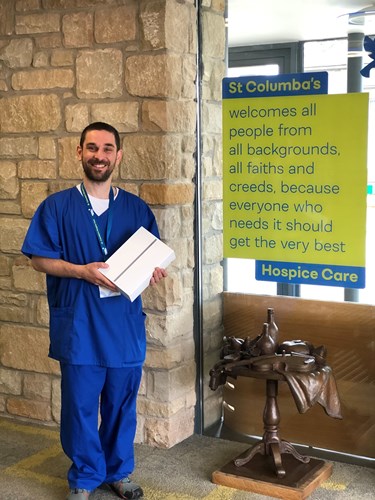 St Columbus Hospice in Edinburgh thanked us for the iPad we donated to them;
We want to thank you (Leona), and Simpson Millar LLP, very much for donating the wonderful Apple iPad, along with the hand creams, lip balms and cleansing wipes to the Hospice. We are really grateful to you both and your support is very much appreciated by all of us.
Macclesfield Hospital, which is part of the East Cheshire NHS Trust, sent a letter to let us know how our iPads can be used;
The COVID-19 pandemic has changed the way that we communicate not least with our patients and families. Coupled with the digital letter writing and befriending services that we introduced, your very generous donation will make a significant difference to our patients' wellbeing.
Barnsley Hospital wrote a letter of thanks for the 2 iPads which were donated by #staytogether;
We are writing on behalf of everyone at Barnsley Hospital and Barnsley Hospital Charity to say thank you for your support in donating two Ipads for use by our patients on our Intensive Care Unit to keep in touch with their family/friends. Your efforts have been greatly received in support of our staff and patients during the Coronavirus outbreak.
How #staytogether began
Do you know that very often, the only way a patient who is on a Covid-19 hospital isolation ward can see or speak to their loved ones, is by borrowing a phone or tablet from a Doctor or Nurse?
And all too often, we are hearing distressing stories where Covid-19 patients have died without being able to see, or even, in some cases, speak to their family or friends, simply because there weren't enough phones or tablets to go around!
Leona Harris, a nurse at Fairfield General Hospital in Bury started raising funds to purchase ipads after seeing first hand the impact Covid-19 and visiting restrictions were having on patients and their families.
"When someone is admitted to hospital they are isolated from the moment they arrive on a ward, and that isolation extends to their family who have no further contact, or very limited contact, with their loved ones. It is so upsetting, people have passed away without any family being with them.
"I could see that the staff at the hospital where I work are doing their best and some have lent their own phones and tablets to patients to help them keep in touch, but it's not enough."
The #staytogether campaign has the support of Leona's husband Nick who coordinated the fundraising efforts of the law firm where he works, and his colleagues at Simpson Millar to help raise in excess of £27.5k within a matter of days which has been donated directly to the cause.
#staytogether
#staytogether is a simple idea.
At a time when the government is quite rightly urging social distancing, we want to keep families and friends together when they need it the most.
Any funds we raise will be used to purchase tablets for hospitals that have been selected by colleagues at Simpson Millar. This will allow patients who are isolated because of Covid-19 to see their loved ones.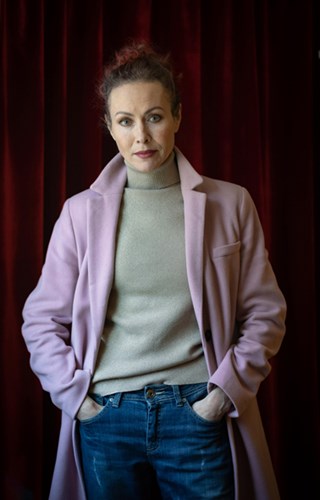 Amanda Mealing , Photo Credit: Tennee Attoh for Mixedracefaces
Amanda Mealing who plays Connie Beauchamp in BBC's Casualty has pledged her support for the campaign following the death of her friends father whilst in hospital with Covid-19:
You can read the families story here
Amanda Clapham, a Hollyoaks actress, recently supported Leona and the campaign saying;
There are so many people who do not have access to a device. Help #COVID19 patients stay connected to their loved ones by supporting frontline #coronavirus nurse Leona Harris and her campaign #staytogether You can find out more and donate here http://ow.ly/AEIc50znCeG Yellow heart
See her video here
Ariana Grande has also posted a message of support on her Instagram stories: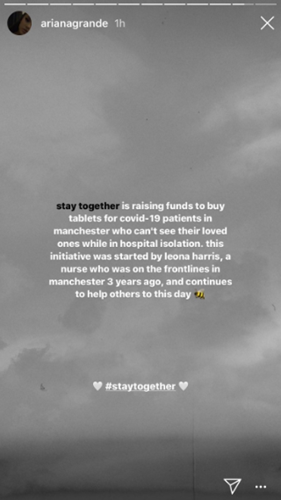 The post is saved in her Covid-19 Stories
Help to make sure no one is alone
The aim is to make sure no one is alone at what is an emotional and challenging time. And to do this we need to get the word out about #staytogether. Not only do we need everyone to make a small donation but we also need you to help spread the word too. We need you to tell your families, friends and work colleagues - share #staytogether with everyone you know … and by doing so we believe we can make a real difference to someone when they need it the most.
Simpson Millar Fundraising Efforts
Our colleagues have worked hard, and had fun, raising money to purchase the ipads and tablets for the hospitals. They've done everything from sponsored head shaves, running double marathons (within permitted exercise times) and organising online office quizzes. Here's a few of the pictures:
Mark Fearnley, Head of Contact centre at Simpson Millar, who has completed the equivalent of 2 marathon's this week in return for sponsorship from friends, family & colleagues: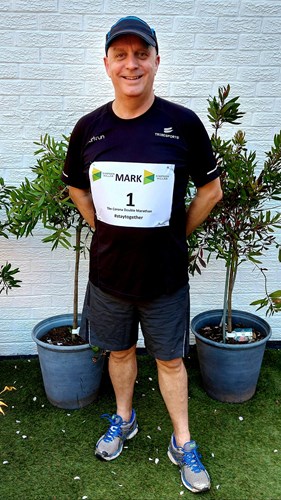 Jack Bookey. Paralegal, has organised a Lockdown office quiz - colleagues have donated £5 to take part: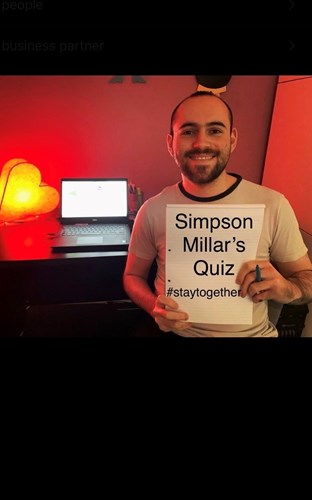 Sean Swimby, Head of Marketing Delivery & Sales, took fundraising to great lengths when he shaved his head for the cause, much to the dismay of his wife:
Before: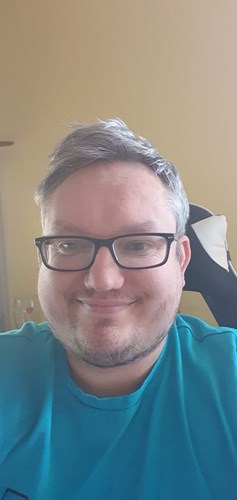 After: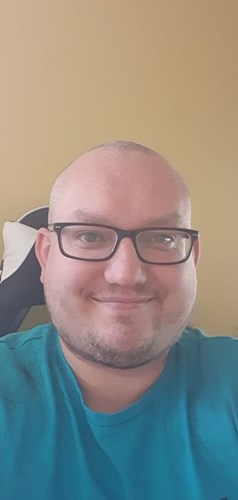 Jacqueline Smith, Legal Secretary, is being sponsored by family and friends to walk 10k steps every day in May;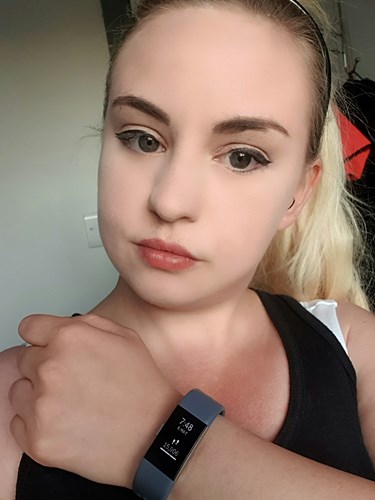 Our EL/PL Team have taken on a Cycling Challenge, cycling everyday for 1 hour during lockdown;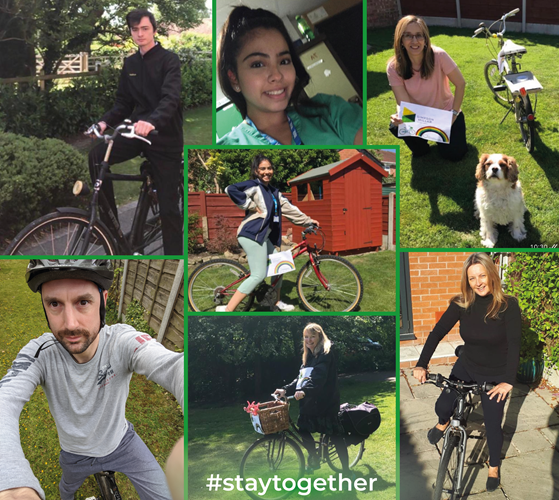 Thank you for your support
We'd like to thank everyone who has supported #staytogether by donating and sharing our campaign - we have been overwhelmed by your generosity. We have been inspired by the ways you have been able to raise money for the cause, here are a few of our favourites so far;
Aggie (10) and Magnus (7) have been selling painted rocks on their doorstep in Clitheroe. They have already donated £100 to the NHS and then heard you on 5Live! You are amazing! Keep going!
Rolande raised £300 by auctioning off 'Bow' the NHS Hare that she carved. We have donated an iPad to Tameside Hospital who recently cared for Rolande's father;
Rolande Chainsaw Carver has raised £300 from the auction of Bow the rainbow Hare.
What a lovely idea! My Dad at 75 with severe arthrits danced to raise the money to donate from the rest of the family.
Class 4GM from Rose Green Junior School are having a quiz online today and donating to this page. Thank you for all you are doing.
Gina raised £300 by drawing people's houses. We will be donating an iPad to Blackpool Victoria on Gina's behalf;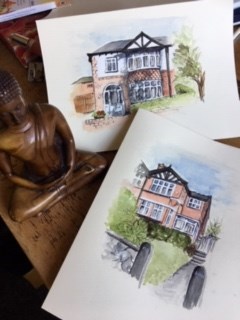 Hi I'm an Art teacher at and I've been drawing peoples houses to raise money for your amazing cause . My goal was to at least buy one iPad and I've reached it today
Thank you to our Partners
We've also been supported by other companies to help make #staytogether happen;
£2,500 donated by Doorway Capital
£200 donated by Nestor
£1,000 donated by Usdaw
DSG supplied the tablets for the campaign
Churchward Logistics for delivering tablets to hospitals across the UK
Hospitals we are supporting
Each of our offices have selected a local hospital that is fighting the virus. These have been selected due to the work they are doing 'on the front line' in the fight against Covid-19 in each of our local communities.
We know these are tough times at the moment. However, we believe that #staytogether will help make a real difference.
These are the nominated hospitals so far - and we're still adding to the list:
Manchester: Fairfield General Hospital, Bury, Manchester Royal Infirmary , Stepping Hill, Manchester , Wythenshawe, Manchester , The Royal Albert Edward Hospital, Wigan , North Manchester Hospital, Killelea House, Butler Green - Chadderton, Macclesfield District Hospital, Salford Royal Hospital, Trafford General Hospital, Floyd Unit, Birch Hill Rochdale,, Tudor Court, Royal Manchester Children's Hospital, Bealey Community Hospital
Bristol: Bristol Royal Infirmary ,Southmead , Bristol Nightingale
Wales: Royal Gwent Hospital, Newport , Neville Hall, Abergevennay , YYF, University Hospital of Wales, Princess of Wales Hospital
Liverpool: Warrington Hospital , The Royal Liverpool Hospital , Aintree Hospital , Liverpool, Broadgreen Hospital , Liverpool, Arrowe Park, Whiston, St Helen's, Macclesfield
Southport: Southport & Ormskirk Hospital
Lancaster: The Furness General Hospital, Cumbria , The Orchard, Royal Lancaster Infirmary
London: Kingston Hospital, London, Epsom & St Helier, The Royal Surrey County Hospital, Guilford , St Barts Health Trust, Prospect Park, Reading, The Royal Brompton, Musgrove Park , Yeovil Hospital
Yorkshire: Leeds General Infirmary , St James Hospital, Leeds, Huddersfield Royal Infirmary , NHS Nightingale Yorkshire & Humber, Harrogate Calderdale Royal Hospital , Halifax, Bradford Royal Infirmary , Scarborough, The Royal Hallamshire Hospital, Rotherham General , Barnsley Hospital
Scotland: Melburn Lodge, Melrose, Borders General Hospital, Royal Hospital for Sick Children, The Beatson Cancer Centre , St Columbus Hospice, Edinburgh
For the latest updates, please see the Simpson Millar Stay Together Page
Updates
1
2 years ago

Simpson Millar

2 years ago

Thank you to everyone for your support. We've been overwhelmed by the generosity and donations that we've received - your contributions will make a real difference to the Covid-19 patients and their families. Please help us to raise even more by sharing our page with your friends and family. Thank you once again, Leona & the Simpson Millar #staytogether team

Share this update to help us raise more
Simpson Millar started crowdfunding
Leave a message of support
Page last updated on: 8/4/2020 16.42
Supporters
1250
Pdmkd

Jul 2, 2020

Good cause, highlighted by Russell Martin.

Amy

Jun 25, 2020

Thank you to my lovely neighbours mum Amy for this kind donation.

Emma Davies

Jun 19, 2020

SM Quiz 😀

Tom Powell

Jun 15, 2020

An absolutely fantastic cause!

Ann

Jun 11, 2020

A private donation from a very kind lady who wished to stay anonymous. Leona x
Crowdfunding is a new type of fundraising where you can raise funds for your own personal cause, even if you're not a registered nonprofit.
The page owner is responsible for the distribution of funds raised.
Great people make things happen
Do you know anyone in need or maybe want to help a local community cause?
Create you own page and don't let that cause go unfunded!
About Crowdfunding
About the fundraiser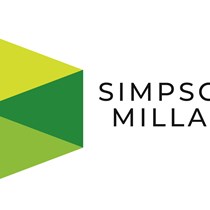 Simpson Millar
#staytogether As hospitals are restricting visiting to prevent the spread of Covid-19, we want to keep families and friends together. Simpson Millar Colleagues are raising funds to purchase tablets for local hospitals so that isolated patients can see their loved ones.