£750
raised of £1,500 target by

28 supporters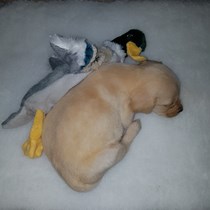 Tanya McDermott
We're raising £1,500 to raise money to stop puppy farming and irresponsible breeders breeding puppies, to help support families and puppies affected.
Crowdfunding is a new type of fundraising where you can raise funds for your own personal cause, even if you're not a registered charity.
The page owner is responsible for the distribution of funds raised.
Story
Our baby girl May sadly lost her fight yesterday. So our attention is now to stop puppy farms and irresponsible breeders and to help and support puppies with their new furfamilies.
This is our story and why we need to stop this as we do not want other puppies to go through what our beautiful girl has been through.
We saw an advert on Pets4Homes for a pure breed yellow lab girl, in Knowle, Fareham by a lady stating that her bitch had a litter and she was a family dog. The puppy looked beautiful, so we decided to arrange with the seller to view the puppy.
We went to the property and saw the puppies and the runt of the litter (our baby girl) there was a black female lab there, who the lady said was the puppies mummy. We fell in love with the runt and knew she was the girl for us.
The owner advised that the bitch had got pregnant when a friend of hers came to stay for a weekend and her yellow boy lab had his wicked way with her dog, which resulted in the pregnancy. We spoke about hip, elbows and eye scores and the lady produced paperwork to prove their scores along with both the bitches and sires Kennel Club hereditary history and everything looked in order.
We were told May was 8 weeks and she had been de flea'd and de wormed.
We paid the deposit by bank transfer and agreed a collection date.
Then this is when things started to get a bit suspicious, the owner would not return my text messages for a few days and when she did, she said her and her children had been ill hence the delay in replying. Us being us, we gave her the benefit of doubt.
The day before we collected May the lady contacted us offering for her to drop May down to us, but we said it was fine we will collect her.
On the day of collecting we went to the property and the woman wasn't there as apparently it was too stressful for her, but her husband was who gave us a bag of leaflets, the vaccination card, along with a bag of dry puppy food. He then turned around and said that Mays mum had been on a shot and someone told him that a dog was having "some fun" with his dog and he said it wasn't her as when they brought her as a puppy she had already been spayed (which really kicked in alarm bells for Jon and I for numerous reasons)
We put May into her carry case to bring her home and she immediately had a upset tummy. Which we put down to her being stressed.
We got May home, cleaned her up and were worried as she wasn't as lively as we thought she would be but again put this down to stress of being away from her mum etc.
Within 24 hours (now Monday 1/1/18) of getting May home we knew something wasn't right, she wasn't wanting to eat and drink and she was so small, we rushed May to emergency vets and she was admitted, put onto antibiotics, de wormer and de flea medicine along with an IV drip as at first they thought she had parvo, but now we know it to be a serious case of worms, which she has had since birth as she was passed them from her mum. The vets said they would do everything for her and keep us updated.
Tuesday 2/1/18. We collected May from the emergency vets and took her to our vets (Whiteley Village Vets) and she was admitted straight away, put onto a IV drip along with antibiotics and told there were no guarantees May would make it. We were told late afternoon that May seemed to be responding to the de wormer as she had passed a few stools with worms in. We were allowed to bring may home and I would need to feed her every hour. So I did this and May was feed every hour throughout the night, she was passing so much water and had really bad diarrhea. May just wanted to be cuddled, so i held her in my arms all night.
Also Cara (vet) confirmed that May is definitely not 8+ weeks old but lucky if she is 6 weeks old, also that May is not 100% lab, but a lab/springer spaniel cross (this doesn't matter to us at all as we love her no matter what) and that there is no way she has been treated for fleas or worms. Also May had been weaned too early and she was on crap dog food.
Cara also asked us where we got May, so we told her the story and she advised that another puppy had come in with all the same problems as May and his new parents had told her the same story and that something sounded very wrong about the whole situation and she believes by the state of the two puppies that they had infact come from a puppy farm as they have all the classic symptoms of being puppy farm pups.
So I contacted the Police, RSPCA, Trading Standards, the vets where May was apparently vaccinated and they have advised they are going to raise an internal investigation as they have clearly vaccinated 10 puppies when they were too young.
Wednesday 3/1/18 Took May back to the vets first thing and told them about the night and they said they would continue with the same treatment throughout the day and we would be able to take May home again that evening, so we picked May up and brought our baby girl back home and did the hourly night feeds again, but she seemed weaker and she was sick twice in the night and she didn't seem to pass as many motions.
Thursday 4/1/18 Got May back into the vets for 8am and i was really worried as May has lost so much weight (you can see her spine, ribs etc) and she just laid there, Cara the vet said she believes the worms that are passing through Mays body have caused a blockage and May can't pass the rest of the worms. She is too weak and poorly to have an op to remove blockage. Our only hope is to keep her strength up so she has pass them naturally. But now her white blood cells and glucose levels have dropped and she needs a blood transfusion. Cara also said that May would not be coming home to us and she would take her home to look after her. Cara also advised she was thinking that May would need a blood transfusion.
Friday 5/1/18 Had a phone call from Cara (the amazing vet) who advised that she did give May a blood transfusion at 10pm last night and that May had responded well to it and that now May had started to poo foul green mucus (which i guess is the dead worms etc) and May was having very small bits of food. But when we saw May this evening she was all curled up in a ball with her rabbit teddy, which she loves) but as of yet we are still waiting for an update but all I can say is May looks so small and poorly still.
Saturday 6/1/18 We went and saw May and she had lost even more weight, she was down to 900 grams, the size and weight of a 3 week old puppy, she was asleep when we got there, but we all managed to have cuddles and May cuddled into my neck which was her favorite place. Cara said May would be going home with her again and having a cuddle weekend and carry on being feed 1ml every hour. Cara called us at 5pm saying that she was cuddling May, she had curled into a ball, fell asleep and hasnt woken up. She has lost her fight.
We have contacted prominent dog lovers in the media and one of those people took up our plight and has passed it to ITV and now we are going to be doing a interview to get across Mays story and also about puppy farming and bad breeders and that it is not expensive to deworm and flea puppies.
I have also chased up the Kennel Club, RSPCA as we still havent heard anything and we are reporting VetsatHome Southampton to the RCVS for negligence as they should have of picked up that the puppies were not the age the breeder said they were. Also why did they not make sure the puppies received the worming and flea treatments.
May is insured but you can't claim for 2 weeks from the start date so Jon and I are paying out of our savings but we can't carry on pulling money out of thin air and we are now having to ask for help as we can't give up on May.
Whiteley Vets have been amazing and we cant thank Cara and her staff for all their love, support through this hell of a time.
Thank you so much.
Jon and Tanya xx


Updates
1
1 year ago

Tanya McDermott

1 year ago

Share this update to help us raise more
Tanya McDermott started crowdfunding
Leave a message of support
Page last updated on:

1/24/2018

11:41 PM
Supporters
28
Voon Fui Lai

Jan 24, 2018

In memory of May. Let there be light on the plight of all pups!

chris Newman

Jan 19, 2018

Good cause...👍

Jocelyn Headings

Jan 6, 2018

Really hope May get better soon.Just horrible for her, and just a horrible thing for you all to go through.Much loveJoss, Andy and Lawrie x x

Rebecca Robins

Jan 6, 2018

I'm so sorry to hear what you are all going through. I hope she makes a full recovery, she's a lucky girl to have found such a loving family. Get well soon May!

Mark Payne

Jan 6, 2018

My wife and I were really sorry to hear of your situation with your gorgeous pup. She at least now knows a loving and nurturing home. Sorry we cannot donate more, but hope every little bit helps. Xx

martin snaith

Jan 6, 2018

Hope you raise all the money needed and the puppy pulls through 🤞🏻

Laura Brown

Jan 6, 2018

Thankfully May has ended up with kind and loving humans. Keep up the good job! Fingers crossed the other pups find themselves saved by similar families.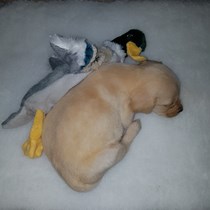 Become a supporter
Help Tanya McDermott raise more
About the fundraiser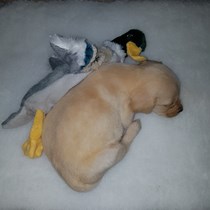 Tanya McDermott
We are the fur mummy and Daddy to the beautiful May puppy dog, we are appalled and shocked that puppy farming is going on and so deceitful to make it look like puppies are from loving homes.