£2,095
raised of £2,500 target by

92 supporters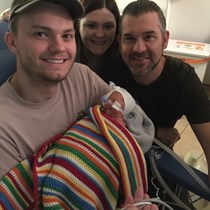 Harriett Jackson
We're raising £2,500 to help babies like Stanley at Broomfield Hospital Neonatal Unit
Broomfield, United Kingdom
Crowdfunding is a new type of fundraising where you can raise funds for your own personal cause, even if you're not a registered charity.
The page owner is responsible for the distribution of funds raised.
Story
We were blessed with a beautiful baby boy on Sunday 17th September 2017 at 4.13am. At 28 weeks (12 weeks earlier than expected) and after a natural labour lasting less than 30 minutes we were delighted and shocked when Stanley William Jackson arrived into the world weighing 1350g (3lbs). With his full head of hair and perfect in every sense of the word our little boy was here.
We had no indications throughout my pregnancy that Stanley would enter the world so early or so quickly, the last thing we expected when I woke up in the early hours of that Sunday morning with mild stomach cramps was for our cheeky monkey to arrive. We had been told that he was measuring on the larger side and that I was also carrying extra fluid. So when I had felt slightly damp on the Friday afternoon which continued through to the Saturday we didn't think anything was majorly wrong and was going to speak to our midwife at our next appointment on the Tuesday.
We spent Saturday with our close friends and little girl in London, eating fish and chips and shopping. At the beginning of the day I did have to purchase some rather large pads as I was worried about getting a wet patch! As the day went on the amount of fluid I felt I was loosing did get only slightly heavier. Driving home I started to feel rather light stomach cramps which slowly spread to my back. We borrowed a hot water bottle for later on when I was in bed from our friends and had a nice hot bath at around 6pm which eased the cramps. I finally feel asleep around 10pm.
I woke at 2am with the cramps getting more intense. We contacted the midwife at Broomfield Hospital who advised that I should make my way to the hospital to be checked over. We drove the 20 minute drive from our home to the hospital arriving at 3.43am. We made our way to the 4th floor to DAU. Once in the corridor I had a real urge to go to the toilet. I had been prescribed co-codamol the previous week for upper abdominal pains, which had made me constipated. I did believe the constipation was the reason for the pains and that i just needed a big number 2!
Having been quickly undressed and placed on a bed in the labour ward I was advised that my baby boys head was visible and I was in labour. The pain I must admit was horrendous and I did scream the ward down. With no time for any pain relief and having to quickly be taught the breathing exercises (as I hadn't got to 30 weeks I hadn't started any antenatal classes) our perfect baby boy was born 30 minutes after parking our car in the car park.
Our first thought was why and how has this happened to us. My husband Ian had already experienced the rollercoaster ride of having premature babies before.
Stanley was transferred round to the Neonatal Unit at Broomfield where the amazing staff soon set about stabilising him. The midwife Freya who was such an massive support to both of us during my labour and those first few hours which followed took the very first photo I will forever cherish of my beautiful son.
Over those first few weeks we began to understand how each machine function (in Ian's case reminded) and what it meant when numbers when up or down. The specialist team of consultants and nurses at Broomfield worked tirelessly to ensure Stanley received the best care and the best chance. Their care and commitment has astounded us, and the love and the kindness they showed to us and our family was unwavering. The nurses within the unit did not just help our baby boy, but they also provided us so much support from a shoulder to cry on, to a place to rest when things weren't good.
If it wasn't for the nurses knowing our son so well and knowing when he wasn't right in himself, the potential longline infection when he was 11 days old would not have been caught in time. Nor would he have recovered so well when he stopped breathing at 3 weeks old and had to be ventilated. We experienced some good days and some horrible days which felt like utter hell. We learnt so much since being welcomed by not just the staff, but also the other mummy and daddy's in the Neonatal Unit. We have been lucky enough to walk away knowing that we have made some real friends during our time there.
Though every second feels like a minute, every minute feels like a second, every hour feels like a day, we have learnt not to take things for granted, to appreciate every breath, not to fuss and fight about things that don't really matter and most importantly tell those important to us how much happiness they bring to our lives and how much we love them. We have been blessed with Stanley J 12 weeks earlier than we expected and funny enough we would not change a thing. We are getting to watch our beautiful, headstrong miracle grow every day. He may be little, but as the nurses found out especially his favourites Jackie, Sally, Debbie, Lauren, Jo, Lucy and Alice, he has a massive personality. He loved nothing more than to wait until they had left the room or check on another baby to set off his alarms to remind them all he was there.
After 53 days we finally got to take our miracle home. Like any new parents we had sleepless nights trying to get into the routine that our son dictated. Unfortunately after 9 days at home on Friday 17th November 2017, Stanley J stopped breathing in my arms. Luckily for us we were at Broomfield Hospital for a check up. I managed to sound the alarm and start CPR which I was taught prior to leaving the NICU, before the doctors and crash team arrived to resuscitate him. They eventually got him stable and placed him on the ventilator. Due to how poorly Stanley was Broomfield were unable to care for him and in the early hours of Saturday morning he was moved by the CATS Team (Children's Acute Transport Service) to Addenbrooke's Paediatric Intensive Care Unit. Both Ian and I were placed in hospital accommodation which is offered by The Sick Children's Trust.
They confirmed that he had RSV (Respiratory Syncytial Virus) which caused infection of the lungs and breathing passages. It is a major cause of respiratory illness in young children. He also had a clot in his left leg from where they have tried to place a central line, as well as had his third blood transfusion
To say our world fell apart is an understatement, but he is a fighter and did pull through. We eventually got our little boy home on his due date Sunday 10th December 2017. We had to continue to inject him with Dalteparin to help thin the blood clot, but was given the all clear that the blood clot had disintegrated on 5th January 2018. We still have several hospital visit to go including a visit this week to Great Ormond Street to see the surgery's as Stanley has a hypospadias meaning the opening to his penis is in the wrong place. He also will require surgery for his hernia and hydrocele which has occurred when fluid fills a sac in the scrotum of the penis.
He is 23 weeks today (11 Weeks corrected), weighing an impressive 11ibs 5. No matter what he always smiles and I am the luckiest mummy in the world to call this little smiler my son. I am still struggling to come to terms with what we have gone through especially when he stopped breathing in my arms and do cry a lot. I do know how lucky I am to have him with me as it could have been so different.
We can never thank the nursing staff who have been there for both Stanley and us at Broomfield Neonatal unit and the Phoenix Ward. The staff are true hero's. As a thank you to all of the team at Broomfield Hospital Neonatal Unit we are aiming to raise as much money for them as we can, so they can continue to help babies like Stanley. The unit looks after both premature and sick babies, and all the money we raise we hope will go a little way into investing in equipment, staff training and improved services and facilities for families of the babies in the unit. Anything we can achieve will never be enough to thank them for all they have done for both Stanley and us.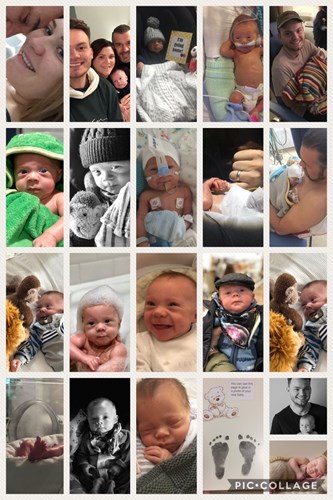 Thank you for supporting this fabulous unit.
The Jackson, Aka Ian, Harriett, Ben and Stanley
Xxx
Updates
0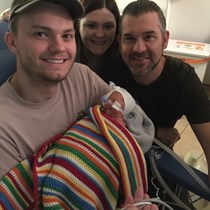 Harriett Jackson started crowdfunding
Leave a message of support
Page last updated on:

8/16/2018

5:41 AM
Supporters
92
Trish Jackson

Apr 7, 2018

Love from Trish & Stew xx

Vivienne Kernick

Mar 30, 2018

The miracle that is Stanley JacksonVivk4@yahoo.co.uk

Laura Todd

Mar 28, 2018

The Miracle that is Stanley JacksonDiane Austin

Laura Todd

Mar 28, 2018

The Miracle that is Stanley JacksonEddie Austin

Laura Todd

Mar 28, 2018

'The Miracle that is Stanley Jackson'FromDavid Austin xxx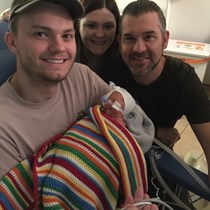 Become a supporter
Help Harriett Jackson raise more
About the fundraiser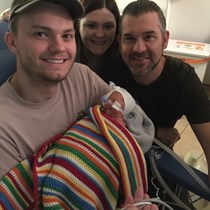 Harriett Jackson
Broomfield, United Kingdom
We are the proud parents of Stanley William Jackson who was born at 28 weeks. Stanley was looked after by the fantastic team at Broomfield Neonatal Unit