£6,835
raised of £15,000 target by

117 supporters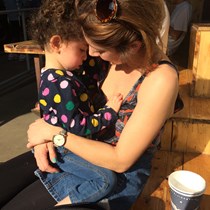 Stella Tikkirou
We're raising £15,000 to Help our little girl go back to the NAPA centre in America for therapy for her rare chromosome disorder to help her to walk
Surrey, United Kingdom

10 days to go
Crowdfunding is a new type of fundraising where you can raise funds for your own personal cause, even if you're not a registered charity.
The page owner is responsible for the distribution of funds raised.
Story
As most of you already know our gorgeous little girl Penelope, age 3 years and 9 months, has a very rare chromosome disorder called 8P Inverted Duplication and Deletion Syndrome. It is so rare there have only been around 65 literature cases reported worldwide. As a result of this Penelope suffers from hypotonia (weak muscles), global developmental delay, a learning disability, speech delay or absence, she has structural anomalies of the brain, and could later develop hydrocephalus (an increase in cerebrospinal fluid within the brain), heart problems, spinal curvature, contracted joints, hip dislocation, epilepsy…the list goes on. She has had a couple of seizures when she has been really ill and can't regulate her own body temperature. She still has sleep issues and we are awaiting results from The Evelina Clinic (part of St. Thomas' Hospital) in London following a sleep study to hopefully find the reason as to why she is waking up to 12 times a night. Penelope is currently non verbal so she is unable to tell us when she is hungry, thirsty or in pain. Penelope cannot do most things that as parents we take for granted that our kids will be able to do, and this breaks our hearts.
We set up a crowdfunding page last year and successfully raised enough money to get Penelope to the NAPA (Neurological and Physical Abilitation) centre in Los Angeles for intensive therapy which led to some incredible results. We are desperate to get her back there for some more amazing therapy, and also try some other targeted therapy, which is why I am here again writing another crowd funding page so that together we can make a difference to little Penelope's development and to help her become the best she can be.
On Day 1 of our 3 week intensive at the NAPA Center we proudly watched Penelope telling us all off and standing (with assistance) during the first couple of hours of her intensive therapy. NAPA is the most amazing place that I have found on Earth and I cannot thank them enough for what they have achieved. Equally I cannot thank each and every one of you who donated to help us get there in the first instance. Penelope has made the most gains I've ever seen her make in a short time period.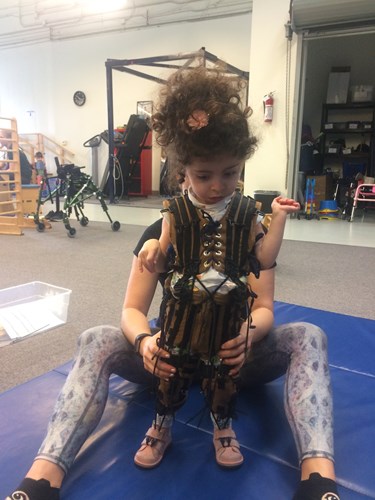 NAPA do not have a magical cure for 8p Inverted Duplication and Deletion Syndrome. Penelope didn't stand up and take off walking or running on her own or anything. But, she learned how to move her legs on command while on her tummy (she hated being on her tummy) and later in a four point kneeling position. Penelope began to transition from laying down to sitting up with just a finger or two on her hip for support. And she also started to take consistent steps in a gait trainer. She would lock her knees and not step before NAPA. Her arms were so weak I couldn't hold her hands and simply walk her. She couldn't play with her toys using her hands.
We would like to raise enough funds to go back to the NAPA Centre for a follow-up programme. The intensive was 4 hours of therapy a day for 3 weeks. The 4 hour therapy was broken up into 4 one hour segments: Cuevas MEDEK Exercises (CME), 2 hours of Neurosuit and an hour of Speech and language therapy. The Neurosuit helped Penelope feel her body against gravity, hugging her body, putting it into proper alignment, provided resistance against certain movements, and gave her more awareness and good feedback to her brain. CME is a physical therapy approach focusing on improving motor skills of young children with physical disabilities & movement disorders. During CME, the therapist physically manipulated Penelope to stretch out tight muscles and train the muscles in groups. These manipulations eventually would lead to the Penelope gaining control over her trunk, which is necessary to perform basic gross motor activities such as sitting, standing, and walking. We saw huge results here!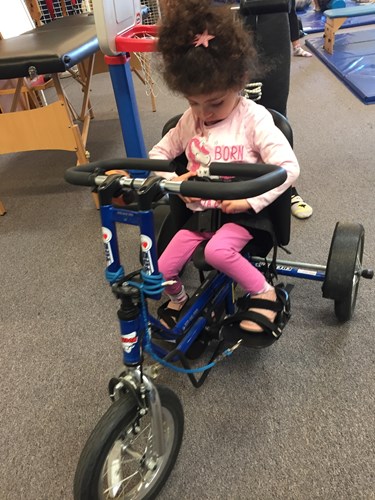 On the first day, each therapist asked what our specific goals were for the three week intensive. We told them the main thing we wanted Penelope to work on was core strength, getting on her feet, walking (well actually I asked if she could run in the next marathon, they said that at the age of just 3, she was probably a little too young!!) & floor transitions – laying down to sitting, sitting to four point, four point to kneeling, etc. My reason for these goals is that I really want Penelope to have more independence while on the ground and to start building muscle on those skinny little legs so that she can hopefully one day just stand up and take off!
Each therapist evaluated her throughout that first day and then they spoke with one another and came up with a plan. For each block of therapy throughout the intensive, Penelope worked on a series of movements that were repeated a number of times every day to help her body and brain remember that movement pattern. Then, at the end of the three weeks, each therapist sent us home with 2 to 3 exercises each that we needed to do daily as a home exercise plan.
Besides the wonderful gains we saw while in Los Angeles, I think what made NAPA truly special was how each therapist looked at and treated Penelope like she was a 3 year old little girl and not a girl with a disability. They knew what she liked and what could make her laugh, and they used that to push her in the therapies. Nothing that she did, like blowing raspberries, shouting, crying wanting to be sung to, and wanting to watch a lot of Mr. Tumble (like way too much Mr. Tumble!) phased them. Even if Penelope got upset whilst working on a movement pattern during therapy, the therapist would simply continue, sing to her, give her a quick hug & tell her she's okay and praise her because she was working so hard.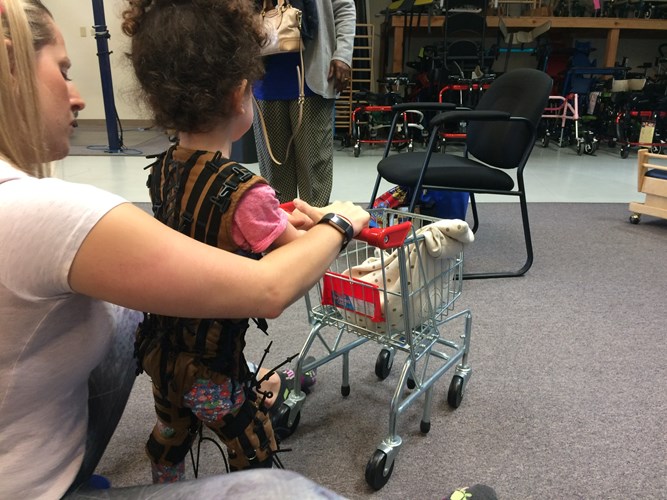 Because NAPA is such an incredible place, its intensive schedule gets booked up very quickly. We have put Penelope on a waitlist for intensives from this August and towards the end of the year and am crossing my fingers and toes that we'll get to go back again this year but we may have to wait until the start of next year again. Until we are able to make it back into NAPA I want to work on progressing from where NAPA got Penelope to and subsequently we have found another intensive therapy programme at Cosmosuit Rehabilitation in Northern Italy.
Cosmosuit Rehabilitation have availability for us to come over this July. The course they recommend for Penelope is a course of 5 daily therapies: Adeli therapy, Physiotherapy, Massage, Neuromotor development and Speech & Feeding Therapy for a minimum of 2 weeks. A Neurologist will examine her upon arrival and suggest other potential therapies that he sees fit. The cost is 1500 Euros for each week excluding any additional therapies.
Adeli Therapy is a Russian method of correcting dynamic and static functions, having roots in space medicine. This is similar to the Neurosuit therapy that we saw positive results from at the NAPA Centre.
Objectives of the Adeli therapy: Formation of an alternative motor centre in the brain, Improvement of dynamic and static functions, Correction of posture and movements, 
Stabilization of the correct vertical position of the body, Elongation of the step, Correction of the foot position during walking, Reduction of hyperkinesis
 and Formation of correct reflexes during walking.
Medical Massage - this is performed by physiotherapists experienced in massage for neurological patients. Objectives of the therapy: Muscle relaxation in case of hypertension
, Preparation of muscles for further physiotherapy, Correction of contractures, 
Correction of muscle tone, 
Normalisation of the blood and lymph flow,
General strengthening of the body and immune system.
Neuromotor Development - Individual sessions with children are conducted by a specialist in neuromotor development. The objectives of the therapy: Development of fine motor skills, Development of gross motor skills, 
Training of grasping and holding movements, Development of speech contact
, Training of fixation of attention on the subject, Training of tactile and visual contact, Correction of posture relative to objects.
Speech & Feeding Therapy will entail Individual sessions conducted by an experienced speech & feeding therapist. Objectives of the therapy: Development and training of speech skills
, Training or restoration of the chewing and swallowing skills, Correction of articulation, 
Training and correction of writing skills
, Training and correction of reading skills
, Correction of logoneuroses in children.
We also pay for as much private therapy as we can here in the UK. On top of what Penelope receives on the NHS (which really isn't very generous, we only just received our walker after needing it immediately upon our return from NAPA in February and I am currently fighting for her to own other equipment and aids that she needs) we are fitting in 2 to 3 private physiotherapies a week which is costing up to £180 a week.
You probably think that this seems like a lot of therapy but research suggests that children like Penelope have until the age of 5 to hit really big milestones and until age 6 for the brain to build new pathways around the ones that are not working so well. Early intervention is key and I'm trying to make up for the first 2 years we lost due to doctors not taking my concerns on board and a very late diagnosis. Penelope will be 4 years old this August, so I have a good year to get her to reach the biggest milestones. Of course I am also aware that she may not meet all or any of the bigger milestones but we have to try and I will never give up trying to help Penelope be as independent as possible and to be the best version of herself. I strongly believe that if I sat back and just accepted the therapy available on the NHS Penelope would not even be sitting independently let alone taking steps with support by now. It is because I am fighting and pushing and have also essentially turned into her personal physiotherapist that she is progressing and because of all the big generous hearts that have donated and helped get Penelope the therapy that she needs so far.
Due to Penelope's condition, as her mother and full time carer I have been unable to return to work. As a family we are trying to do everything possible but we are under significant financial burden due to our loss of income and Penelope's additional care requirements. It is not easy asking for help but we are trying to do everything that we can to enable Penelope to walk independently and be as mobile as she possibly can.
The Target breakdown is as follows: NAPA Follow up Programme - 12K (including flights and accommodation), Cosmosuit Intensive Therapy - 3K.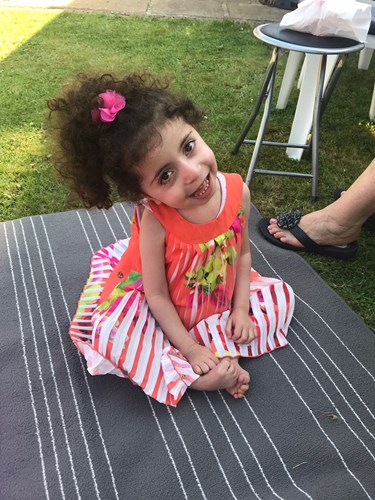 If you feel that you are able to make a small donation to help raise the funds that we need to help Penelope walk, we would be forever grateful. Thank you so much for taking the time to visit and read our page. Please share far and wide!
Love Stella, George & Penelope xxx
Updates
7
7 days ago

Stella Tikkirou

7 days ago

Share this update to help us raise more

4 months ago

Stella Tikkirou

4 months ago

Share this update to help us raise more

4 months ago

Stella Tikkirou

4 months ago

Update on highlights following therapy at Cosmosuit Rehabilitation in Italy - Penelope has discovered her pincer grip, she can hold onto my fingers to take steps with a much firmer grip than ever before, she is stepping more neatly in support and she has found her mouth. This is huge for starting her self feeding journey. Imagine if she could just pick up and eat what she wanted? Imagine what her life could be like if she developed a stronger trunk and could step independently? Lets help Penelope build strength and cognitive ability to walk!

Share this update to help us raise more
Stella Tikkirou started crowdfunding
Leave a message of support
Page last updated on:

12/11/2018

9:30 AM
Supporters
117
Katherine Harper

Dec 11, 2018

A teeny tiny Christmas contribution for Penelope 💕

Janice Jordan

Dec 11, 2018

Happy Christmas and hope this little helps towards your goal

Helen Burness

Dec 10, 2018

Merry Christmas - hope you get out there next year. xxx

Denise Tenn

Dec 9, 2018

Hi Stella, George & Penelope here's a little Christmas present for you! Good Luck with reaching your target for your next therapy trip to the US. Wishing your wishes come true! Denise & Johnny xx

Tracey Panayiotou

Dec 9, 2018

Hello Stella, George & Penelope. I've been following you story and wish you all the love and best wishes in you dedication to bring the best you can for little Penelope. Love Tracey Panayiotou. Xx

Sandy Carter

Dec 8, 2018

Best of luck to Penelope for her therapy, love Sandy (T&O Grandma) X

Faye Carter

Dec 8, 2018

We love you 'enelope T&O x x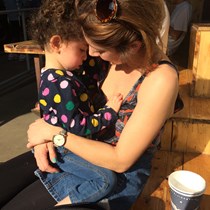 Become a supporter
Help Stella Tikkirou raise more
About the fundraiser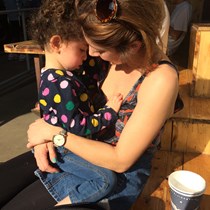 Stella Tikkirou
Hi our names are Stella and George - mummy and daddy to a gorgeous little girl called Penelope, working towards raising enough money to take her back to America for intensive therapy and to Cosmosuit rehabilitation in Italy to help her walk