£1,581
raised of £1,000 target by

44 supporters
James Pickering
We've raised £1,581 to Walk for World Sight Day (Yorkshire 3 Peaks Challenge). Raising money for Andean Medical Mission, Himalayan Cataract Project & Sight For All
Funded on Wednesday, 29th December 2021
Don't have time to donate right now?
Story
Walk for World Sight Day
Globally, 2.2 billion people live with some form of vision impairment – 1 billion of these could be prevented. World Sight Day, which was first held in 2000 as part of the Lions Club International Foundation's campaign SightFirst, was created with the aim to focus global attention on blindness and vision impairment.
Vision Executives was founded with the intention of becoming one of the world's leading eyecare recruitment providers. One of founding principles is to 'provide more than just recruitment services and contribute positively to the community which makes this industry great'. That is why this World Sight Day, 14th October, we are undertaking the Yorkshire Three Peaks Challenge in our 'Walk for World Sight Day' event. This challenge involves walking 24 miles up three mountains, with an ascent of 5200ft, in under 12 hours. We intend to donate the money to worthy #eyecare charities, but there are so many, we struggled to choose! Cue my LinkedIn network of over 5000 eyecare professionals. I asked them for suggestions and I received an incredible number of recommendations.
We would like to thank everyone who nominated a charity, we considered every one of them. As there were so many, we wanted created a shortlist of a few smaller organisations to raise money for but also awareness of their tireless work to improve vision around the world.
3 charities in particular stood out to us: Andean Medical Mission nominated by Martin Rescorle, Himalayan Cataract Project nominated by Koray Alpaslan and Sight For All nominated by Shane Hage.
We reached out to all of these charities to find out how they are tackling the problem of global vision loss. I also spoke to Nick Parker, from the International Agency for the Prevention of Blindness (IAPB) to understand the global strategy in the fight against preventable blindness.
IAPB
The International Agency for the Prevention of Blindness (IAPB), as it is today, was founded in 1975 and is defined as the 'premier eye health body which brings together a unique network of members and membership bodies from across the world.' They were set up to provide a global voice, with the aim to ensure eyecare services are accessible to everyone.
World Sight Day 2021, run by IAPB, intends to 'encourage everyone to think about the importance of their own eye health' with the global #LoveYourEyes campaign. Peter Holland, IAPB's CEO explained how "…more than a billion people worldwide do not have access to eyecare services" which is why they are aiming to get over 1 million people, who have access to eyecare, to pledge to get an eye test this September.
IAPB's key priorities are global advocacy, connecting knowledge, strengthening the network, and providing services in order to help those with preventable vision impairment and ensure those with irreparable vision loss achieve their full potential.
Nick Parker, Head of Partnerships and Income at IAPB, has a background in international development and has plenty of contacts in the ophthalmology and optometry sector, which have proved essential to building IAPB's network.
As an organisation, they have around 20 employees worldwide and gain much of their knowledge through their 180 members, including charities and ophthalmic organisations.
IAPB's knowledge hub, including the Vision Atlas identifies the key global data for eye health. From this data they identified the biggest gaps in eyecare services are in South-East Asia and Africa. In South-East Asia, a growing population and booming economy means eye healthcare need to become more of a priority. Africa, on the other hand, has an increasingly young population in which eyecare issues are exploding. It is paramount that, to prevent vision loss, we focus on making eye healthcare services more accessible in these parts of the world.
Vision loss is at the heart of the organisation. Through recent advocacy work, IAPB have been at the forefront of advocating for the newly adopted targets at the 2021 World Health Assembly. These are for every country to achieve a 30% increase in cataract surgery and 40% increase in refractive outcomes by 2030. Alongside this, they have recently successfully led global advocacy at the United Nations to achieve a landmark, first ever UN resolution for vision. The resolution is the first agreement designed to tackle preventable sight loss to be adopted by the United Nations and enshrines eye health as part of the United Nations' Sustainable Development Goals
IAPB recognise the clear disparity in the eyecare systems of wealthy and poor nations. Collecting data is an important but challenging part of their work in bringing vision care to these countries. "Some countries have good data and systems but there are still many gaps. Good data and reporting is a key element in both developing and delivering eye care national plans and as a key tool for advocacy and policy work" said Nick, whilst talking about their aim to provide global data to support countries and members planning of services.
IAPB lead World Sight Day with the aim to bring the importance of eye health to a wider into the global audience and increase awareness and understanding of the importance of good vision. More information on the 2021 campaign #LoveYourEyes can be found on their website.
Andean Medical Mission
Andean Medical Mission (AMM) was formed by a group of medical professionals in 2011 who recognised the need for eye healthcare in Bolivia. The WHO have listed it as the poorest nation in South America, with 43% of the population living below the international poverty line, and 23% below the international extreme poverty line.
General Manager, Dave Goldsmith, is the charities only full-time employee; doing everything from legal and funding to getting surgeons in front of people and managing patients post operation. Everyone else associated with the charity are volunteers, including the medical board full of experts: Pieter Gouws, Stephen Byard, Bruce McLeod and Gill Wood.
The lack of full-time staff means there is no need for a head office and very few overheads, therefore, donations can be focussed on the surgeons and patients. Most of their money is spent on equipment, consumables for surgery and travel to incredibly remote villages which can sometimes take them 3-4 days. There is very little contact with the outside world, making finding and treating patients an immense logistical challenge.
The funds Vision Executives hope to raise would likely go towards these causes, or the training of Bolivian village doctors. Generous donations of lenses, medicines and equipment from companies including Altomed, BVI Medical and Thea Pharmaceuticals, means the Andean Medical Mission's operating costs are around £100 per case, suggesting donations are used where they are most needed. Regarding the small overhead and the charities aim, Dave explained that "improving vision with surgery but also managing trauma, improving communications and working with the Ministry for health is what separates AMM from the big charities".
Back in 2011, a small team of four headed to Bolivia where they found lots of blind people. "We had all our equipment stolen at customs, but we managed to beg, borrow and steal some stuff and we ended up doing 100 operations" Dave said. Since that trip the team have returned every year and operated on over 1000 people as well as making hundreds of pairs of glasses and treating patients for infections, skin tumours, glaucoma and other blinding eye related conditions.
Following the initial trip, AMM have purchased and imported surgical equipment to allow for regular trips and services. Several milestones have been hit including operating on a bilaterally blind baby, training over 100 Bolivian village doctors to manage eye emergencies and ocular trauma. In 2020, online consultations with UK ophthalmologists began with the intention to help Bolivian doctors diagnose and treat their patients.
"We operate on everyone that we can" Dave told me. "We bring in the best surgeons. We only operate on what we can fix, we don't leave people worse off". The charity focuses on the lives of their patients. They make sure their donations go to train the best they can get.
"There are 15 ophthalmologists per million population in Bolivia". A shocking number, but one that highlights the significant lack of eye healthcare in the country. Andean Medical Mission are currently supporting the COVID-19 vaccination process in Bolivia, once completed, they can once again focus on bringing much needed ophthalmology to the country.
Himalayan Cataract Project
Himalayan Cataract Project (HCP) was established in 1995 by Dr Sanduk Ruit and Dr Geoffrey Tabin, with the intention 'to eliminate preventable and curable blindness in under-resourced communities.'
Whilst in Nepal, Dr. Geoffrey Tabin witnessed a Dutch medical team perform cataract surgery. He described it as 'not only restoring sight,' but 'it restored life to the people in the village' Dr. Tabin recognised the impact blindness of one person can have on a community, not only taking the blind person out of work, but an able-bodied person who will look after them. He returned to America and trained to become an ophthalmologist and did advanced training in complex cataract surgery and corneal transplant surgery, so that he could return to Nepal and make a difference to the communities there.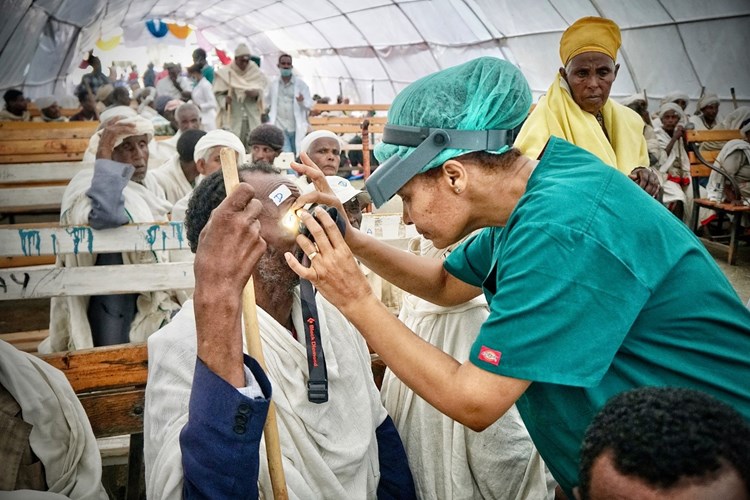 Upon his return, Dr. Tabin began to work with Dr. Sanduk Ruit, who was from a remote Nepalese village. Dr. Ruit's aim was to bring high-quality eyecare to Nepal at an affordable cost, using a simplified cataract surgery refined by Dr Ruit – a small incision surgery. Within three days of working in Nepal, Dr. Ruit and Dr. Tabin had restored sight to 224 people using this model of cataract surgery.
I spoke to Job Heintz, CEO of HCP. He explained that the cost of the sight-saving surgery is around $25 USD in the field, the most complex reaching $100 USD. Dr. Ruit also worked with Australian ophthalmologist, Fred Hollows, to manufacture Intra-Ocular Lenses for cataract surgery in a factory in Kathmandu, not only reducing the cost of surgery, but providing work opportunities within the country, supporting Nepal's economy. Companies such as Johnson & Johnson Vision, Alcon and Zeiss have all supported HCP and aided them to further reduce the cost of their surgeries.
Dr. Tabin and Dr. Ruit recognised that to create a successful eye healthcare system in Nepal, teaching and education was a priority. Job highlighted the importance of "sharing knowledge with local people, who want to be wherever their home is" as a way of educating and producing successful eye healthcare systems.
Today, HCP has supported projects in multiple countries, including China, India, Bhutan, Indonesia and Tanzania. In 2008, they began their first partnership in Ethiopia, where up to 900,000 people are affected by cataracts. HCP works with hospitals and clinics within 5 regions of the country with the goal to strengthen eye healthcare in the places it is most needed.
Job described Nepal as "the only poor country that has overcome the backlog of blindness" thanks to the small incision surgery. With a focus on the empowerment of the people they work with through training, the charity hopes to repeat the success the small incision surgery has had in Nepal throughout other low-income nations.
Himalayan Cataract Project's care can be described as quality but low-cost, particularly as it was started and is primarily run by ophthalmologists who are leaders in their field and subspecialty. Thanks to HCP, 'the rate of blindness in Nepal has dropped from 1 blind person per 100 to less than 0.2%,' suggesting they are successful in achieving their goal.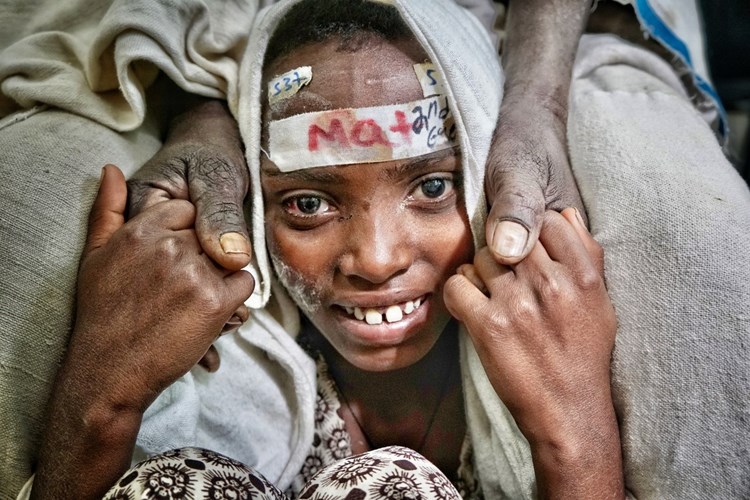 Sight For All
Sight For All was established by three Australian ophthalmologists with the aim to deliver eyecare projects to communities and countries most in need. As 90% of vision impairment is preventable or treatable, Sight For All is focussed on providing sustainable solutions for blinding conditions including refractive error, glaucoma, retinal and diabetic retinopathy.
Sustainability is paramount in their work, ensuring colleagues can provide services, even when Sight For All's ongoing support is no longer there. "Educating Fellows from partner countries in various ophthalmic sub-specialty areas" is part of the charity's sustainable solutions, Judy Hatswell, Executive Officer at Sight For All explained to me.
Alongside sustainable education, the charity has three more key strategies: Collaborative research (such as their 2009 research into childhood blindness in Cambodia), infrastructure support (providing equipment, establish units and train people) and community eye health awareness. To succeed with the latter, Sight For All are taking part in their third World Sight Day, have ongoing projects on childhood vision loss and are upskilling and equipping eye hospitals. How they choose to help and which subspecialty they will focus on depends on the requests they receive from the country they are supporting.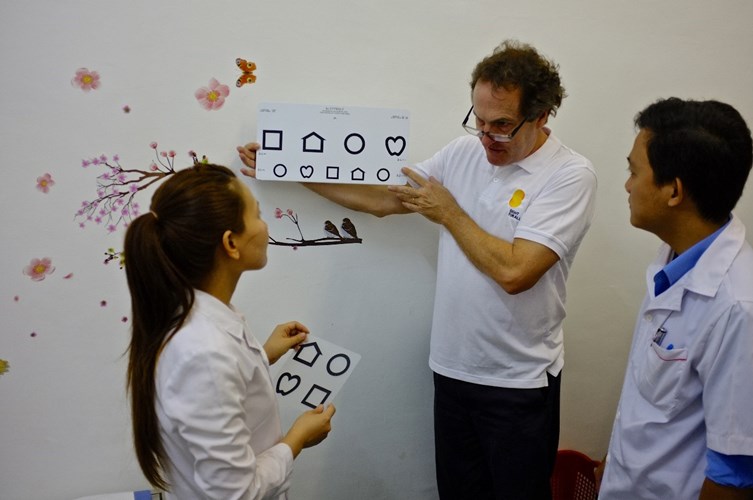 Sight For All recognised that help is most needed in South-East Asia, where developing countries such as Mongolia, Cambodia and Sri Lanka represent '90% of vision loss needs'. "South-East Asia is close to Australia, so when we are needed, it is close …to travel to" Judy said.
The charity is supported by a voluntary team of over 120 eyecare professionals. Sight For All call them their Visionaries; professionals who 'travel to partner countries to teach, mentor and guide colleagues in their own environment'. Judy told me that the biggest challenges faced in the last year were the travel ban, meaning Visionaries couldn't conduct their work in the field, but also the inability to fundraise at large events. Prior to the pandemic, Sight For All had planned a project in Ethiopia, looking to engage ophthalmologists in the UK, which they hope to be able to implement very soon.
Alongside their fundraising events, there are numerous corporate sponsors who have supported Sight For All and helped reduce their overall costs, including: Zeiss, Optos and Ellex.
Sight For All intends to put the funds Vision Executives raise towards childhood blindness research, such as an in-country follow up on their 2009 Cambodian Childhood Blindness Study. They may also put it into a single-country associated project, such as aboriginal projects, or into online learning projects to make information and knowledge more accessible.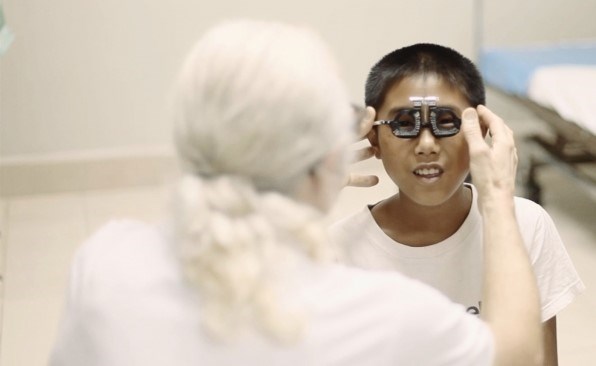 There you have it, three worthy charities who are making a significant impact in the world of vision loss. We will be climbing a peak for each of these charities this World Sight Day, as recognition of their excellent and important work.
We'll be keeping an eye on how each charity develops. World Sight Day's #LoveYourEyes campaign will hopefully encourage more people to become aware of the importance of eyecare, and to make the most of the eye healthcare system they have access to.
If you have enjoyed reading this article, please consider donating to our fundraising campaign Walk for World Sight Day.
Updates
0
James Pickering started crowdfunding
Leave a message of support
Page last updated on: 10/21/2021 08.50
Supporters
44
Vision Executives Company Donation

Oct 21, 2021

Carl Sponsorship

Oct 20, 2021

HUB26 Sponsorship

Oct 20, 2021

Brenda Stone

Oct 17, 2021

Well done everyone

Mike Walsh

Oct 14, 2021

Well done all!
Crowdfunding is a new type of fundraising where you can raise funds for your own personal cause, even if you're not a registered nonprofit.
The page owner is responsible for the distribution of funds raised.
Great people make things happen
Do you know anyone in need or maybe want to help a local community cause?
Create you own page and don't let that cause go unfunded!
About Crowdfunding
About the fundraiser
James Pickering
James the Managing Director of Vision Executives and is an eye care recruitment expert who has developed an extensive client base and candidate network. He regularly writes articles about industry developments and has received numerous recommendations from industry leaders.