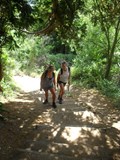 Sydney's Climbing Kilimanjaro
Event: Sydney Huggins's fundraising
Sydney Huggins
£2,018.00 raised of £1,200.00 target
61 donations
My Target:
£1,200.00
£2,018.00 raised so far
Donate
How to make a donation
Donate online at - www.justgiving.com/Sydney-Huggins
By mobile internet Scan this code on your smartphone to go straight to Sydney Huggins's page.
By text message to donate £10 Text ALQK48 £10
to 70070
Story
*******************UPDATE 05/09/10***************************
First of all I'd like to say a big thank you to everyone that has sponsored me, I've been blown away by the support I've received, and in the darkest moments on the mountain (and there were some dark ones, let me tell you), the thought of everyone back home rooting me on kept me going, one foot in front of the other.
I've now been back in the UK for a week and the magnitude of what I, along with Kate and Carina my two pals, achieved is finally sinking in. Out of 100 people that climb Kilimanjaro daily in the peak season, only half make it to the summit. But we did it. We bloody did it!
*******************UPDATE 13/08/10***************************
IT'S TODAY!!!!
Today, Friday the 13th, I leave for my trek up Kilimanjaro - some may say that's bad luck, I say bring it on! (and thank god for insurance)
I am all vaccinated, packed and ready to roll. This is it guys.
WISH ME LUCK,
Sydney (currently in possession of all her limbs)
*******************UPDATE 11/08/10***************************
It's now just 2 days before I leave and I am currently at 99% of my total fundraising target. Huzzah! And many, many thanks to all who have donated.
The nerves are now gone and I am just really, truly excited about getting going now. I am swotting up about the history of Kilimanjaro - reading everything I can get my mitts on. I will be a walking Kilipedia by the time I get back.
Doing a bit of last minute shopping today, going to buy insect repellent by the kilo! Also on the lists are some flip flops- for chilling out on the beach in Zanzibar after the trek.
That's it for now, will update once more before I leave on Friday. Wish me luck!
***************UPDATE 06/08/10*******************************
In exactly one week today I will be making my way to the airport. The mixture of excitement and anxiety is unlike anything I've ever experienced before. In as much as I cannot wait to go, I am also absolutely petrified. 
In the last few weeks I have started having visions of myself falling over/down stairs/ out of bed and breaking my legs, so that I can't to Kilimanjaro. And, just in case these are psychic visions, I have been avoiding loose paving stones, holding on to handrails and taking extra care doing everything.
And if I ever get too freaked out about what I'm about to attempt, a little bit of Monty Python reminds me it could be worse! http://www.youtube.com/watch?v=46btEgKmCTo
**************UPDATE 28/07/10********************************
When I tell people that I'm climbing Kilimanjaro (in under 3 weeks eeek!) one of things I'm often asked is if I'm an experienced mountain climber. The answer to this is no. But I'm likely to tell you all about my Duke of Edinburgh expeditions and how much I love climbing/walking/nature/all of the above. The truth is that those treks were about 7 years ago now, and that I haven't done this kind of climbing for a very, very long time.
So, to prove that my legs are still in working order and will cover the kind of distance required for Kilimanjaro, me and my trekking buddies Kate and Carina embarked on a weekend of hiking in the Dorking area. Over 2 days we walked around the Surrey 3 peaks, covering Box Hill (practically a mountain in itself) and around 26 miles. We had some near misses with some pesky dirt bikers trying to run us down, and got lost more than once - though we refused to admit this to ourselves or kind passing strangers.
What we learned:
1. Do not get in the way of a dirt bike, it will mow you down.
2. You must say 'Hi' in a high-pitched voice to any passing walker, it's the code - if you don't they will send the dirt bikes after you.
3. If in doubt, just keep walking - you'll get there eventually.
4. It's a bloody good job that we'll have a guide taking us up the mountain as we can't navigate for peanuts.
5. Our legs can take at least 2 days of consecutive walking and not fall off!
All in all a successful hike. I have uploaded some photos of our walk on the left hand side - check them out, and don't forget to donate!
Hello, hello, hello!
So you've probably heard by now, or maybe you haven't, but on 14th August I will be attempting to climb the biggest mountain in all of Africa - Mount Kilimanjaro. Am I crazy? Quite possibly...
At 19,334 feet above sea level and the fourth highest free standing mountain in the world, this will be no mean feat. I will be battling extreme temperatures, altitude sickness, fatigue, blisters, farting (yes farting! A major side effect of adjusting to altitude) and of course, those pesky mosquitoes. But I shall be doing it all with a smile on my face and two of the best pals a girl could ask for, Kate and Carina.
So what's all this in aid of? I am hoping to raise £1,000 for The Royal Marsden Cancer Campaign. The Royal Marsden Hospital treats 40,000 patients every year and is internationally renowned for its ground-breaking work in patient care, researching new drug therapies and treatment.
I have paid for the whole trek myself, so every single penny will go directly to the charity to help the The Royal Marsden continue to do it's wonderful work. Please dig as deep as you can, every little does help - and don't forget to tick the Gift Aid box if you are a UK taxpayer.
I will continue to update this page in the run up to my trek, so keep checking back, and every time you chuckle at the thought of me huffing and puffing up a mountain - donate some more!
Many Thanks and Much Love to you all,
Sydney
Raising money for

Charity Registration No. 1095197
Imagine a future beyond cancer. At The Royal Marsden we're dedicated to making this happen. We're a world-leading cancer centre, pioneering new treatments that save lives. Support The Royal Marsden and you're investing in a future beyond cancer for you and for everyone you know.
Raising money for
Charity Registration No. 1095197
Donations
61

well done Sydney!
Donation by Some of the The Railway regulars! on 11/10/10
£120.00
+ £33.85 Gift Aid

Well done for a grand cause
Donation by John Orphanou on 08/09/10

Squid, I am so proud of you for what you have achieved. Next up Everest! Lots of love Emmy x
Donation by Emma Hayes on 02/09/10

Well done Syd, sorry this is so late! Must catch up soon and you can tell me all about it! lots of love xxx
Donation by Tosca Barnes on 01/09/10

Congratulations on you hard work and rasing so much money for a great cause. Steve
Donation by Steve Wallis on 28/08/10

Well done huggo! Sorry this has been a long time a comin' lots of love xxx
Donation by Amy Lecomber on 26/08/10

Is this the Sydney Huggins daughter of Pat & Tina? cant be! sounds like a good cause so will donate anyway. Well done Syd
Donation by Debbie Webber on 25/08/10

Better Late than Never - Phil @ IPR
Donation by Philip Lane on 22/08/10

Well done my love! Fantastic achievement! Enjoy the rest of your trip! xxx
Donation by Lara Harris on 20/08/10

Good luck from Mark Victoria Ruby and Scarlett
Donation by Mark Ryan on 18/08/10

Well done you XX Trevor & Jill Mitchell
Donation by Trevor Mitchell on 18/08/10

sorry this is late have been away so couldn't send it earlier but will done!!!! xxx
Donation by carrole Curtis on 17/08/10

Donation by Mark Rayner on 16/08/10
£100.00
+ £28.21 Gift Aid

Sydney, hope the flipflops worked well on the climb & hope the nail polish didn't rub off. Well done for doing this for this charity. Simon & Elaine
Donation by Simon Offley on 16/08/10

What a great experience and good for your charity as well.
Donation by Leo Zeglovskis on 16/08/10

Must be fitter than your Dad!!!good luck,Lingy x
Donation by Ian Ling on 15/08/10

Note that i'm 71p more generous than my sister. All i'm saying. Lots of luck and love. xx
Donation by Ellie Maltby on 13/08/10

Can't remember if we've met in the Railway, but best of luck anyway
Donation by Roger Mercer on 13/08/10

Go for it Syd! Note this is more than Nick donated....
Donation by Tony Heywood on 13/08/10

Jambo Sydney abari a sabui.just say that to all passing Kenyans & they will know you are friendly.Drink plenty of gin & tonic to keep mossys away. xx
Donation by RAYMOND Maltby on 12/08/10

Can I have another Nigella cake now?! Also please try not to damage yourself too much on this mountain, you haven't got the best track record... x x x
Donation by Hannah Maltby on 12/08/10

How exciting. Best of luck Bob and Lotte
Donation by Lotte Tisdall on 11/08/10

Good luck hunibun - Will be thinking of you!!xx
Donation by Jo Antoniadis on 11/08/10

Sydney so proud of this massive undertaking.With you in spirit.from the Bears and Archie loona
Donation by Paul Newbery on 11/08/10

Very best wishes Sydney.
Donation by Michael Masterson on 11/08/10
Donation summary
* Online donations£1,688.00

Offline donations

£330.00

Text donations

£0.00
Tear me off and take me home