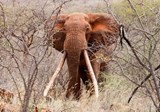 Tsavo Trust: Extra Protection For The Last Giants Of The Elephant World
Tsavo Trust
£15,401.45 raised of £20,000.00 target
286 donations
My Target:
£20,000.00
£15,401.45 raised so far
Donate
How to make a donation
Donate online at - www.justgiving.com/Tsavo-Trust-Elephants
By mobile internet Scan this code on your smartphone to go straight to Tsavo Trust's page.
By text message to donate £10 Text QBRT50 £10
to 70070
Story
TUSKS RIGHT DOWN TO THE GROUND...
Have you ever seen an elephant with tusks that reach all the way down to the ground? These huge elephants, a few of which still exist in remote reaches of Africa, are in peril. They need our help.
YOUR DONATION HERE CAN HELP LOOK AFTER SOME OF THE WORLD'S LAST GREAT TUSKERS.
TSAVO'S AWESOME 'HUNDRED POUNDERS'
Historically, elephants carrying tusks weighing in excess of 100lbs (45kg) per side were known as 'hundred pounders' and were much sought after by hunters and poachers alike. Today, at least 12 of these giants remain in Kenya's greater Tsavo Conservation Area, and it is their protection from ivory poachers (alongside the protection of other impressive bulls that will become Tsavo's 'hundred pounders' of the future), which provide the rationale for the Tsavo Trust's 'Large Elephant Monitoring Project'.
THE RUST-RED ELEPHANTS OF TSAVO...
At over twice the size of Israel, the greater Tsavo Conservation Area is a vast, wild area of awe-inspiring natural beauty and incredible biodiversity. The area boasts Kenya's single largest population of elephants – famously red in colour due to Tsavo's rusty earth tones – numbering 12,000 animals at the last census (February 2011). This might sound a lot – but not when you consider that in the late 1960s there used to be 35,000 elephants in Tsavo. Among the surviving population is arguably the world's last viable gene pool of elephants carrying exceptionally large ivory.
THE ESCALATING IVORY POACHING THREAT
Over the last 18 months, the poaching of elephants for their ivory has increased alarmingly across the African continent. A recent atrocity accounted for 11 elephants, gunned down in cold blood along Tsavo's Tiva River in January this year. The incident made headlines and appalled people around the world. One thing is certain: if Tsavo's 'hundred pounder' elephants are not secured today, they and their gene pool will soon be gone forever.
TSAVO TRUST'S 'LARGE ELEPHANT MONITORING PROJECT'
Working in close collaboration with the Kenya Wildlife Service (KWS) and alongside research and conservation partners including Save The Elephants, the Tsavo Trust monitors the elephant populations of Tsavo, with a specific emphasis on the large 'tuskers'. Richard Moller, Tsavo Trust's Chief Conservation Officer, is carrying out this monitoring, with the indispensable help of our light aircraft, 5Y ACE, which has spent a long lifetime flying for conservation over Tsavo and other Kenyan National Parks. In such a huge, remote place as Tsavo, an aircraft is a vital conservation tool, providing an additional 'eye in the sky' in conjunction with KWS's own aircraft.
As well as contributing to scientific data collation, the reports transmitted real-time from the Tsavo Trust aircraft can assist KWS in mounting an appropriate response to any identified threats to Tsavo's elephants. To that end, the KWS team on the ground has warmly welcomed the Tsavo Trust's participation in their conservation efforts. Considering the sheer size and geography of the area being surveyed, no single effort can ever be a 'catch-all' solution – as was so tragically demonstrated by the recent incident on the Tiva - but the Tsavo Trust aircraft can make a measurable difference to the safety of elephants in Tsavo – and so can you by helping us to do this job.
CONSERVATION AND ECONOMICS
Protecting Tsavo's magnificent 'hundred pounder' elephants is not just a question of conservation. These giants among giants also represent a significant economic asset to Tsavo and to Kenya. Tourists coming to view Tsavo's wildlife are staggered when they encounter one of these mighty beasts, and just knowing that they are there draws many people to Tsavo, bringing with them tourism dollars, employment and wider business opportunities. From a biodiversity perspective too, these animals are rare specimens, the pinnacle of their species.
OUR LAST CHANCE IS NOW
Today, we are witnessing an 'ivory rush' fuelling a poaching frenzy, unchecked by weak legislation which provides little deterrent to poachers, while the Far East lusts - seemingly insatiably - for more and more ivory. Tsavo's last surviving 'hundred pounders' and the elephants following in their footsteps are in peril. They need all of our help. Once the 'big tusker' gene is gone, it is gone forever.
AN INVESTMENT FOR ELEPHANTS AND PEOPLE
It costs Tsavo Trust £5,500 / $8,000 each month to keep our aircraft flying over Tsavo, monitoring Tsavo's last great tuskers and famous red elephant herds. Your donation can help provide extra protection for these awesome giants of the animal kingdom, while safeguarding people's livelihoods that depend on wildlife tourism.
Any amount, large or small, will do a lot to help - here are a few examples of what your donation can accomplish:
£5,500 / $8,000 keeps our conservation aircraft airborne for one month, including fuel, maintenance and all associated running costs.

£1,840 / $2,940 keeps fuel in our conservtion aircraft for one month.
£625 / $1,000 covers the cost of two essential aircraft safety and maintenance checks, required by law every 50 hours of flying.
£160 / $260 keeps our conservation aircraft in the air for one hour, including fuel, maintenance, and all associated running costs.
£120 / $185 contributes towards the salary of an aircraft attendant, helping to provide employment in an area of high unemployment in Kenya.
£16 / $25 pays for a monthly supply of aero oil, essential for the functioning of the aircraft.
£10 / $16 provides a useful contribution to Tsavo Trust's 'Large Elephant Monitoring Project' when combined with support from our other partners.
Thank you!
KEY PLAYERS IN TSAVO TRUST'S 'LARGE ELEPHANT MONITORING PROJECT'
Project Leader:
Richard Moller – Tsavo Trust Chief Conservation Officer; bringing eleven years of conservation management experience at Lewa Downs Conservancy followed by two years in Tsavo; full time Tsavo resident.
Supported by:
Hon. Justice Nzioki wa Makau – Chairman of the Tsavo Trust Board; a Judge of the Industrial Court of Kenya, lifelong conservationist and Tsavo enthusiast.
Tanya Saunders – Tsavo Trust CEO; "born and bred" in Tsavo, and bringing with her 14 years conservation education and non-profit management experience (at Tsavo Trust's partner organisation, AEFF); full time Tsavo resident.
WITH THANKS TO TSAVO TRUST'S PARTNERS AND SUPPORTERS OF OUR 'LARGE ELEPHANT MONITORING PROJECT'
Stuart Herd, a Kenyan entrepreneur who has generously supported Tsavo Trust from its inception, has loaned Tsavo Trust the light aircraft 5Y-ACE, an invaluable contribution without which the project would not be possible.
Thanks also to Ian Craig, Garry Cullen, Marie de Brouwer and Tina Allen for their contribution towards the construction of Tsavo Trust's 'Ngiluni Airstrip', from where 5Y ACE takes to the skies.
Save The Elephants, a highly respected elephant research & conservation organisation, which has been working with elephants in Kenya for twenty years, has come forward with substantial support for Tsavo Trust's 'Large Elephant Monitoring Project'. They have already funded the initial aircraft service, ensuring the airworthiness of our light aircraft, as well as funding the construction of a hangar to house it and protect it from potential saboteurs and – you guessed it – mischievous elephants! Save The Elephants have pledged further funding throughout the year to help keep the Tsavo Trust's eye in the sky up there, where it needs to be to help look after Tsavo's great tuskers.
Tusk Trust in the UK is partnering with Tsavo Trust to provide us with a fundraising platform. That's why this page which you are on now links to their JustGiving site – but rest assured, thanks to Tusk's support, your donation will find its way efficiently and expeditiously to us here at work in Tsavo, Kenya.
African Environmental Film Foundation (AEFF) and Tsavo Trust are developing a partnership to fulfil a conservation education role alongside the provision of hands-on conservation solutions.

Tsavo Trust's 'Large Elephant Monitoring Project' is conducted in support of and alongside the Kenya Wildlife Service, whose mandate includes the management of Kenya's National Parks and protection of all the country's wildlife, no matter where it exists.

TSAVO TRUST
Tsavo Trust is a Kenyan non-profit organization, formed by five long-time Tsavo residents - professionals from the conservation, wildlife management and legal fields who share a passion for the region. Recognizing the interdependent relationship between wild animals, people and the environment, the Tsavo Trust's goal is to support wildlife, habitats and communities in the greater Tsavo Conservation Area.
THE GREATER TSAVO CONSERVATION AREA
Due to its vast size and magnificent biodiversity, Tsavo is one of Kenya's most important ecosystems. Spanning 42,000 square kilometres, the TCA incorporates the country's largest officially protected areas (the adjoining Tsavo East, Tsavo West and Chyulu Hills National Parks, managed by the Kenya Wildlife Service) as well as surrounding cattle ranches, private and communal lands (many of which host large numbers of wildlife dispersing from the Parks, including elephants).
Your donation here can help protect some of the world's last remaining great giants of the elephant kingdom still surviving in the greater Tsavo Conservation Area.
Thank you.
Raising money for

Charity Registration No. 803118
Protecting Wildlife – Supporting Communities – Promoting Education Tusk is a dynamic organsiation with twenty years experience initiating and funding conservation and community programmes throughout Africa. The charity, whose Royal Patron is Prince William, has an extensive range of projects intended not only to protect wildlife, but also to promote education and alleviate poverty through sustainable development amongst rural communities.
Raising money for
Charity Registration No. 803118
Donations
286

#RaceForGiants Collection Tins in and counted! thanks for all your donations.
Donation by Pete Stewart on 09/10/15

Fiona Animal Refuge of Hidalgo, Mexico supports The Animals of Tsavo.
Donation by Anonymous on 25/09/15

In memory for Satao
Donation by Thomas Müller on 02/06/15

Donation by Jessica Wang on 17/04/15

All best for 2015 and for Stabilcon. Looking forward to a fix of Big Tusker Monthly!
Donation by Samiullah Khan on 08/02/15

Thank you for doing the work that you do.
Donation by Marian Maxwell on 25/11/14

For the protection of our magnificent big tuskers.....although all elephants are magnificent, and deserve our protection!
Donation by w. Cimicata on 17/11/14

For your great work!
Donation by Thomas Müller on 07/10/14

Donation by Anonymous on 17/09/14

Thank you for all you do for the elephants of Tsavo.
Donation by Janet Goss on 14/09/14

Keep fighting the good fight. All the best from Australia.
Donation by Alex Dietrich on 14/09/14

Donation by Anonymous on 11/09/14

Happy World Elephant Day!
Donation by George Dalzell on 12/08/14

This is for Satao and Mountain Bull. May the poachers, those who support them, and all who buy ivory suffer for taking them from us. My heart breaks. Thanks to Tsavo Trust and DSWT for all they do.
Donation by Jane Morrow, New Zealand on 06/08/14

Thank you so much for all that you do for the Elephants!
Donation by George Dalzell on 02/08/14

I am inspired by your great efforts to protect the elephants!
Donation by Carla on 28/07/14

The world needs to know how all concerned people can help preserve the lives of the magnificent elephants of Tsavo, and all of Africa.
Donation by Susan McColley on 26/07/14

Keep up the good work team.
Donation by Your friends in Australia on 13/07/14

Donation by Anonymous on 12/07/14

Please do everything for these beautiful creatures!!
Donation by Anonymous on 11/07/14

I pray that one day these majestic beauties will be safe & happy!!
Donation by Anonymous on 09/07/14

Donation by Michelle on 08/07/14

Donation by Gill Christensen on 07/07/14

Good luck - you guys are part of the thin line standing in defense of Africa's big game.
Donation by Journeys Discovering Africa on 07/07/14

To protect the last hand full of magnificent big tuskers so we can all see them In their own habitat for years to come!
Donation by Dave on 07/07/14
Donation summary
* Online donations£15,401.45

Offline donations

£0.00

Text donations

£0.00
Tear me off and take me home