Story
Aberdeen Football Club's partner charity AFC Community Trust (AFCCT) was established in 2014 and now are marshalling their forces to support fans and the wider community in the North-East more than ever to overcome the challenges of coronavirus.
The core focus of our efforts is to work in partnership with Community Food Initiatives North East (CFINE) to make deliveries of food to areas where we already work to reduce food poverty, supporting children during the school closures.
We aim to provide a delivery service five days a week operated by AFC and AFCCT staff and volunteers.
Since we started the delivery service on 20 March, we have already supported almost 700 children reaching over 1000 people in total across the city and shire.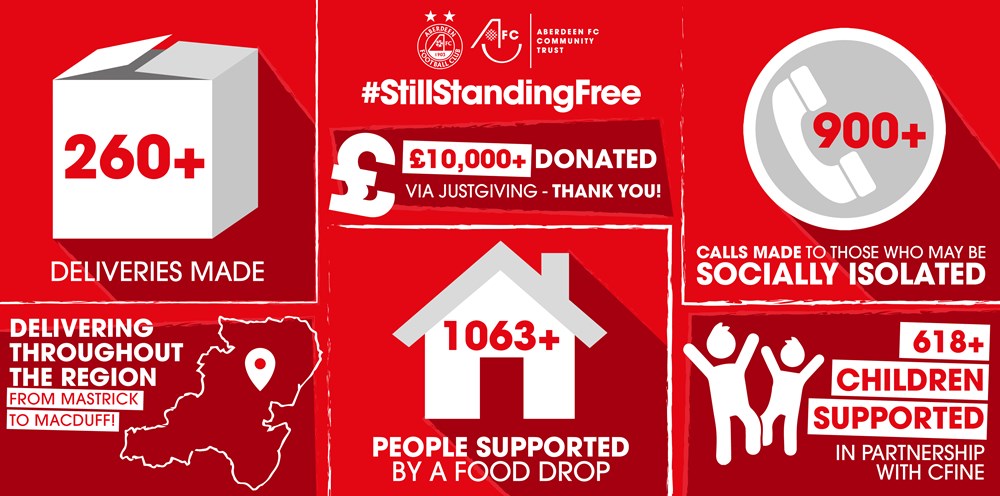 AFC Chairman, Dave Cormack, said: "Aberdeen Football Club has been at the heart of our community for over 100 years. Today, we stand ready to do whatever we can to assist the community in what is a rapidly escalating, unprecedented situation."
One supporter we have helped commented: "Just wanted to say a big thank you to you all for your amazing gift of generosity, you've taken a big load of my mind x god bless and keep you all safe. Once again many thanks."
By donating to AFCCT you will help our community in Aberdeen and the North East of Scotland during these unprecedented times. Your donations will help support some of the most vulnerable people in our community in the coming months. Your donation will provide direct support and will enable the Trust to fund this activity during this uncertain period!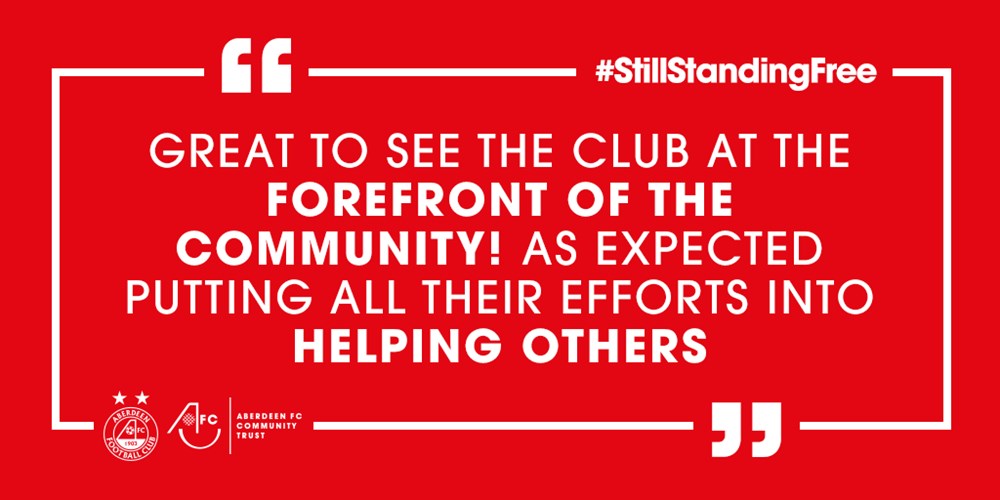 Over 500 Dons fans have already been bolstered by a phone call from the Club in the last week. Whether from a Club representative, a former player or a first team player, these checkin calls have been the highlight of the day for elderly fans during the coronavirus imposed lockdown.
Acknowledging the value of these calls and the deliveries of food and essentials to the most vulnerable in the community, the Club is working even more closely with the AFC Community Trust, to reach as many fans as possible.
To enable the Trust to continue this valuable community outreach programme AFC board directors, have pledged to donate 10% of the total revenues generated by the sale of season tickets, throughout April, to the Trust.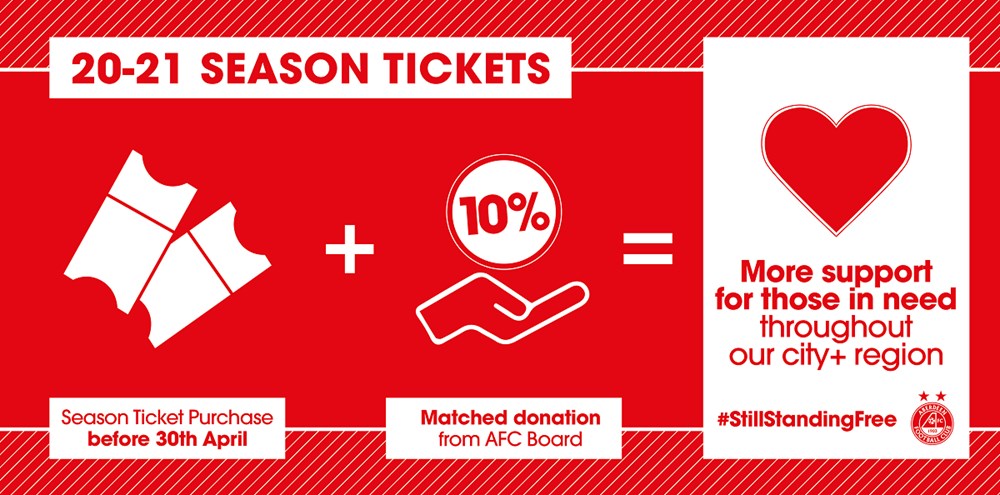 Liz Bowie, chief executive of AFC Community Trust, said: "We're absolutely blown away by the generosity of the AFC Directors. If AFC fans continue to purchase season tickets throughout April at the rate they have been recently, then the Trust will benefit enormously and, as a result, will be in a position to provide even more support to the wider community. Its a win win situation for both the Club and the community."
20/21 season tickets are available now online via afc.co.uk/eTickets, or by requesting a call back by emailing ticketoffice@afc.co.uk.
Thank you for your support.
#StillStandingFree