Story
The COVID-19 pandemic is unsettling for all of us, but it is especially scary for the most vulnerable members of our communities, including families already coping with the distress of cancer or other life-limiting conditions.
As the world reacts to the Coronavirus, the fears and concerns of these families have not gone away. In fact, the pandemic brings new worries as many of the people that CancerCare support are more at risk of becoming seriously ill if they contract the COVID-19 infection.
Some cancer treatments are being delayed by the outbreak of the virus, many people can no longer attend our centres for face-to-face help, access to food and medical supplies has become more difficult and others are now physically cut off from friends & family; feeling more isolated than ever. As a local charity with a proud history, CancerCare has always been committed to providing responsive support to those affected by cancer. That commitment has not changed in light of these unprecedented circumstances and so, as well as offering our existing counselling service by telephone, we are also launching:

These services have been launched today to ensure that support is available immediately, but there are no extra funds waiting to keep the services running for as long as they are needed.
We are asking for your help, please join us in protecting those in our community who are most in need.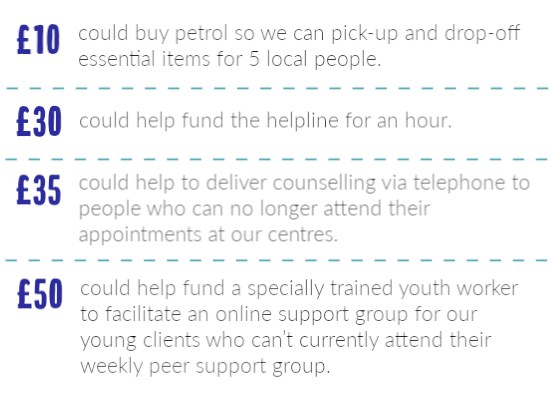 If funds raised exceed the target for this appeal, they will be used to deliver CancerCare's core work in supporting local families affected by cancer all year round.