Story
Together We Can Make a Positive Impact!
Dear Friends of The First Tee Central Coast,
We appreciate all you have done to support us this year. We can't accomplish our goals without you. As 2019 comes to a close we are ending with one last appeal.
Thanks to you we have:
Introduced over 30,000 children to our Life Skills curriculum & the game of golf this year.
Provided financial aid assistance to half of the participants in our paid programs and did not turn anyone away!
Provided no fee services to our partnerships with 64 elementary schools, 7 junior high schools, YMCA's, Los Prietos Boys Camp, A-OK Afterschool Program, Vandenberg Air Force Base, Girls Inc. and Boys & Girls Club.
Sent 4 of our Central Coast participants to National The First Tee Leadership Academies and playing opportunities all around the country; including Claire Alford getting to play at Pebble Beach in the PGA PURE Championship partnered with PGA Tour Professional Jay Haas (pictured)!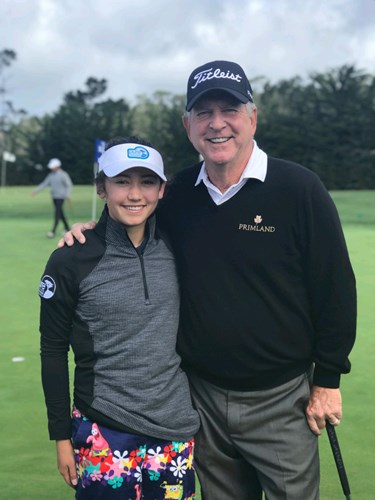 Did you know?:
The First Tee Central Coast is a 501(c)(3) and all donations are tax deductible. EIN 77-0524816
Even though we are under the umbrella of The First Tee National organization, we do not receive financial support from them.
We have a yearly budget of $475,000 per year and we only receive $90,000 of that from participant fees. All of the rest comes directly from the community via donations, our fundraising events, local grants and the generosity of people like you.
We are not just about teaching the game of golf. Our primary focus is character development, teaching valuable life skills, core values, and healthy habits with golf as the vehicle.
We are not just for little kids or beginner golfers. As participants progress through our program the life skills they are learning include things like time management, goal setting, team building and leadership. Things that help teenagers navigate their life in a positive direction during the high school years. Participants that stick with us are provided with mentorship opportunities, TFT National Leadership opportunities, college scholarships and so much more.
We strive to reach children that wouldn't ordinarily be exposed to the game of golf & its core values.
The following is an excerpt from a Facebook post written by an accomplished caddy who caddied for Jay Haas at the PURE Championship at Pebble Beach last month. I think he perfectly captures the qualities of our TFTCC participant Claire Alford who played with Jay that day. Claire is a great example of what our coaches are teaching our young participants as well as what opportunities are available for our participants who stick with TFT into their teens. This is a good read and may even help your golf game.
Im caddying in the First Tee Champions Tour event at Pebble Beach. Each tour player is paired with a First Tee junior player who is not chosen strictly on golf ability but for being a good person. They have core value standards that must be met. We are paired with a young lady named Claire Alford from Central California. She is 16 years old and plays to a 2.2 handicap. A beautiful player.
I've been around golf my entire life, started playing over 60 years ago. Ive been exposed to Sarazen, Hogan, Snead, Nelson, Palmer, Jack, Gary and on and on all the way up to Tiger and Phil. Im a bit embarrassed to say that I may have learned more about how to play the game from 16 year old Claire yesterday. Im not talking about technique, course management, short game etc. Im talking about playing the game for the right reasons. She plays with an innocence, a spunk, a wonderment, a flair, a presence, a poise, a purity and with a demeanor like no other. She plays the game with a swing that is not marred by fear or thought. She plays the game the way it was meant to be played. I play the game warding off negativity, fear, unreasonable expectations, self hatred, self loathing, anger and many more demons than I care to share.
I asked Claire if she was going to play college golf and she replied my life would be better served if I pursued medical school but I will always be a golfer! I was stunned to hear that come from this young lady at 16 years old. As the round wore on, I couldn't take my eyes off her. I watched her prepare, I watched how she handled poor shots and great shots. I watched her etiquette, how she handled herself with Jay and the other 2 successful amateurs. At no point in time did she not fit. Simply a remarkable young lady.
So.......this is why golf is so great. Even though I come from a pretty cool family, Im not sure that Ive ever learned more about golf and its meaning than I did from Claire. After the round, Jay Haas and I took her over to the practice bunker for a little work and just her attitude as a student was wonderful. She talked about how wonderful and dedicated all her teachers are at First Tee program she attends. She talked about what a great opportunity it was for her to participate in this event, everything about her was grounded in gratitude.
Today I get the privilege of one more day with her at Pebble Beach. I will be watching her very closely because she has become my mentor on how to play and enjoy golf. I was told a couple things when I got into recovery that have been useful. One was every day you can see in people what you want to be and what you don't want to be. I want to be like Claire! The other thing I heard that has stuck with me is without growth, life would be boring. I will thank Claire when we finish for how much she has taught me!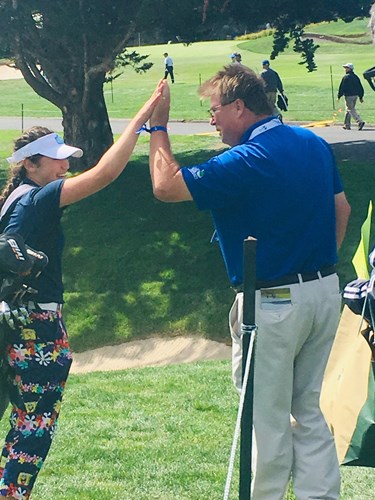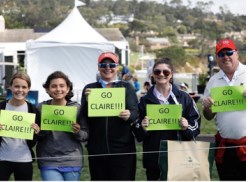 Your gift today will help us provide scholarships to participants that need it so that our programs are available to everyone, help us train our coaches and mentors and ensure that we can continue our No Fee programs with our youth serving partners...providing educational programs that build character, instill life-enhancing values and promote healthy choices through the game of golf.
Thank you!