Story
We are aiming to raise money to provide Nepalese children with free, nutritious school meals and Sri Lankan children with uniforms and school supplies.
This Christmas why not give a child a future?
The Rosie May Foundation is an international children's charity working in Sri Lanka and Nepal to keep families together. We support vulnerable families through holistic care by improving living conditions, health, education, financial income and family relationships.
This years Christmas campaign aims to give the gift of life and get children back into school for the start of the new school year in January 2020.
You can make a personal donation via this page, or our Christmas Campaign Thank You cards make a great stocking filler which you can gift to a loved one for just £10. If you would like a card to be sent to you, please contact sam@rosiemay.com.
Your donations provide:
- school meals and hot drinks to all 25 children at the Meselme Primary School in Nepal
- school essentials for 160 children in Sri Lanka.
For every £10 donated:
- one Nepalese child receives free nutritious meals for a whole month- just 42p a day!
- a Sri-Lankan child is given a uniform and a school backpack containing a lunchbox, water bottle and socks.
100% of your donation goes towards the school meals, uniforms and backpacks!
Preparing children for school and providing nutritious meals improves attendance and classroom performance- ensuring children get the education they need and deserve.
Find out more about the work done at Rosie May Foundation here: https://www.rosie-may.com/
Nepal
Hope for Lapka: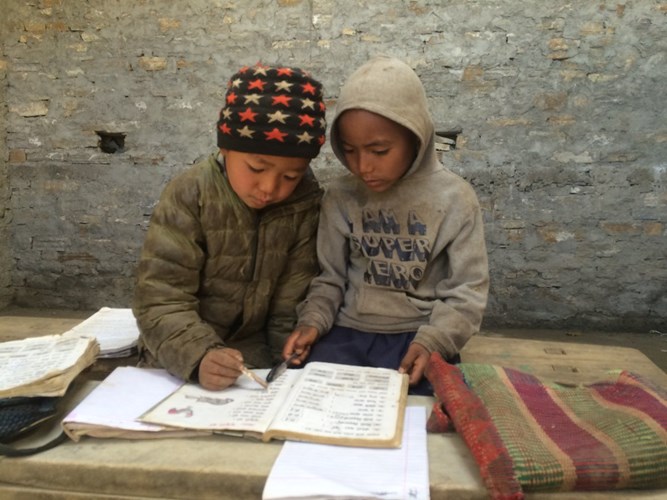 "My name is Lapka, I am six years old. My school collapsed on a Saturday, which is the only day I do not go to school, so I was not hurt. My mum was frightened there would be another earthquake, so she would not send me back to school. When she knew that my school was being rebuilt and that I would be safe she was glad to send me back. My dad is a porter and my mum works on our land, but sometimes, especially in the winter there is not enough food, so my sister and I go to bed hungry. My mum is happy that we now have a hot dinner every day and our tummies are full."
Your donations will go a long way in helping more children like Lapka.
In 2015, Nepal witnessed the largest earthquake in its history that killed 8,617 people, affected 5.6 million people, damaged half of the country's 16,000 public and private schools and completely destroyed 5,000 schools- including the rurally-located Meselme Primary School. The earthquake has led to a noticeable rise in trafficking in rural communities, particularly young girls, due to increased poverty and schools not being rebuilt.
Our priority is to ensure that children receive a quality education and do not go to bed with an empty tummy. All 25 children at Meselme school will receive a free nutritious meal every school day in 2019. The mothers of the school children also participate by taking turns to prepare and cook the meals on a daily rota. To ensure sustainability, a plastic greenhouse has also been provided so that the school can grow its own vegetables beyond the three years.
This is the final year of our three-year project and so far we have seen an incredible 60% increase in school attendance. Children are healthier and are more able to concentrate, which has resulted in improved classroom performance.
Find out more about Project Rebuild Nepal here: https://www.rosie-may.com/2017/07/28/rebuild-nepal/
Sri Lanka
Hope for Mihika: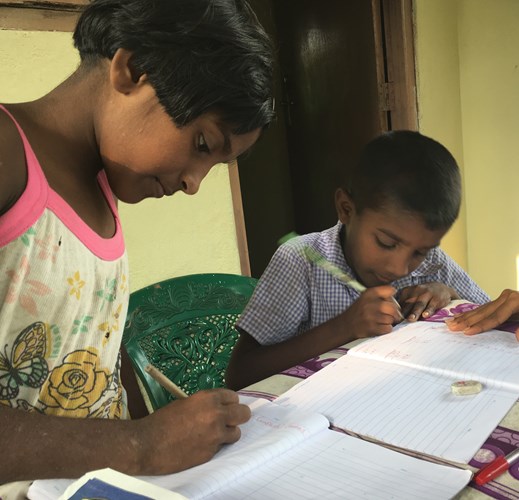 "My name is Mihika. I am 8 years old. When my mum died, my dad was struggling to keep the family together as he had no work. We were living in starvation, infested with lice and had no uniform or shoes so we could not go to school. Project Hope helped my dad to find us a house, to feed us and gave us uniforms and pens so we could go to school again. This made me and my dad very happy. "
Your donations will go a long way to help more children like Mihika.
As of 2016, 14,175 children are in institutional care and 90% of these children have at least one living parent. The single-mothers often give their children up to the orphanages simply because they lack the financial capabilities to raise their children themselves. These orphanages often have a detrimental effect on child development and the children themselves grow up without stability or a loving family environment.
Project Hope is a family strengthening programme that offers families a better alternative to institutional care. Our priority this Christmas is to provide 160 children with school uniforms and other essentials. Our aim is to ensure these children can receive an education without their parents worrying about how they would afford their school essentials.
Find out more about Project Hope here: https://www.rosie-may.com/2017/08/14/project-hope/
Thank you for your kind donations!