Story
STRIDE WITH SADS UK TO STOP SADS
Anne Jolly, MBE, Founder of SADS UK, invites you to Stride with SADS UK in London's Hyde Park on 13th September 2020 to STOP SADS #stridewithsadsuk #STOPSADS
Sudden Arrhythmic Death Syndrome, or SADS, is when someone dies suddenly following a cardiac arrest and no obvious cause can be found. This affects around 500 people in the UK every year. It is so often the case that vibrant young people are taken away so suddenly by SADS. These types of deaths are totally bewildering and tragic, especially when so many young people appear perfectly healthy and happy beforehand.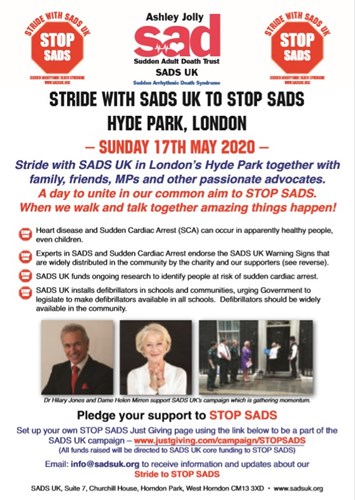 Pledge your support now to STOP SADS. Click on Start Fundraising on the right of this page to set up your own STOP SADS Just Giving page to be a part of the SADS UK campaign. Email info@sadsuk.org to receive event information and how you can be a part of our Stride with SADS UK to STOP SADS event. All funds raised will be directed to SADS UK funding to STOP SADS as detailed in the SADS UK Manifesto (available on request).
SADS UK Founder Anne Jolly, MBE says:
The SADS UK Manifesto sets out the charity's strategy to save young lives, a copy of which is available upon request from the charity. Sign and show your support of the SADS UK Manifesto. Ask MPs, dignitaries, celebrities and other prominent people within your community to sign and complete the Manifesto to show their support.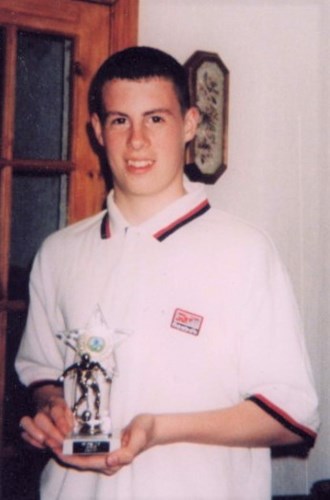 I went into his room at 8.15am to wake him up for work and I couldn't get him to wake up. The ambulance was called, that sound will haunt me forever. Every time I hear an ambulance now I wonder is someone else's life going to be destroyed like mine. The day my world fell apart, My Son, My life died and so did I. Angela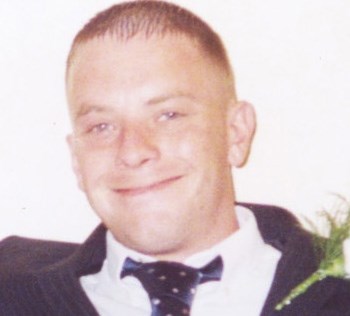 We all got up and headed for bed. I said Goodnight son, don't wake us up in the morning as it is our day off together, "OK mum, goodnight." These were my son's last words, which will always be treasured in our broken hearts. Linda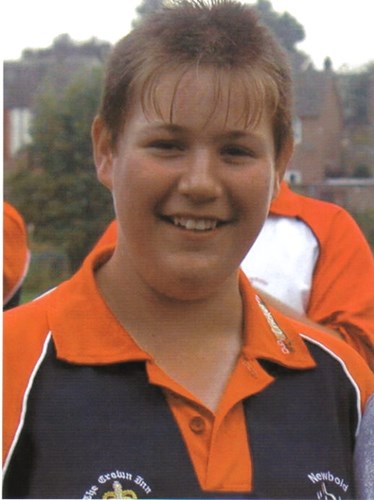 Everything he did, he did with 100% effort and always with a smile on his face. He was many things to so many people but we shall never forget the loving son and brother who made us all so proud. He was the best we could have wished for and while we feel privileged to have been his family, we can never fill the huge hole his death has left in our lives. Stephen and Tracey
SADS conditions are caused by faults (or mutations) in one or more genes, frequently found to be an inherited cardiac condition. These changes can sometimes be detected with genetic testing for family members, known as cascade testing. In some cases, this is the only way of telling if someone has an inherited heart condition.
Dr Graham Stuart, Consultant Cardiologist, Bristol Royal Hospital for Children/ Bristol Heart Institute says :
Support from SADS UK has helped scientists and clinicians from Bristol combat a rare condition called short QT syndrome that is associated with an increased risk of sudden cardiac death. For the heart to pump blood round the body, electrical activity must spread through the hearts chambers in an orderly sequence. A number of gene mutations affect ion channels that carry potassium ions, causing them to pass too much potassium out of heart cells and consequently altering electrical excitability in ways that increase vulnerability to cardiac arrhythmias and sudden cardiac arrest.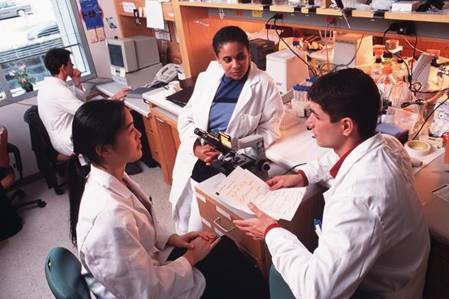 Stride to STOP SADS. This is why SADS UK funds research that helps understand heart rhythm disturbances that can cause SADS, sudden cardiac arrest.
Katherine Timothy, Genetic Researcher at University of Utah says :
I want you to know that the SADS UK is specifically mentioned in the Biomedical Journal Cell in the acknowledgements, so that SADS UK can claim specific participation in the research of this important paper on Katherine Timothy Syndrome. The SADS UK International Conference was completely remarkable and furthered my research identifying the precise nature of the molecular abnormality underlying the syndrome we have also identified a class of drugs that alleviates the cardiac arrhythmia to prevent sudden cardiac arrest.
Stride to STOP SADS. SADS UK is instrumental in identifying cardiac conditions and tailored medications to treat them
The SADS Warning Signs, developed with SADS International.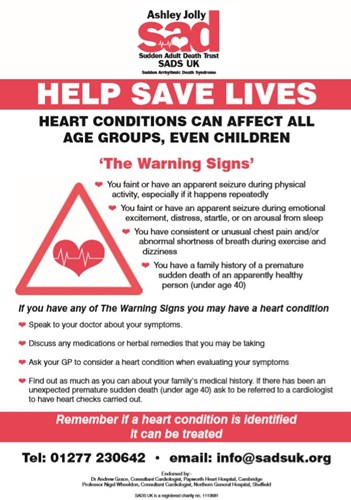 Thank goodness we saw SADS UK's The Warning Signs leaflet displayed in our doctor's surgery. We'd had several young sudden deaths in the family which we had no explanation for, now we've been diagnosed with the Long QT Syndrome which is managed by medication. John
Stride to STOP SADS. The Warning Signs leaflet endorsed by eminent cardiac professionals is prompting people at risk to seek advice and be treated when necessary.
Dr Marco Mion, Neuropsychologist, says:
Thanks to support from SADS UK, we are now able to offer in our Cardio Thoracic Centre at Basildon Hospital (Essex) the first care after resuscitation (CARE) clinic, focussed on providing cardiac arrest survivors and their carers with psychological, cognitive and medical support up to one year after discharge from hospital.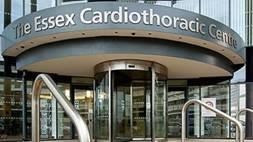 Stride to STOP SADS. SADS UK is working to improve the well-being of individuals and their families after the trauma of sudden cardiac arrest
I can't thank SADS UK enough; after my cardiac arrest I felt that my world had closed in on me. Speaking with someone I didn't need to protect from my feelings helped me think more rationally about what had happened. I feel I am getting my life back on track now. Jimmy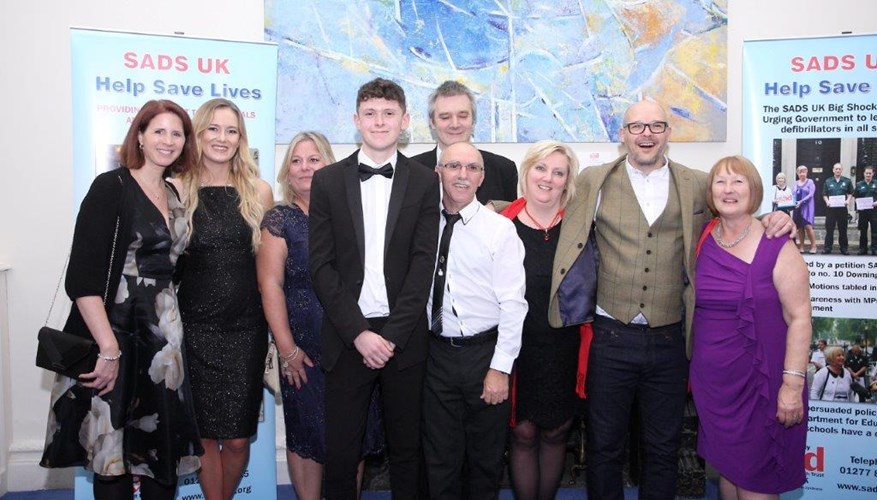 Stride to STOP SADS. More people are surviving cardiac arrest thanks to defibrillators being placed in schools and the community.
East of England Ambulance Service S.R.Para/Emergency Practitioner says:
Over the collective working years of all our medics we have dealt with far too many cases of young preventable cardiac deaths. But over the last few years we are aware of the difference we are having and the amount of lives being saved has increased dramatically. Along with the improvements in our equipment, advanced specialist training and our hard working staff, is the education of the general public in how and what to do in the event of an emergency. SADS UK have been working hard since 1998 to educate, prevent sudden cardiac death and provide lifesaving equipment such as public defibrillators which helps sustain life until we arrive and provide the specialist care. Their work has been invaluable and we believe they are partly the reason so many lives have been saved.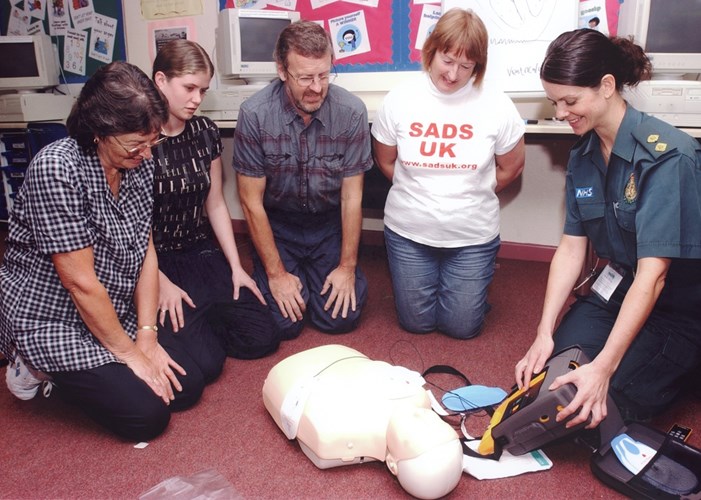 Anne Jolly MBE, Founder of SADS UK met with Policymakers at the Department for Education and provided evidence of the need to have defibrillators in all schools. Subsequently the Department for Education sent out Guidance to all Schools advising the following:
Defibrillators - sudden cardiac arrest is when the heart stops beating and can happen to people at any age and without warning. When it does happen, quick action (in the form of early CPR and defibrillation) can help save lives. A defibrillator is a machine used to give an electric shock to restart a patients heart when they are in cardiac arrest. Modern defibrillators are easy to use, inexpensive and safe. Schools are advised to consider purchasing a defibrillator as part of their first aid equipment. If schools install a defibrillator for general use they should notify the local NHS ambulance service of its location. Staff members appointed as first aiders should already be trained in the use of CPR and may wish to promote these techniques more widely in the school, amongst both teachers and pupils alike;
Stride to STOP SADS. The SADS UK Big Shock campaign has made significant progress with the Department for Education advising that all schools should consider defibrillators as part of their first aid equipment.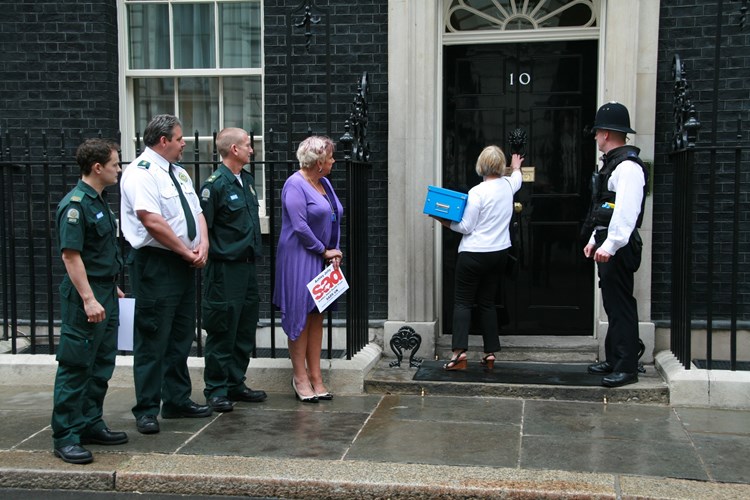 In February 2018 Year 9 student Hamzah, aged 14, had a cardiac arrest at Whitmore High School in London. Hamzah was in his PE lesson playing basketball when he collapsed, a lot of the children could not believe it as he was sharing a joke with them one minute and the next he was on the floor. He fell face down and at first they thought he tripped over some chairs but the class teacher recognised something was very seriously wrong and called for assistance. Angela, who was the Welfare Assistant at the time, went to assist. She immediately started CPR and sent for someone to bring the defibrillator. Janina, who is the Attendance Officer, but also has a First Aid at Work certificate, ran to her with the defibrillator, which they then used on the student. Their swift actions saved Hamzahs life and the emergency services confirmed this when they arrived at the school.
I cant express how grateful I am that the school had a defibrillator and that Angela and Janina took lifesaving action. Our thoughts are always with them and I wish them further success in the future. I believe there should be an increase in the number of defibrillators found in public places and an increase in awareness . Both Angela and Janina are very worthy SADS UK Lifesaver Award winners. Hamza's mother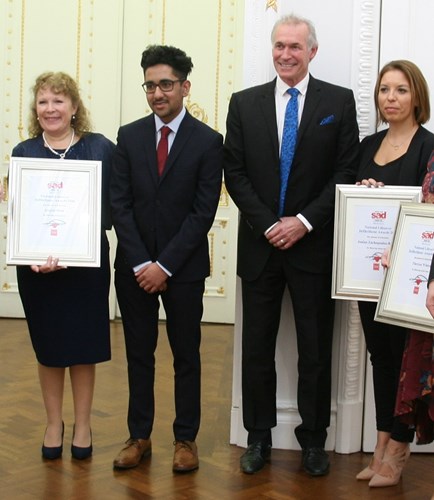 Dame Helen Mirren says
I support the SADS UK Big Shock Campaign to make defibrillators mandatory in schools. It is particularly tragic to hear of young people dying of cardiac arrest. I understand how important it is to defibrillate a person in cardiac arrest as quickly as possible to give them the best chance of survival. It makes sense that all schools should have this lifesaving equipment in place.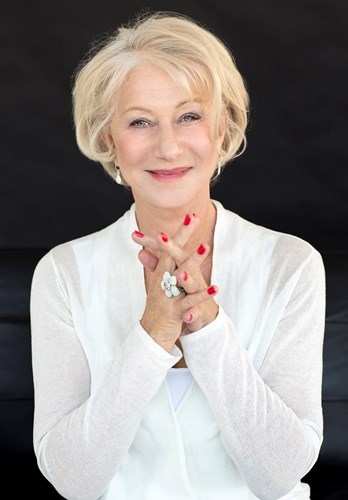 SADS UK Patron Dr Hilary Jones, Good Morning Britain says
As Health Editor for Good Morning Britain we do our best to highlight the importance of awareness as all too often the catalyst for a broadcast is another potentially preventable death from SADS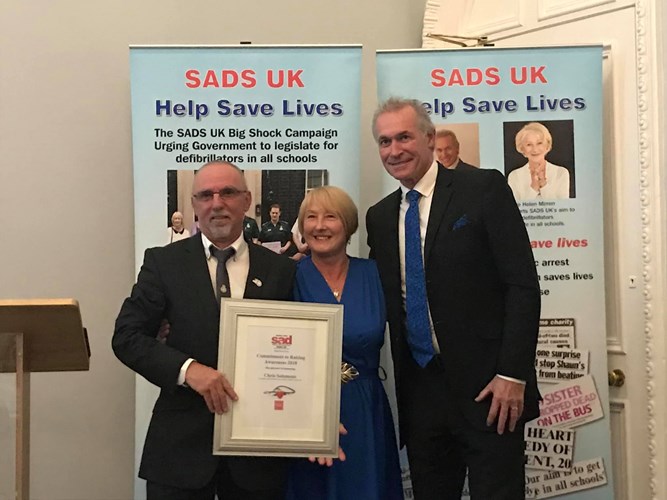 Anne Jolly, Chief Executive Officer of SADS UK was awarded an MBE in 2017 New Year Honours list for her commitment to raising awareness of Sudden Arrhythmic Death Syndrome and working to save young lives.
The award was made in recognition to the considerable work Anne has undertaken in raising awareness of SADS, supporting people affected by sudden cardiac arrest and the SADS UK Big Shock Campaign providing lifesaving defibrillators to schools and the community.
Speaking about her award Anne Jolly MBE, Founder of SADS UK said,
I was surprised and delighted to have been awarded an MBE and feel very honoured and fortunate to have received it. I hope that having these letters after my name will add power to campaigns the charity runs along with our members, especially when it comes to additional resources needed to research into tragic sudden young deaths and bringing in legislation to ensure lifesaving defibrillators are put in place in all schools and widely in the community to save more lives.