Story
Teddy is a beautiful 6 month old Saluki X, brought to us after his owners couldnt afford his vets bills and sadly didnt have the time for a dog with special medical needs.
Teddys front leg you will see has a deformity, a bend in the bone. In vet terms, the growth plate on the end of the ulna is disrupted which could have been from an undiagnosed growth plate fracture, or it may have been caused by an infected bite wound or it may just be a birth defect (although unusual for this breed and for only one leg to be affected). Once the growth plate stops "growing", the ulna becomes short in relation to the radius, causing the radius to bow out and bend. The surgery Teddy so urgently needs, will involve shortening the bones to be of equal length and hopefully correct the bend.
If left untreated and without surgery, Teddy would face a life of pain and discomfort and could eventually lead to him losing his leg all together, as every day we wait the bones are growing.
We are hoping to find Teddy a home to recover in, which will involve strict rest and limited walking. After the surgery is done, we hope Teddy will make a full recovery, but he may always have some lameness or arthritis as he gets older.
Teddys surgery is going to cost at least £3000 with ongoing veterinary support needed, we are desperately trying to raise the funds for his surgery and to help many other animals that sadly come to us with urgent medical needs.
We cannot do this without your help. YOU can give teddy the future he deserves!
Please help us to continue our mission to Provide shelter from harm and the promise of a brighter future to all the animals that find themselves abandoned and unwanted and in our care.
UPDATE: 04/07/19
Teddy's X-rays came back yesterday and it became clear that his bones are so malformed that he must have been in significant pain for a long time. Though we haven't reached the target needed to cover this surgery, it was booked in for this afternoon as we couldn't delay it any longer knowing the suffering he must have been in. Below is a picture of one of his X-rays, to give you an idea of how painful it must be, the bone should be straight!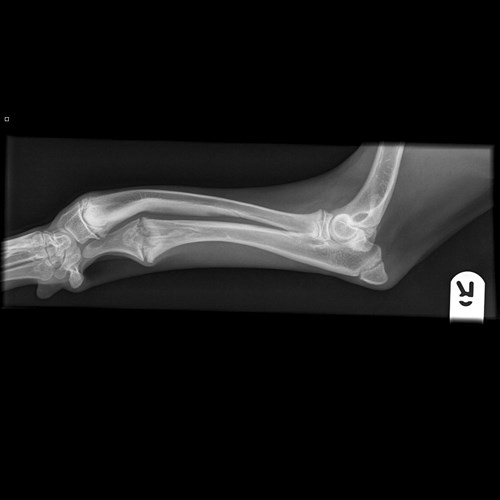 Please continue sharing his story, poor Teddy will also need physiotherapy after his surgery and we want to ensure every element of his journey to a normal life is sorted, so he can enjoy being a puppy. Thank you xx