Story
Marta (4 yrs) was born with Niemann Pick C Disease (a rare progressive genetic disorder - there is no known cure and mainly affects children. Treatment is focused on helping people live with their symptoms).
I want to thank you for recommending Verbier to us. It is a beautiful place! We have enjoyed a lot of this magic place with the family and Marta is enjoying it a lot. ESS Verbier ski instructor, Patric Gabioud, is lovely with Marta and has a lot of patience with the guided sit-ski. Ana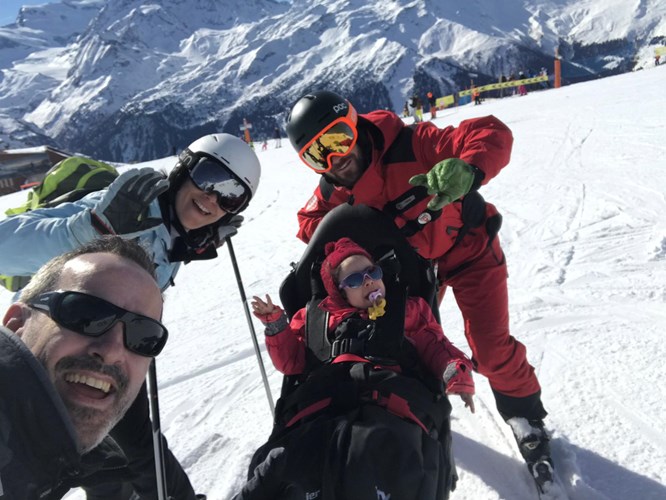 Welcome to the magic of the mountains and allow us to be your guide on a journey full of freedom and newly discovered experiences!
Ski 2 Freedom Foundation was founded by Catherine Cosby in 2007 (her daughter was born with a catastrophic neurological condition Rett Syndrome). "I personally discovered the healing powers of the Alps when I took some respite time. I also saw how, with the right instruction/guiding and equipment, they could bring about renewed confidence and self-esteem for young people and adults alike. All we wish to do is to ensure that everyone can have the same life-empowering magical moments, and this is at the heart of our work.
For families affected by a life-limiting condition, time stands still. To have your help in giving them the opportunity to be a family, laugh and share memorable moments on the mountains is priceless!!"
Ski 2 Freedom is an established and well respected charity, promoting the empowering benefits of snow-sport and winter experiences. Our aim is to enhance the life of anyone whose health or general well-being may be affected by a life-changing, life-challenging or terminal condition (physical, cognitive, degenerative, genetic, sensory, audio or mental) with the empowering benefits of year round mountain activities.
Making dreams come true and giving young people, families, and friends the chance to embrace life and find a little magic in the winter wonderland! Each person is like a snowflake, completely unique and we believe that everyone should have a little sparkle in their lives!
Your generosity will help:
Support an accessible, inclusive and memorable ski holiday so that with an instructor and adaptive equipment (if required), a child, mother, father or family member can be together united by laughter and a feeling of 'normality'. Often with life-limiting conditions this is a one-off memory building holiday.
Support a child's dream or magic wish - for young carers especially we want to help them feel the life-changing benefits of being in the mountains.
The Alps and Mountains are such a spiritual place with healing powers through experiences such as skiing, sleigh-rides, ice-skating, well-being, laughter, making new friends, finding new confidence to face the challenges back home........
No one knows what is around the next corner but being able to continue to enjoy skiing or snowboarding after a trauma, diagnosis of a life-changing or life-limiting condition, is vital to our well-being and state of mind - being included and not excluded is about sharing and unity!
For more information please do not hesitate to contact catherine.cosby@ski2freedom.com