Story
Baldrick, a miniature coloured Shetland was discovered entirely by chance in a weed filled field due for development on the evening of 30th Mary 2018. [Warning: distressing images included in this article]
The RSPCA officer and vet who attended were so concerned about his condition that they considered putting him to sleep there and then. Extremely malnourished, he had extensive burns over his neck, back and rump and was covered in maggots which were literally eating him alive. Whilst waiting to make a decision, Baldrick was given a small amount of hay and despite his shocking condition showed such enthusiasm for the food that he was granted a stay of execution.
We have no way of knowing how long Baldrick was left abandoned without proper food or water to fend for himself, but as the pictures show, he was skeletal and riddled with maggots.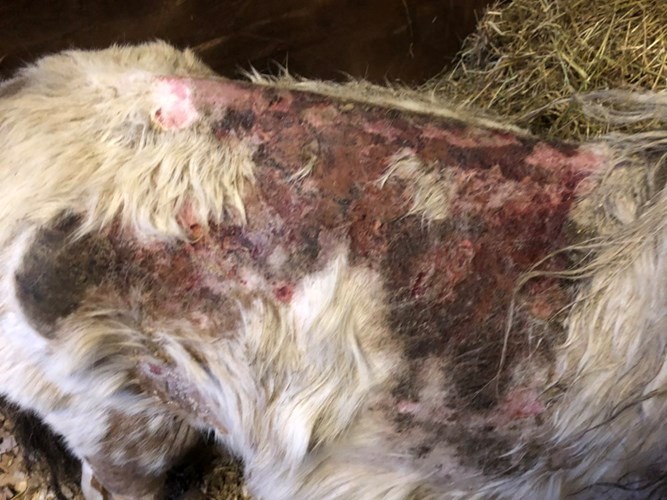 We board and care for horses for the RSPCA and naming them is always tricky so when the attending police officer said that his nickname was Balders, "Baldrick" became the name of this feisty chap.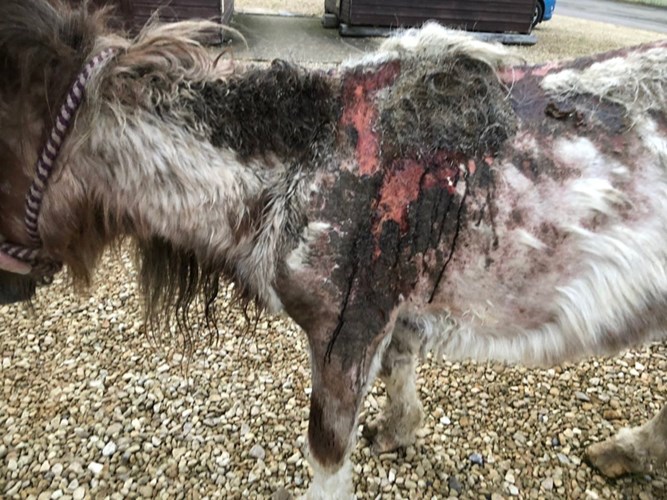 When he arrived at North Farm Stud we immediately cut off his mane, which was full of squirming maggots and spent several hours removing as many of them as possible. After an initial wash he was covered in Flammazine cream to soothe the extensive burning and give him some respite from his badly burnt skin.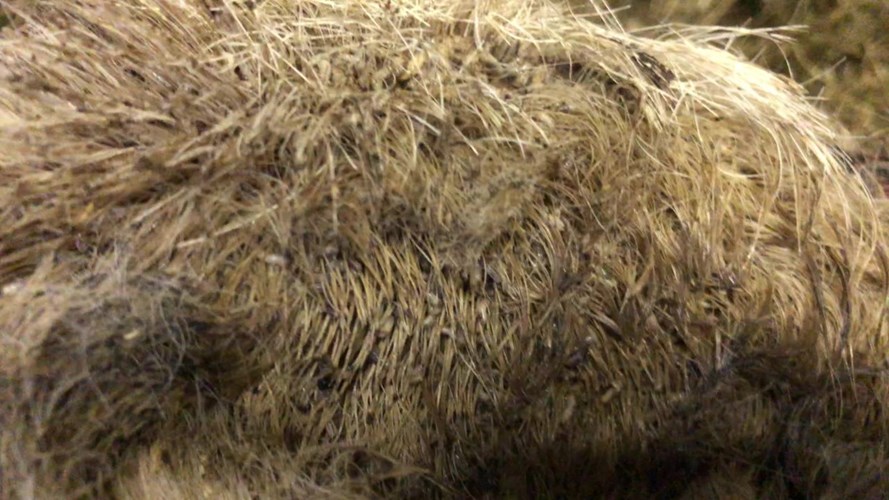 The following day was spent with two of our vets carefully debriding his wounds and getting rid of all the maggots they could, he really was bald when they had finished. He was also put on a long course of antibiotics and painkillers. He will always have to have a daily dose of Metacam, his cruel neglect has such life-long consequences.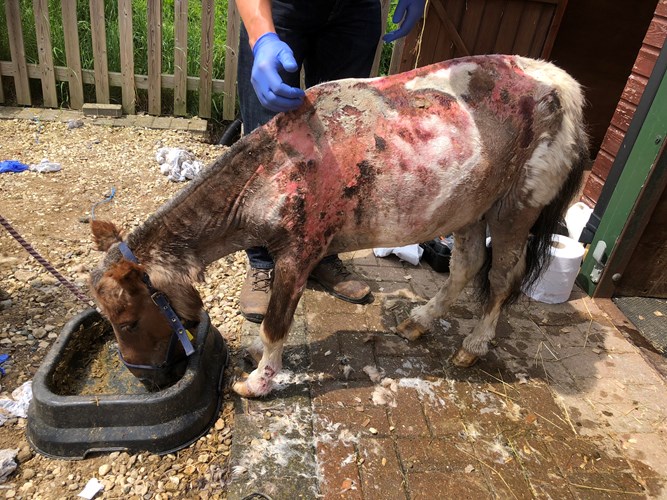 The appalling burns and emaciation were not his only problems, he had terribly overgrown front feet that had grown under and into his frogs underneath, in these was another multitude of maggots, eating them away. To start with, we treated his feet by pouring on hydrogen peroxide to kill the maggots. Then he had remedial farriery, his feet were so infected the abscesses and pus had under-run the sole. His left fore knee was completely bowed outwards as if he had been forced to carry excessive weight; this little chap had real difficulties walking.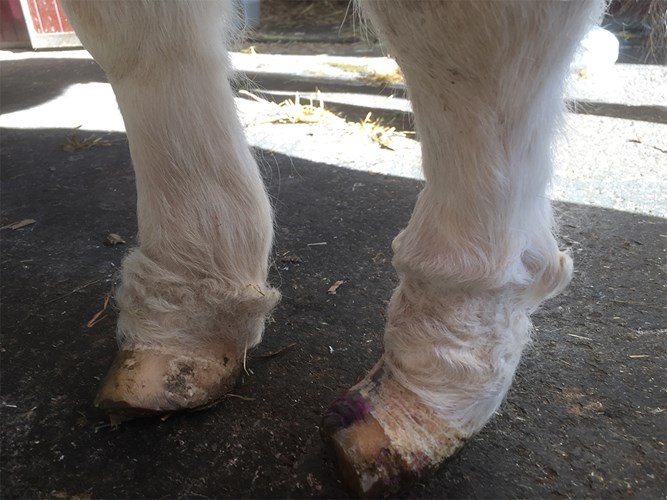 Initially he was kept in a stable near the house with CCTV, grazed on the lawn in a gazebo with a canopy to protect him from the sun and where we could keep a close eye on him. He ate everything given to him and lay down as much as he could to take the weight off his poor feet.
We approached Atlantic Equine who supplied tiny boots for his front feet and what a difference they have made; he now walks out and the knee is nearly straight. We can tell he is feeling better as he certainly gives us the run around when it comes to catching him!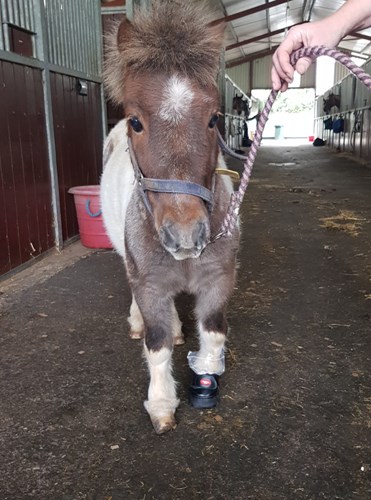 The appalling suffering he endured means he is still very wary of human contact and can be a tricky customer to deal with. However, his cheeky personality definitely endears him to all. His mane and coat have grown back. He can now be groomed and will tolerate a rug in the cold weather.
Because of his problems Baldrick cannot be re-homed, he needs those special boots putting on daily, his heels always checked for rubbing and particular care on a daily basis. He is happiest in a small paddock with a carefully chosen, kind companion.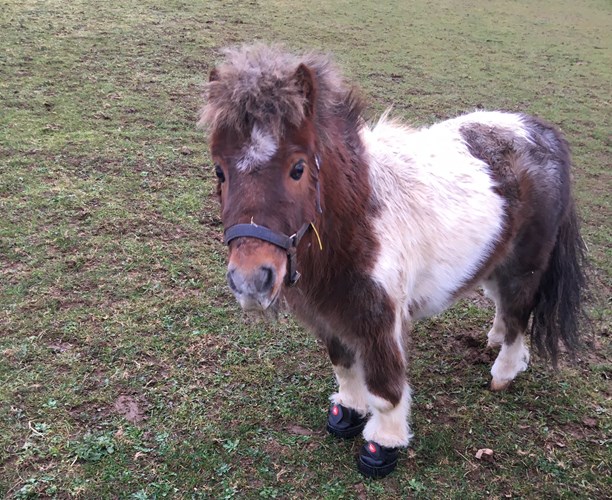 This brings us to his long-term future. Keeping miniature Shetlands in stables designed for large horses isn't ideal. We need to build a bespoke social barn and stabling suitable for him and any other smaller horses who come here from the RSPCA needing our specialist care and attention.
The work in creating "Baldrick's Block" will involve a new base, water and electrical supplies, stables with doors of appropriate heights, drinkers, feed bowls, hay racks and mangers, rubber matting, lighting, heat lamps and CCTV cameras.
The crowd funding will be known as "Baldrick's Big Build" and with your support we will be able to help many other welfare cases in this bespoke, small horse block in the future!