Story
Ballet Cymru want to create access for all to the art of Ballet. Please help us to raise funds to make our premises 100% accessible.We would like to install a platform lift to access offices on the first floor, and improve access to the building on the ground floor.
Ballet Cymru offers a diverse range of activities, from workshops in schools to creative inclusive dance sessions, touch tours and audio described performances. Ballet Cymru Dancer Apprentice and wheelchair user, Joseph Powell-Main:
"this is a huge step towards inclusivity in the classical ballet world and will hopefully help increase opportunities for all differently abled dancers."
Ballet Cymru Inclusive Youth Creative Dance Sessions

Our campaign was launched at Ballet Cymru's Festive Fundraiser held at the studios in Newport on Friday 6 December 2019, where we raised £390. Many thanks to the supporters who came to the event and enjoyed an evening of dance with the Company dancers , Pre Professional Dancers and young Duets Legacy Scholars !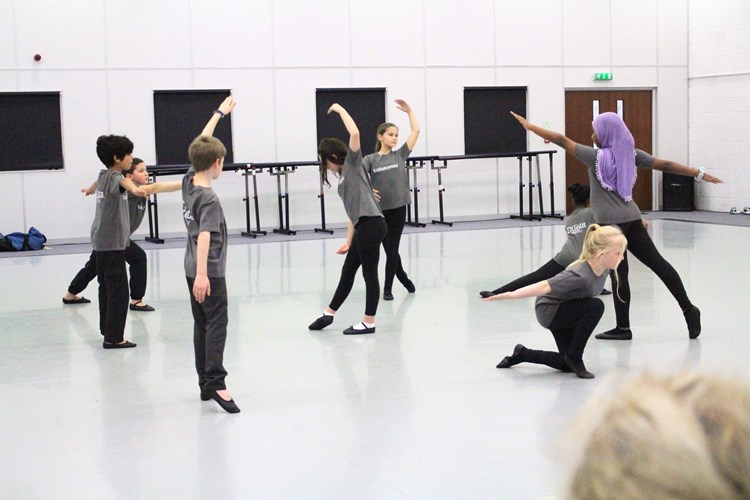 All proceeds will go to Gwent Ballet Theatre Ltd, trading under the name Ballet Cymru. Registered Charity No. 1000855
Ymgyrch Flynyddol Ballet Cymru i Godi Arian: Creu Mynediad at Fale
Mae BALLET CYMRU yn gwmni bale proffesiynol arobryn, sy'n cynhyrchu perfformiadau dawns gwreiddiol, arloesol a phroffesiynol. Bob blwyddyn, mae'r Cwmni'n teithio'n genedlaethol i dros 50 o leoliadau ledled Cymru a'r Deyrnas Unedig, ac mae ganddo gynlluniau cyffrous i ddatblygu'r gweithgarwch teithiol yn y Deyrnas Unedig, a hefyd yn rhyngwladol. Mae'r cwmni'n ymrwymedig i gynhwysiant ac arloesedd ym myd dawns a bale clasurol, ac yn ceisio ffyrdd gwreiddiol a dychmygus o ymgysylltu â phob oed a gallu, a hynny'n lleol yng Nghasnewydd, ei dref enedigol, a ledled y wlad.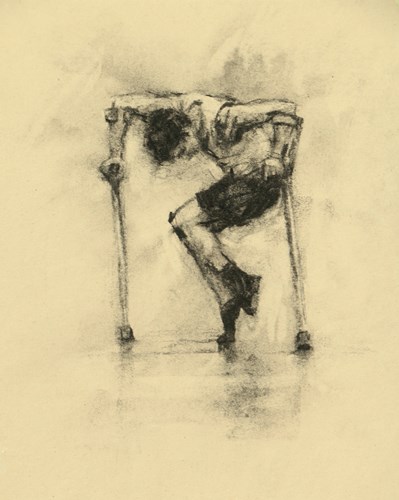 Joe Powell-Main (c) Carl Chapple
Dymuniad Ballet Cymru yw creu mynediad i bawb at gelfyddyd Bale. Helpwch ni i godi arian i wneud ein hadeilad yn 100% hygyrch. Hoffem osod lifft platfform i sicrhau mynediad i'r swyddfeydd ar y llawr cyntaf, ynghyd â gwella'r mynediad i'r adeilad ar y llawr gwaelod.
Mae Ballet Cymru yn cynnig dewis amrywiol o weithgareddau, o weithdai mewn ysgolion i sesiynau dawns cynhwysol creadigol, teithiau cyffwrdd, a pherfformiadau sain ddisgrifiad.
Dywedodd Joseph Powell-Main, sy'n Ddawnsiwr ar Brentisiaeth yn Ballet Cymru ac yn ddefnyddiwr cadair olwyn:
"Mae hwn yn gam enfawr tuag at gynhwysiant yn y byd bale clasurol, a gobeithio y bydd yn helpu i gynyddu cyfleoedd ar gyfer dawnswyr o bob gallu."
Sesiynau Dawns Creadigol Cynhwysol i Ieuenctid gan Ballet Cymru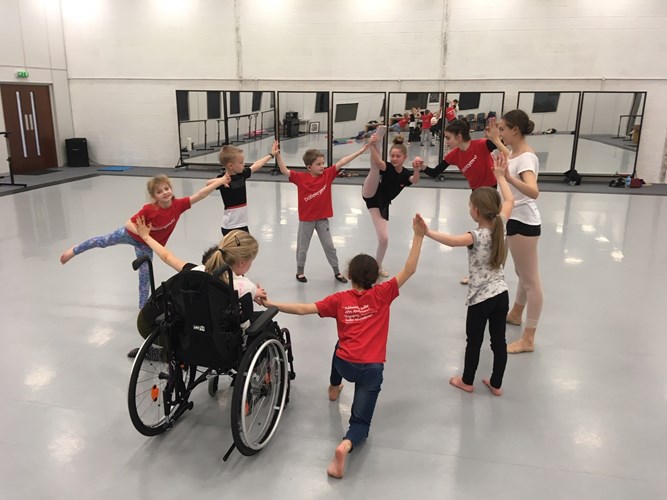 Lansiwyd ein hymgyrch yn Nigwyddiad Codi Arian Nadoligaidd Ballet Cymru, a gynhaliwyd yn y stiwdios yng Nghasnewydd ddydd Gwener 6 Rhagfyr 2019, a chodwyd £390. Diolch yn fawr i'r cefnogwyr a ddaeth i'r digwyddiad ac a fwynhaodd noson o ddawns gyda dawnswyr y Cwmni, Dawnswyr Cyn-broffesiynol ac ysgolheigion ifanc Duets Legacy!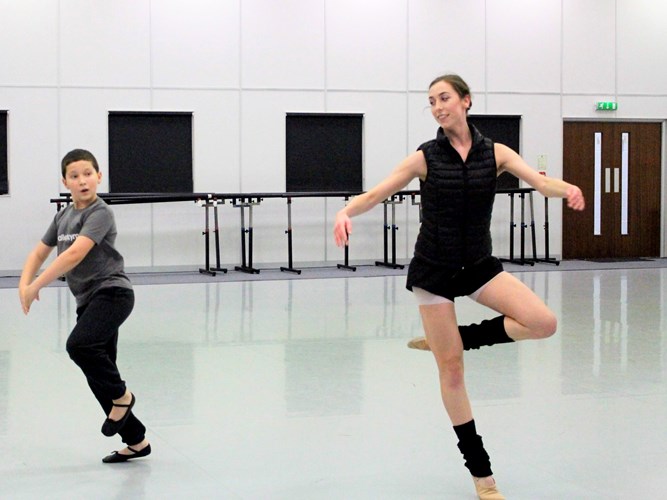 Bydd yr holl elw yn mynd i Gwent Ballet Theatre Ltd, sy'n masnachu o dan yr enw Ballet Cymru. Rhif Elusen Gofrestredig 1000855