Story
The only school in the UK for girls with autism
Limpsfield Grange is an outstanding Surrey County Council maintained residential and day school for girls aged 11-16 with communication and interaction difficulties.
Our students have a wide range of needs and many have a diagnosis of Autistic Spectrum conditions including Asperger's syndrome or High Functioning Autism. Many of our students are affected by high and persistent levels of anxiety, which can impact on their ability to engage in everyday activities.
Girls at Limpsfield Grange study a mainstream curriculum and take GCSEs. The girls access high levels of targeted intervention and differentiation throughout the school day.
Our aim is for all of our students to become happy, healthy active citizens. To enable our students to thrive in society we have created a curriculum underpinned by our four areas of development:
Wellbeing
Achievement
Communication
Independence
Through working on these areas with our students we help them to develop the confidence and resilience to tackle the challenges of everyday life when they leave school.
There are currently 86 girls attending the school, a mix of both day and residential students.
The school was graded Outstanding during the last Ofsted inspection in July 2018.
The school has received no increase in Government funding for the past seven years even though operating costs have risen significantly across the board.
Your inspirational leadership has created a culture of continuing excellence.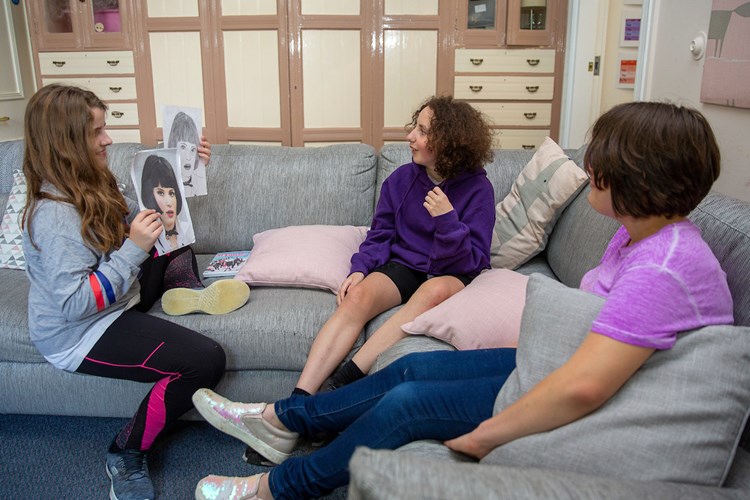 Raising awareness of female autism
The staff at Limpsfield Grange School are passionate about raising the profile of girls with autism:
We were the focus of the ITV Girls with Autism documentaryavailable to view from our Website
We were also featured in a channel 4 news report about female autism
Our students have written two novelsM is for Autism and M in the Middle explaining what it is like to be a girl with autism.
Staff and students have spoken at several national conferences.
Our Headteacher, Sarah Wild, has talked to the All Parliamentary Autism Group in the House of Lords. She has contributed chapters to books about female autism, edited by Professor Barry Carpenter and Dr Hebron, and has written blogs and articles for a wide range of publications. Sarah is also a founding member of the Autism and Girls Forum.
Our Outreach team work across South East England.
We have contributed towards numerous articles and books on female autism and are currently involved in research projects both in the UK and internationally.
Our practice is regarded nationally as cutting edge and we are considered leaders in the field of girls with autism.
The school leads on research nationally in the field of autistic spectrum disorder